Our Best hotels in Las Vegas. Book your hotel online



Table of contents
Great savings 🏷️ on hotels in Las Vegas. Discover our offers up to 70% Off on Flight + Hotel. The Best Deals with Voyage Privé.
Bbooking Las Vegas
Do you want to stay in Las Vegas for your next trip? Here are our best plans to find the top hotels at the best prices.
Discover our top hotels for Las Vegas
Caesars Palace

Stay right on the strip and enjoy the show - with two free tickets to see Céline Dion perform in the Caesars Palace's own theatre!
Paris Las Vegas 4*

Get all the romance and gaze at the Eiffel Tower every day... All from the heart of the Las Vegas strip with the luxurious Paris themed hotel.
Trump International Hotel Las Vegas 5*

Get the presidential treatment for your holiday by staying on one of the best luxury hotels. If you get tired of the spas - the wonders of the Strip, the Fashion Show Mall and High Roller is just a short walk away.
Desert Paradise By Diamond Resorts

Looking to relax or explore? This hotel gives you both with its luxurious spa and retreat facilities and close distance to Lake Mead and Red Rock Canyon.
Our reviews on Las Vegas and its hotels: why make your booking there?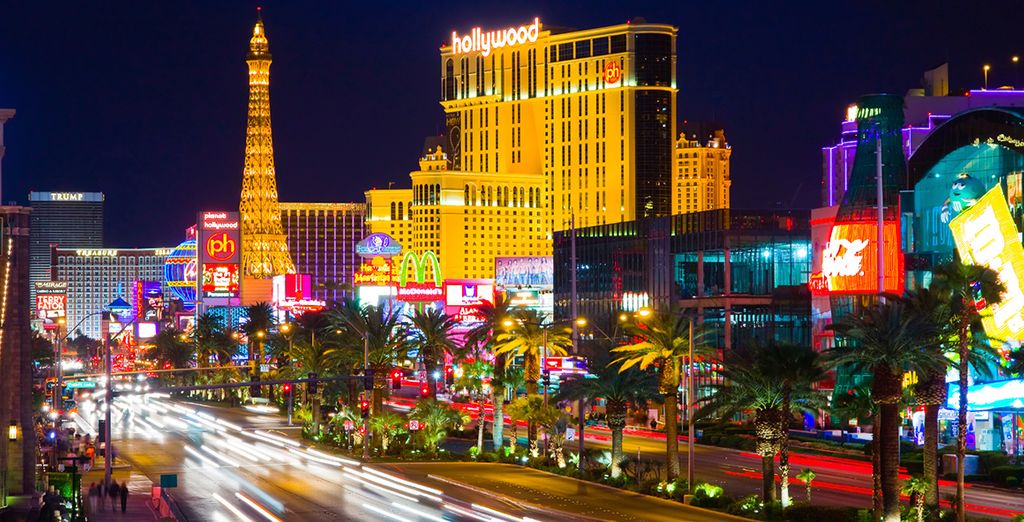 Our experts have been all over the world. There's nothing quite like Las Vegas.
Las Vegas may have been dubbed the 'Sin City', but don't worry - the city holds much more than that.
It's bursting of life and entertainment. Including shopping districts, casinos, spas, parties, shows, sports and musicals - there's something always happening in Las Vegas. 24 hours of the day, 265 days of the year. No matter when you visit, the city will always offer you something new to be amazed at.
For the best holiday, we've rounded up our list of first-class hotels that you can rely on an adventure that's more 'Viva Las Vegas' than 'The Hangover'.
How to make my booking in Las Vegas
Getting the holiday you've always wanted can be difficult and expensive. That's why you need to join Voyage Privé today.
We make holidays simple and affordable - without sacrificing quality.
We do this by finding and giving you exclusive deals that you can't find anywhere else. Exclusive deals that will get you up to 70% off your adventure.
Can't see any deals? Create an alert today. We'll let you know when there's an offer you can't refuse.
We're here to make your holiday to Las Vegas unforgettable. By booking with us, you won't just get access to the best prices on the market. We also offer a companion mobile app to give you expert details and tips on the city and unbeatable customer support, for the reassurance that every part of your holiday goes to plan.
If you're ready to experience the extravagant lifestyle, first-class entertainment and the world-famous Las Vegas strip, join for free today.
The different ways to make your online hotel booking in Las Vegas
Want to take the holiday of a lifetime. Let's get started booking your next adventure.
Book flight & hotel to Las Vegas
Book only your favourite hotel to Las Vegas
The best places to find hotels 1. Las Vegas Boulevard

Get right into the action and stay in the world-famous strip that everyone is talking about. Filled with break taking sights, first-class entertainment and outstanding casinos and hotels, you'll never run out fo things to do.
2. Downtown Las Vegas

Looking for something a little different? Downtown Las Vegas is the home to a recent cultural rebirth - transforming the area into a haven of locally owned cafes, galleries and storefronts that are more creative and down to earth than the strip.
3. The City Centre

Located in the heart in a strip, you'll find a mini city. Designed to be a 'city within a city', the City Centre is home to a number of hotels, luxury spas and shopping districts, art galleries and, of course, a casino.
Presentation of Las Vegas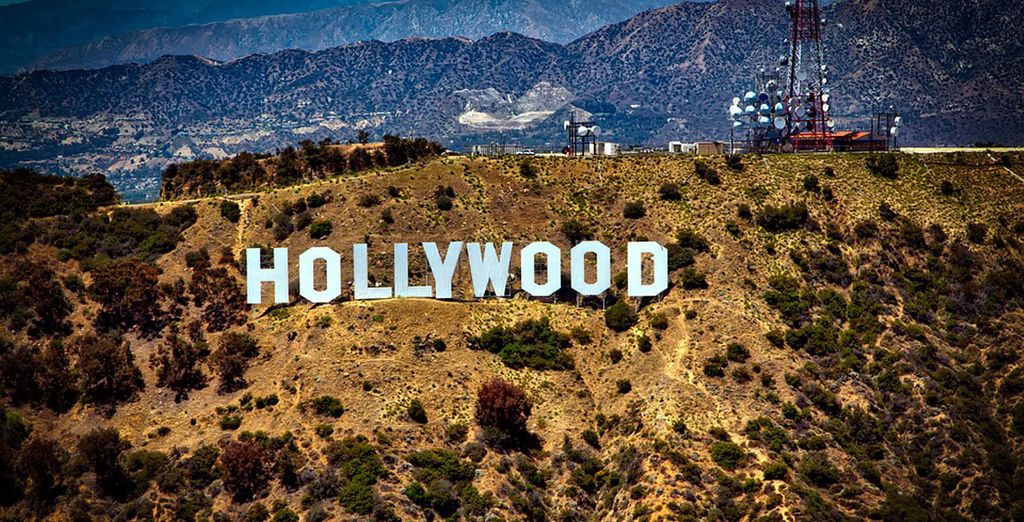 New York has the reputation as the city that never sleeps - but it will never live up to Las Vegas.
No matter what time of day that you're visiting, there will always be something truly amazing for you to do and explore.
Las Vegas attracts people from all over the world. But what makes the city so interesting is that the destination offers a piece of the world back. Every hotel on the strip is a complete world within its self, taking extravagance to the next level. You could get the best of the big apple in New York-New York, take a mandolin down Italy's grand canal in the Venetian or see an impressive Egyptian Sphinx in Luxor. Anything is possible in Las Vegas.
It's temperature also makes it accessible, all year round. Based in the desert, the city can reach incredibly hot temperatures of over 40° during the summer season. So, swimming costumes for a dip in the pool is a packing essential.
You won't get peaks as high as this in the winter, but the weather will always be tropical, day and night.
The 5 best things to see/do to Las Vegas 1. Become a high roller

Las Vegas is filled with some of the best casinos in the world. It's worth taking a tour of some of the finest Las Vegas has to offer - and taking a chance yourself. You never know what you could win!
2. See the strip for yourself

World-renowned with lights that can be seen from miles away. The famous Las Vegas strip is truly a sight to behold - and something that can only be experienced in person. So, take it all in with a walk down Las Vegas Boulevard.
3. See a show

Las Vegas is the home to some of the best entertainment in the world. Whether you want to see your favourite singer perform, experience outstanding theatre, watch an unmissable boxing or sports match or be wowed by the Cirque du Soleil, you'll find the perfect thing in Las Vegas.
4. Visit the Grand Canyon

Just a two-hour drive away, go and experience one of America's greatest destinations up close: the Grand Canyon. Do you dare to take a look over the edge?
5. Take a helicopter tour

Las Vegas isn't just near the Grand Canyon. It's also close to the Hoover damn and red rock cannon - all of which can be viewed in a completely new light with the range of once-in-a-lifetime helicopter tours.
Discover all our offers to Las Vegas : Great deals, holidays, last minute deals, booking.