Holidays to Las Vegas 2021/2022



Table of contents
The <uUSA's original Sin City offers a kaleidoscope of entertainment in the middle of the desert. While its famed Strip glistens in the night sky, there's more to Las Vegas than pure indulgence. Sure, the casinos, performances and dining are all A-list, but there's an almighty landscape there too. Enjoy dusty hikes amid psychedelic canyons formed by mighty tectonics.
The top 5 things to do in Las Vegas
1. Enjoy the Strip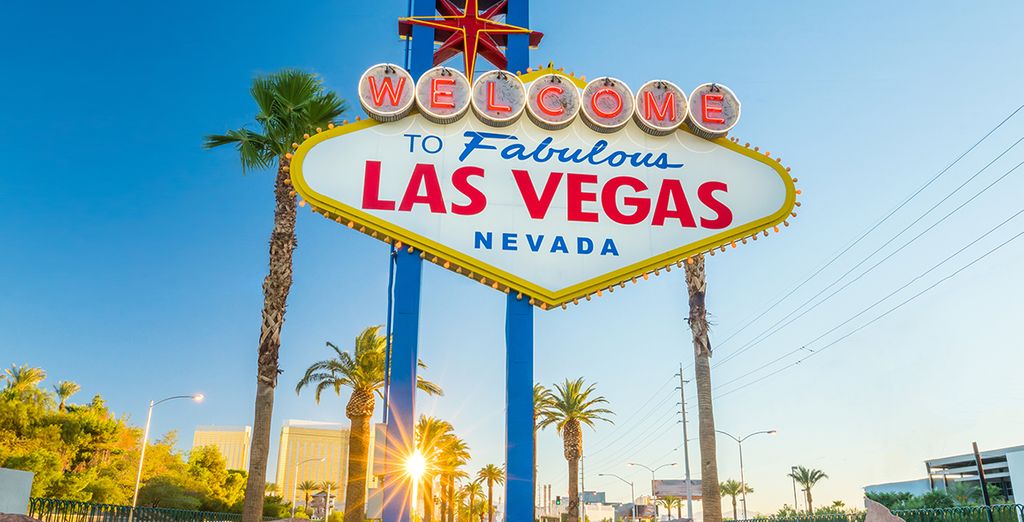 Las Vegas' legendary Strip spreads for 4.2 miles. Cruise it, stroll it or simply absorb the light and sound sensations. It takes in glitzy casinos, neon promenades and a Ferris wheel, the High Roller. Don't miss out on the Welcome to Las Vegas sign, the 1950s icon that marks the beginning of the Strip.
2. Sky-high views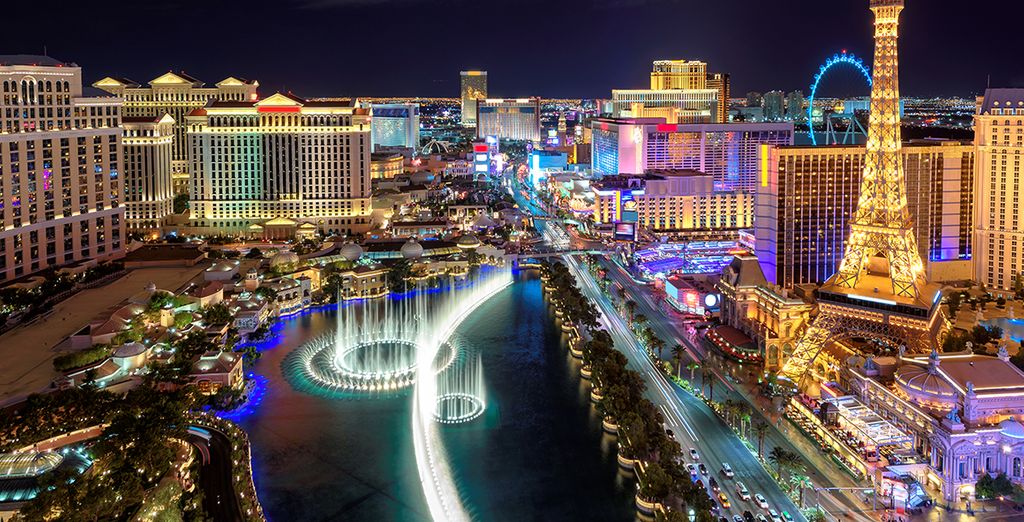 With so many premium casino and hotel properties, it's not difficult to find a sky view. One of the best, however, is the Stratosphere. At 100 stories tall, it's home to a revolving restaurant, panoramic viewing platform and sky lounge.
3. Kitsch casino fun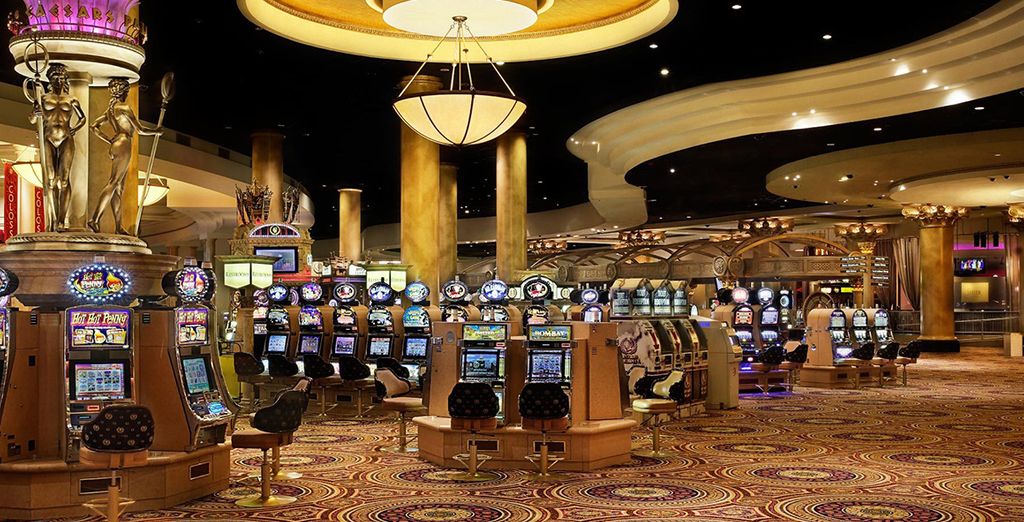 While the casinos may draw the crowds, they wow with their themed attractions. More than just a gambling hub, casinos like the Venetian include over-the-top marbled floors and replica canals. Take a gondola ride down this miniaturised Venice before hitting the tables.
4. Thrilling hikes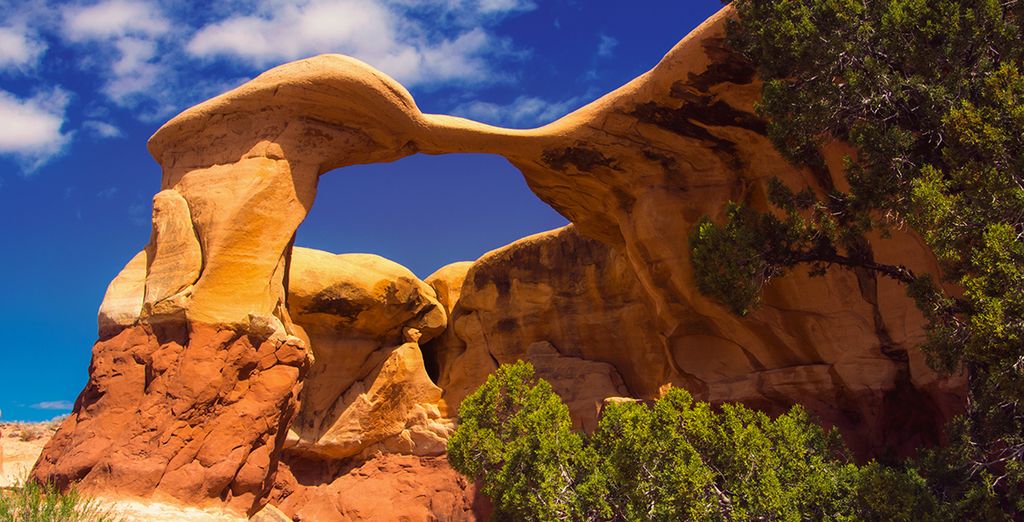 Las Vegas' surrounding landscape is a geological oddity. Fiery red cliffs and desert trails provide countless excursions. You can keep things short and sweet or head out on big day trips. One of the closest to town is the stunning Red Rock Canyon, home to ancient petroglyphs and sandstone peaks.
5. Spellbinding shows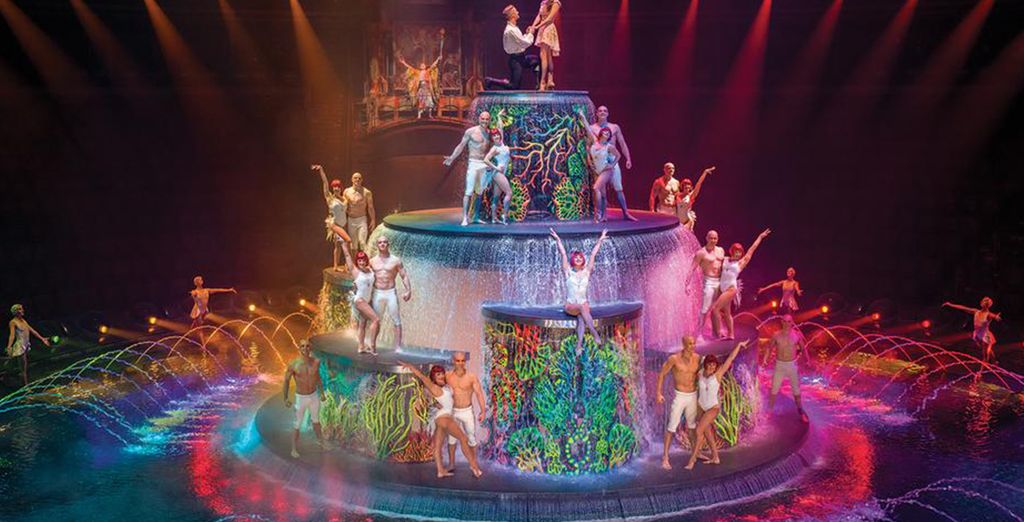 Las Vegas has become a world leader when it comes to entertainment. From famed residencies to Broadway shows, it's all about the glam. Still, the most famous ticket in town remains the ever-pleasing Cirque du Soleil.
Our best hotels in Las Vegas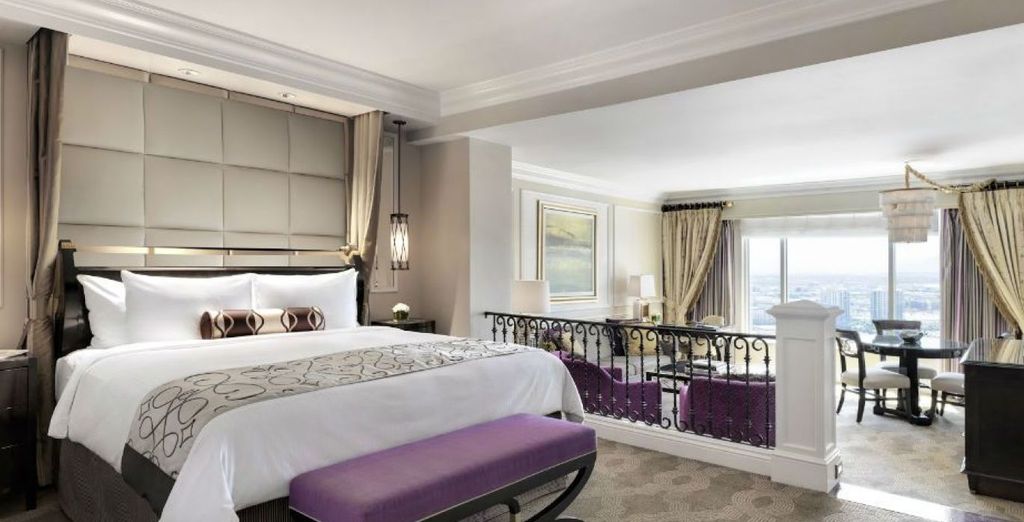 Enjoy a stay in one of Vegas' most iconic hotels. The Venetian is located on the bustling Strip and offers ornate Italianate interiors. Guests have access to the hotel's opulent pools and hip eateries like SUSHISAMBA.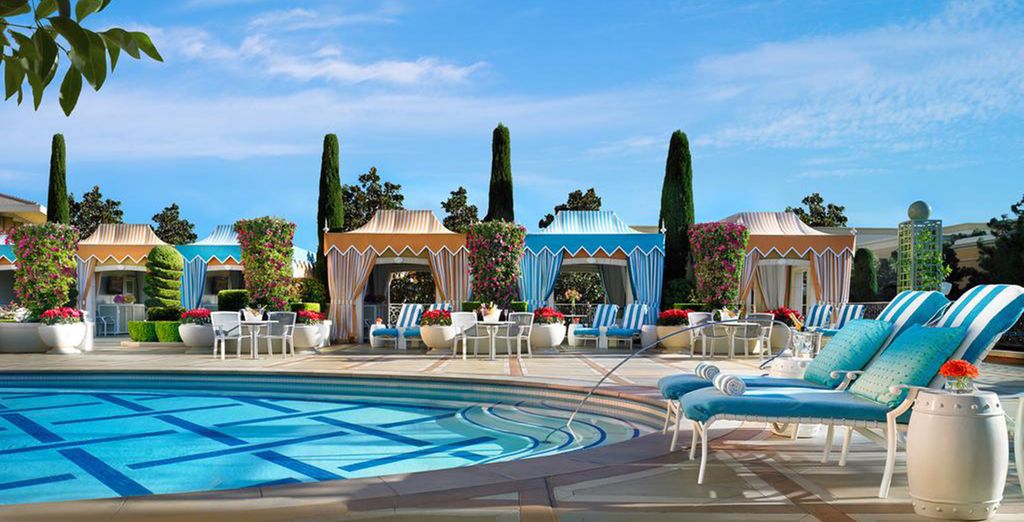 With an 18-hole golf course, nightclubs and theatres, Wynn is an epic entertainment hub. Rooms are decorated with eye-popping ceiling-height windows and feature plush bedding, amenities and whirlpool tubs. To top it all off, the hotel houses some of the city's very best restaurants.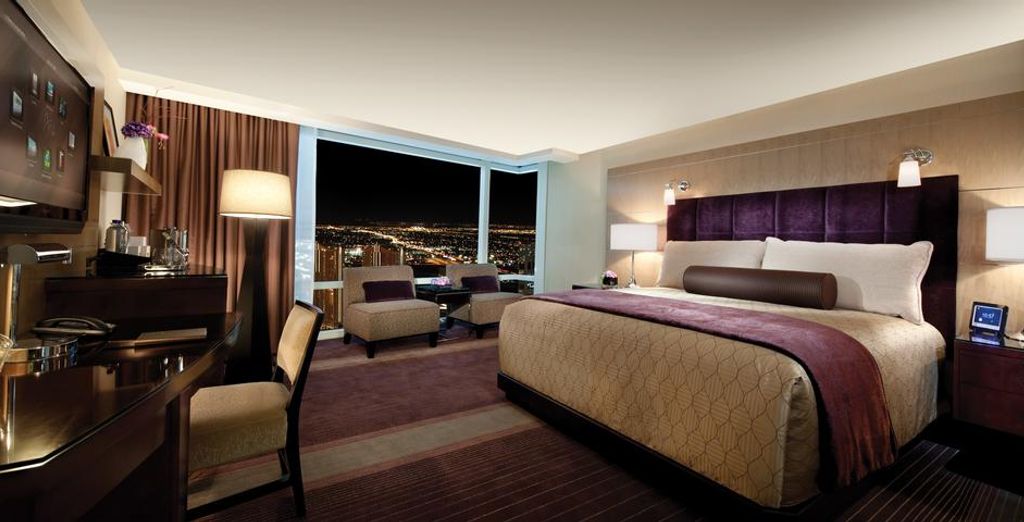 Renowned for its slick and glitzy design, ARIA is like something from James Bond. The rooms ooze modern-day sophistication and style, and the hotel boasts countless five-star facilities. Lounge by the pool, indulge in the spa or admire the hotel's very own fine art collection.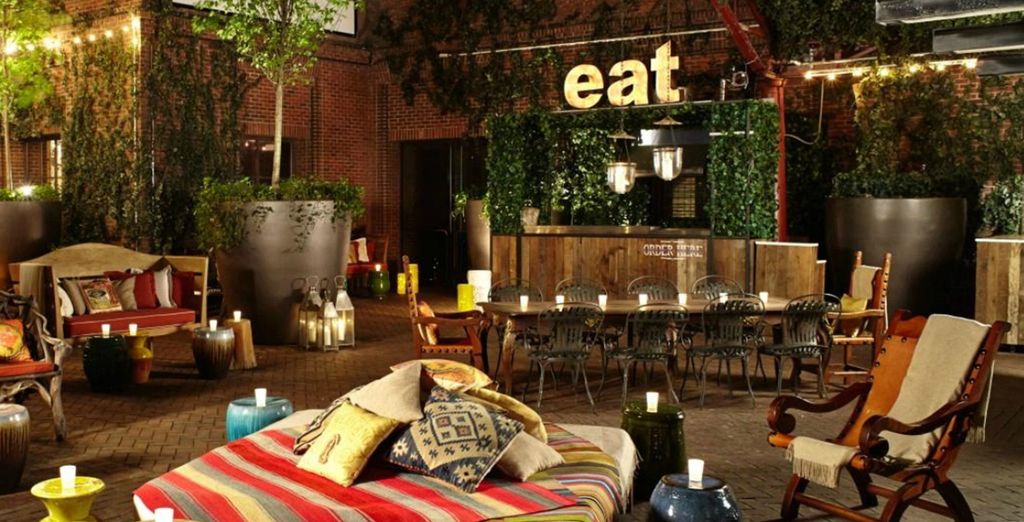 When it comes to sheer features, it doesn't get better than the USA Twin Centre. One of the largest such resorts in the world, suites are luxurious with modern furnishing and king-sized beds. Guests also have access to legendary restaurants, bars and clubs in a setting that simply drips glamour.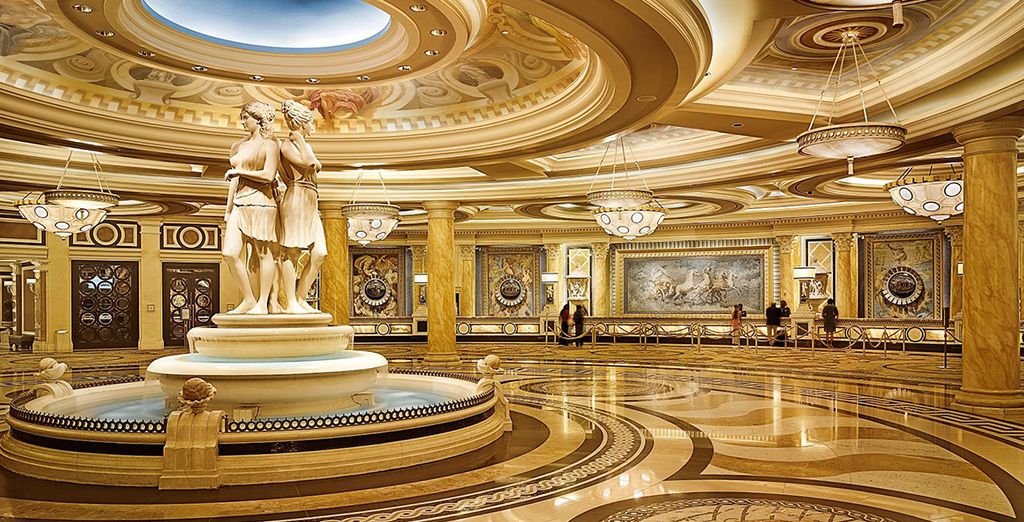 Set within a sprawling and palatial-like Roman-inspired resort, Caesars Palace is a 1960s icon. One of the first Vegas hotels to lean into entertainment, today's Caesars Palace is just as enticing. Enjoy world-famous eateries, classic casino games and a spectacular pool complex before catching a show.
When is the best time to go on holiday in Las Vegas?
Las Vegas bursts into life no matter the season with its indoor entertainment centres, golfing and dining. Still, you'll get different experiences throughout the year. For the best rates, winter is exceptional. Entertainment is still in full swing, but the desert gets chilly and less favourable for hikes. April, June and September are all excellent options for fun and lively shows with great hiking weather. While fine for pool-goers, you might want to avoid high summer if you're averse to sweltering heat. It doesn't really matter when you visit, however, as the party is always going on.
Going on holiday in Las Vegas
Las Vegas is mostly visited by air. McCarran International Airport is a short 20 or so minute drive away. Shuttle buses are often the best bet when making this route as they'll carry your luggage with ease. Uniquely for a city of its size and renown, there is no train station in Las Vegas. Buses disembark at Greyhound's bus terminal, and drivers arrive via the I-15 Freeway. Once you've arrived in Las Vegas, buses and rideshare apps are convenient means of getting around. Taxis are also good but expensive with tips expected.
Enjoy your holiday in Las Vegas
Las Vegas is renowned for its epic and over-the-top attractions. Romantic, thrilling and fun in equal measure, it's suited to many travelling experiences. For couples, world-famous restaurants, glittering skylines and grand shows provide excellent and romantic entertainment. For friends and groups, sprawling casinos and club attractions run well into the night. While you can't shield your children from the occasional drunken tourist, families are welcome too. Resorts provide pools and fun daytime experiences like roller coasters and aquariums. What's more, Las Vegas is an incredible base for outdoor activities. Enjoy trips to Red Rock Canyon, the Spring Mountains or Hoover Dam for gorgeous panoramic vistas.
The Voyage Privé travel expert's opinion on Las Vegas
At once theatrical and mind-boggling, Las Vegas holidays are truly memorable. The sheer visuals of it all in contrast to the barren desert surroundings are astonishing. Casinos vie with one another for the next artificial sensation, whether that's an erupting volcano or dancing fountains. Surrender yourself to the all-out kitsch of it all: take that gondola ride or pose beneath neon lights. As the spring breakers say when they descend on the Strip, "go wild or go home".
Enjoy dinner at the The Eiffel Tower Restaurant
Be transported to Paris in an instant with a romantic dinner at the Eiffel Tower. This restaurant sparkles in the evening and it's open until 12pm so it's the perfect place to grab dinner after the intense heat falls. You can enjoy a cool glass of champagne accompanied by beautiful music.
Take a trip to beautiful Venice
Head to the Venetian resort to step into Italy. With its very own Grand Canal, you will instantly feel transported to Venice. But you can't take a trip to this Italian city without a romantic and graceful glide through the Grand Canal in an authentic Venetian gondola. Relax as you float beneath beautiful bridges, quaint cafes and under balconies as your singing gondolier takes you on a journey down the Grand Canal for an experience like no other.
Try your luck at gambling
No trip to Vegas would be complete without stepping into a casino. Put your money on red or black and see how lucky you can get. With so many casinos throughout the Las Vegas strip for you to choose from, you'll be sure to find a machine or game that suits you - even if you aren't ordinarily a gambler!
Catch a star in concert
The Strip is populated with headliners - A-list musicians or bands that play shows in casino showrooms for extended runs. Whenever you visit Las Vegas, someone will be putting on a fantastic show. Artists include Celine Dion, Cher, Elton John, J. Lo, Backstreet Boys and Bruno Mars, among others. These shows are world-famous and have a much more intimate feel to them than those held in a standard concert arena. Be sure to book your tickets early though - they fill up quickly!
If you want to experience the bright lights of Las Vegas and world-class casinos, we are the perfect place to start your holidays to Las Vegas. We select all of our luxury holidays to Las Vegas with you in mind to create the ultimate trip of a lifetime away. Sign up to our website today for exclusive deals and exceptional discounts and prices for holidays to Las Vegas.