Last minute deals to New York



Table of contents
New York has an intoxicating spirit that makes it hard to visit just once. No sooner have you left, you'll be planning your return. New York is made up of distinct boroughs with good transport links between them. While it might seem complicated at first, you'll soon feel confident zipping around the subway. Enjoy shopping and sightseeing in Manhattan, hit the thrift stores in Brooklyn, head to Rockaway Beach in Queens, visit the zoo in the Bronx, or enjoy baseball in Staten Island. New York is the perfect place to visit on an impulse, which is why we have so many great last minute deals to New York on offer.
Top 5 things to do in New York for a last minute holidays
1. Get lost in Central Park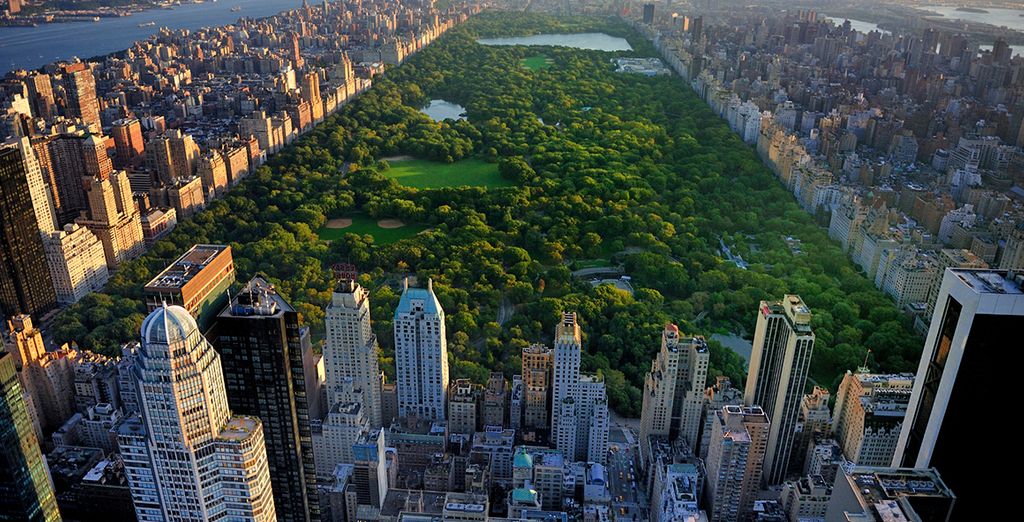 Spend a few hours wandering around this urban oasis and you will soon forget that you're in a major city. The park is truly expansive and the perfect place to enjoy some fresh air. Rent a bike and enjoy cruising around the many bike paths or just take a picnic blanket and enjoy people watching. You can also sample a Central Park staple, the giant pretzel. You'll see vendors dotted throughout the park selling these oversized baked goods. Or head to the boating lake and hire a rowboat for the afternoon if you really want to make the most of our last minute deals to New York.
2. Take the Staten Island ferry
Sure, you could spend a small fortune on a Statue of Liberty boat ride to get up close and personal with the lady herself. Or, you could just hop on the Staten Island ferry for free. The ferry goes right past the statue to give you a great view of Lady Liberty. When you arrive in Staten Island, you'll be right next to the Richmond County Bank Ballpark, home of the Staten Island Yankees. While this minor league team might not be the "other" Yankees, you can enjoy an authentic ballpark experience without parting with a huge stack of cash for a ticket. And the best part is that you'll enjoy an incredible view of the Manhattan skyline, even from the cheap seats.
3. See a show on Broadway
Broadway is synonymous with New York and you would be unwise to visit without booking tickets to one of the many shows. Enjoy the best of the best from the world of theatre and musical theatre, as shows like Lion King, Hamilton and Wicked entertain crowds of people every day. There are 41 theatres in the Broadway theatre district, so you are sure to find something you love. You can usually pick up tickets on the day for shows, so no need to worry if you're planning one of Voyage Privé's last minute deals to New York.
4. Try a new york slice
You can't visit New York without trying a slice of pizza as big as your head. Italy may have invented the pizza, but New York perfected it. You'll find pizza by the slice vendors all over the city, and you'll be hard pressed to find a bad one. Locals swear by Totonno's in Coney Island, John's in the West Village and Armando's in Bushwick. No matter where you get your pizza, make sure you learn to fold it like a New Yorker to avoid looking like a rookie.
5. Stroll across the Williamsburg Bridge
Once you've sampled all of the pizza New York has to offer, you'll be looking for a way to burn off those excess calories. A walk across the Williamsburg Bridge is a great way to see the skyline and then go on to explore New York's coolest neighbourhood. Start in the Lower East Side and head across to Brooklyn. Once you get off the bridge, enjoy a walk down Bedford Avenue to see what the cool kids are up to these days.
Which hotel to choose for a last miniute booking to New York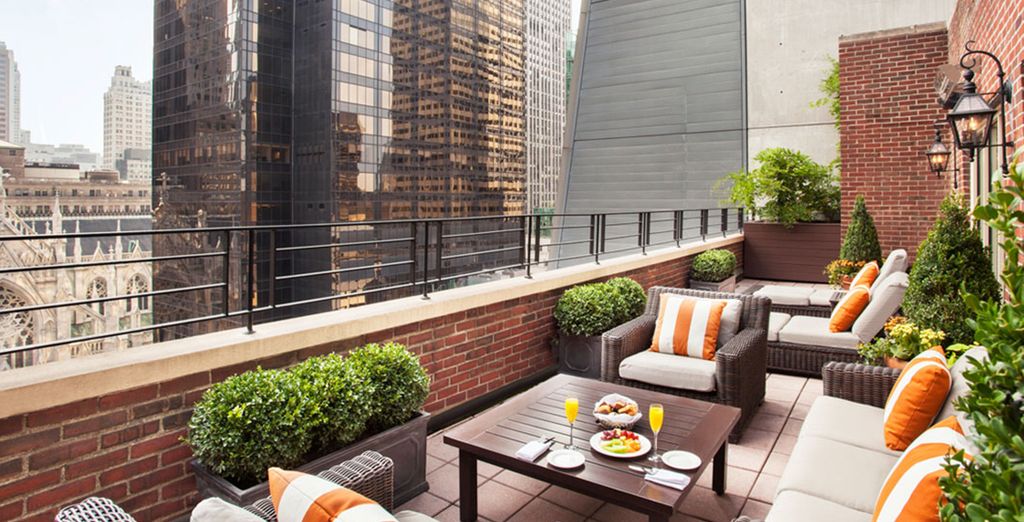 Enjoy New York from above with this four-star Manhattan hotel. Boasting a terrace on the 17th floor, you can enjoy views of Madison Avenue and the surrounding area. From this incredible location, you'll be well placed for sightseeing or a stroll around Central Park.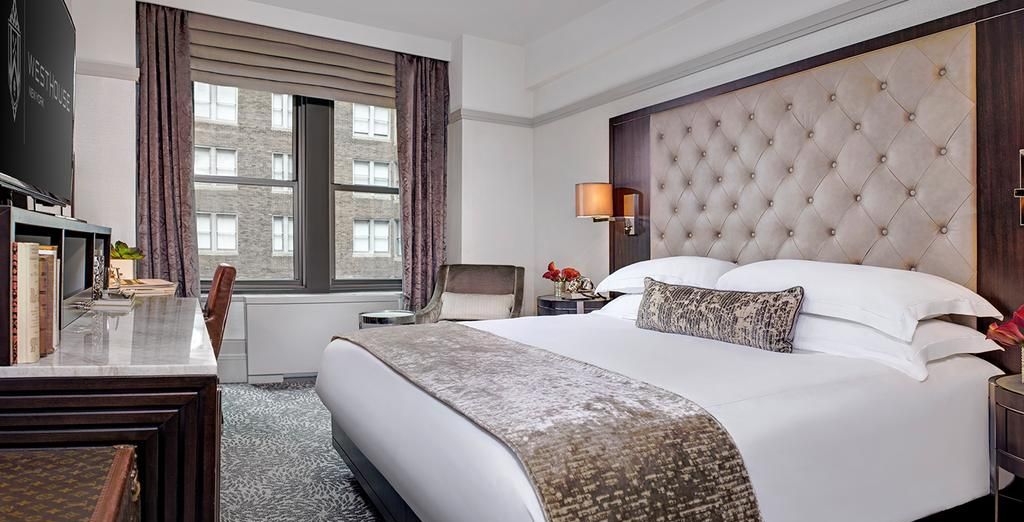 This stylish five-star hotel is conveniently located close to Carnegie Hall, Central Park and Fifth Avenue. Offering all the luxuries of a plush, Uptown apartment, you'll feel like an authentic New Yorker while enjoying incredible views of the city.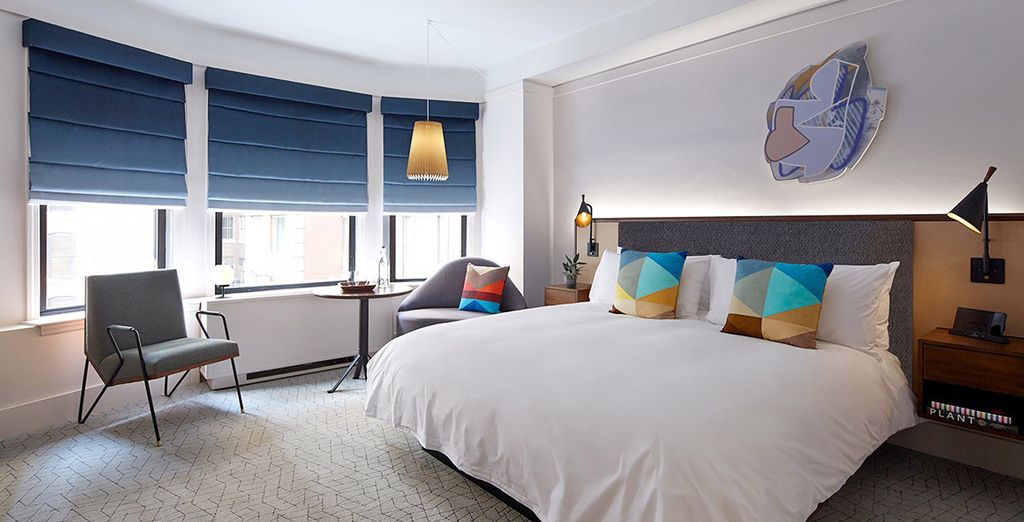 Located in the NoMad neighbourhood, you won't find a better Manhattan location than this. The James is a four-star hotel boasting sublime luxury and calming interiors. Location a few blocks from iconic landmarks such as the Empire State Building, you'll find everything you could possibly need on your doorstep.
Practical information about last minute holidays to New York
What is the weather in New York?
New York has very distinct seasons, which is one of the reasons it is so popular. Expect mild springs, hot and humid summers, crisp autumns and snowy winters. Spring and autumn are the best time to visit if you want to avoid the extremes. Christmas and New Year in New York will be more expensive, but a truly festive affair, while the 4th of July is a great time to celebrate in red, white and blue.
What budget to plan in New York?
New York can be expensive if you aren't ready to be thrifty. Save money on transport by purchasing an unlimited MetroCard for $32 for 7 days. You can also save money on food by getting off the tourist track and finding out where the locals go. New York will always be expensive, but if you are keen to save money, there are ways you can visit on a budget. A moderate budget of $150 per day will allow you to enjoy many restaurants and tourist attractions.
The Voyage Privé travel expert's opinion on last minute holidays to New York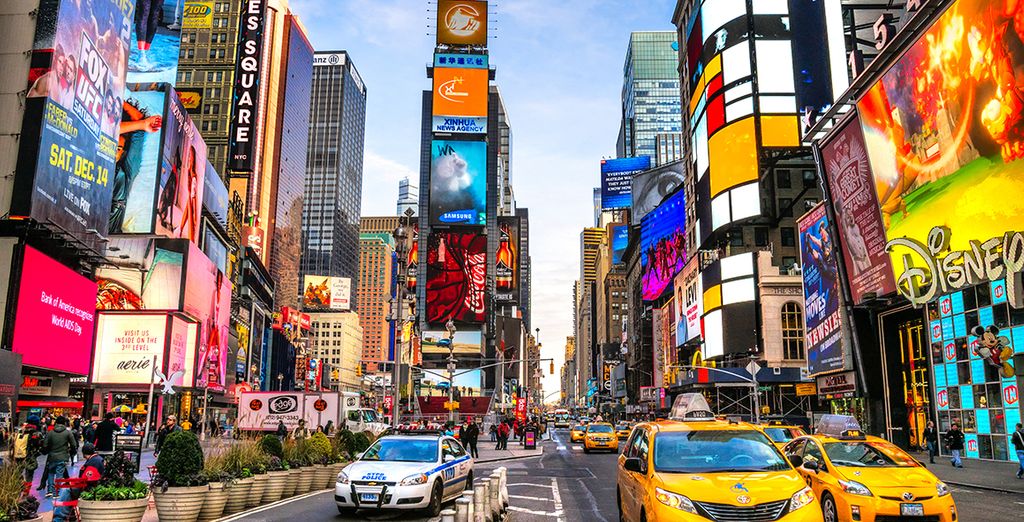 New York is enduringly current and effortlessly cool. You'll be hard pressed to get bored in New York as there is always something to see and do. You'll find yourself looking for views of the skyline from every angle, and catching sight of an iconic building such as the Empire State Building will never fail to give you a rush of excitement. From the moment you touch down in New York, you'll immediately understand why it is known as the city that never sleeps. When you do need to put your head down to rest, we have some great recommendations to make your last-minute deal to New York extra special.
A little island, with a lot to do
It doesn't take much to describe Manhattan; most people are very much aware of how remarkable this little borough is. It features ten of the most visited tourist hot spots in the whole world and hosts an average of 53 million travellers a year. Rarely does somebody not to find something to enjoy in Manhattan.
It goes without saying that the most rated tourist attractions are definitely worth a visit when in Manhattan. The Empire State Building offers spectacular views over the whole city, whilst the Staten Island Ferry gives you the opportunity to see the remarkable Statue of Liberty. The vibrant, beating heart of the city is Times Square, which is especially worth a visit at night when it is a-light with the bright lights of the billboards, street lights and scrolling news briefs.
The perfect city for people watchers, daydreamers and strollers
Manhattan's famous Central Park, spanning over 843 acres, comes alive with the seasons and offers the perfect venue for long, leisurely strolls through the city. Its small zoo boasts a wonderful collection of wild animals, from the huge grizzly bears and leopards to the tiny animals of the children's zoo. Or if architecture floats your boat, then this is the perfect city for relaxed strolling. Why not take a trip down 5th Avenue to see the beautiful designs of St. Patrick's cathedral? Or perhaps a stroll along the pedestrian walkway of the marvellously constructed Brooklyn Bridge, connecting Manhattan with Brooklyn, to get a real sense of the extraordinary city?
If browsing museums is more your cup of tea then Manhattan really is a wonder. Its acclaimed Metropolitan museum has some of the most impressive collections of antiquities, whilst the MoMA presents world-famous pieces by artists such as Picasso and Jackson Pollock. The Museum of Natural History, with its dinosaurs and entertaining space show, is a great choice for those travelling with children. The newly completed 9/11 Memorial museum is a poignant reminder of the city's near recent tragedy, and the ability of its people to unite in hard times.
Manhattan's many hotels make it the perfect location for last minute holidays, and our handpicked offers on hotels at exclusive prices make it even easier to visit. With our fantastic last minute deals there really is no excuse not to take a trip to the Big Apple
FAQ Last Minute New York