Dubai Holiday Package - All-Inclusive Tour



Table of contents
Dubai Holiday Package - all-inclusive tour
Why discover Dubai with a holiday package?
Choosing a Dubai holidays package from Voyage Privé is the best way to experience this amazing desert oasis. Our holiday packages help you to enjoy all that Dubai has to offer without having to stress out about organising all aspects of your say in the country.
The different types of holidays and tours offered by Voyage Privé
You will find some great Dubai holidays package options when you browse Voyage Privé. Letting us take care of your providing you with luxury accommodation will allow you to focus on experiencing the unique things that Dubai has to offer to travellers from the UK, whether you're seeking a desert adventure, a culture trip, shopping or beach life.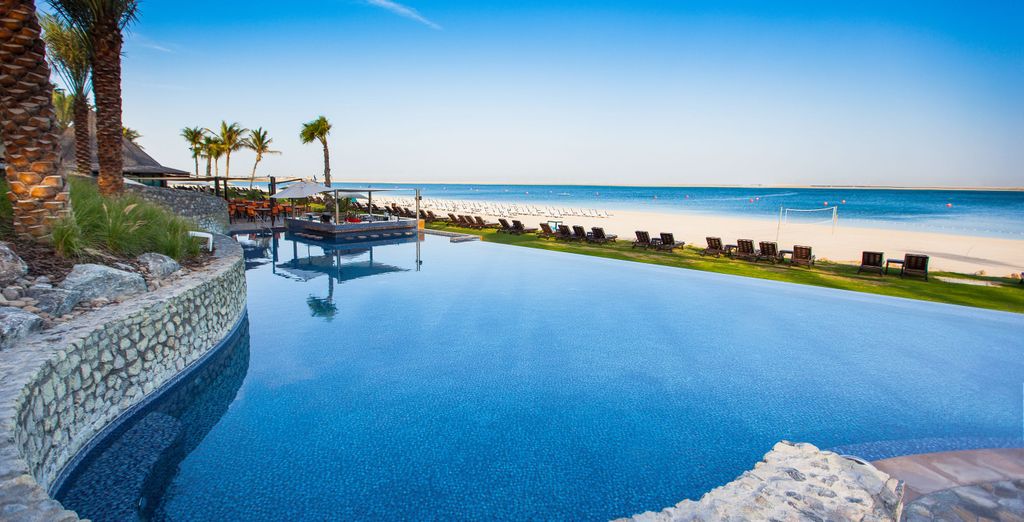 When you choose the JA Lake View Hotel 5* holiday offer for your Dubai holiday, you will indulge in all of the benefits of a true 5-star luxury hotel. The hotel is located inside an expansive resort that is near to the famed Jebel Ali Beach. It is an ideal holiday package option for families and offers many opportunities for leisure.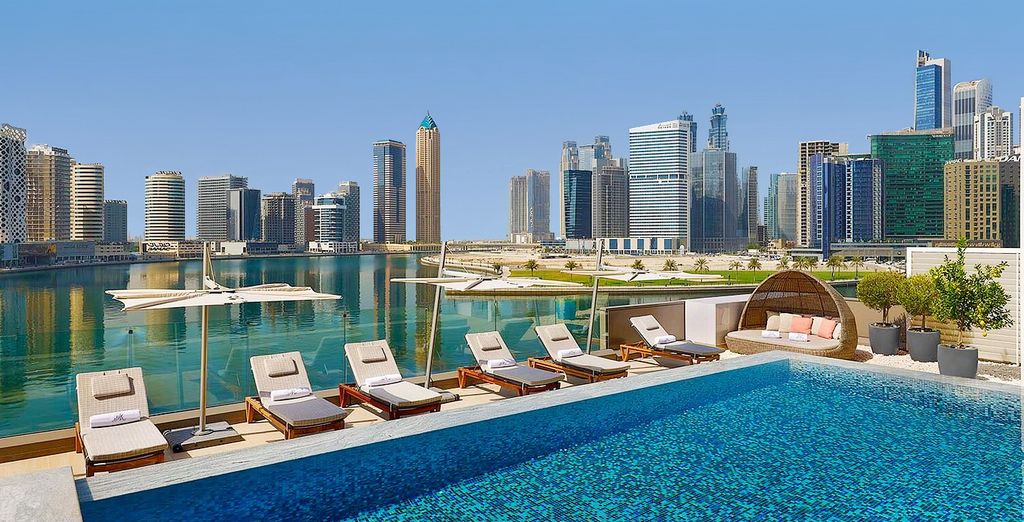 This holiday package for Dubai includes the opportunity to sample a wide range of incredible cuisine at the hotel's restaurant. There is also a spa offering massages and other treatments. This luxurious location is located close to Dubai's water canal and the world-renowned Burj Khalifa.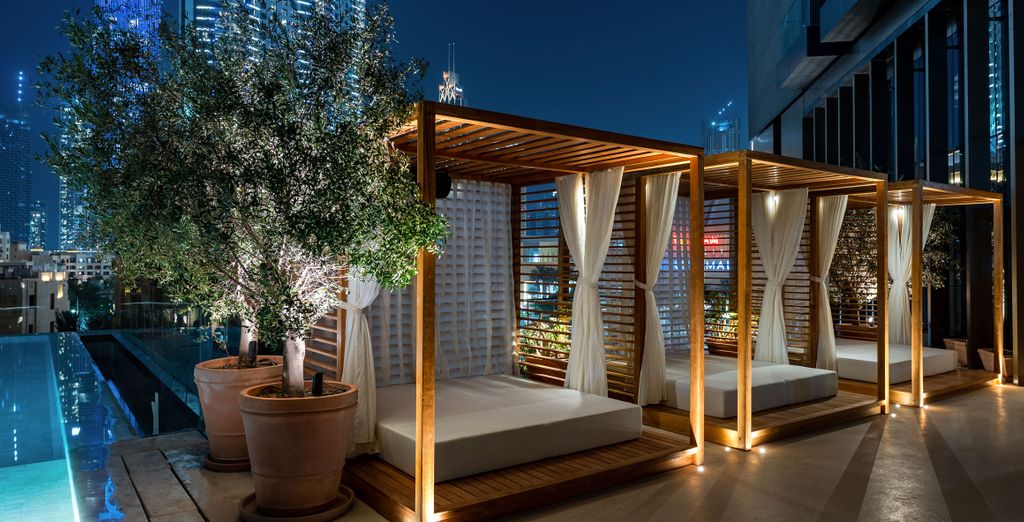 Choosing the Dubai EDITION holidays package will allow you to stay in an opulent setting that includes stunning spiral staircases and impressive chandeliers. You will stay in the heart of Dubai with easy access to all the area's attractions. The package includes an upgraded Superior Room as well as breakfast each morning.
Practical advice for planning your trip to Dubai
When to travel to Dubai
Dubai is a destination that is great to visit year-round. We recommend enjoying a Dubai holidays package between November and March. You will enjoy the warmth of the region's climate while also avoiding the peak of the summer heat.
Administrative formalities before going to Dubai
The requirement to enter Dubai from the United Kingdom involves holding a British passport. Upon arrival, you will be given a visitor/tourist visa free of charge. There are no application requirements before arrival in the country.
How to get around in Dubai
Dubai has a robust public transportation system that makes it easy to get around. Options include the Dubai Metro as well as public trams, buses and taxis. There is also a Dubai Ferry.
What is the time difference?
The time in Dubai is 4 hours ahead of the United Kingdom. The country is located in the UTC+4 time zone.
What is the official language?
The official language of Dubai is Arabic. English is a commonly spoken language in the region as well, which makes it an easy place for UK travellers to navigate.
High-quality services at the best price for your package holidays in Dubai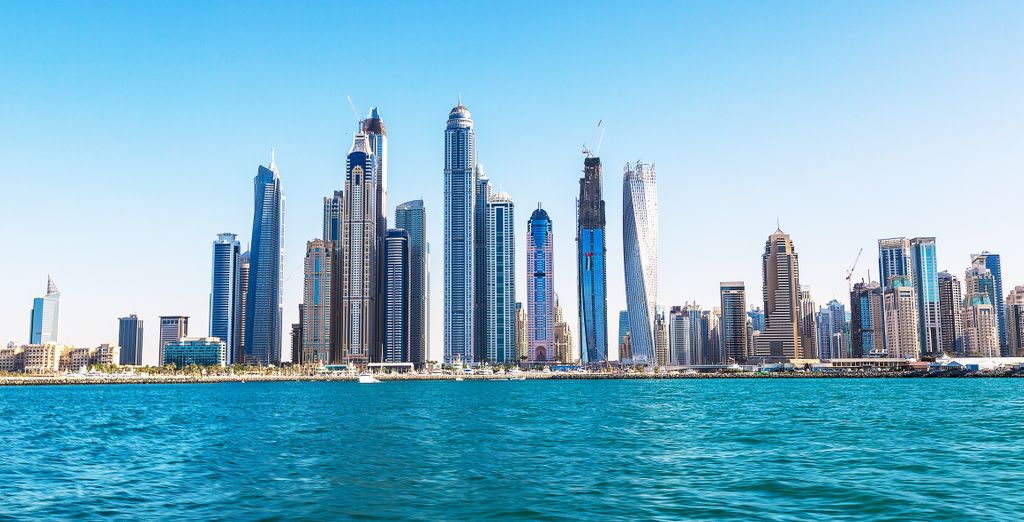 You can count on Voyage Privé to seek out the best luxury hotels when creating holiday packages for amazing destinations like Dubai. We organise tours and holiday packages that help you to simply enjoy your travel experience while we handle the logistics. You will enjoy amazing restaurants, great views and perks like spa treatments. Voyage Privé helps you to enjoy your time in Dubai without worrying about finding hotels and other requirements.
Voyage Privé's hot deals for Dubai holidays packages
Dubai is one of the world's leading holiday destinations and a popular spot for travellers from the United Kingdom. It is a true desert oasis on the Arabian Peninsula and offers visitors the opportunity to experience world-class cuisine and global culture. Dubai's iconic cityscape includes the towering presence of the Burj Khalifa as well as world-class shopping at the Dubai Mall. These are key factors that make a Dubai holidays package from our team here at Voyage Privé an experience that will stay with you for the rest of your life.
Five places to see on your trip to Dubai
1. Cool off at Dubai's iconic Atlantis Aquaventure Waterpark
One of the best ways to beat the desert heat when you are enjoying a Dubai holidays package is to head to the famed Atlantic Aquaventure Waterpark. It is the largest waterpark in the Middle East and the perfect spot whether you are travelling solo, as a couple or with your whole family. You can spend hours enjoying the water rides while you cool off.
2. Take in a view like no other from atop the Burj Khalifa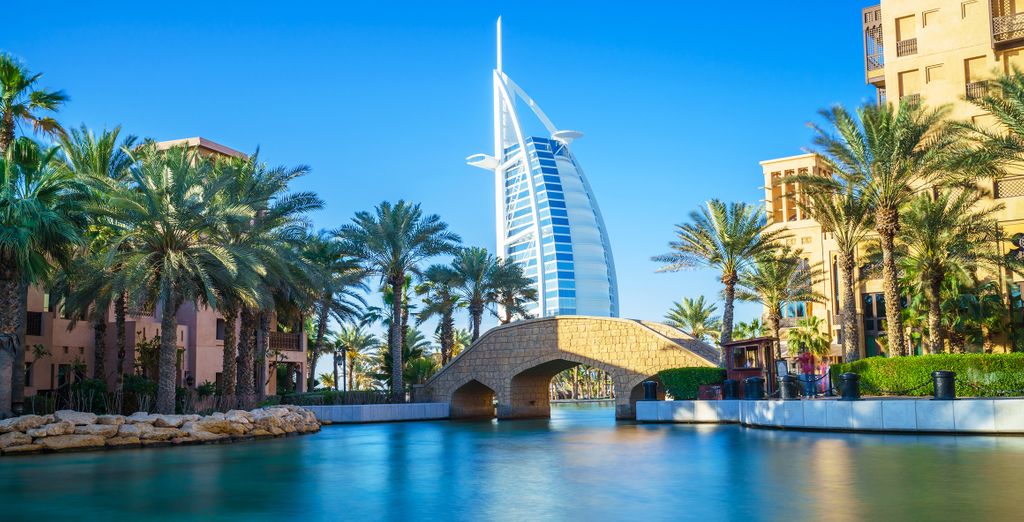 Taking a trip to the top of the Burj Khalifa is a must for any trip to Dubai. It is the world's tallest building and offers a viewing deck that provides breathtaking views.
3. Enjoy a world-class shopping experience at the Dubai Mall
The Dubai Mall is a legendary spot for shopping in the city. You will find a host of luxury shops as well as an ice rink and an aquarium. It is the recommended spot if you would like to fulfil your shopping goals while you visit Dubai.
4. Relax on the sands of Kite Beach
Kite Beach gets its name from the fact that visitors love to fly their kites across its sandy shores. This adds to the ambience of this beautiful beach that is perfect for relaxing on after a day of seeing the sights in Dubai.
5. Seek out adventure on a Dubai desert safari experience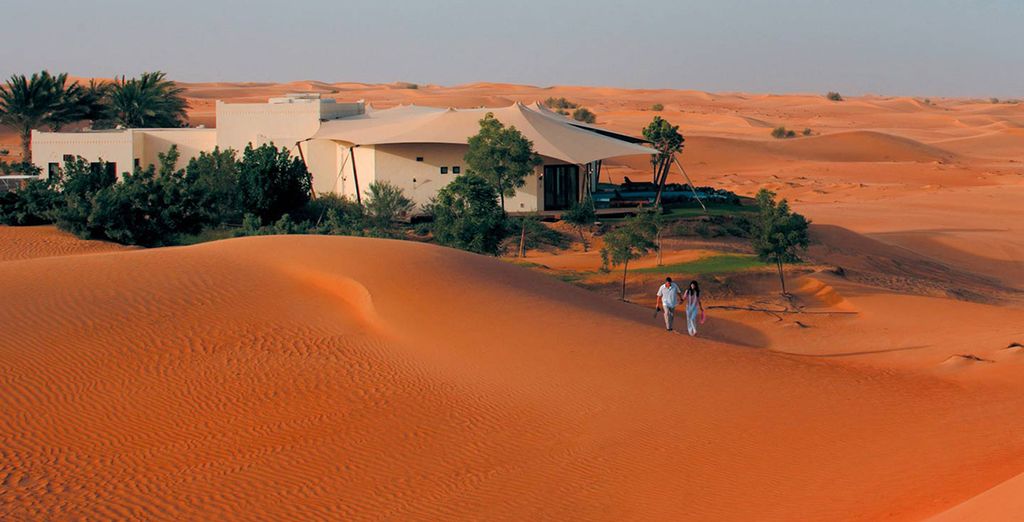 Dubai has several companies that operate safari adventures out into the surrounding desert. Many of these safari excursions offer you the chance to hit the dunes on a quad bike or to enjoy the thrill of sand boarding.