Flight+Hotel deals to Dubai



Table of contents
Flight+Hotel deals to Dubai
Why choose a Flight+Hotel offer for your stay in Dubai?
If you like hassle-free travel at exclusive prices, then choosing a flight and hotel offer from Voyage Privé will definitely suit you. With a flight and hotel offer, you save time and get exclusive prices on both the journey and the destination. You'll get to enjoy the best of Dubai, United Arab Emirates, when you stay in sumptuous hand-picked hotels and focus on your fun.
Top 5 hotels in Dubai by Voyage Privé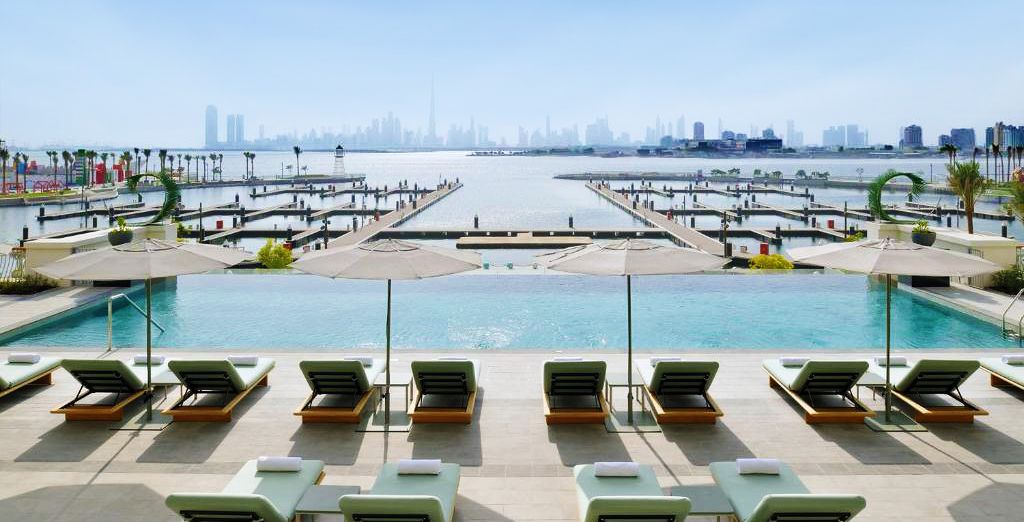 At the Vida Creek Hotel, Dubai, you can enjoy panoramic views of the shimmering Dubai skyline and the Creek Marina. This waterfront hotel offers the perfect blend of luxury and relaxation, with an onsite spa and elegant interiors. Take an evening stroll on the promenade, just steps away from the hotel and enjoy the delectable Mediterranean-inspired dishes on the restaurant menu as you watch the sunset.
This fantastic 5-star hotel is located on Dubai's Palm Jumeirah Island, allowing for the most incredible views. Atlantis The Palm Dubai was awarded "Dubai's Leading Resort" by the World Travel Awards for good reason – it offers everything you need for fun and an unforgettable stay, including water-based activities on a private sandy beach, an underwater aquarium, swimming with dolphins, a kids' club, fine dining, a spa and shopping.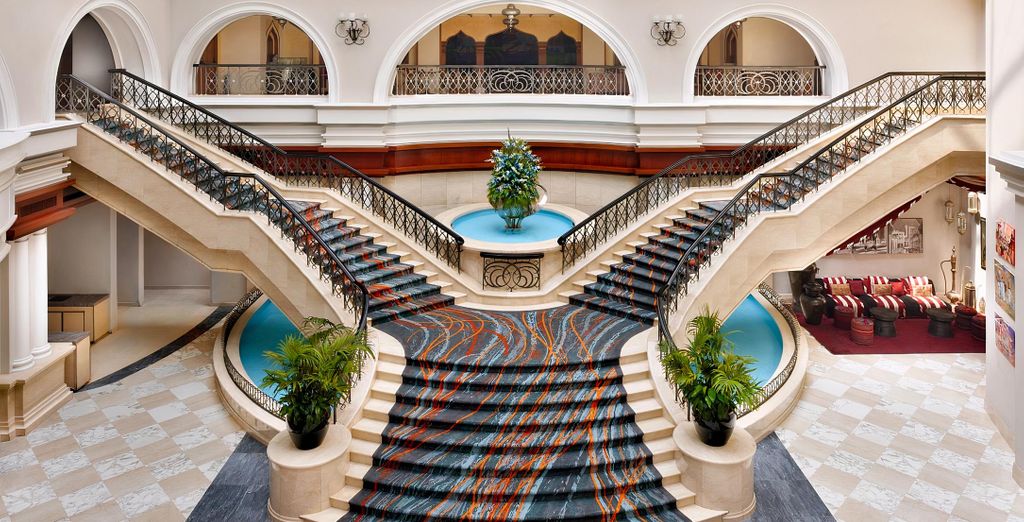 The Mövenpick Hotel & Apartments, Dubai is well placed for exploring the city of Dubai, with many of the main landmarks just 10 minutes away. This hotel has arty interiors complete with artworks in guest rooms. Tickle your taste buds with no less than 7 onsite restaurants. On top of this, there are an incredible array of facilities, including a rooftop pool and salon.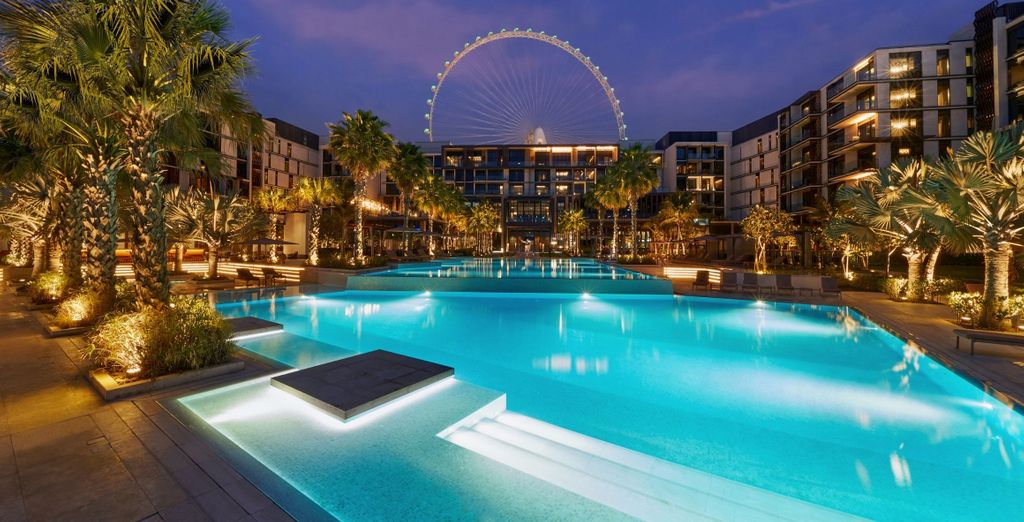 This beautiful Dubai hotel on Bluewaters Island offers romance and relaxation on a private sandy beach close to Ain Dubai - the world's largest observation wheel. Guests at Caesar's Palace Dubai will enjoy this charming oasis, with its Roman touches. There are 12 restaurants, including Gordon Ramsay's Hell's Kitchen, with poolside bars, impeccable service and world-class entertainment options.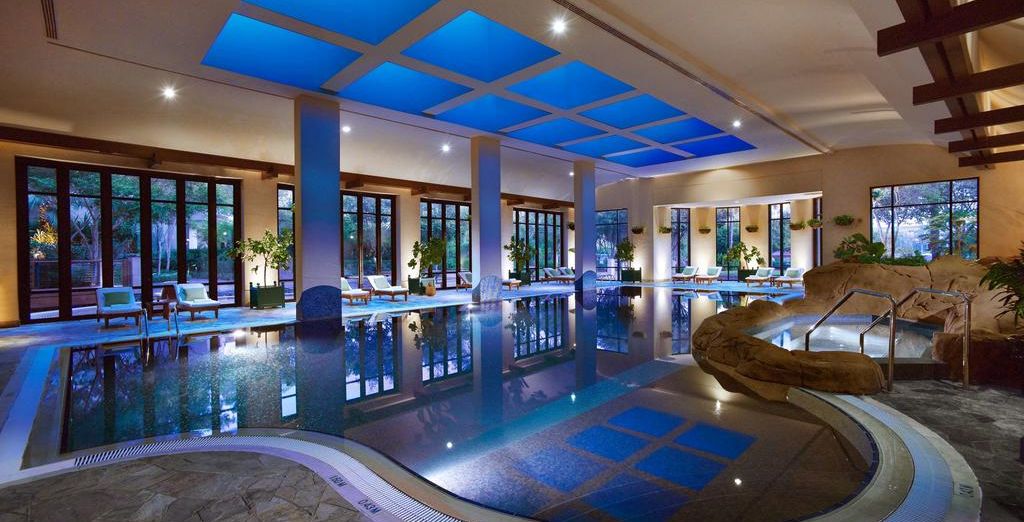 The Grand Hyatt Dubai is located near Sheikh Zayed Road, which connects many of Dubai's main attractions. Guests at this hotel will be impressed by the beautifully landscaped gardens, including a tropical indoor garden in the atrium. Additionally, there are various indoor and outdoor pools, an award-winning spa, a state-of-the-art fitness centre and various fine dining and entertainment options.
High-quality services at the best price for your flight and hotel deals in Dubai
If you're looking for the best flight and hotel deals for your money, rest assured that Voyage Privé collaborates with high-end hotels to bring you the high-quality services and facilities that you'd expect from a luxury holiday. If you enjoy pampering massages and spa treatments, room upgrades, incredible sea views, world-class restaurants, state-of-the-art gyms, rooftop pools and more, Voyage Privé is for you.
Flight+Hotel Dubai: which airline for your flight?
Due to its strategic location, Dubai is serviced by a wealth of airlines from the UK, including British Airways, Emirates, Etihad Airways, Qantas, KLM and many more. Voyage Privé negotiates with airlines to get you the best and most convenient flights and prices to Dubai.
Which airports for your flight to Dubai?
Wherever you are in the UK, you'll find a nearby airport offering flights to Dubai, including Heathrow, Gatwick, Manchester, Birmingham, Newcastle and Glasgow. Flights from the UK to Dubai take just over 7 hours. The sole airport of Dubai, Dubai Airport, is approximately 5 miles away from the city. Once you arrive at Dubai Airport, you can take a Red Line metro into Downtown Dubai from the airport's Terminal 3. Otherwise, taxis are plentiful and take around 15 minutes to reach the city.
Voyage Privé's hot deal for a flight and hotel stay in Dubai at an exclusive price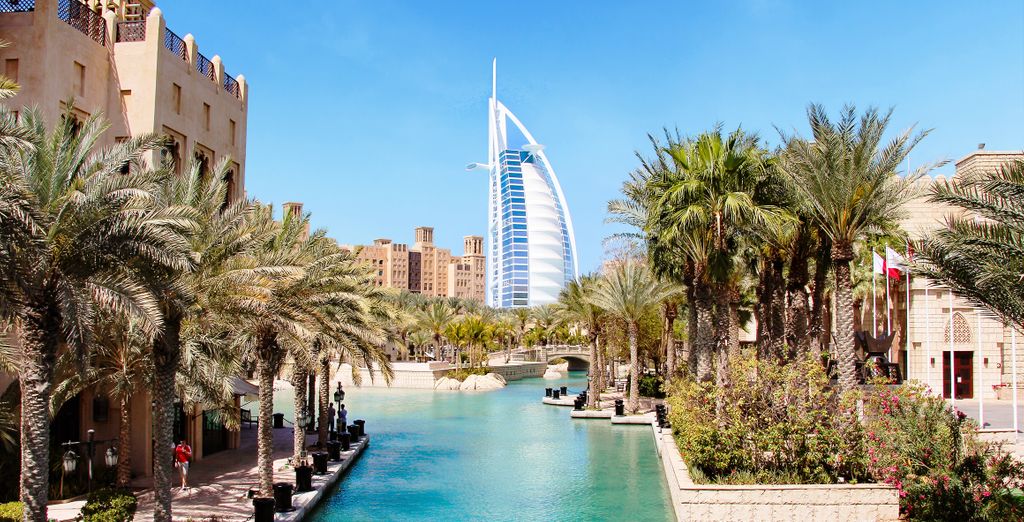 As the largest city in the United Arab Emirates, Dubai is among the top travel destinations in the world. Dubai is home to several extremes, including the world's largest shopping mall and the world's tallest building. If you love exploring beautiful sandy beaches, shopping 'til you drop, world-class entertainment and discovering aspects of Arab life, such as Bedouin culture and sacred mosques, while enjoying luxury accommodation, then Dubai is definitely for you!
5 places to visit while in Dubai
1. A mall made in heaven
Dubai is world-known for its shopping malls, so if you're a shopaholic, this will be consumer heaven for you. The world's largest shopping mall, the Dubai Mall covers over 12 million square feet, but it doesn't only contain luxury shops. There's Dubai Aquarium and Underwater Zoo, over 200 food and beverage outlets, a kids' edutainment complex, an Olympic-sized ink rink, cinemas and much more.
2. Go on a desert safari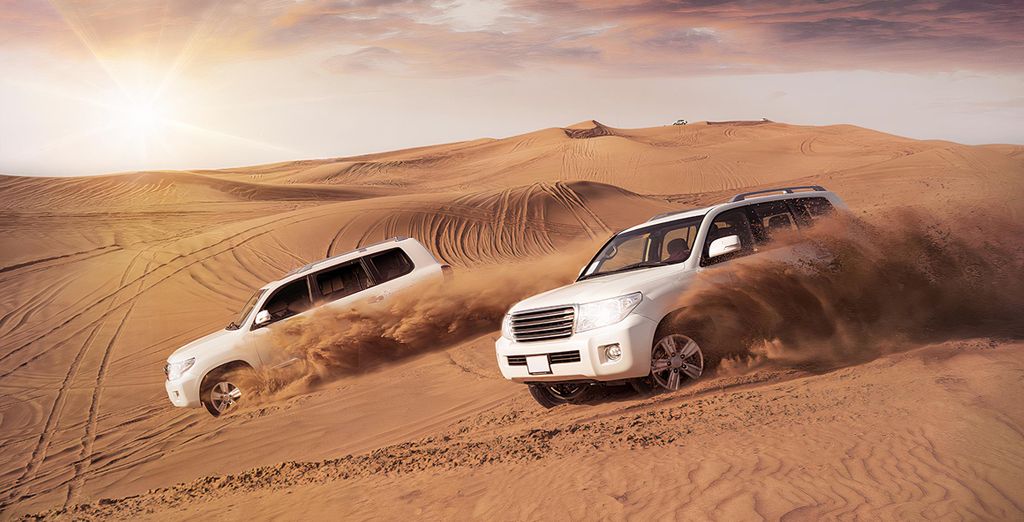 If you've ever wanted to marvel at the beauty of the Arabian Desert, get a taste of the traditional lifestyle or do some dune bashing, take an exhilarating day trip. This may include riding a 4X4 with an experienced driver, going on an ATV Quad, sandboarding, a camel ride, dinner, hookahs, traditional Arabian music and dancing at a Bedouin camp.
3. Dubai Marina yacht tour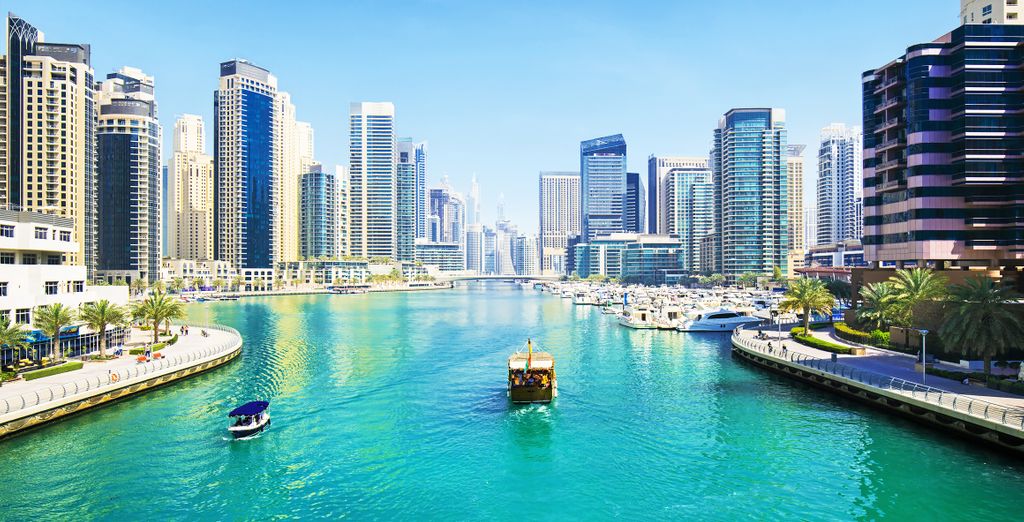 Take a morning, afternoon or sunset tour of Dubai Marina aboard a luxury yacht to get a different perspective of this incredible emirate and city. Enjoy the unforgettable sight of Dubai from the water as you sip on a drink and enjoy breakfast, lunch or dinner. A yacht tour is perfect for couples, solo travellers, families or groups of friends.
4. Take a hot-air balloon ride
Take to the sky in a hot-air balloon and see the sunrise over the Arabian Desert and take in the beauty of the Dubai Desert Conservation Reserve from above, including grazing gazelles and roaming camels. See trained falcons fly by as you enjoy a gourmet breakfast with the Hajar Mountains as a spectacular backdrop.
5. Get wet and wild
For great family fun or indulging the kid in you, enjoy a day at Aquaventure Waterpark Dubai, which takes waterparks to the next level. You can chill on lazy rivers, scream your way down corkscrew chutes and the vertiginous Poseidon's Revenge, ride through shark tunnels, and allow the kids to cool down on Splasher's Island. After all that excitement, enjoy entrance to the Atlantis-themed Lost Chambers Aquarium, which features an incredible 65,000 marine animals.