Best Hotels in Sorrento



Table of contents
If you have picked Sorrento as your next holiday destination, you'll want to book the right hotel for the best experience. Booking Sorrento hotels through Voyage Privé comes with many benefits and a great choice of accommodations, including luxurious hotels, resort spas, modern hotels, boutique hotels and more. We offer you the best deals and hotel bookings.
Our best hotels in Sorrento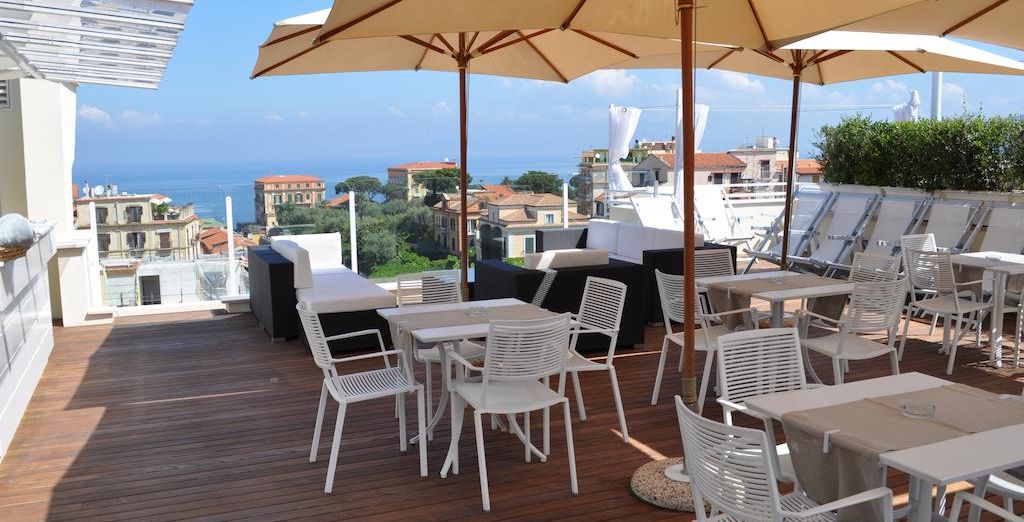 If you love environmental conservation, you can stay in this eco-friendly hotel located in the heart of Sorrento. The rooms combine contemporary design with eco-friendly materials like thermal windows and natural hemp insulations. Featured amenities include a fitness centre, wireless internet access, an infinity pool and a poolside bar.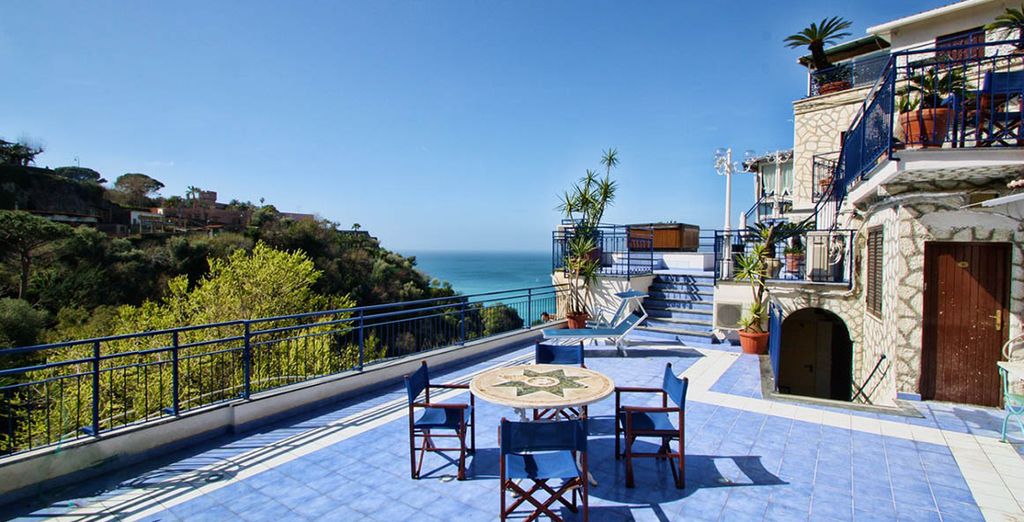 Located in Vico Equense, overlooking the Gulf of Naples, Hotel Oriente boasts world-class views of the Amalfi Coast.The location is perfect for exploring Sorrento and the Amalfi Coast. Rooms are furnished and equipped with guests' comfort and safety in mind, and some units have clear views of the sea or mountains. Facilities at the hotel include free Wi-Fi, an on-site bar and restaurant, an outdoor sea-view hot tub and private beach access.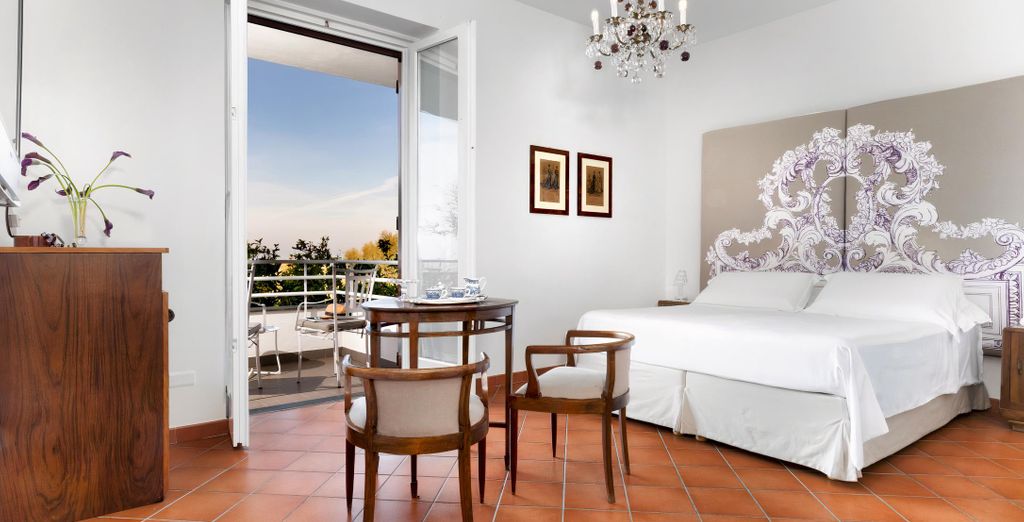 Villa Oriana Relais is a family-owned, intimate boutique hotel located near Sorrento's main square. Guests can breathe in the tantalising scents of the citrus fruits in the nearby orchard while enjoying the beautiful views of the Bay of Naples and Mount Vesuvius. All rooms come with a terrace featuring a small table, chairs and parasol. The hotel owners will serve you a homemade breakfast every morning. You can enjoy breakfast on the terrace here.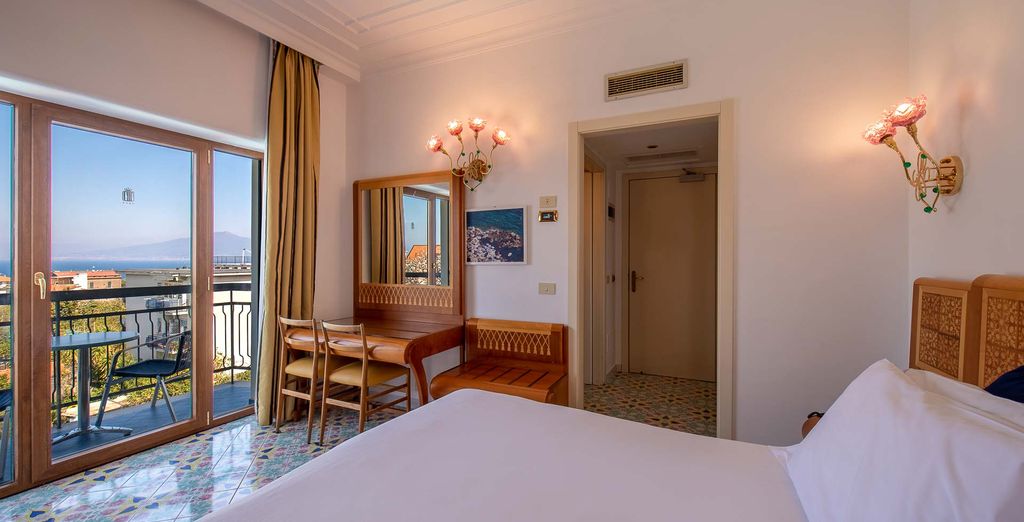 Thanks to its unique vantage position in the centre of Sorrento, this hotel offers all the delights of the town. All guest rooms are spacious, elegantly furnished and with panoramic views. You can relax by the pool whenever you are not strolling in town or try Mediterranean cuisine in the top-floor restaurant with a unique view of the town and the Gulf of Naples.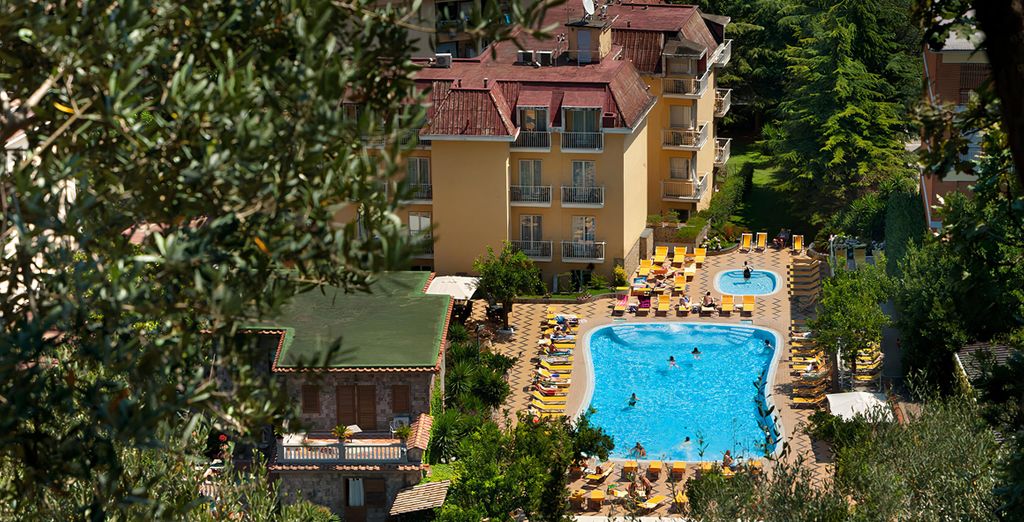 Thanks to its location, this hotel provides easy access to the centre of Sorrento without compromising serenity. You can have some relaxing moments beneath the orange trees in the park or relax at the open-air swimming pool equipped with parasols and sun chairs. Additional facilities include free Wi-Fi, an internal restaurant and a Jacuzzi
Services you will find at our hotels in Sorrento
Below are the services you will find at our hotels in Sorrento:
Flat screen TVs
Free Wi-Fi
Swimming pools
Spas
Luxury bathrooms
Going on holiday in Sorrento
Thanks to the Mediterranean climate, Sorrento has warm and dry summers and mild winters, meaning you can visit at any time of the year. However, if you want to enjoy all that the town has to offer, including swimming at the beach, the best time to visit is between June and August, when the days are sunny and hot. You will also avoid the crowded streets and major attractions, common in the period between March and mid-June.
Hotel offers at Sorrento convenient for all kinds of travel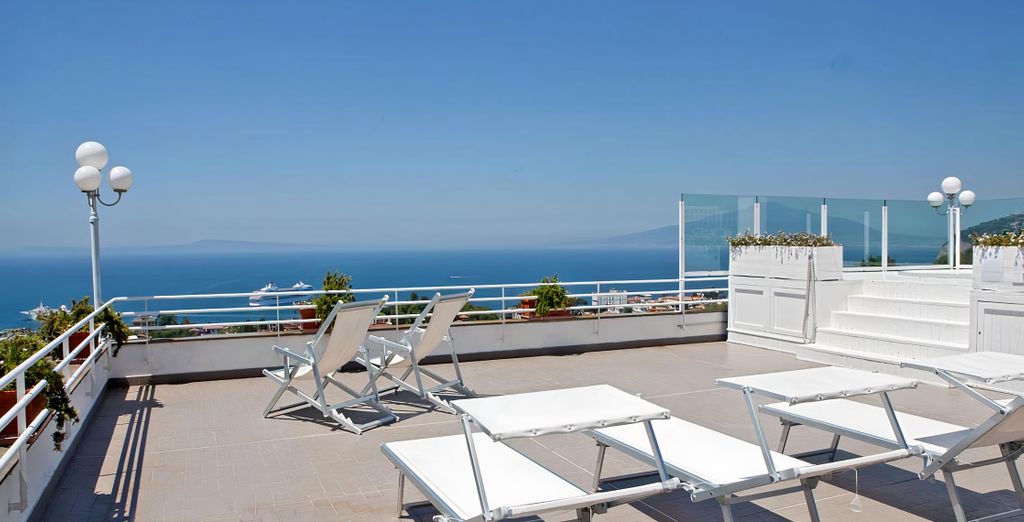 Thanks to the wide range of attractions, rich history and unique landscape, Sorrento is the perfect destination for all kinds of travellers. The town's museums and historical monuments are ideal for families and history-inspired travellers, but if you are alone, a day spent at the beach will present numerous activities, like sunbathing, swimming, kayaking and many more. For couples, nothing can be more romantic than an overnight in a yacht overlooking the sparkling Mediterranean Sea.
The range of hotels we offer at Sorrento
Luxurious hotels, historic hotels, boutique hotels, B&Bs and spa hotels.
Sorrento: what should we bring for a hotel stay?
Toiletries, bathing suit, clothes, charging cables, and comfortable shoes.
Your best hotel at Sorrento: how to get there and make your booking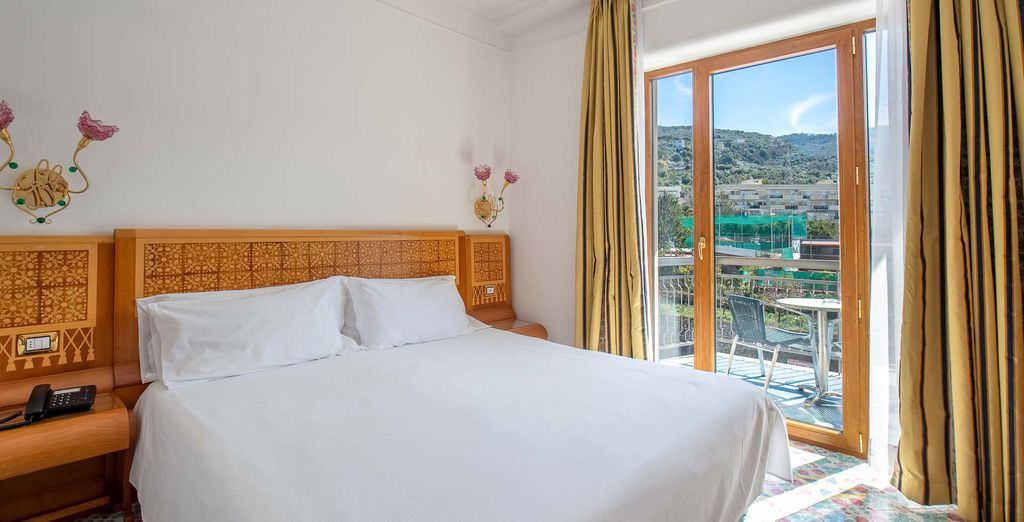 How to get to Sorrento
If you are flying to Sorrento, you can land at Naples International Airport and travel the rest of the way by train, bus or car. Alternatively, you can fly to Rome, which can be cheaper because the airport is larger. The most economical and convenient way to travel to Sorrento by land is by taking the train from Naples, which runs every 30 minutes. Airport buses will connect you directly to the train station. You can also take a bus to Sorrento at the airport, which takes longer. Visitors who wish to travel to Sorrento by sea can take a ferry to Sorrento from the port of Naples. Though this option is more expensive, you will enjoy the beautiful views of the Amalfi Coast from the sea and arrive faster.
How to book your hotel in Sorrento
No matter what accommodation you prefer, booking with Voyage Privé comes with numerous benefits and a wide variety to choose from. You can register for free online to take advantage of exclusive offers dedicated to members-only on luxury hotels.
The opinion of the Voyage Privé travel expert on Sorrento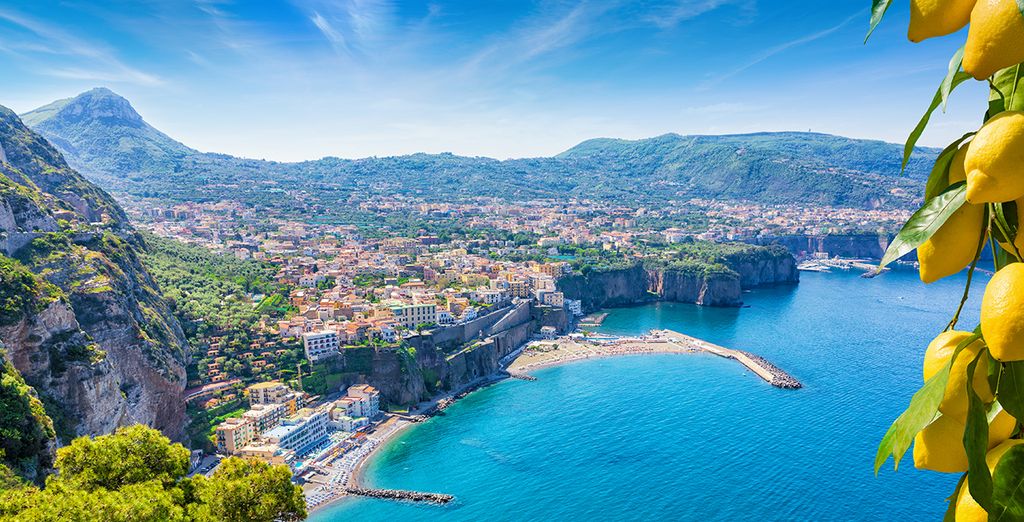 The rocky cliffs of Sorrento, combined with the beautiful beaches and the laid-back streets, makes it a unique holiday destination for tourists from all over the world. The town is also rich in history as it has been ruled by Romans, Greeks, French, Byzantines and Spanish. Attractions in the Sorrento include museums, beaches, historical buildings and many more. Also, ensure that you have sampled local confections, like the Caprese almond cake, at one of the local pastry shops.
Sorrento, a haven of serenity and culture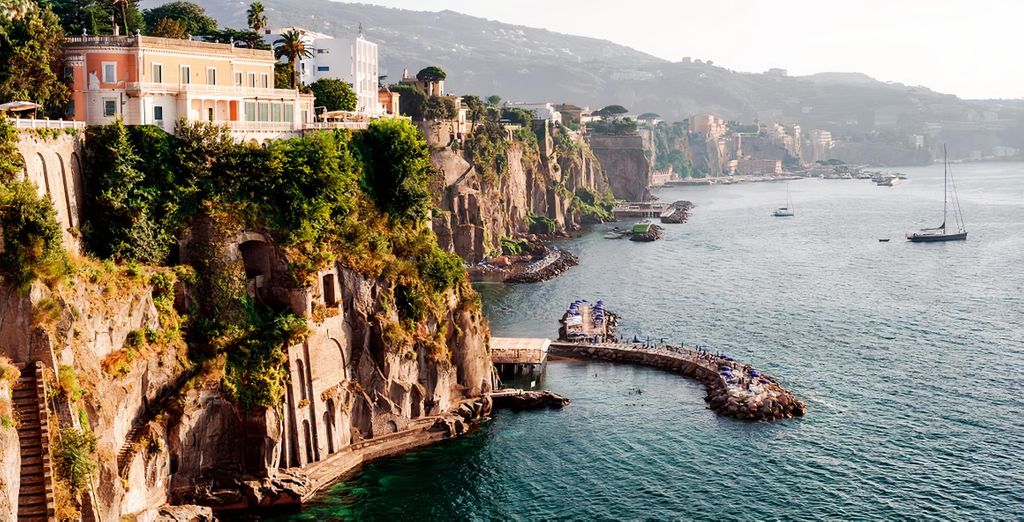 From local cuisine to cultural performance, architecture and historical monuments, there is a lot to learn about the Southern Italian culture in Sorrento. The outstanding views, cool sea breezes, beautiful sunsets and fewer motorised roads also provide the serenity you need to relax and unwind.