Holidays to Split: Croatia's unique blend of ancient and modern



Table of contents
Enjoy luxury holidays to Split with Voyage Privé where it's sunny, calm, charming and beautiful. Surround yourself with crystal blue waters, golden beaches and delicious cuisine.
Split : Transport yourself into Dalmatian life
Croatia's second-largest city is a great place to see Dalmatian life in its true form. This is a city that's always buzzing and manages to create a perfect balance of modernity and tradition. Step inside Diocletian's Palace, one of the best Roman monuments in the world and a Unesco World Heritage site. The palace was built in the fourth century and it is the living heart of the city whose labyrinthine streets are packed with bars, people, shops and restaurants to dine. You'll find yourself returning to this spot over and over again to relive the charm and allure.
Holidays to Split : Escape to nature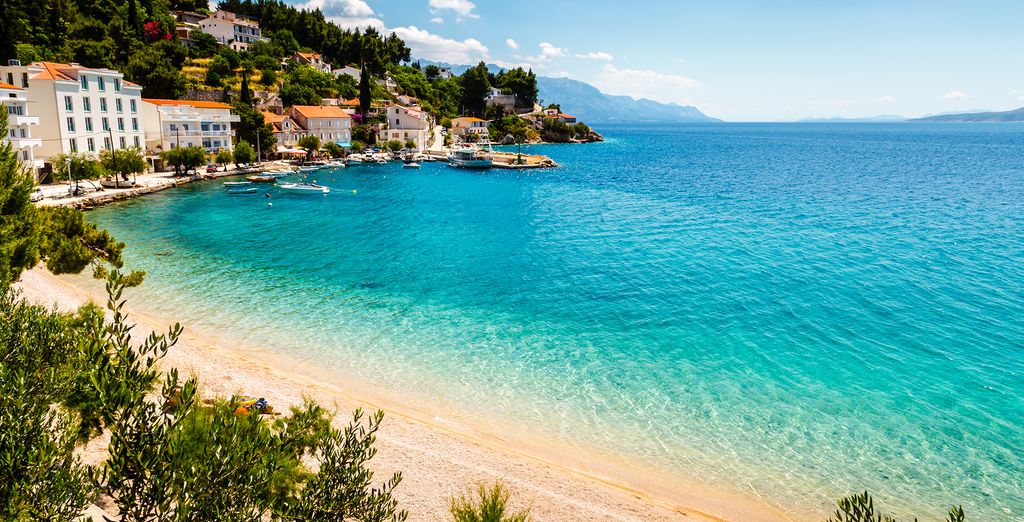 Take a trip to Marjan Forest Park, which is considered the lungs of the city. This beautiful and hilly nature reserve offers scenic lookouts, easy to moderate trails through fragrant pine forests, cave dwellings, and a medieval chapel. This spot is perfect for an afternoon escape from the buzzing atmosphere of the city. Pack a picnic, take a long walk through the park and finish off at the Kašjuni beach to relax before your return then to the beautiful city. Another great spot to visit on a day trip is to the ruins of the ancient city of Salona, which is located at the foot of the mountains of Split. These are regarded as one of the most important archaeological sites in all of Croatia.
Museum hop
Split is filled with lots of wonderful museums and art galleries to quench your thirst for knowledge. The Ivan Meštrovi? Gallery and Gallery of Fine Arts, Split are perfect for art lovers, and there are various different museums to visit such as Split City Museum, Archaeological Museum, Etnografski Muzej Split, and Museum of Croatian Archaeological Monuments. After a day of museum hopping, you can take a trip up to the Park Marjan, which is a forested hillside park featuring beautiful lookout points, jogging trails, a botanical garden and much more. It's the perfect place to unwind before grabbing a bite to eat at a local Croatian restaurant.
Whether you want to relax on the beach whilst soaking up the Croatian sunshine, escape to the mountains for a tranquil walk or indulge in the history of Croatia, Split can offer you everything. Stay in luxurious hotels located in the centre of Split with our exclusive, handpicked discounts just for you. When you sign up with Voyage Prive, your Split holiday will be one to remember.
Sea-hugging Split is a pleasant historic city with sweeping coastal vistas and an exuberant atmosphere. Sandwiched between Mount Mosor and the open Adriatic, it's a scenic spot with endless possibilities. Take in ancient sites or lap up the sun in beauty spots favoured by elite members of Roman and Byzantine society. Today, it's as lively as ever with first-rate waterfront dining and a thriving nightlife.
The top 5 things to do in Split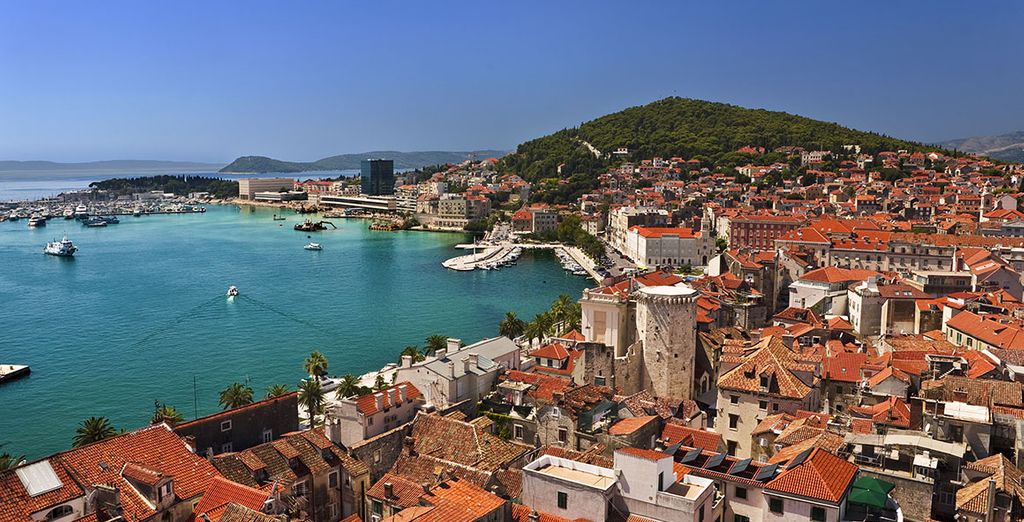 1. Diocletian's Palace
The jewel of Split's Old Town is this imposing former Roman palace. Many of its original walls, columns and arches remain in this now converted harbourfront area of shops and restaurants. It was built for Emperor Diocletian in AD 305, the first such ruler to voluntarily abdicate the throne. It's easy to see why he retired here.
2. Klis Fortress
This strategic medieval fortress is nestled along a rocky outcrop between the Mosor and Kozjak mountains near Split. It's an impressive sight with the scenic St Vitus Church in the middle. Scene-savvy visitors will recognise the walls from the show, Game of Thrones, where it represented Meereen.
3. Cathedral of St Domnius
This remarkable octagonal cathedral is one of Split's most iconic sites. It dates back to the Roman empire, where it served as a mausoleum for Diocletian. Old and unique, the interiors contain impressive murals and sculptures, which span centuries.
4. Marjan Forest Park
Split's very own forest is perched to the west of the city. Views of both the city and coast from the 178m-high ascent are gorgeous. It's the perfect option for a gentle and relaxing walk, with pine-laden trails and a centuries-old Jewish cemetery to visit.
5. Trogir
While not technically in Split, this neighbouring town is bursting with charm. It's best visited in summer by boat. It's renowned for its island Old Town surrounded by medieval walls and leafy spaces. It's the perfect afternoon or day trip.
Our best hotels in Split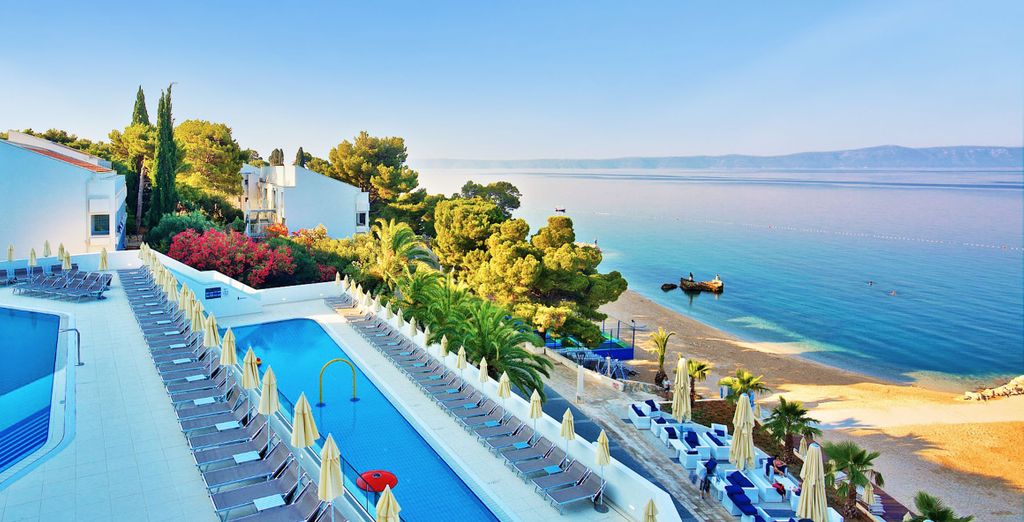 This sun-kissed sea-facing resort is a dream for families and couples. Direct beach access and sumptuous swimming areas make it stand out among Split's best aquatic options. The rooms and interiors are suitably charming, with crisp white and Mediterranean blue furnishings and a great restaurant offering delectable dishes. 2.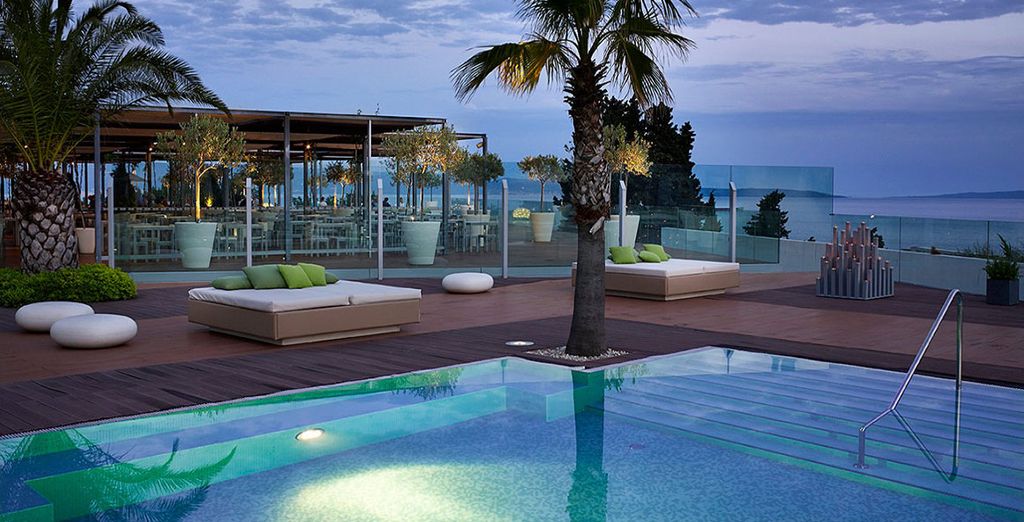 This luxurious spa hotel is just over a mile from Split's centre. With impeccable dining options and waterfront lounges, it's an idyllic and romantic escape. The hotel's complimentary spa contains indulgent treatments, saunas and inviting hot tubs. 3.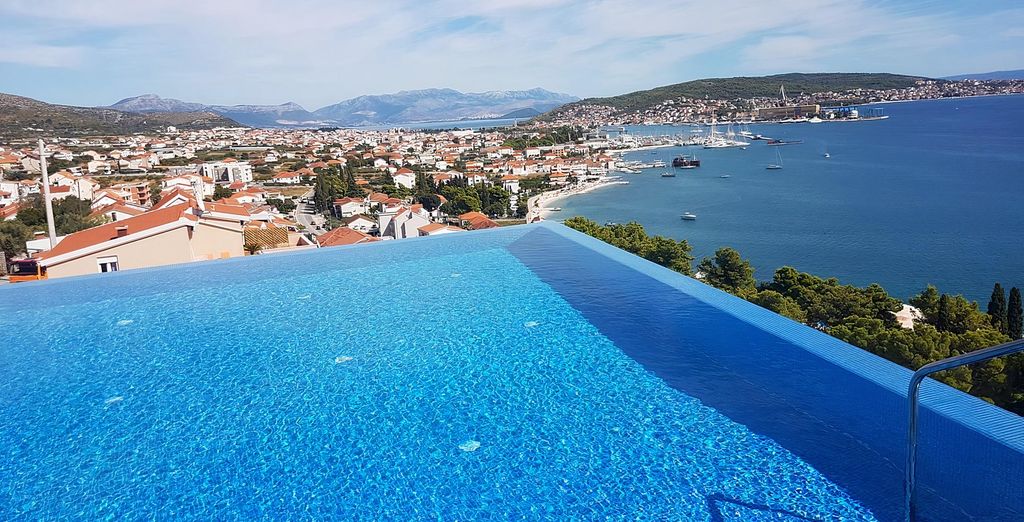 Escape to the Adriatic at this dazzling waterfront hotel. Each welcoming room has a homely, individual touch, offering captivating views across the ocean. Guests also have access to a sun-drenched infinity pool and relaxing outdoor terraces. 4.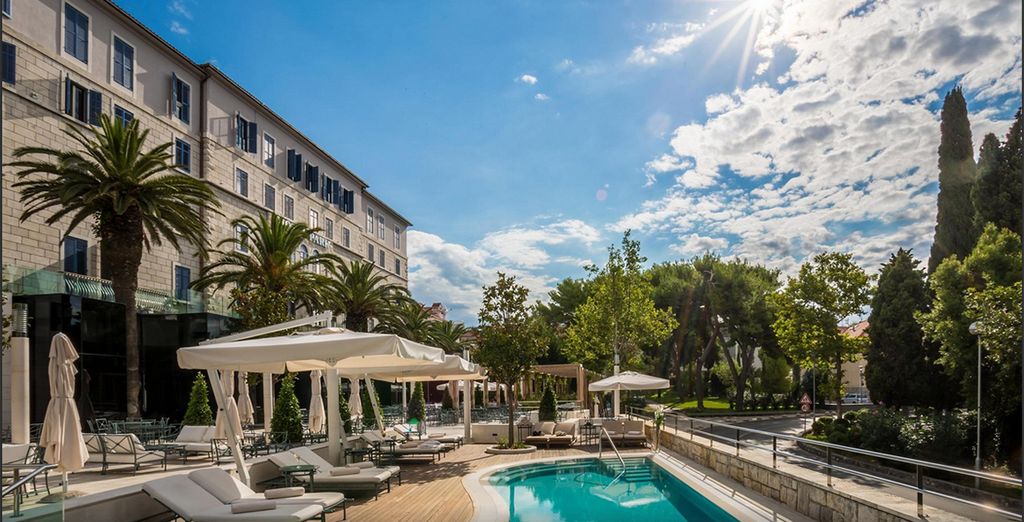 Hotel Park is one of Split's most iconic hotels, situated moments from the city centre along Bacvice Beach. It boasts an acclaimed restaurant and dining terrace just moments away from a pool. Rooms are elegantly presented with en-suite bathrooms and balcony views. 5.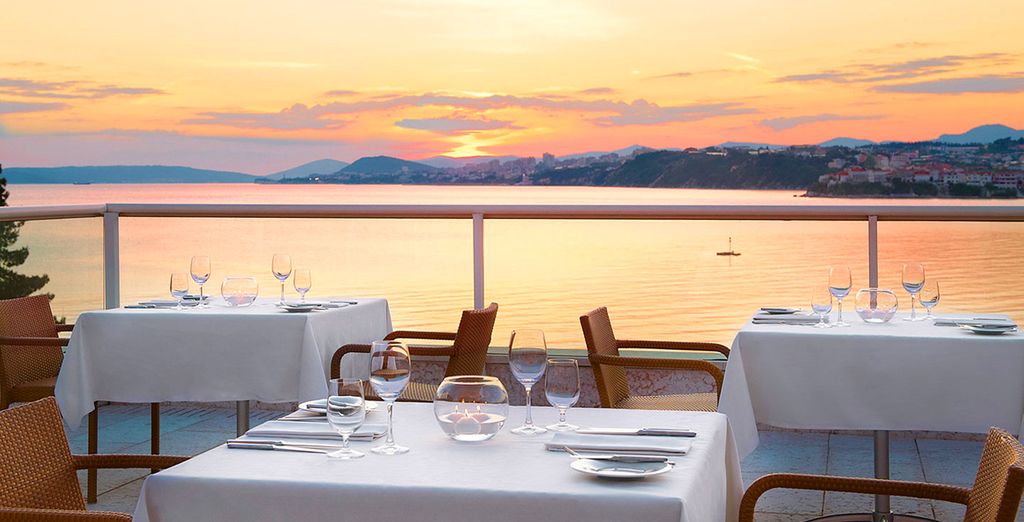 This eye-catching coastal resort is bursting with style and character. Impressive infinity pools overlook the ocean, and guests are treated to sumptuous seafront meals. You can even hop on a yacht or visit the casino for the ultimate James Bond experience.
When is the best time to go on holiday in Split
Split is a seasonal location that bursts to life in summer. July and August are the sizzling high seasons with fantastic weather and effervescent outdoor festivals. If hiking and walking is more your style, May, June and September provide cooler conditions with long sunny days. May, in particular, sees Split come to life around the Spli?ani festival. The offseason outside these months sees excellent deals, but some attractions and restaurants close. Split's centre remains alluring, with unique festive traditions, shops and markets. However, the weather can get crisp and wet.
Going on holiday in Split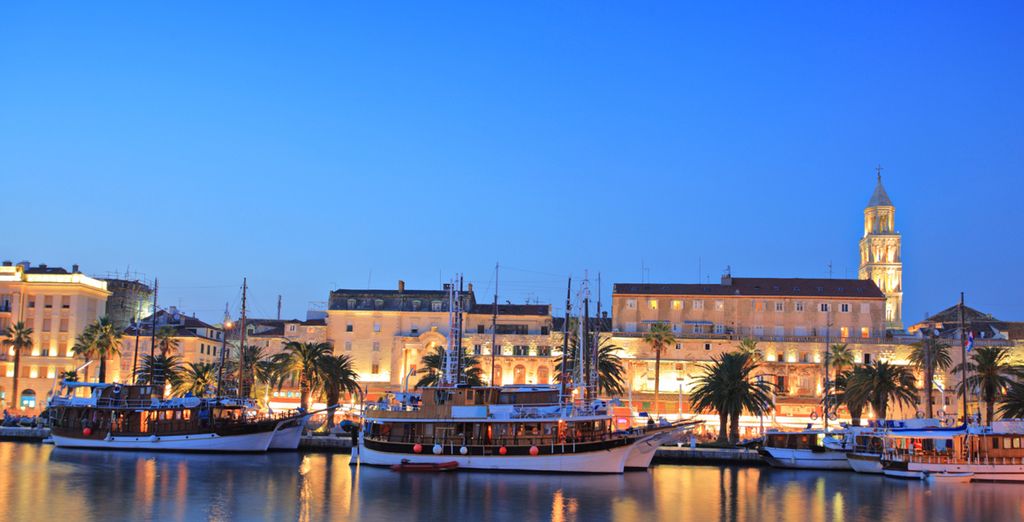 Split is served by an international airport with connections throughout Europe. Some flights, however, are seasonal. There are numerous shuttle bus options to get into the city centre from the airport. Alternatively, Split has a bustling port with sea access from across Croatia, its islands and Italy (Ancona). Once you've arrived in Split, you'll find the city compact and easy to navigate on foot. The coast is also perfect for cycling, with dreamy seafront trails for miles. Buses and rental cars are a great way to explore the region in much more detail. Or you can head off on island-hopping adventures by boat.
Enjoy your holiday in Split
Split holidays are delightful for couples, families and friends. The city itself boasts a vibrant nightlife scene with scenic seafront bars and late-night dining. In fact, Split has one of the best nightlife scenes in all of Croatia. Families, too, have much to explore, with picturesque shores and alluring historic sites. While there aren't many child-oriented attractions, restaurants cater to little ones, and ice cream stalls beckon on sun-kissed corners. As for couples, the coastal sunsets here are legendary. Indulge in fine dining along the coast or retreat back to your hotel for a tranquil waterfront cocktail. There's much to do throughout the day, from rigorous hikes and ancient attractions to relaxing spa treatments.
The Voyage Privé travel expert's opinion on Split
Split may play second fiddle to Croatia's capital, Dubrovnik, but in many ways, it's more exciting. Nestled against a glorious backdrop of sparkling Adriatic waters and craggy cliffs, Split has an astonishing cultural heritage. Meandering alleys, Roman monuments and a spectacular port provide the setting for countless bars and restaurants. What's more, charming sandy beaches provide the perfect daytime retreats. These attractions await just moments from your luxury hotel.