Punta Cana Holidays 2021/2022 Best Deals



Table of contents
Nothing screams paradise more than tropical beaches, giant palm trees, and crystal-clear turquoise oceans, and that's something Punta Cana has in spades. Whether you're looking for a family getaway, an adventurous trip with friends, a romantic couples vacation or a relaxing break by yourself, Punta Cana holidays offer something for everyone, and we're sure you won't be disappointed when you book your next trip with Voyage Privé.
The top 5 things to see/do in Punta Cana
1. Bavaro Beach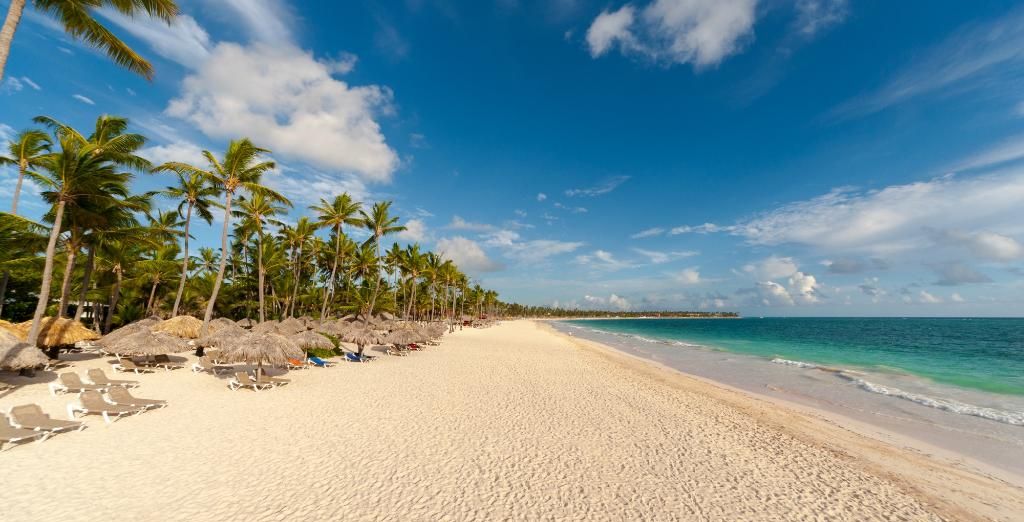 You couldn't imagine a more idyllic beach than Bavaro. Frequently cited as the best in the world, the gorgeous white sand and giant green palm trees of this super long beach make for something truly spectacular. Many of Punta Cana's best hotels and resorts can be found on Bavaro Beach, which means finding paradise will be no effort at all.
2. Hoyo Azul
Also known as "the blue hole", Hoyo Azul is a sight you won't want to miss. This gorgeous turquoise sinkhole can be reached by trekking through the surrounding forests and cliffs, and tour guides are available to fill you in on all the history and nature along the way.
3. Manatí Park
Mantaní Park was the Dominican Republic's first theme park and today is home to over 150 different species of animal—the largest collection in the country! Guests can enjoy shows, take a dip in their baths, and even go for a swim with the dolphins!
4. Scape Park
Scape Park is a natural theme park in Cap Cana, situated right next to Hoyo Azul. Guests can swim in underground caves, zip line from cliffs, snorkel, discover ancient caverns, visit a bat cave, and meet all kinds of exotic animals at this huge adventure park.
5. Altos de Chavón
This recreation of a Mediterranean-style European village can be found in La Romana, on top of the Chavón River. With an archaeological museum, amphitheatre, and a cultural centre, this is one of the area's most popular attractions.
Our best hotels in Punta Cana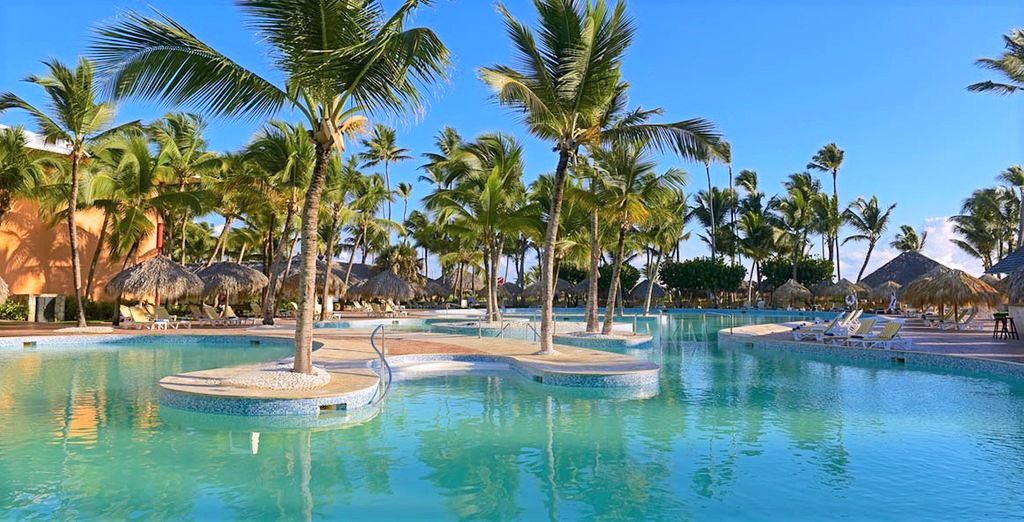 Located on the world-famous Bavaro Beach, Iberostar Punta Cana is the perfect spot for the whole family. Your choice of a Double Room, Double Garden View, or Romantic Junior Suite will provide all the comfort you need, while world-class entertainment, all-inclusive dining, and a relaxing spa will ensure you're never short of things to do.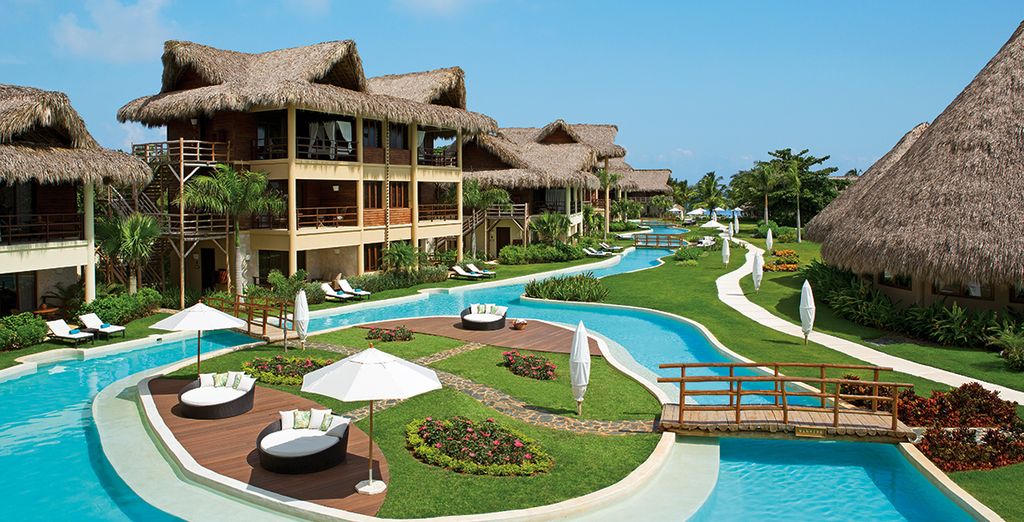 Romance and tranquillity is the name of the game here, with your choice of a spectacular Ocean Front Junior Suite or upgraded Romantic Junior Suite. Guests will be enamoured by the cane thatched roofs and cathedral ceilings while enjoying the delicious all-inclusive gourmet dining. Furthermore, Zoëtry offer guests their Endless Privileges program, making your stay all the more indulgent.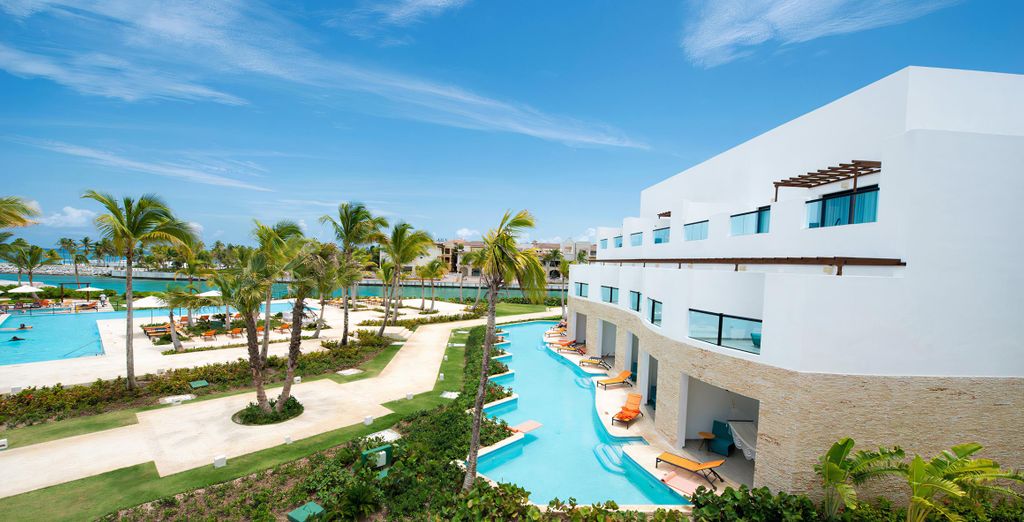 A modern beachside oasis, this adults-only hotel is a tropical paradise just waiting to be discovered. 2,500 hectares of tropical forest sit right next to an idyllic beach, and guests can enjoy their choice of a luxurious Junior Suite or Junior Swim Up Suite. All-inclusive dining is included, in addition to spa access and 24-hour room service.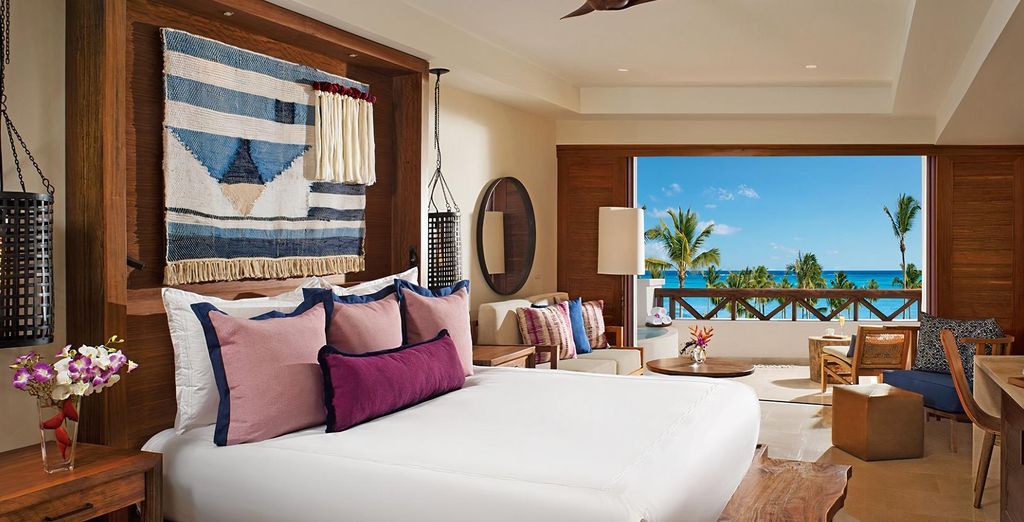 Secrets Cap Cana will keep you busy all day long, with facilities including a golf course, theatre, equestrian centre, fishery, and protected harbour marina. Delicious all-inclusive dining is included in your package, in addition to your choice of Junior Suites. And don't forget to take advantage of your complimentary hydrotherapy access!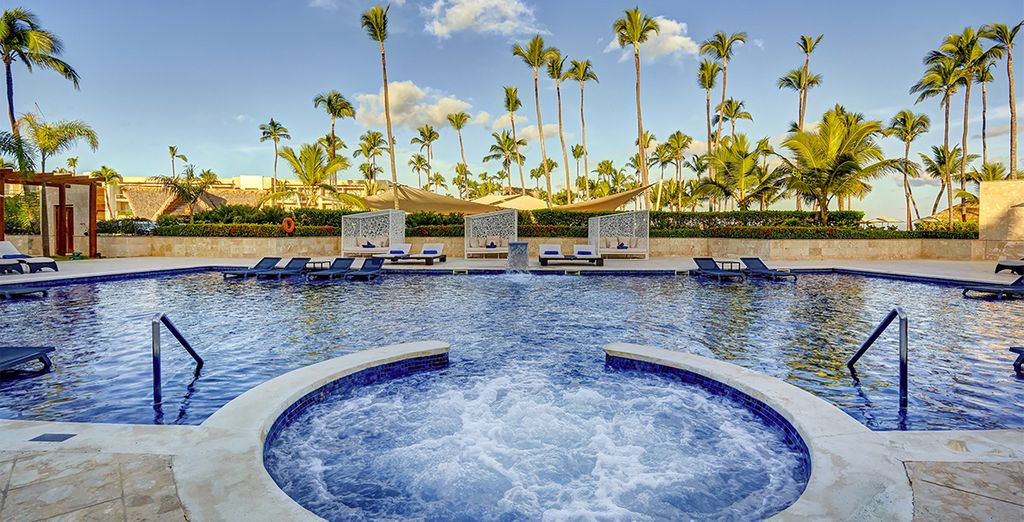 Enjoy the endless leisure facilities and sophisticated décor at this adults-only luxury paradise. Beach yoga, water sports, fitness classes, and poolside mixology classes are just a few of the activities on offer. Better yet, with exclusive diamond club amenities available in three of our four luxury rooms, you can be sure that your stay will be all the more memorable.
When is the best time to go on holiday in Punta Cana?
If sunshine is your number one priority, then December through February is the best time to visit. This is the high season, though, so things will be at their busiest. If you'd prefer to avoid the crowds, the low season runs from June to November—this also happens to be hurricane season, though, so be prepared for some rain. If you want to avoid the crowds while also enjoying great weather and lower prices, then March through May could be your best bet.
Going on holiday in Punta Cana
Punta Cana holidays couldn't be easier, with direct flights available from many major European cities. Typical flight times are around 9 hours from London Gatwick, and once you arrive, your Voyage Privé representative will be waiting to take you to your hotel.
Enjoy your holiday in Punta Cana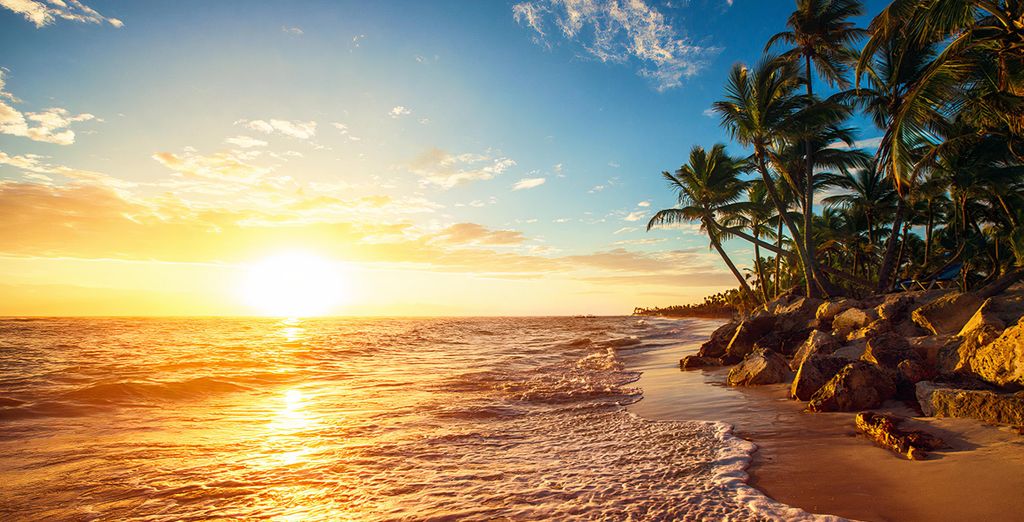 Punta Cana is the perfect destination for any kind of trip, but it's romantic getaways where the region really shines. Gorgeous adult-only resorts are dotted all over the area, with many directly located on Bavaro Beach. A week or so would probably be enough time if relaxation and pampering are all you're after, but those looking for some exploring and adventure will definitely want to aim for two.
The Voyage Privé travel expert's opinion on Punta Cana
While Punta Cana is an amazing paradise full of tropical luxury, there's a lot more to it than sunbathing at Bavaro Beach. Golf lovers can play a few rounds at the Punta Espada and La Cana courses, and any nature enthusiasts will love the 81 square miles of wildlife and fauna at Manatí Park. Better yet, anyone looking for adventure will love the hike to the breath-taking crystal clear waters of Hoyo Azul. This lush cenote is a must, and you'll definitely want to leap in for a refreshing swim after the long hike."
Enjoy the trip of a lifetime, where sporting activities can be enjoyed in the sumptuous Dominican climate
We can help you find a once-in-a-lifetime last-minute deal to Punta Cana which allows you to experience this wondrous resort without having to break the bank. You can expect to create memories in Punta Canta, where the emphasis is on fun, relaxation and sport. With golfing, ziplining, ecological parks, cruises and more on offer, you're guaranteed to be spoilt for choice.
Our last minute holiday offers mean you can get more out of your Punta Cana excursion in one of many luxury hotel complexes, set among incredible beaches of fine white sand and clear blue seas. This child-friendly resort caters for holidaymakers of all ages, with indoor and outdoor sports activities and children's menus to ensure everybody is more than happy.
Punta Cana nightlife is vibrant and unique
With our last minute Punta Cana deals, you can afford to budget to party every single night at one of the area's many incredible nightspots. The resort boasts a comprehensive selection of bars and nightclubs in unique and enthralling settings. You can dance the night away in Imagine - a nightclub situated in a cave - or enjoy a more chilled ambience in bars like El Pub Del Teatro or Curacao cocktail bar, both of which offer exotic drinks and traditional Dominican Republic music. Many bars are located right next to Bavaro Beach, where you can take in stunning sunset views as you party the night away.
Punta Cana is also home to some of the most renowned championship golf courses in the world, including the famous Punta Espada. Many of these courses offer ocean views and a great chance to enjoy playing a few holes on a well-tended green in the sunshine. Those who work up an appetite will be pleased to find that Punta Cana is also home to a variety of upmarket eateries like Martin Berasategui's world-famous Passion, with plenty of local and international cuisine available.
Find yourself in beautiful Punta Cana
When you book a last minute holiday to Punta Cana, it enables you to afford to relax and enjoy your break as soon as you arrive, by getting involved with various activities designed to help you unwind and push your boundaries in equal measure. From lavish spa treatments to exhilarating beachside ziplines, you'll find everything here to keep you and your family occupied from sunrise to sunset.
Regardless of what you want from your holiday, at Punta Cana you can expect to be catered for. From partying the night away to catching some sun on a picture-perfect beach, anything is possible. Enjoy great handpicked offers and last minute deals tailored specifically for you, with luxury hotels and exclusive pricing to help you get the most out of your break.
Discover more travel plans with our holiday pirates.