Cancun Holidays - Best Deals



Table of contents
Located on the Yucatan Peninsula in Southeast Mexico, Cancun is one of North America's most popular tourist destinations. With 14 km of white sandy beaches, the city's tourist zone sits on the world's second-longest coral reef and with the Caribbean coastline and tropical climate, Cancun is an attractive option for a sunny holiday at any time of year. The juxtaposition of modern luxury resorts alongside ancient Mayan heritage adds further interest.
The top 5 things to see/do in Cancun
1. Hit the beach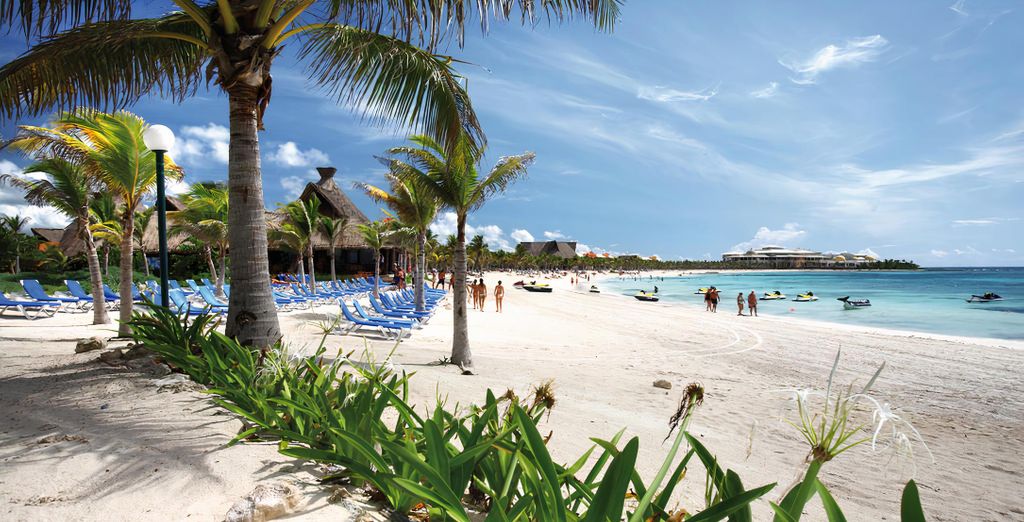 Playa Delfines with its many amenities is one of the most popular beaches in Cancun, while Playa Tortuga is loved by families, thanks to its calm waters. Playa Forum is party central. Facilities, amenities and entertainment options are scattered among all the beaches so you can simply relax in the sun or get active with water sports or take a banana boat ride.
2. Visit Isla Blanca
A world away from the bright lights of the Hotel Zone, Isla Blanca is a vision of a tropical Caribbean paradise. Not really an island but a long narrow peninsula, stunning beaches run for 20 km. Some areas are wild and windswept while others have been claimed by beach clubs and restaurants selling freshly-caught seafood and cold beer. Laguna Chacmuchuch runs alongside the land and is popular for kite surfing and fly fishing.
3. Admire the antiquities at Museo Maya de Cancún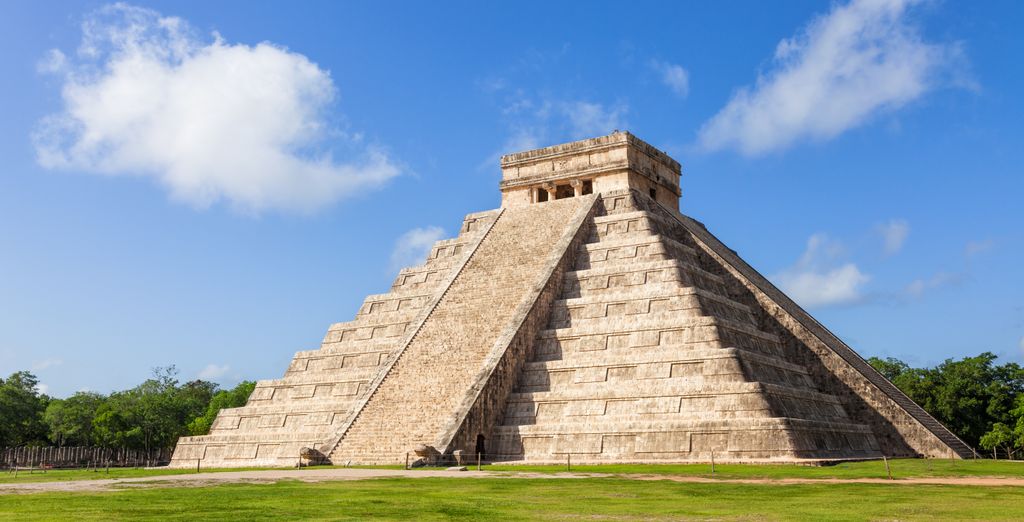 Offering respite from the pace of the main strip, this museum houses an important collection of Mayan artefacts and exhibitions on Mayan history, art and culture. The added bonus is the path that leads through the jungle to the ruins of San Miguelito. Here, you can get up close and personal to Cancun's history with a wander around pyramids, stone temples and crumbling dwellings.
4. Take a day trip to Isla Mujeres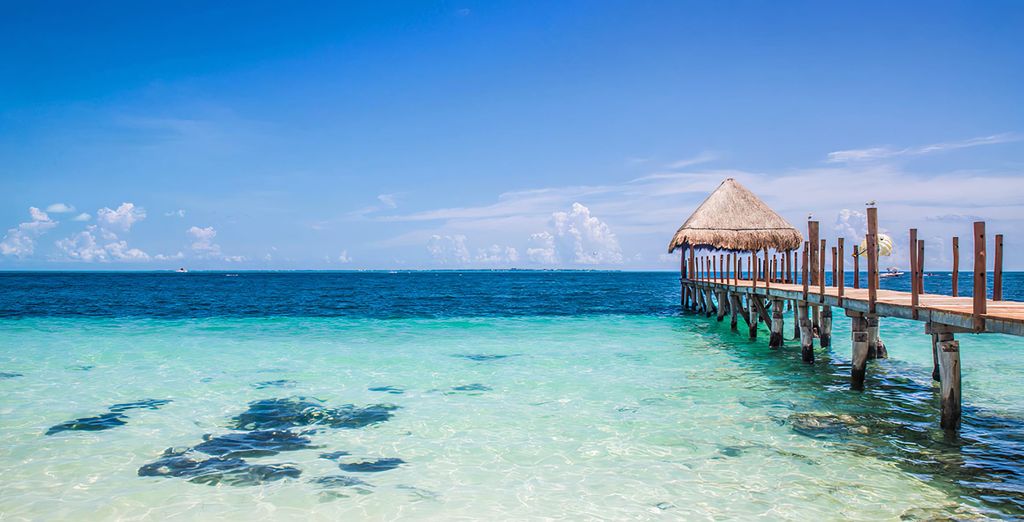 A 15-minute ferry ride from Cancun, this car-free island is a delight. Despite its diminutive size, there's more than enough to keep you occupied all day: you can lounge on gorgeous, soft sandy beaches, swim and snorkel, wander around the Mayan ruins, visit the turtle sanctuary, check out the lighthouse and sculpture garden at Punta Sur, and experience an adrenaline rush on the ziplines at Garrafon Natural Reef Park.
5. Take shopping to another level
As befitting any luxury resort area, the shopping in Cancun is superb. Whether you want to pick up a tacky holiday souvenir or a designer item, there are high-end outlets and independent boutiques to browse. Look in the flea markets for something unique or unusual, visit handicraft artisans for something gorgeous or try authentic foods and local produce at Mercado 23.
Our Best Hotels in Cancun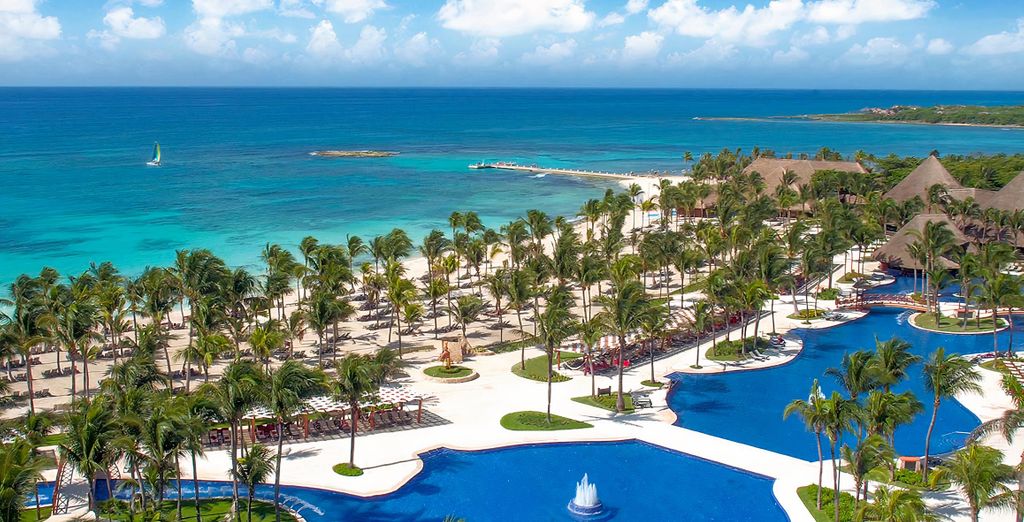 With its incredible beachfront location, nestled between the Caribbean Sea and the lagoon at Bahia Petempich, this hotel is a delicious mix of romance, sophistication and tranquillity, which we think is ideal for a couple's holiday. Enjoy the fabulous amenities of the hotel, spa and resort or take an optional tour of Yucatan.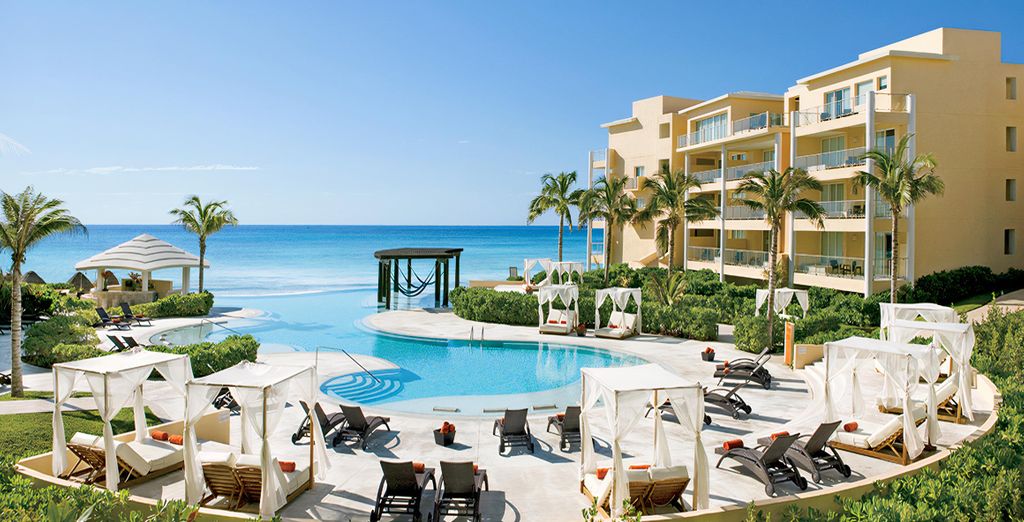 Opt for an all-inclusive stay at this bright and airy hotel where the concept of indoors-meets-outdoors comes in a sleek modern design. Suites are bright and inviting and all have fabulous ocean views. Great for families in our opinion, the hotel is set in a tropical rainforest and is close to various attractions in Cancun.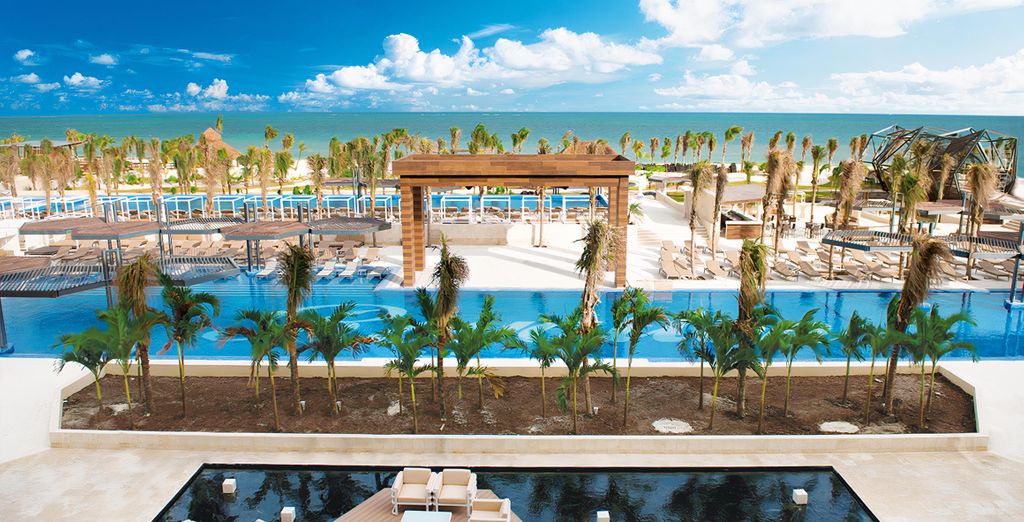 With its superb wellness facilities, we think this is a fabulous hotel to really get away from it all. Guests will love the fabulous design of the wraparound swimming pool and the extensive facilities. This offer includes an optional Yucatan tour.
When is the best time to go on holiday in Cancun?
Cancun enjoys approximately 250 days of sun per year. The tropical climate gives a fairly constant average temperature across most of the year of 28°C rising to 30°C in the hottest months. Midday temperatures regularly reach 34°C. Tropical also means a distinct wet season and for Cancun, this is May to October. The shoulder months of April and November are the best months to visit for consistent temperatures and to avoid rainfall. The sea has pleasant temperatures all year round.
Going on holiday in Cancun
Depending on which airport you depart from, Cancun is roughly an 11-hour flight from the UK. Many carriers operate a direct service from the UK to Cancun International Airport. Transfer times from the airport are easy by shuttle or taxi and can take between 15 mins and 1 hour, depending on your hotel's location. The bus service in Cancun is cheap and regular, with the major routes along Boulevard Kukulcán and within the downtown area. Taxis and Uber cars are plentiful and reasonably cheap, and cars, scooters and bikes are available for hire. There are plenty of organised trips out of Cancun and ferries to the islands of Mujeres and Cozumel.
Enjoy your holiday in Cancun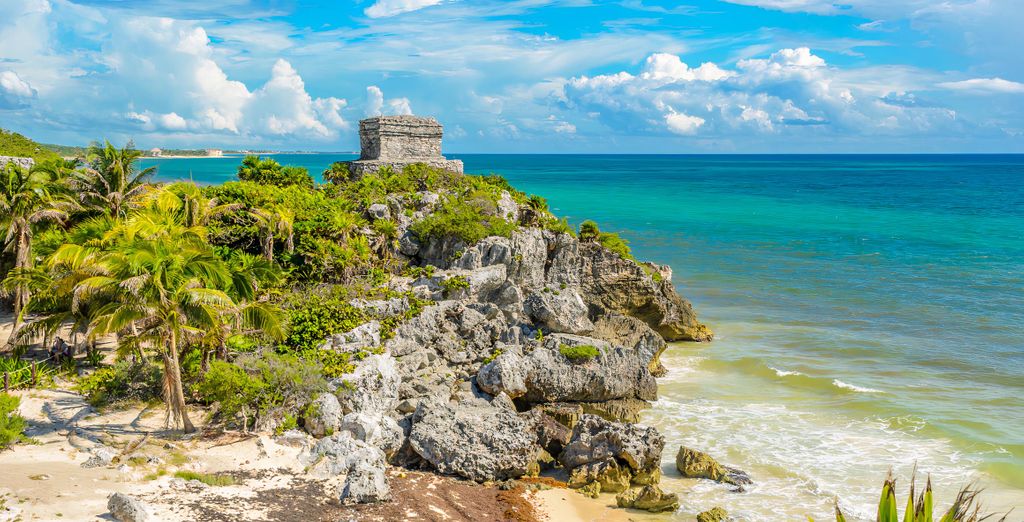 Although a week is worthwhile, due to the distance from the UK, we recommend at least a two-week holiday in Cancun. There is more than enough to keep you happy doing something different every day if you don't want to spend every waking hour on the beach. Every kind of holidaymaker will find something to love here – sun worshippers, sporty types, culture vultures and foodies. The area is blessed with many attractions that will interest any age of holidaymaker and any type of holiday. You can immerse yourself in the vibrant society of the resort or escape to one of the small islands or secluded areas for some tranquil R&R.
The Voyage Privé travel expert's opinion on Cancun
Despite being developed specifically as a tourist resort, Cancun is close enough to plenty of the attractions of the Mayan Riviera to get an experience of ancient Mexico. In Cancun, even inexpensive hotels are luxurious and close to stunning beaches. Have a holiday that is as tranquil or frenetic as you like as the area is packed with activities and attractions. Cancun is great for families, couples, solo travellers and groups of friends.
Sand, sea and sun
Cancun is the epitome of sun, sea, sand, and surf. The sparkling waters of the Caribbean, coupled with the bright, white, soft sand of the local beaches make this a dream for all sun worshippers. Cancun is situated near the easternmost point of Mexico, offering hot, humid weather all year round. Its range of activities and experiences is varied and even features an underwater museum with sculptures designed to encourage coral growth. You can catch glimpses of it on glass-bottomed boat tours or by taking a snorkelling or diving tour to get up close.
Jungle fever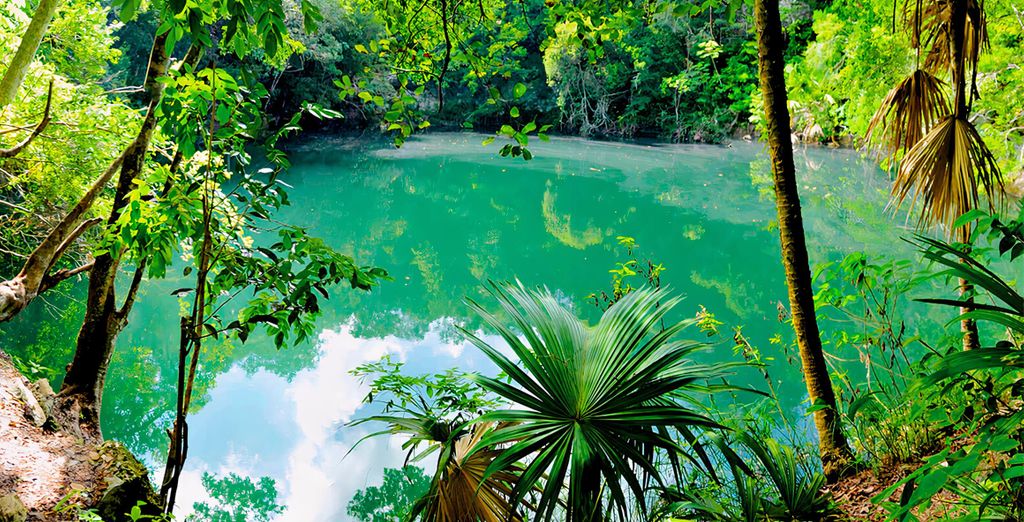 From the sea to the jungle, Cancun offers opportunities to explore the tropical jungle environment surrounding it by boat on jungle tours. The mangroves are unique ecosystems home to a host of wildlife and vegetation. Fishing and other outdoor activities are also on offer, as are dolphin swim and diving experiences. Zip lining and ATV tours let the adventurous experience the excitement of Cancun. Of course, it is not just outdoor activities that lure millions to this exciting Mexican city every year; Cancun is world-renowned for its high-energy nightlife and dance scene, with clubs like Coco Bongo that let you party till the sun comes up. You don't even have to stay on the shore to get the party going – party boats are available for rent, so you can dance, drink, and relax on the sparkling sea day or night.
Past pleasures
The fascinating Mayan ruins that Mexico is famous for are within easy reach of Cancun's beaches and clubs. Chichen Itza, the most famous of all the ruins, is accessible on day trips and features the magnificent El Castillo pyramid, which was named one of the New Seven Wonders of the World. A visit to the ruins allows you to take in sights such as the pyramid of Kukulkan, the Hall of the Thousand Pillars, the Playing Field of the Prisoners, and the Temple of Chac Mool. The site dates from between c. AD 600 and 900.
Whether your idea of paradise is a relaxing day on the sand and swim in the ocean or a hike through the jungle to see the ruins of an ancient civilisation, our exclusive range of hotel offers will help you make the most of your Cancun holiday.
Discover more travel plans with our holiday pirates.