Holidays to St Lucia 2021/2022



Table of contents
St Lucia is one of the hidden gems of the Caribbean. The island is lined with beautiful beaches, majestic mountains and amazing waterfalls. The place also has an interesting history and you can explore this past as you tour the island. If you're a hiker, you can observe the wildlife on the Pitons. There are also lots of nice places for divers to explore.
The top 5 things to see/do in St Lucia
1. Take a history lesson on Pigeon Island National Landmark
This national landmark features ruins of military buildings that were used in the battle between France and Britain in 1778. There is also a restaurant and pub with historical themes. You will also get a chance to learn about the past occupants of the island, including a famous pirate who had a wooden leg. During your trip to Pigeon Island National Landmark, you'll get the chance to relax on the two beautiful beaches there.
2. Climb the Pitons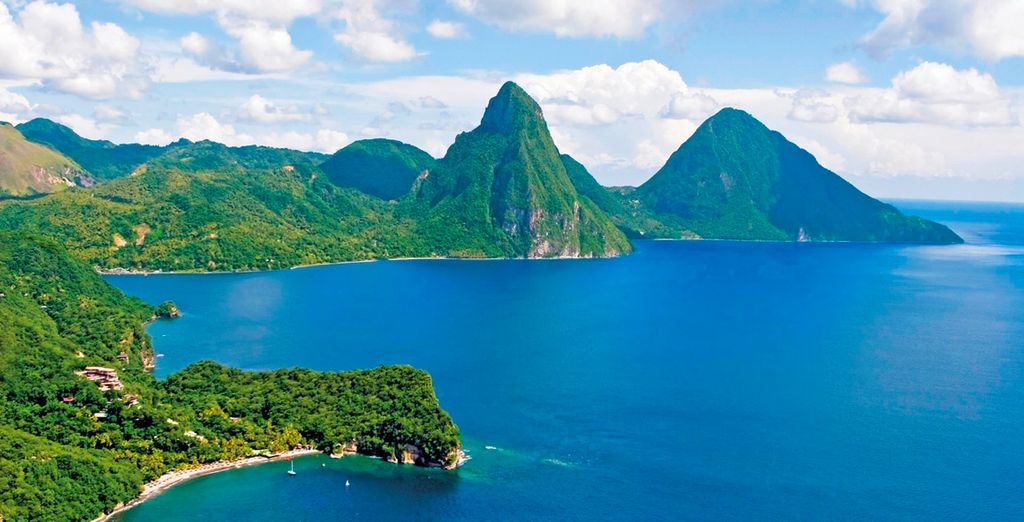 Climbing the Pitons is among the most popular activities in St Lucia. This attraction has twin peaks, both of which are UNESCO World Heritage Sites. You don't necessarily have to hike up the Pitons to enjoy this spectacular spot. It is also possible to take a Catamaran Cruise or helicopter tour around the place.
3. Explore Diamond Botanical Gardens and Waterfall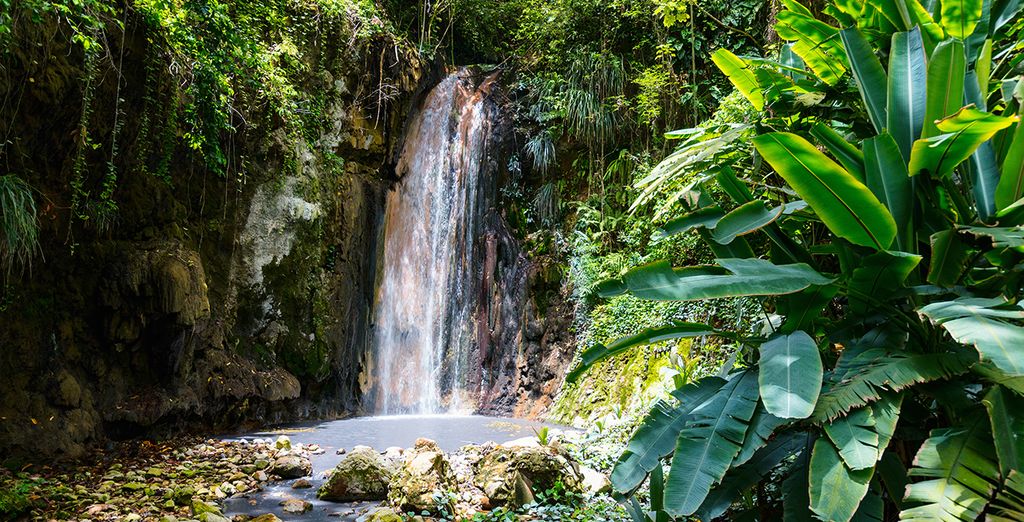 If you enjoy natural wonders, parks and gardens, you should visit this attraction. It covers six acres and features vibrant foliage that includes ixora, hibiscus and heliconia. On the site, there are also mineral baths, where you can take a dip. Taking one of the guided tours can help you explore the gardens better, but many travellers like to tour the place at their own pace.
4. Visit Marigot Bay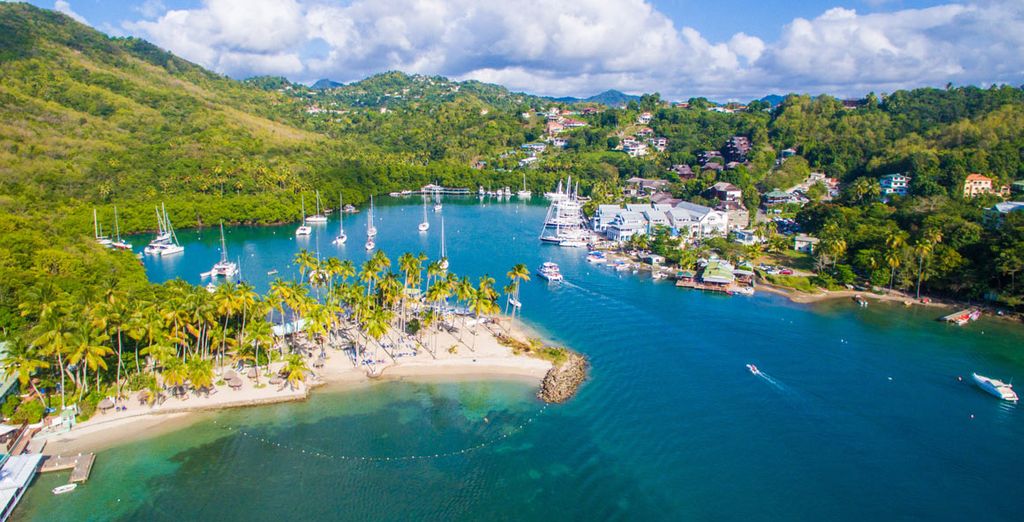 This is an upmarket all-suite resort that is great for people who are looking for sedate and sophisticated places to relax. You can swim in one of two pools and every hour, you will get a treat. Many travellers arrive on Marigot Bay using a yacht. On the site, you can enjoy activities like kayaking, diving, boat trips and zip-wiring.
5. Explore sea life at Anse Chastanet Marine National Park
Anse Chastanet Marine National Park harbours a treasure trove of sea life and this makes it an excellent spot for divers. There are lots of interesting and colourful fish species in the park, which include parrotfish, goatfish, eels and barracudas. This marine park is considered one of the best snorkelling destinations in the Caribbean. It will also give you excellent views of the Pitons.
Our best hotels in St Lucia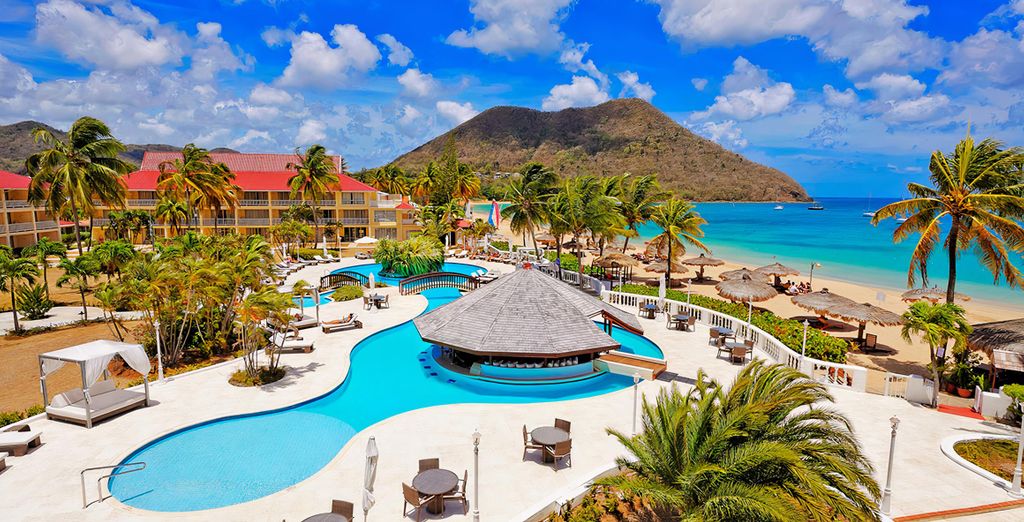 This is a stunning beachfront resort that offers high levels of luxury. You can dine at one of the on-site bars and restaurants and take the time to sit back and admire the sunset from your balcony.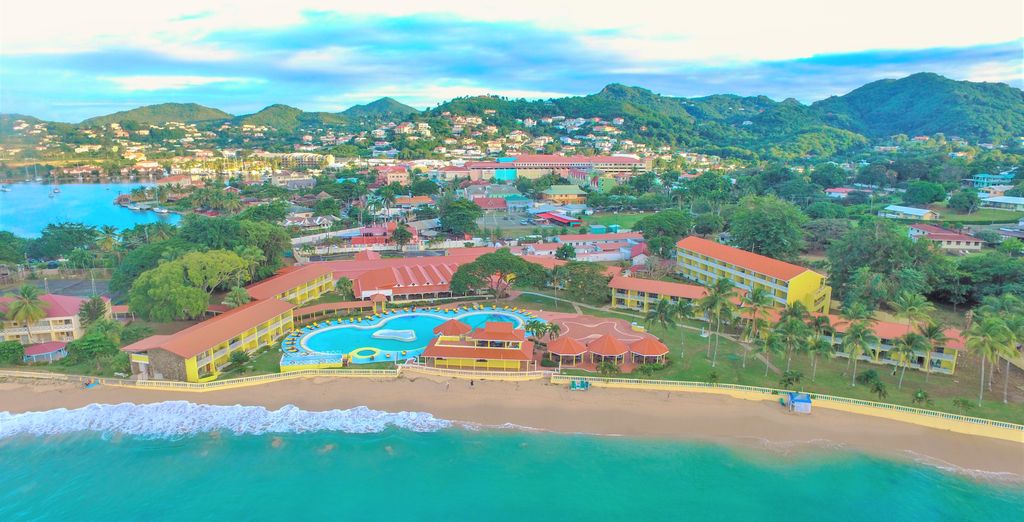 This resort is nestled on the pristine shores of Rodney Bay. The family-friendly resort is surrounded by lush landscapes and has a variety of entertainment amenities. These amenities include a sparkling outdoor swimming pool, perfect for floating around and cooling down.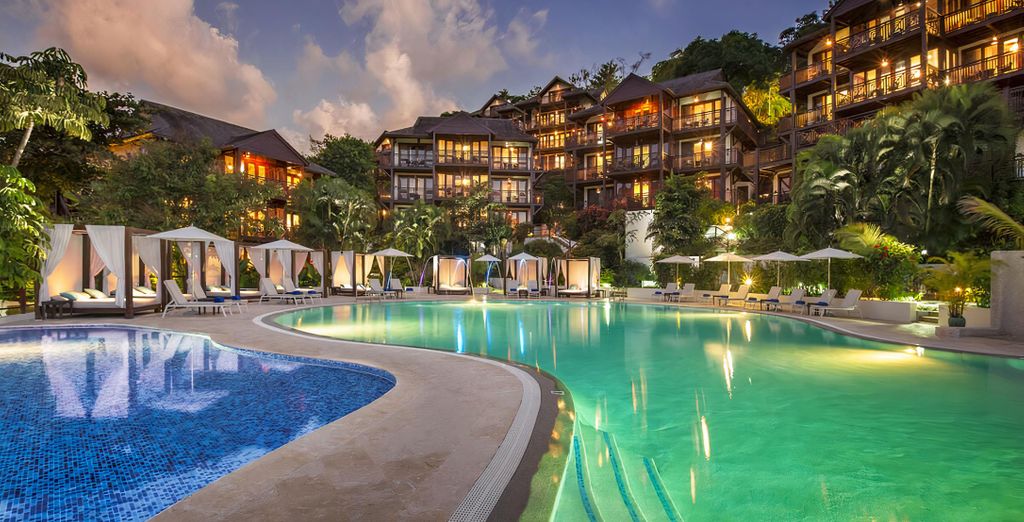 At Marigot Bay Resort, visitors can enjoy personalized service. You will relish relaxing on your balcony and on the dedicated pool cabana. You can also go on a private yacht or a sailing adventure from the resort.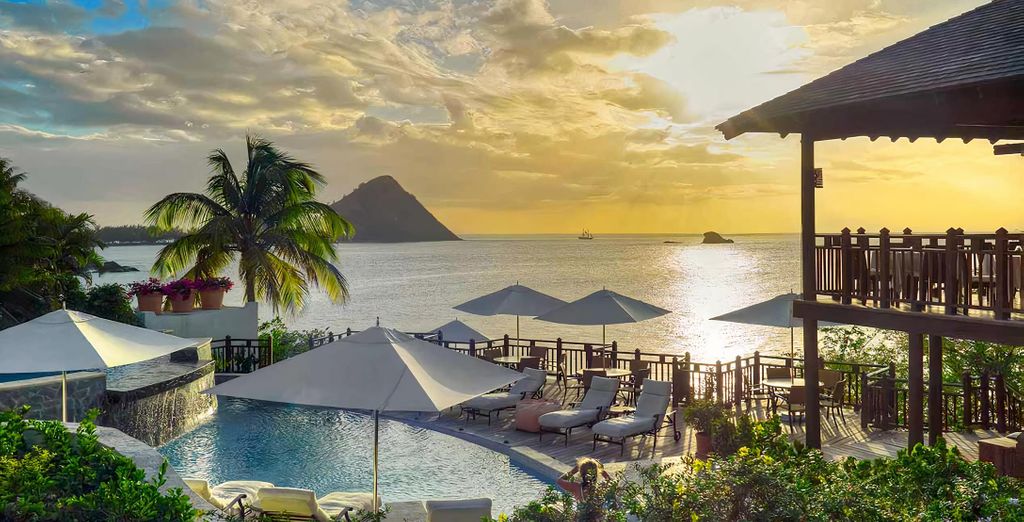 When you stay at Cap Maison Resort and Spa, you will be able to explore volcanic beaches and verdant tropical landscapes. You will also enjoy French-Caribbean cuisine, as well as fresh seafood.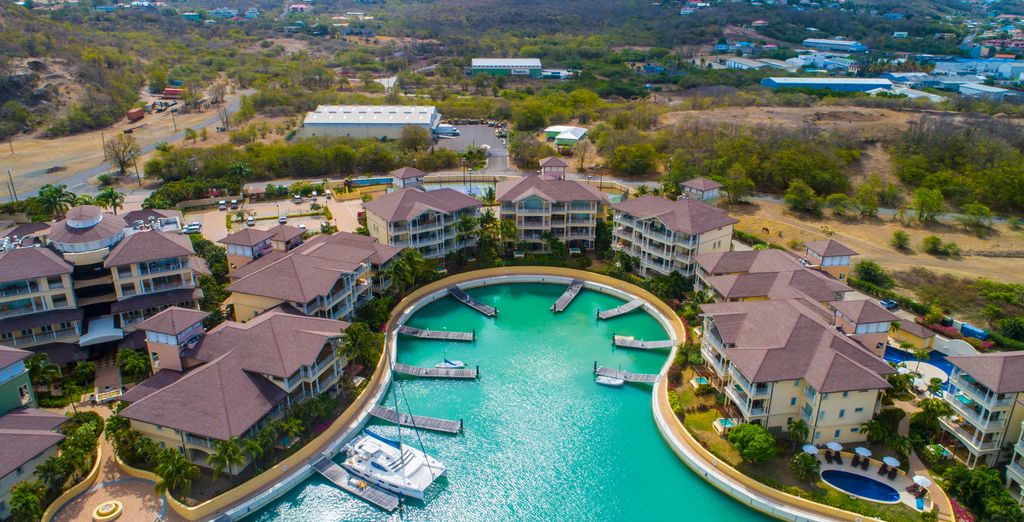 This is an impressive resort that features stylish one-bedroom and two-bedroom villas. The resort is also conveniently located close to local attractions, such as Rodney Bay Village and the iconic Pigeon Island National Landmark.
When is the best time to go on holiday in St Lucia?
The best time to visit St Lucia is between February and May as this is when the weather is driest. The weather is fairly warm throughout the year, but as you go up the mountains, you can expect it to get colder. In summer and late fall, the island is full of activity, so you can feel the buzz if you visit during these seasons. If you want to get the best deals, it is worth noting that the peak time is between December and April when the rates are highest and the area is busiest.
Going on holiday in St Lucia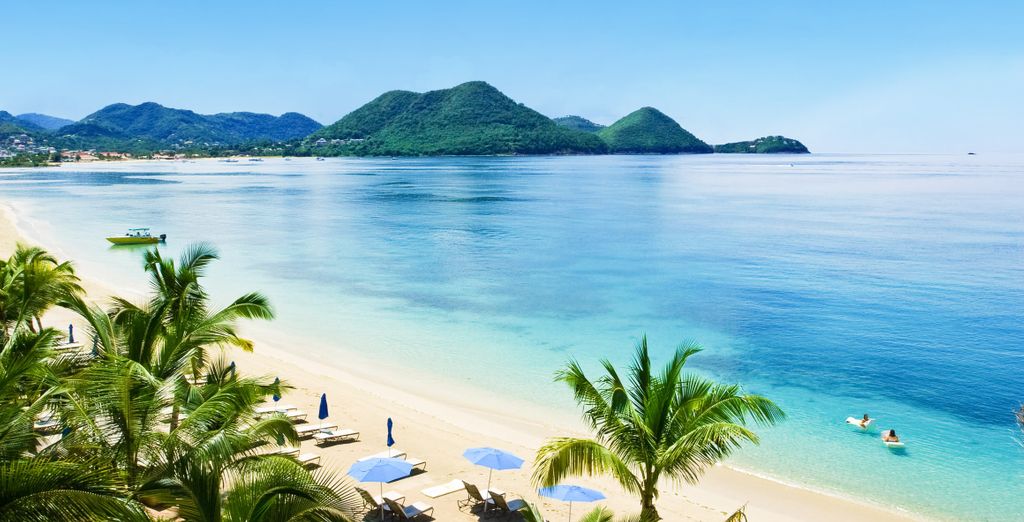 Direct flights from the UK to St Lucia take up to nine hours. You can also land on another island in the Caribbean and take a flight to St Lucia. Those who like to explore several areas might like to consider an island-hopping tour, which may include travel via cruise ships and/or ferries.
Enjoy your holiday in St Lucia
You can enjoy all that St Lucia has to offer in five to seven days. If you would like to visit the island with your dog or cat, you can do this by obtaining an import permit along with proof of a rabies vaccination, rabies titler tests and veterinary certificates. The island is great for family holidays, friends, solo travellers and couples. For romantic souls, St Lucia holidays make unforgettable memories and perfect honeymoons.
The Voyage Privé travel expert's opinion on St Lucia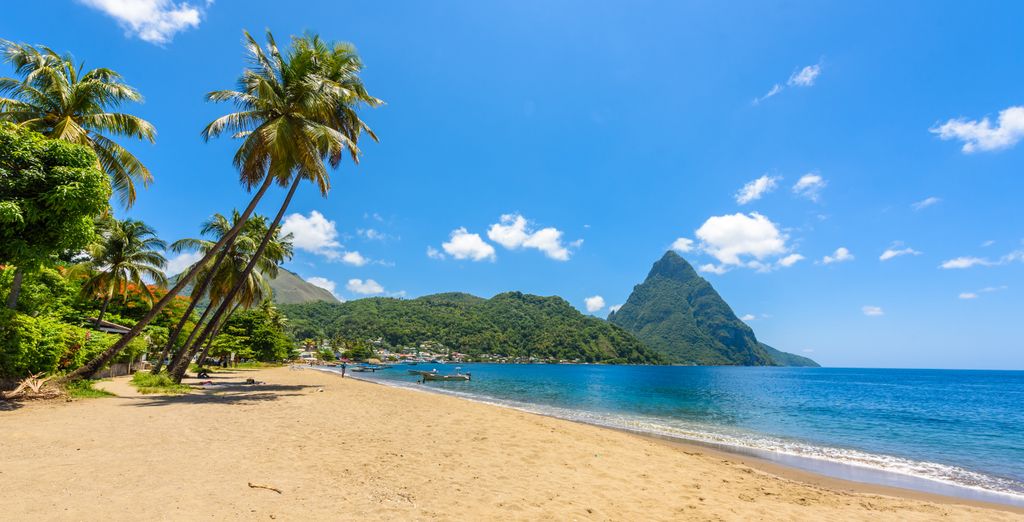 St Lucia is an idyllic holiday destination for all types of travellers. If you love hiking and diving, you'll really enjoy exploring the native wildlife. Along the coastline of the island, you will see volcanic beaches, traditional fishing villages and reef-diving places. The island also features lots of luxury resorts, where you can unwind, feel the island vibes and benefit from spectacular scenery and superb services.
Experience a true island paradise in St Lucia
With a tropical climate ensuring high temperatures and warm seas year-round, St Lucia provides the balmy weather holidaymakers dream of, particularly in the dry season which runs from December until June. Known for its striking volcanic peaks, the Pitons, which rise above the emerald green cloak of the rainforests, St Lucia offers visitors the most memorable views in the island chain. Its romantic beauty has made it a popular destination with honeymooners, but there are just as many family-friendly resorts to choose from.
The extraordinary natural features of St Lucia can be explored in a variety of ways, from hiking, mountain biking and zip-lining through the trees to the unique experience of driving right into a volcano. With miles of beautiful beaches, there are all kinds of water sports to enjoy, from diving to water skiing, and there are regular excursions to tour around the island, see dolphins and whales, or indulge in a spot of fishing.
The island is renowned for its warm, friendly vibe. The local cuisine is a unique mix of French, Creole and West Indian influences, begging to be sampled. Every weekend across the island, street parties are held with everyone invited. You're sure to find yourself swept along with the sheer joy of living St Lucia inspires in residents and visitors.
The perfect holiday resort; north St Lucia
The north of St Lucia is the busier and more developed region of the island and the location of the capital Castries and the famous Rodney Bay Village resort. Situated on a striking, horse-shoe shaped bay, the resort boasts a wide selection of bars and restaurants to enjoy and the best beaches, with miles and miles of golden sands. There is a mall, nightclubs and even a casino. This is the place for those who enjoy having plenty of options, with activities around the clock and a choice of fine accommodation to suit all tastes.
Choose south St Lucia to escape from it all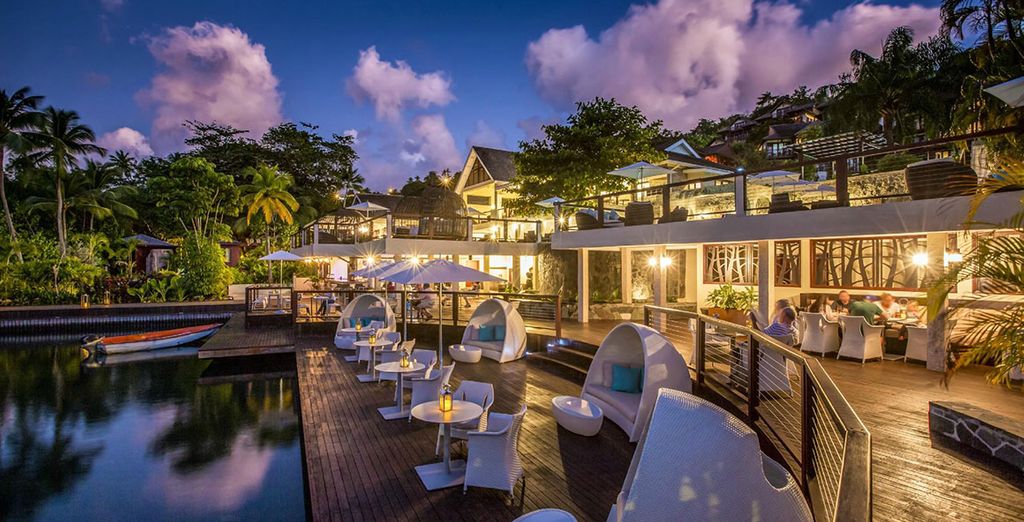 South St Lucia is the home of the Piton mountains and the place to go for the most scenic views on the island. Popular with honeymooners looking to enjoy the beautiful scenery as a couple, the beaches are mainly dark volcanic sands, framed by palm trees. The south is the location of many of St Lucia's most exclusive resorts and the atmosphere is idyllic and tranquil. If you're truly looking to get away from it all, south St Lucia is the place for you.
However you want to experience St Lucia, whether a vibrant lively resort or a secluded, sheltered beach is your preference, we offer a range of exceptional discounts on all kinds of accommodation across this island paradise, so you can choose the holiday that's ideal for you.