Best Holidays in Tulum for 2022/2023



Table of contents
Enjoy luxury holidays to Tulum with Voyage Prive, and discover a Mexican hideaway, where beautiful scenery is combined with some intriguing historical sites; book online today.

Discover the mystical seaside city of Tulum
One of the last major settlements to be built by the Mayan civilisation, the walled city of Tulum stands on the edge of the Atlantic Ocean as one of Mexico's most stunning holiday spots. From the fascinating historical part of the city known as Zama, or City of Dawn, to the tropical beaches that are home to an abundance of wildlife, Tulum has the ability to intrigue and amaze in equal measure. With water almost as blue as the perfect skies above, and silky soft sand which will beckon you towards the beach, Tulum offers the epitome of relaxed seaside living.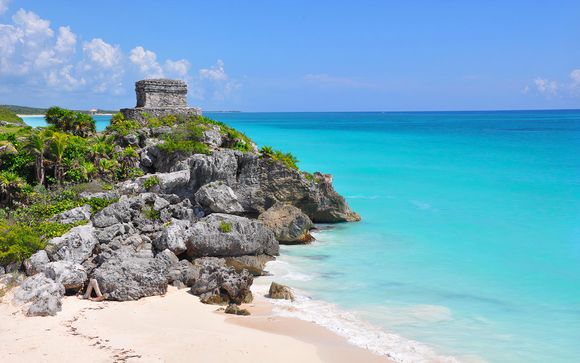 Soak up the Tulum sun
A range of luxury resorts line up along the Tulum coastline, offering you all the mod cons you could ask for, with restaurants, shops and bars in the midst of this sunny paradise. Whether you feel like lounging by the pool, or heading out for a round on the golf course, Tulum offers everything you could want from a beach getaway.
Many of Tulum's beaches are situated along the Sian Ka'an Ecological Biosphere, which is a UNESCO World Heritage site, and also home to a fantastic array of sea and land creatures including sea turtles, dolphins and jaguars. Head out on a boat tour or take an overland safari into the swathes of coastal jungle to view this fabulous range of species for yourself.
A fascinating historical tale
To the explorers who first embarked on the shoreline of Mexico, the impressive walled city of Tulum represented 'the New World'; an exciting new territory that was previously unchartered. It is almost unfair to label what remains of the old city as 'ruins', such is the magnificent aura they still possess.
Marvel at the pyramid-like structures built without the help of modern machinery, and pose for a photo opportunity on one of the expertly guided multi-lingual tours. Tulum hosts some of the only examples of Mayan architecture that can be found right next to the beach, so why not head on down for a refreshing dip once your tour is done?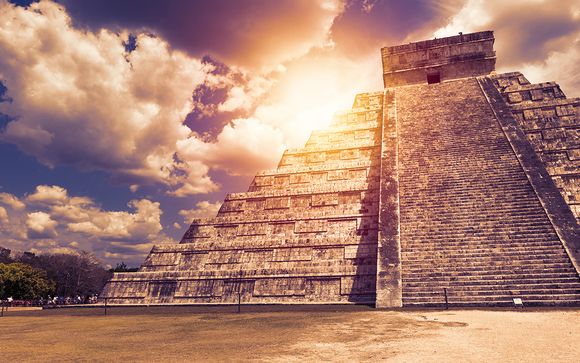 Have a look through our range of exceptional discounts on luxury accommodation, with handpicked offers from all over the world by signing up to the website today.
The Yucatán Peninsula offers stunning coastal scenery, ancient ruins, and a variety of ecosystems. Tulum, located on the east coast of the Peninsula, is a particularly popular destination and is known for its white-sand beaches, crystal clear waters, and ancient Mayan ruins. If you're planning a trip to this area, here are Voyage Privé's five things to see and do in Tulum, along with our top hotels.
The top 5 things to see/do in Tulum
1. See the Daniel Popper sculpture
Visit Daniel Popper's sculpture in Tulum, which is a huge metal structure located right on the beach and you can see the ocean and the sky while viewing it. Daniel Popper is a Mexican sculptor with several pieces of art displayed in Tulum.
2. Dive into the Gran Cenote
The Gran Cenote is a cenote located in the Mexican state of Yucatán. It is a natural limestone sinkhole that formed when the roof of a cave collapsed. The cenote is open to the sky and is filled with deep blue water. The Gran Cenote is one of the most popular tourist destinations in the Yucatán Peninsula.
3. Go for a swim in the Caribbean
Swimming in the crystal-clear waters of the Caribbean is a must-do activity when in Tulum. There are plenty of beach clubs and resorts that offer swimming and snorkelling in their private coves, and some even have swim-up bars for easy access to cocktails and snacks.
4. See turtles in their natural habitat
If you're looking for an amazing, once-in-a-lifetime nature experience, look no further than the turtles in Tulum. These creatures can be found in their natural habitat, swimming and sunning themselves on the beach. The best time to see them is during the early morning or evening hours, when they come out to bask in the sun.
5. Visit the Mayan Ruins
The Mayan ruins in Tulum are an amazing sight to behold. The ancient city is located on the eastern coast of the Yucatán Peninsula, and it is one of the most popular tourist destinations in Mexico. The ruins are believed to have been built sometime between the 12th and 15th centuries, and they offer a fascinating glimpse into Mayan culture and history. The city was occupied until around the year 1500, when it was abandoned for unknown reasons.
Our best hotels in Tulum
The Hotel Coral Tulum is a luxurious and eco-friendly resort on the Riviera Maya in Mexico. Guests can enjoy an all-inclusive experience with access to the private beach, several pools, a spa, and a variety of restaurants and bars. The hotel is also home to an impressive array of eco-friendly features, including solar panels and wind turbines.
Catalonia Royal Tulum is a luxurious all-inclusive resort on the Riviera Maya, located just north of Tulum. This exquisite property features stunning architecture and design, as well as first-class services and amenities. Here, guests will enjoy an unforgettable vacation experience in a lush and tropical setting. The Catalonia Royal Tulum offers something for everyone.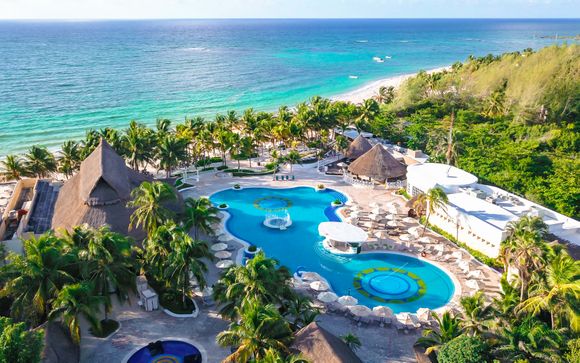 The Avalon Hotel Tulum is a 4-star hotel that offers guests a unique and luxurious experience. It overlooks the Caribbean Sea and features many amenities, including its beach club, spa and restaurants, making it ideal for those who want to enjoy a relaxing and luxurious holiday in beautiful Mexico.
The El Dorado Royale by Karisma is a luxurious all-inclusive resort on the Riviera Maya in Mexico. This adults-only paradise features stunning ocean views, world-class amenities and first-class service. Guests at the El Dorado Royale can enjoy everything from gourmet dining and wine tastings to spa treatments and yoga classes.
The Fives Downtown Hotel & Residences Tulum is a luxurious hotel that is located in the heart of Tulum. It offers guests easy access to all of the best restaurants, bars, and shops that the town has to offer. The hotel is set in a beautiful location on the beach, and it has stunning views of the Caribbean Sea.
When is the best time to go on holiday in Tulum?
The best time to go on holiday in Tulum is during the off-season. The off-season is usually from late November to early March. This is because the weather will be warm and there are fewer crowds. This means that accommodation options can be significantly cheaper and you will get enough time to visit many different attractions.
Going on holiday in Tulum
Getting to this small town in the Mexican state of Quintana Roo, on the Caribbean Coast is relatively easy. It is located on the Mayan Riviera. You can fly into Cancun and take a bus or rent a car, fly into Cozumel and take a ferry to Playa del Carmen, and then take a bus to Tulum. Alternatively, you can just fly into Playa del Carmen and take an Uber or taxi to Tumen and get to your hotel from there.
Enjoy your holiday in Tulum
This small town is on the Mayan Riviera, near some of the popular tourist destinations like Playa del Carmen, Cancún and Cozumel. Thus, Tulum is a popular destination for travellers looking to enjoy the sun and beautiful beaches while exploring ancient ruins. It is an ideal tourist destination for solo travellers, couples, families and groups. There is something for everyone in Tulum!
The Voyage Privé travel expert's opinion on Tulum
When it comes to Mexican beach towns, Tulum is definitely one of the most popular destinations. With its stunning coastline, array of restaurants and bars, and well-preserved ancient ruins, it's easy to see why people are flocking there in droves. If you're thinking of booking a trip to Tulum soon, let Voyage Privé do the rest for you, especially if you are looking for a relaxing beach break.
Discover more travel plans with our holiday pirates.
Best Holidays in Tulum for 2022/2023, customer reviews
Dreams Tulum Resort & Spa (Tulum - Mexico)
Customers testify
Review
The whole experience at the Dreams Tulum was incredible for an all inclusive. Could not fault a thing!
-
Review
The food at the hotel is out of this world, even the buffet is fantastic 5* all day!
-
Review
The location, on the beach. Plenty of grounds and space. The restaurants and not having to book. The service throughout the hotel.
-
El Dorado Royale by Karisma (Tulum - Mexico)
Customers testify
Review
The hotel is lovely , brand new when we went had only been open 3 weeks, so we got a really good deal. The suites are spacious ours had 2 balconies one with table and chairs and another with a double sunbed, and a separate bedroom & living area. The bed was extremely comfortable. We had breakfast included in our stay which was a la carte delicious with lots of local and healthy options, the dining team were extremely friendly & helpful with special requests. The hotel has a really lovely pool with plenty of comfortable sunbeds and a pool bar serving cocktails and drinks all juices are freshly squeezed. The hotel is on the beach and has also plenty of sunbeds meaning that both are very relaxing as there are only a few people at the pool & beach at any time. We ate in the hotel restaurant a couple of evenings and had also had lunch snacks by the pool, the food is really innovative with some of the best value delicious meals we had in Santorini which tends to be expensive.
-
Catalonia Royal Tulum (Tulum - Mexico)
Customers testify
Review
Remarkable hotel, probably the best in Tulum and its surroundings. staff listening 24/24. magnificent beach, top restaurants in each restaurant,
-