Last Minute Deals to Malta



Table of contents
Continuously inhabited for almost 8,000 years, Malta is a beautiful island lying between North Africa and Europe. Its prime location saw occupation by, at various times in history, the Phoenicians, the Greeks, Romans, Arabs, Normans, French and British, to name just a few of the long and varied list. Now primarily known as a tourist destination, hotels abound on the island, and the island is a welcoming and friendly haven to over 1.6 million foreign visitors every year.
Where to Stay at the Last Minute in Malta. The Best Hotels of Voyage Prive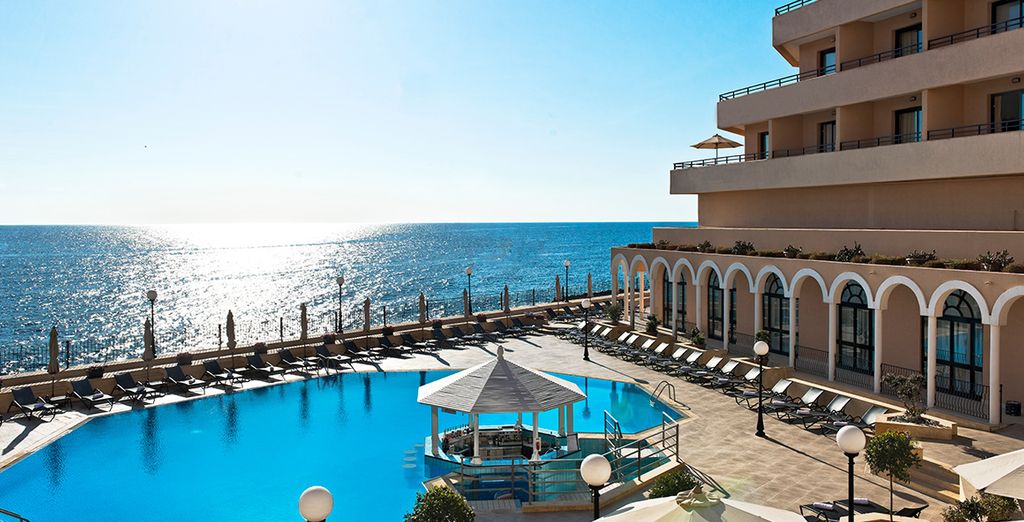 Handy to St George's Bay, mere minutes from the capital Valetta, and located on a stunning part of the Maltese coast near the thriving city of St Julian's, this hotel will welcome you with a wellness centre and spa and two tennis courts and two swimming pools so you can vary your outdoor activities even before you leave the hotel grounds. The rooms are elegantly but simply decorated in earth shades, with some rooms offering stupendous views out over the ocean. Summertime barbecues, cocktails, pizzas and international cuisine all vie to make your stay the best you have ever enjoyed.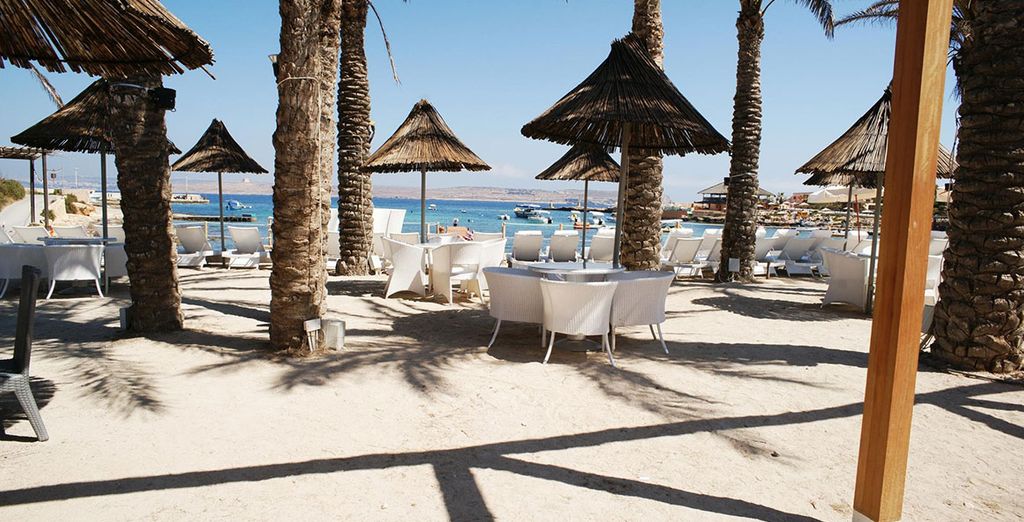 Three pools, three restaurants, access to some of Malta's most picturesque coastlines and an immense spa and fitness centre will make your visit to this beautiful island a memorable one. Your room features its very own balcony where you can people watch and breathe in the clean sea air while you enjoy a coffee and plan out your day. The restaurants offer the freshest Mediterranean dishes prepared daily for your pleasure and there are plenty of fun activities for people of all ages and abilities.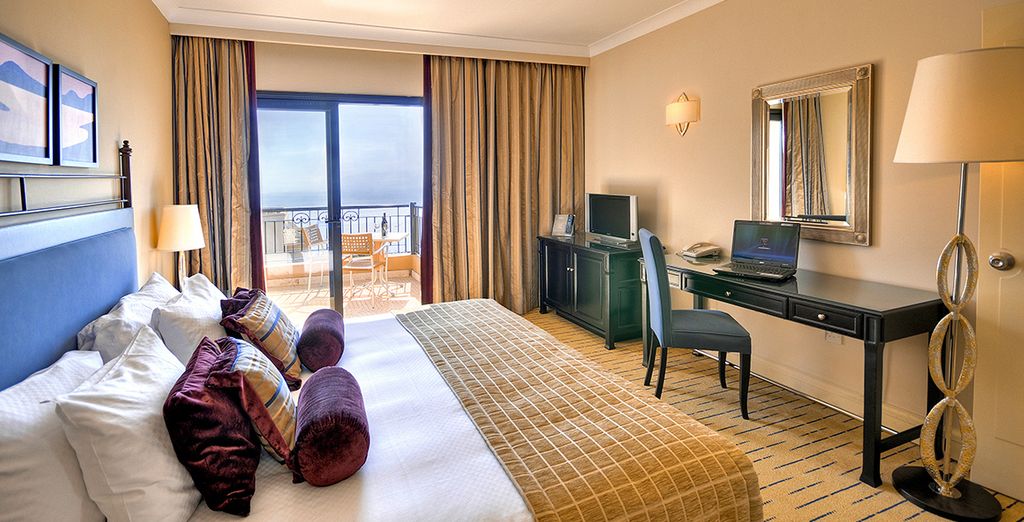 An immense and grand hotel, this wonderful building is eye-catching and welcoming. Two hundred and fifty bedrooms are served by eight restaurants and six pools, so you can dine in rooftop splendour or in a cosy French bistro, while you enjoy lengthy leisurely days, swimming, snorkelling or strolling – or opt for more strenuous activities, which are all easily sourced by simply asking at reception! Sip coffee on your private balcony or watch satellite television as you relax before or after a busy day.
How to Book Your Last Minute Malta Holiday
There are plenty of hotels in Malta, and you can find the best one for your needs the hard way: making a list, drawing up pros and cons, and weighing up your budget. But an infinitely easier way to do it is to become a Voyage Prive member and sign up to receive alerts for great bargain holidays to Malta.
In this way, not only will you be able to grab up a fantastic bargain – up to seventy per cent off your accommodation, upgrades to rooms and meals, free wine and fruit in your room and sometimes even savings on other attractions on the island: discounts or freebies only available to Voyage Prive members – but you will not have to spend hours winnowing through the very similar looking deals out there, many of which do not actually end up saving you money. Simply click on the link and fill in your details, including a valid email address and it will be a matter of mere minutes before you are a fully fledged member.
Then when an alert email comes through, you can click on the link, choose your hotel and your deal – include flights, shuttles and more, if you like – before popping in your payment to secure your bargain holiday. You can even have alerts for more than one country so you can plan several holidays at once – using the savings made on each holiday to help to fund the next!
The Five Best Things to See and Do in Malta
1. The Hypogeum
As known as the Hypogeum of ?al Saflieni, this immense structure dates back over 5,000 years to 3,000 to 3,300BC and it thought to house the bodies of 7,000 deceased Maltese citizens. The underground complex (Hypogeum means simply 'underground') was lost to the world for millennia, and was rediscovered in the early 1900s. A catalogue of errors attended early excavation efforts, many due to the invasive and heavy-handed (and footed) methods of contemporary archaeologists, and the site was not run properly until a decade-long shutdown in the 1990s saw the site laid out properly, with due respect for the inhabitants and their grave goods as well as being inviting to guests so they can learn about these ancient people from so long ago.
2. The Blue Grotto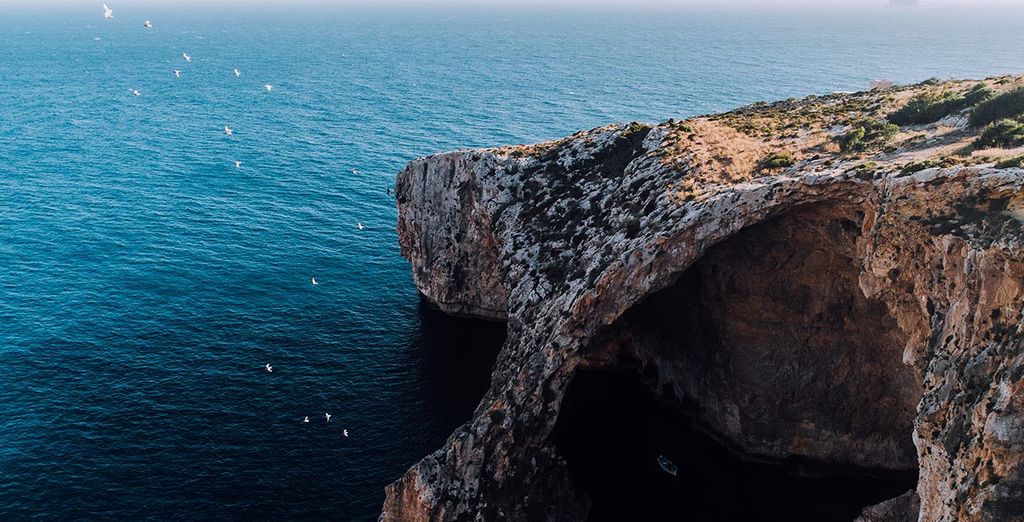 Now that the Azure Window (an iconic archway of rock, extending out into the sea and creating a wonderfully ethereal effect) is no longer here to be admired, having collapsed on the 8th of March 2017, the Blue Grotto is even more wonderfully attractive with the poignant reminder that everything passes with time. This complex of seven caves can be found towards the south of Malta, and was formed by the action of the waves against the cliffs, carving these unique hollows into the raw rock. Now a favoured site for divers, because of the clear waters, this grotto has a fairy tale air about it that will translate very well into your holiday photos, especially if you take a boat trip to see the caves and their wonderful colours and shapes.
3. The Grandmaster's Palace
Built between four and two hundred years ago, this venerable but sturdy building has stood the test of time. Once the seat of Maltese power, parts of the building are now open to the public as a museum where you can see the State Rooms and the Armoury. There are also several courtyards and gardens to be explored, while quite and observant guests may meet the building's oldest residents: ghostly cats and dogs that fight, snooze and dematerialise almost – but not quite – in front of the guests!
4. The Co-Cathedral of St John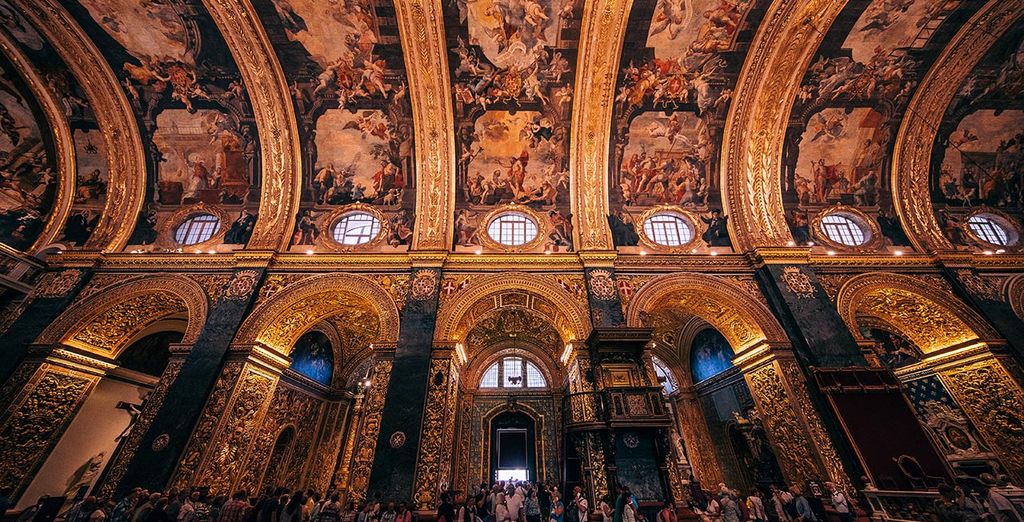 Just steps away from the Grandmaster's Palace, the cathedral is both a functioning place of worship and a tourist attraction, being one of the island's top attractions. Built in a late-Renaissance Mannerist style, this religious edifice looks rather fortress-like and austere – on the outside anyway. Inside, opulence and adornment rule, with every available surface covered with sumptuous artwork, details, gold leaf, colour and vibrancy: a real labour of love for those long-ago craftsmen, whose work would have been both a vocation and calling as well as a way to earn a living. Keep your eyes peeled for the Caravaggios as well as looking out for the marble tombstones, marking the resting place of several important knights. This building is a wonderful place to gain a sense of the worshipful grandeur with which churches and cathedrals were beheld at the time of its building and early years of operation.
5. Megalithic Temples
Covering more than one site, these temples are an important and significant part of Maltese history. These seven temples, found both on Malta and on neighbouring Gozo, comprise a timeline, of sorts, of the beliefs of the people living on and near the islands, as well as offering us a glimpse through the years to five thousand years ago or more. While each building is unique, they are all freestanding stone structures which demonstrate a keen and accurate understanding of construction skills that would not be out of place on a building site today.
Our Practical Advice for Malta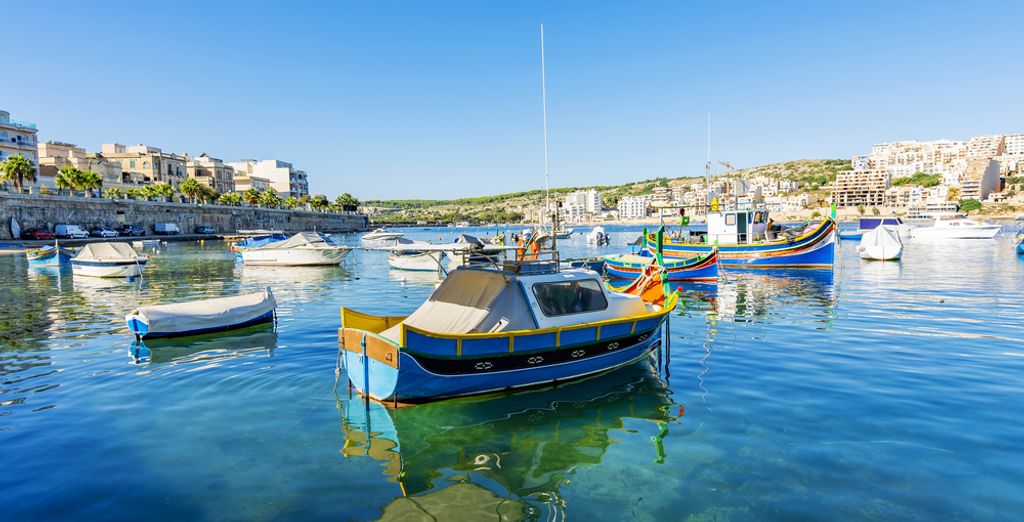 Visit Malta to get some winter sun, between October and May (or even very early June) to avoid the worst of the heat and the crowds while still enjoying a wonderfully warm holiday while everyone at home is wearing an extra jumper or sneaking the heating up a notch!
If you ache for blazing sunshine and do not mind the crowds, then summer time is the perfect time to visit – do remember to stay hydrated and wear plenty of sun cream.
Swimming in the sea is one of life's true pleasures, but never forget that tides can be stronger than you realise and more unpredictable. Always check tidal information, and obey safety warning signs – they may just save your life!
What to pack for a last minute Malta holiday?
The weather in Malta can be unpredictable and very changeable, switching from warm, blazing sunshine, to icy rain in a surprisingly short time. Dress for the climate – lightly – but do carry a parka or an umbrella to ensure that the weather will not ruin your holiday.
Take along plenty of lightweight clothing like shorts and t-shirts, but do bear in mind that modest dress is a requirement in many religious and even governmental buildings, so be prepared with a scarf and perhaps a long sarong that you could drape yourself with, should it be deemed necessary.
What budget to plan at the last minute?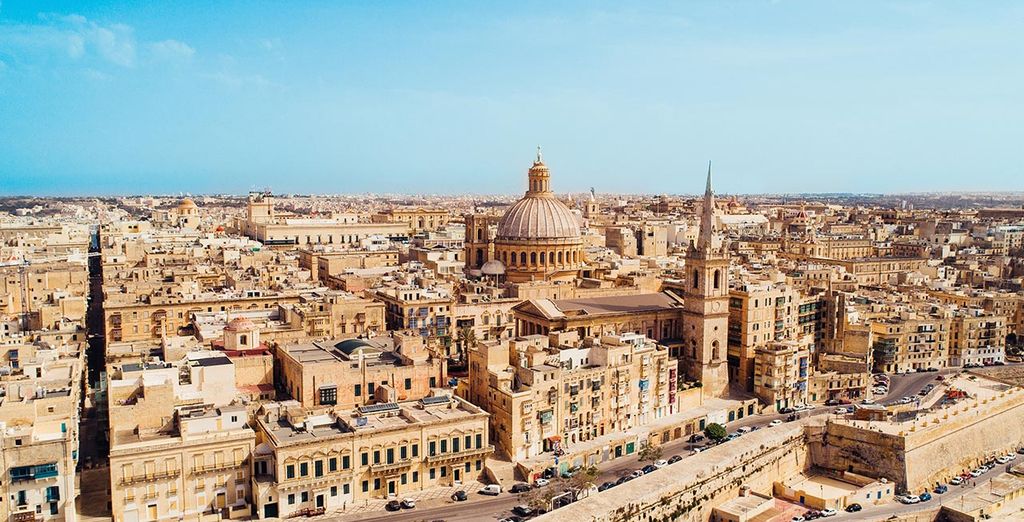 Having snaffled your last minute holiday, you now need to find a decent sum of money to ensure that you all have a fun and enjoyable last minute holiday in Malta. Aim to spend around €55 per person per day for snacks, entry fees, drinks and meals out of the hotel, as well as souvenirs and mementos.
Useful Information Before Going to Malta
Get out of the main tourist centres and try a traditional Maltese village instead. This gives you a much better chance of observing some of the authentic traditions and meals of the island, without worrying that it has been modified to suit Western ideas.
Also, make enough time in your schedule to 'do' Gozo properly. It may be a much smaller island than Malta, but there is plenty to see and do on the island, so do try to allow for enough time to head over there for a full day's exploration, or perhaps even two.
The official language in Malta is Maltese, a sort of sophisticated mash-up of Arabic and Italian, but most people, especially those in the holiday industry, will speak perfect English, so you do not have to worry about not being understood.
The Opinion of the Voyage Prive Expert on Last Minute Holidays to Cornwall
Experience Malta, the island of many cultures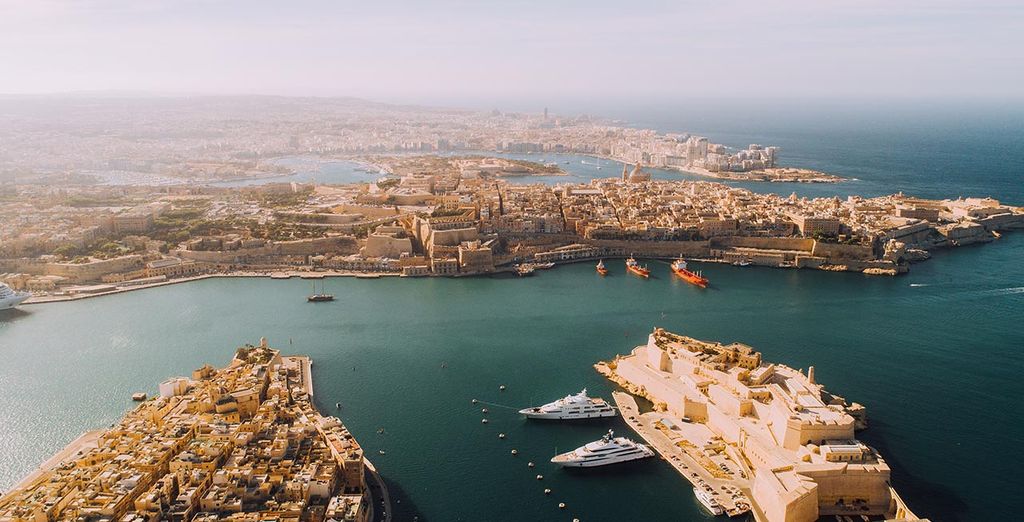 For one of Europe's smallest countries – just over 120 square miles - Malta offers one of the most diverse holiday experiences on the continent thanks to its unique culture and the neighbouring influences of Sicily and North Africa. The nation comprises three islands, the largest of which is Malta with a melting pot of historic sites, luxury marinas, cocktail bars and open air restaurants, and holiday accommodation for all tastes. Malta's sister isle of Gozo is accessible by ferry and gives you the chance to step back in time and enjoy peaceful pursuits such as hiking and cycling, with stunning sea views and traditional Maltese heritage. Comino is the smallest island of the trio boasting the world-famous Blue Lagoon bay, a secluded swimmer's paradise with crystal clear, azure blue waters.
Explore Malta's heritage in the capital city, Valletta
The beauty of Malta is its size – you can experience all the country's diverse destinations in one holiday. The city of Valletta is a perfect place to start - built in the 16th century by the Knights of St. John, Valletta's historic significance and well-preserved baroque architecture prompted it to be declared a UNESCO World Heritage site in 1980. Start your day with coffee and pastizzi (Malta's famous savoury pastries) at one of Valletta's traditional street cafes and spend a morning wandering through the grid-like streets which house the National Parliament, the city's beautiful museums, churches and palaces, and independent boutiques in the bustling shopping district. Have your camera ready when the sun starts to set as the gentle light magically highlights the city's intricate architecture, and Valletta enters night-time mode with buzzing restaurants, theatre shows and open air music and entertainment.
While Valletta is best explored on foot, hiring a car will give you the freedom to discover all the hidden gems dotted around the Maltese islands. The medieval walled city of Mdina sits atop a dramatic hillside in the middle of the island, and you can venture into ancient Roman catacombs in nearby Rabat. The south coast of Malta has a quieter charm; you'll love the traditional village of Marsaxlokk with its colourful boats and popular Sunday fish market. Head to the northern towns of St Paul's Bay and Paradise Bay for fresh-out-the-sea local fish dishes and stunning sunsets, and even further up you'll find the red sandy dunes of Golden Bay with spectacular views of the Mediterranean sea.
With so much to offer visitors, it's impossible to choose a favourite destination in Malta, but an area that ranks highly with all visitors is the former fishing village of St Julian's. This glamorous hotspot has something for everyone; the luxury marina Portomaso with its super yachts and designer boutiques, a promenade of traditional and exotic restaurants along Balluta Bay, nightclubs and bars in the party district of Paceville, and a choice of beach clubs for swimming and lounging along its rocky coast.
Whether you're looking for a romantic couples retreat or a fun-packed family holiday, we have exclusive offers and limited-time discounts at hand-picked hotels and resorts along the Mediterranean coast to help you book a last minute Malta holiday to remember.
FAQ Last Minute Malta
Want to go to Malta ? With Voyage Privé, enjoy exclusive offers up to 70% off even at the last minute. Register for free to access all our current sales.
In the heart of the bay of Saint-Paul, the Pebbles Resort 4* welcomes you for a relaxing break on the Maltese coast with comfortable rooms with balcony or terrace, restaurants and swimming pool. For an All Inclusive package, choose the Dolmen Hotel Malta 4* which has many facilities for a luxurious stay: Spa, indoor and outdoor swimming pool, children's club, casino, spacious rooms with sea view and direct access to the beach.