Our best hotels in Cyprus



Table of contents
Your Cyprus experience won't be complete without one of our most luxurious hotels in the mix. Take a look and choose the cherry on top to your trip:
The top 4 hotels in Cyprus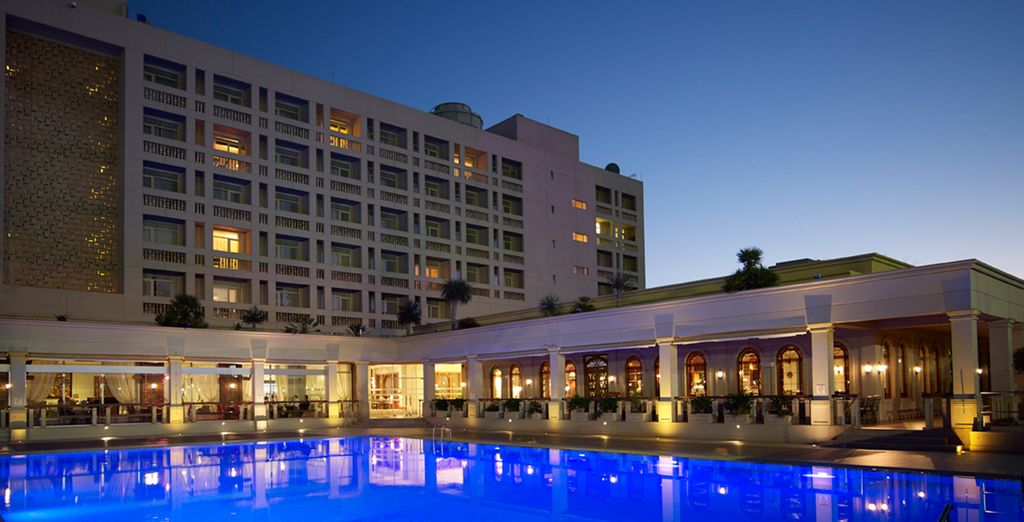 You simply can't go wrong with 5-star accommodation, and this hotel offers just that. With luxurious décor and generously sized rooms, you'll be able to relax after sightseeing all day. Stop by the sauna and spa for an extra bit of pampering.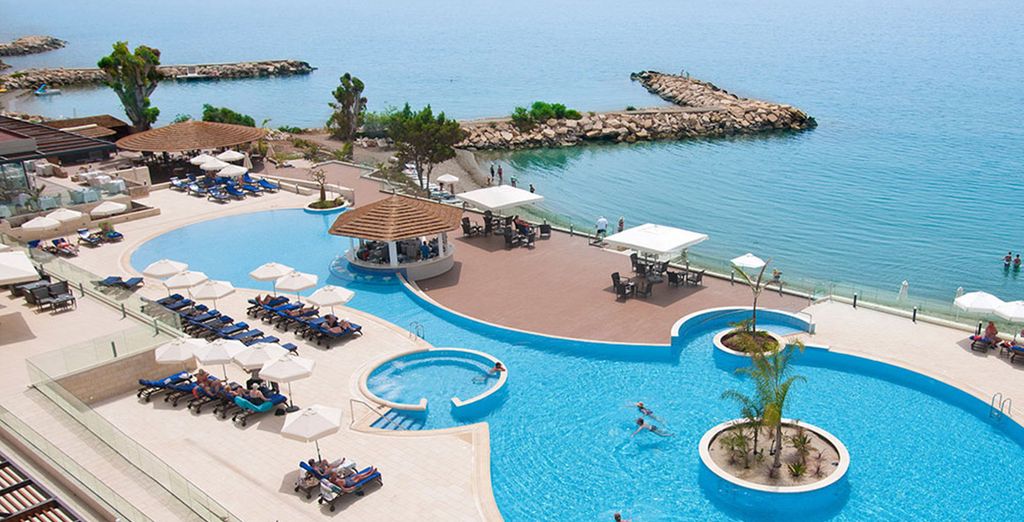 Enjoy your holiday in the lap of luxury and get a taste of the royal treatment. Complete with a pool, spa and on-site restaurant, you'll have everything you need. Situated on a beach away from the busy city, you can enjoy some peace and quiet.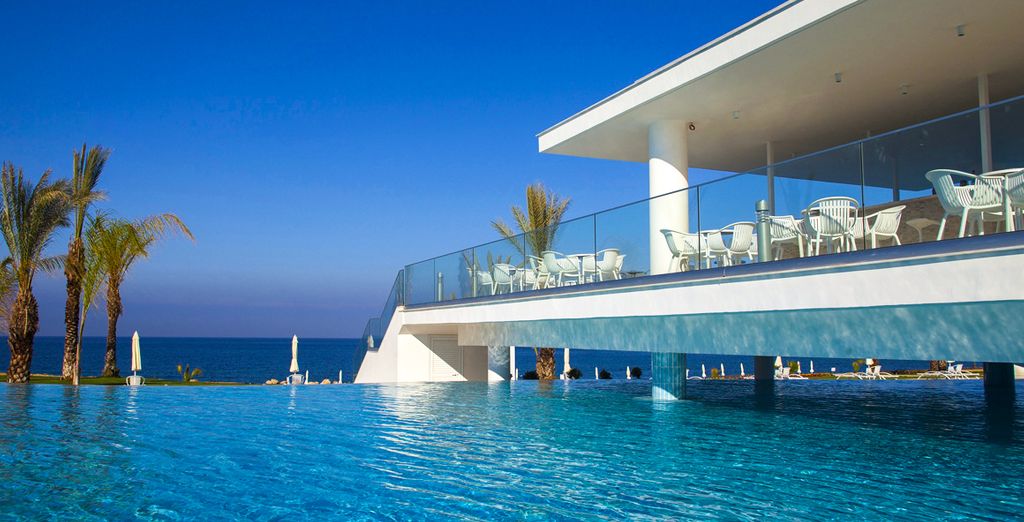 Enjoy sea views and swimming pools at this resort. Complete with even a waterpark, you can choose relaxation or fun at any time of the day. Family-friendly, there's plenty for the kids to get involved in as well as the adults. Rooms come with a patio and balcony to make sure you always get the most out of the sea air.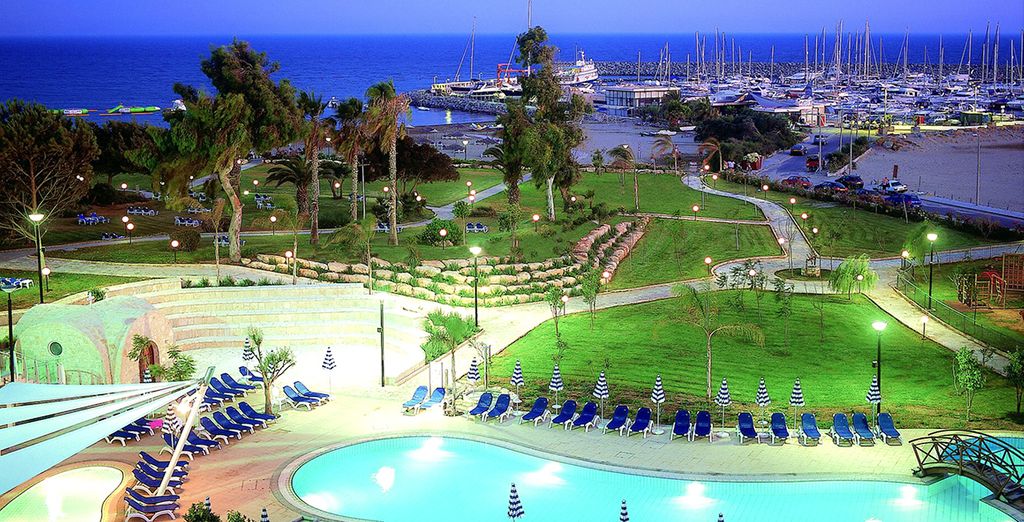 Located on an incredibly large beach that's Blue Flag accredited, it's one of the best places to relax and sunbathe. You'll be able to take in sea views as well as swim in two outdoor pools, there's no end to the activities you can choose.
What services will you find in our hotels in Cyprus?
Cyprus has a lot to offer, meaning you'll get more than just a bed and a room when you choose any of our luxury hotels in this desirable destination. Some things you can expect include:
Air conditioning that you can control
Swimming pools, spas and saunas
Balconies and outdoor dining options
Luxurious rooms suitable for the whole family
Hotel rental offers in Cyprus convenient for all kinds of travel
Although it's a small island, Cyprus is a very multi-faceted, diverse destination, which means there's plenty for everyone to do here. And with so much to do, you'll need to pick and choose activities carefully; a grown-up wine-tasting holiday surrounded by Byzantine architecture and rugged hills? A secluded honeymoon by the oceanfront? A late-night, party vacation in the lively bars of Nicosia, Lemesos, or the coastal resort areas? A family getaway filled with waterparks, seaside swims and hikes through Cypriot olive groves? There's something for everyone here.
Cyprus has a warm climate, with long, hot summers. Summer lasts from April to October, and the hottest month of the year is August, with temperatures of up to 31 degrees Celsius. If you're coming in peak season (June to August), be prepared to spread your activities out in order to avoid the midday sun; for this reason, Cyprus lends itself well to laid-back, long holidays. Many visitors spend around a week here, but longer stays of two weeks (or more) are perfectly viable, as there's no shortage of things to do here. During the winter, daytime temperatures can drop to around 17 degrees Celsius, and mountains are often snow-capped. It's much less touristy at this time of year, and prices are lower, although not all attractions will be open. Skiing in the Troodos Mountains is a great winter option. In warmer months, shoulder season (March to May and September to October) is the ideal time to visit, with fewer crowds and warm, pleasant weather.
The range of hotels we offer in Cyprus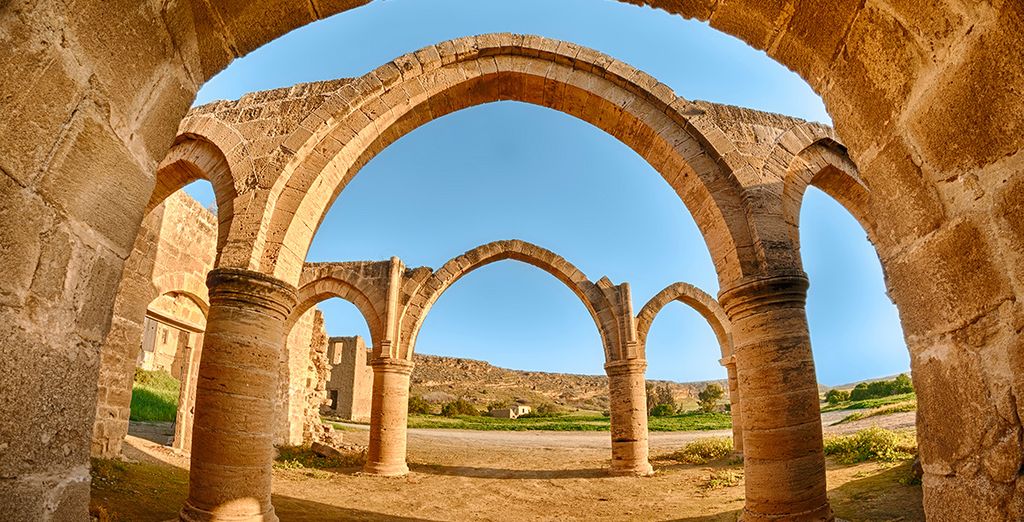 Cyprus lends itself well to many kinds of holidays, and there are many accommodation options, from all-inclusive luxury packages to rustic village inns. Its ease of access from London means that it's a great short break or weekend getaway, but there's also no shortage of things to do on longer stays.
Cyprus: What should we bring for a hotel stay?
When travelling to Cyprus, you want to make sure you haven't forgotten anything important. Take a look at this short list of a helping hand:
Water resistant suncream that offers UVA/B protection
Swimming gear along with flip-flops or sandals
Beachwear and summery outfits
Enough cash and electrical adaptors
Your hotel in Cyprus: how to get there and make your booking?
Most holidaymakers arrive into Cyprus by plane. Its main airport is Larnaca International Airport, and it's also possible to fly directly to Paphos International Airport. Both flight options take around four hours 30 minutes from London. Ercan International Airport (also known as Nicosia Airport) services Northern Cyprus, although this will usually entail a stop in either Larnaca or Paphos.
It's also possible to arrive via train and boat, either by taking a mini-cruise from Greece (during the summer months), or by taking the train to Ta?ucu ferry terminal, a journey of three or four nights from London with a mandatory overnight stop in Istanbul, and bus and taxi ride at the end. Trips depart year-round, and take four or five hours to arrive into Girne, in Northern Cyprus. From May to September there's also a fast ferry which makes the journey in around two hours.
Before you book any kind of transport, register with us for all the best offers.
The opinion of the Voyage Prive travel expert on hotels in Cyprus
A Mediterranean island paradise, Cyprus is perfect for lovers of history, culture, and food, or simply for lovers of sun-soaked sand and azure water.
Cyprus, the land of crystal clear waters and peace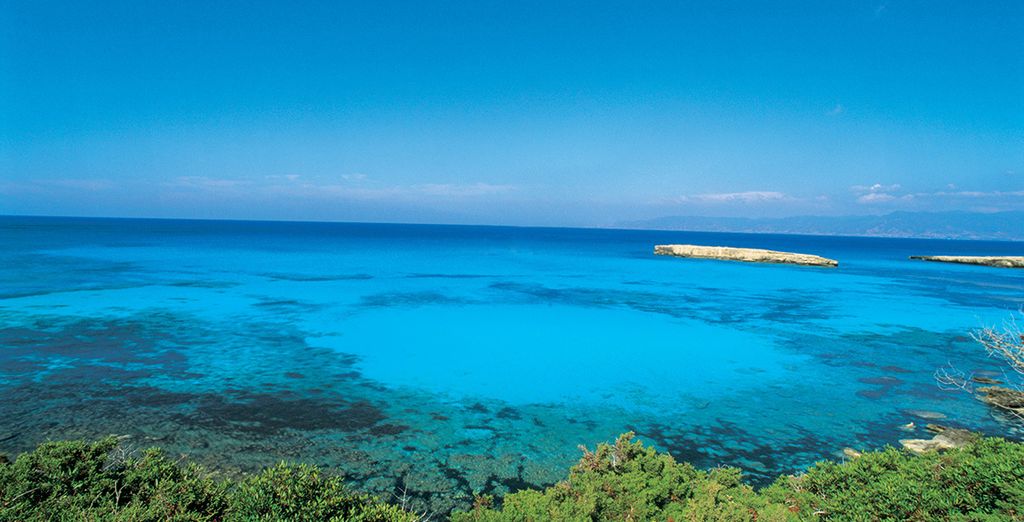 The sun-soaked Mediterranean shores of Cyprus beckon travellers of all descriptions. Its official languages are Greek and Turkish, but English is also widely spoken, making it an easy destination to get around. Uniquely set at a crossroads between the three continents of Europe, Asia, and Africa, Cyprus is steeped in culture and history; covering the island are archaeological sites dating back to the Stone Age, as well as Roman and medieval structures. Allegedly the birthplace of Aphrodite, its shimmering blue waters, picturesque coastlines, and ancient buildings lend themselves well to romance.