Last minute Cyprus deals: sun, shore and so much more



Table of contents
Book last minute deals to Cyprus with Voyage Privé ✅ Discover more about this island's spectacular ► Ancient ruins, Sapphire blue seas, delicious Mediterranean cuisine.
Last minute holidays to Cyprus
Cyprus is famous for its warm weather, beautiful beaches, and excellent food, but there is so much more to it than that. Go beyond the beautiful stretches of beach to discover an island of compelling landscapes and culture, riddled with ancient riches and steeped in myth.
The Voyage Prive travel expert's opinion on travel to Cyprus
If you are seeking sun, sand, and sea, then Cyprus is the obvious choice of holiday destination. But don't be fooled and think that's all Cyprus has to offer. Whether you're a family seeking fun and memories, a couple seeking romantic moments, or friends after adventure and nightlife, Cyprus will have something to suit you.
Top 5 things to do in Cyprus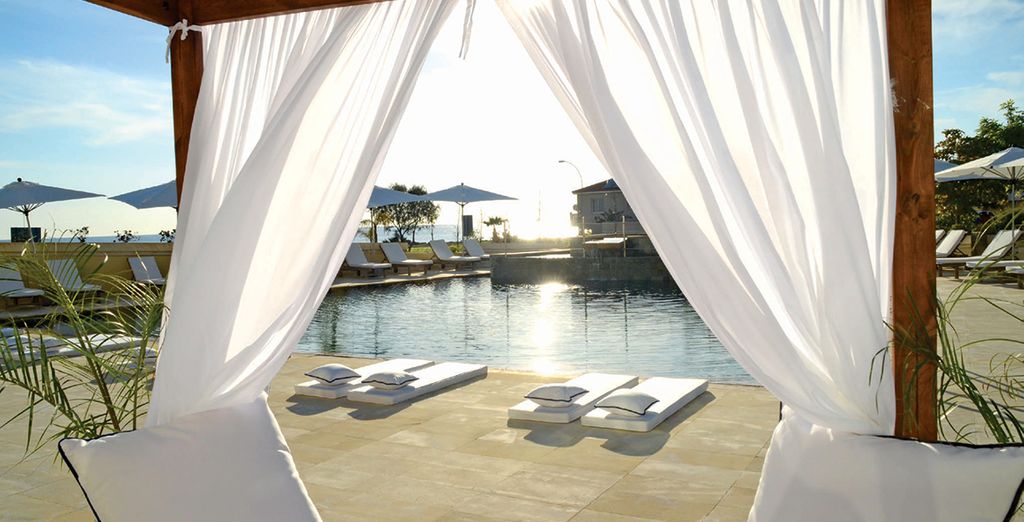 1. Explore the Pafos Archaeological Site
No trip to Cyprus is complete without a drop of history. Founded in the late 4th century BC, Nea Pafos was the ancient city of Pafos and was originally surrounded by massive walls. It remained the centre of all administrate and political life in Cyprus, despite being surrendered to the Romans in 58 BC. It's most famed today for its spellbinding collection of colourful and intricate mosaics which are based on ancient Greek myths.
2. Scuba diving at Larnaca
Larnaca is home to one of the most premier wreck dives in the form of "Zenobia". It foundered in Larnaca harbour during 1980, was towed away and brought to its present location 1,500 yards offshore. Today it still has a vast range of sea life amongst the lorries which are chained to the decks. It has a maximum depth of 140ft, which means it's not all for beginners, but next to the Zenobia are many reefs, caves and shallower shipwrecks providing something for all levels.
3. Take a winery tour in the Krassohoriá
Why not try something different and explore the wine region of Cyprus. To sample some of the more refined Cypriot wine labels, take a trip to the Limassol district where vine-terraced foothills surround the area. These are where most of the wine villages (krassohoriá) support at least one micro-winery. You can visit on a walk-in basis or organise a group tour for more convenience.
4. Relax on the sun-kissed beaches
Cyprus is home to many beautiful beaches up and down the coast. If you want to catch a tan, relax with a cocktail, or participate in some exhilarating water sports, then Cyprus has it all. Every conceivable water sport is on offer, from skimming the surface on a windsurf board to scuba diving wrecks and caves. Top beaches include Makronissos Beach, Coral Bay, Nissi Beach, Fig Tree Bay, and Konnos Bay.
5. Explore Limassol Castle
Visit the medieval castle of Limassol situated near the old harbour in the heart of the historical centre of the city of Limassol. Daily tours are offered to this 1590 built castle which has prison cells that were used up until 1950. Afterwards, grab a bite to eat in one of the many delicious restaurants on offer.
Cyprus is bursting with wonderful things to do, but to help inspire you, we've listed the top five things you shouldn't miss on your last minute holiday to Cyprus.
Soak up the sun on secluded beaches
With nearly 350 days of sunshine a year, Cyprus is the perfect place for basking on beaches and swimming in crystal clear waters. On the island's southern coast, Limassol offers 16 kilometres of beach and sparkling sea, set against the scenic backdrop of the Troodos mountains. Take a stroll along Limassol's promenade, relax with a coffee on the marina and watch the yachts come and go in the port.
Which hotel to choose in Cyprus
Cyprus is filled with fantastic luxurious hotels to make your stay memorable. To help you decide, we have handpicked the best hotels in the area.
You can't go wrong with a classic 5 star Hilton Hotel and this one located in beautiful Nicosia is sure to impress you. Situated with views over the capital city, and only 3 kilometres from the top cultural sites and shopping streets, this is the perfect location. After a day of exploring, you can return to the hotel and use the on-site fitness centre and sauna. Or why not treat yourself to a spa treatment before a delicious dinner?
Located in Larnaca, this 4-star hotel oozes elegance and luxury. Discover the peaceful side of Cyprus, a place regarded as the birthplace of Aphrodite due to its beauty. With breathtaking Mediterranean views, two freshwater pools and a beach close by, it's the perfect spot to relax. The E Hotel Spa & Resort also offers a wellness and fitness centre, and spa. Book with us and you can enjoy half-board dining, a 20% discount on massages at the spa and a welcome drink on arrival - pure bliss!
This beautiful 5-star resort located in Paphos combines stunning surroundings with a beautifully designed hotel for the ultimate experience. It's home to swimming pools, a seasonal waterpark and wellness facilities to steal your heart. You'll never go bored at this resort, and you may even have difficulty leaving! Book with us and you will receive a choice of three beautiful rooms, alongside either all-inclusive or hand-board dining throughout your stay.
Practical Information about last minute holidays to Cyprus
What is the weather in Cyprus?
Cyprus actually boasts some of the hottest weather in all of Europe, making it a wonderful choice for a last minute escape. Summers here are defined by long, sunny days, with up to 10 hours of sunshine per day and temperatures reaching above 30°C. Things tend to feel a little cooler in spring, but there is still plenty of sunshine and temperatures hover in the low to mid-20s.
If you want the warmest weather, then July and August are your best months, but even visiting in the winter is pleasant with temperatures of 17°C.
What should I budget for Cyprus?
Cyprus is a destination that can cater for all budgets. To experience the most of what Cyprus has to offer then we would recommend a budget of around $100 per person per day. You could spend more or less, but that price is an average indication of hotel costs, food, and activities per day. Thankfully, Voyage Prive can get you an excellent deal on a luxury hotel, so that's one less thing to worry about.
The ancient culture of Cyprus
A holiday in Cyprus in not just about sunbathing and swimming. This Mediterranean island, the meeting place of three continents, has a long and fascinating history with influences from Greek, Egyptian, Persian and Russian culture. Limassol is the perfect base for many day trips and excursions. Step back in time at Kolossi Castle, explore the archaeological excavations at ancient Amathus, or marvel at the intricate Roman mosaics at Kourion. Traditional crafts such as leather or Lefkara lace make ideal souvenirs for your holiday.
Less than an hour from Limassol, the country's capital, Nicosia, is steeped in history, including the impressive Venetian walls preserved around the city. The Hamam Omerye, a kind of spa originally built in the 14th century, has been restored to its former glory and is now a popular place for Cypriots to relax and revive themselves. Away from the cosmopolitan bustle of the cities, the country is dotted with enchanting towns, ancient ruins, and rustic vineyards. Nestled in the mountains, picturesque villages like Phini and Kakopetria are home to clusters of cottages and traditional buzukia, tavernas with live music.
Experience the gastronomy in Cyprus: feast on meze, moussaka and more
Mediterranean countries are renowned for their fantastic food and Cyprus is no exception. Here you'll find mouth-watering meals like moussaka, a dish made with savoury spiced minced meat layered with slices of aubergine and potato and béchamel sauce. One of the best ways to sample a range of Cypriot specialities is to order meze, a selection of small dishes to share. Enjoy freshly-caught fish with lemon and parsley, warm grilled halloumi cheese, and succulent stifado beef stew.
After dinner, sit back and relax with a glass of commandaria, a sweet dessert wine, or try something a little stronger like the alcohol drink zivania. Whatever your tipple of choice, the warmth of the Cypriots rivals that of their climate, so you can be sure of a brilliant evening enjoying local hospitality before you stroll back to your luxury hotel. So whether you see yourself sipping cocktails at a beachfront bar or sampling local wines in a cosy tavern, take a look at our exclusive deals and book your last minute Cyprus break now. Sign up for email alerts to be the first to hear about our handpicked offers and exceptional discounts.
Join our members today to access exclusive deals and discounts on last minute Cyprus deals. Visit more last minute holiday deals.