Hotels in Malta



Table of contents
Want to enjoy a stay in Malta ? Check our TOP 4 ⭐ to find the Best Hotel in Malta 🌅 Up to -70% only for our members 🏷️.
The Top Four Hotels in Malta
Around 1.5 million people visit Malta every year, to enjoy the picturesque architecture, unique rock formations and the beautiful beaches. If you are looking for the perfect Malta hotel for your holiday, why not try one of the following: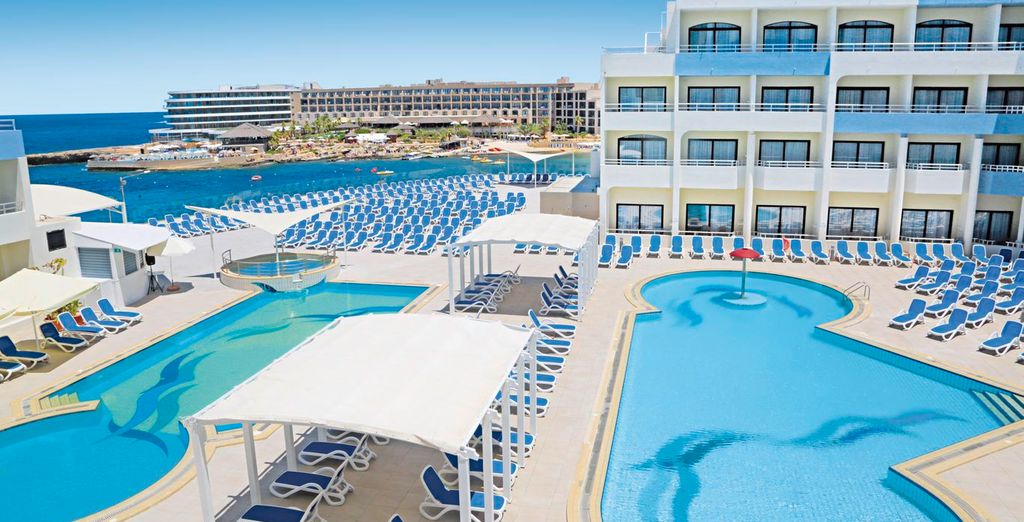 Three pools, three restaurants, a spa, fitness suite, table tennis and various watersports can all be enjoyed from this gorgeous hotel, set by the seaside on the northern side of the island. The rooms are comfortable, and you will enjoy a good night's sleep in this tranquil location which is, nevertheless, just a short easy walk away from bright lights and entertainment in one direction, and nature viewing and peaceful beach walks in the other.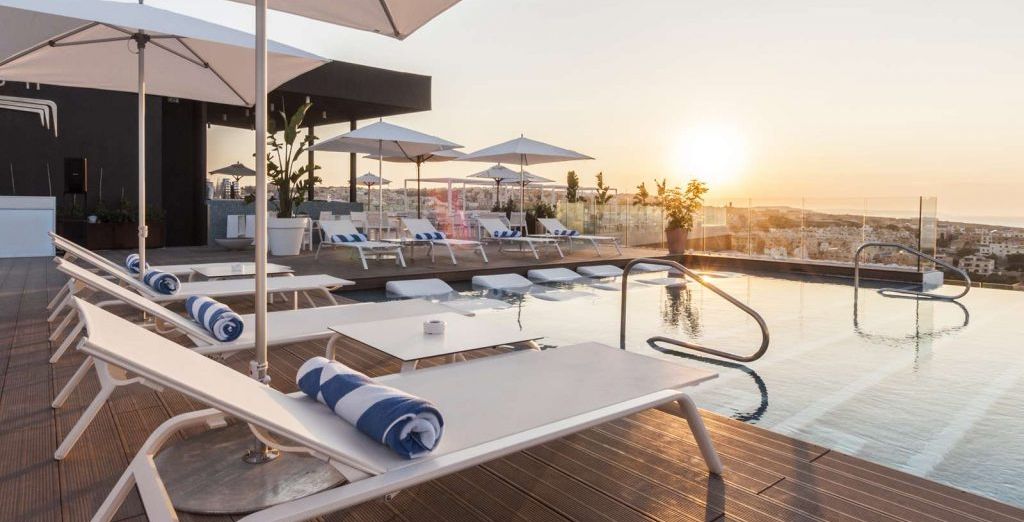 Feel like a movie star at this hotel, splashing elegantly about in the rooftop pool with its wonderfully named 'skybeach'. Just a short stroll to the wonders of St George's Bay, with old beautiful architecture, vibrant markets and delicious fresh Maltese cuisine. Pamper yourself with a new hair style in the onsite hairdresser, after a relaxing sauna or an invigorating workout before exploring the bay nearby or venturing further afield to Valetta and Ta'Qali. You can enjoy a meal at any of a number of eateries and bars around the hotel, including al fresco, enjoying some sunshine and blue skies with your meal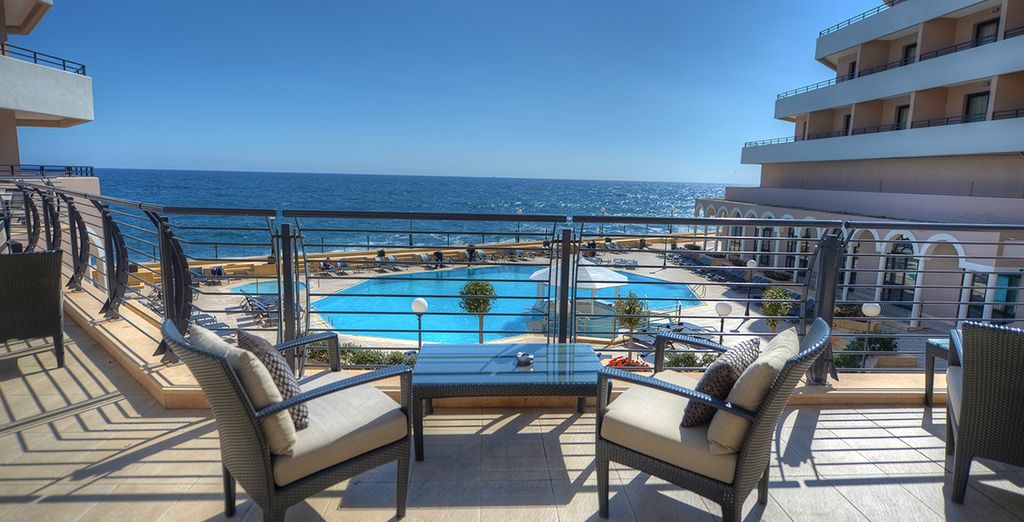 Right on the sea shore overlooking the ocean, this hotel is sumptuously appointed and looks like a castle from a fantasy film. Go from relaxing on your balcony overlooking the timeless sea to enjoying a party atmosphere just minutes away in the pubs and clubs that abound in the area. From buffets to pizza to the finest of international cuisines, you are sure to find something to suit your tastes at one of the many restaurants in the hotel. You can relax in the spa, enjoy a swim or play a game of tennis, before heading up to your beautifully decorated room for a restful night's sleep.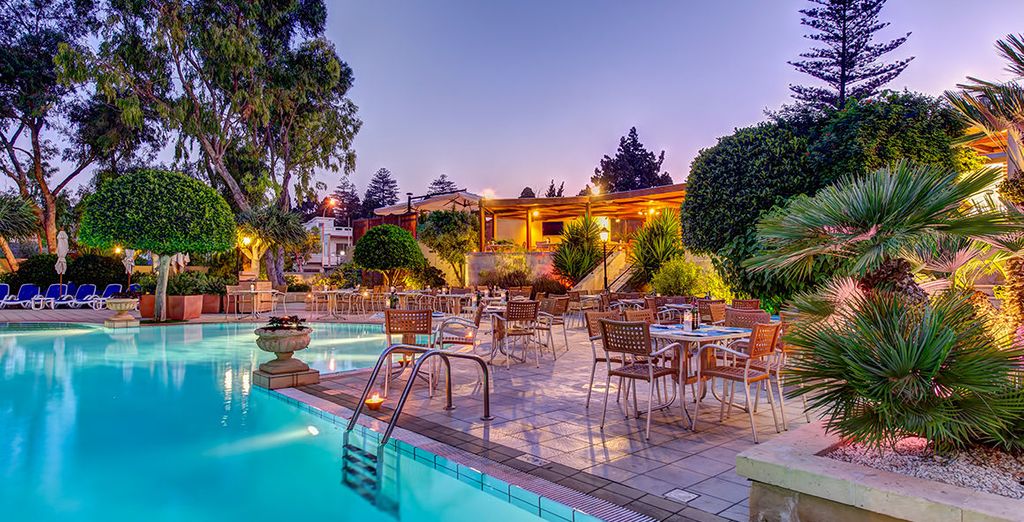 Just minutes away from the medieval city of Mdina and the capital city, Valetta, this five-star hotel has everything you need for your sunshine getaway. Unwind in the spa or sit on your private balcony to watch the sun go down or the people frolicking before enjoying the many leisure activities and fine dining opportunities on offer.
What Services Will You Find in Our Hotels in Malta?
Free Wi-fi is widely offered, both in the rooms and throughout the public areas of the hotels
Spas, steam rooms, saunas and other pampering services are often in demand to help visitors get over jet lag or to get them unwound and ready for some serious relaxation!
Televisions are included in most bedrooms, as standard, so you can catch up with the news (if you want to!) or catch an episode of your favourite show or simply chill for a night if all the drama and excitement leaves you needing a little bit of 'you' time
Restaurants and buffet bars are almost ubiquitous, and can be open all day, or just for a few hours each meal time
Hotel Rental Offers in Malta Convenient for all Kinds of Travel
It is mostly sun-seekers who come to Malta, looking to laze on the beach or by the pool, perhaps enjoy a little sightseeing and souvenir hunting, or to enjoy unusual foods and drinks. Honeymooners and families alike can enjoy Malta, which is prepared for visitors of all types
The Range of Hotels we Offer in Malta
Our Malta hotels tend to be high-end luxury offerings for surprisingly reasonable prices, but you can also find more modest accommodation if your budget is not as flexible as you would like. But you can also sign up for our seasonal deals and grab a great bargain for much less than you might think!
Malta: What Should We Bring for a Hotel Stay?
Shorts and tee-shirts are standard wear on Malta, and do remember to bring along a couple of hats and plenty of sunscreen. Swimming costumes and towels, as well as casual wear to go over wet or sandy swimsuits might be a good idea too.
Your Best Hotel in Malta: How to Get There and How to Make Your Booking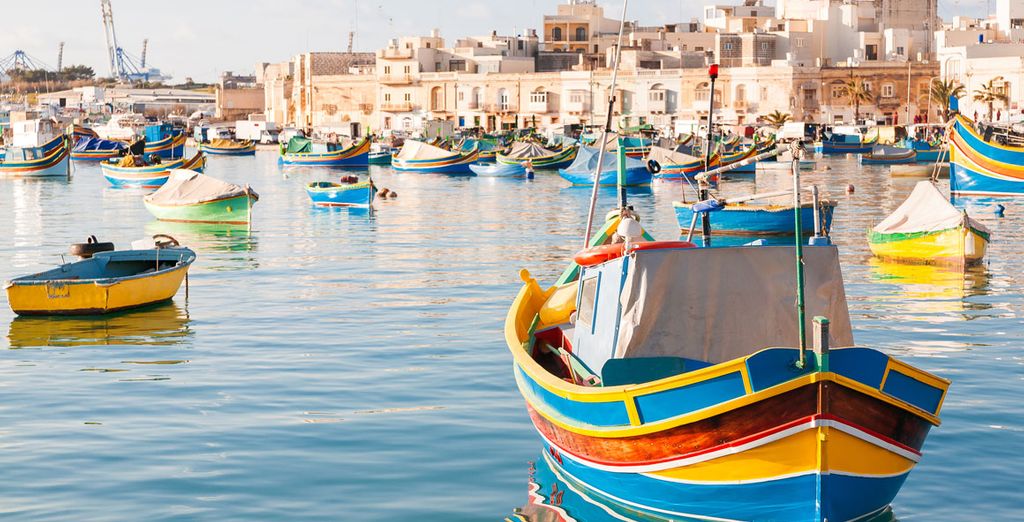 Malta is a popular destination with tourists, especially those within the EU, and there are plenty of ways to arrive. It can be busy during peak times which tends to be during the school summer holidays, but the warmth lasts for longer than these periods. If you are travelling without children, you could time your holiday for before or after the holidays and enjoy a less crowded time on the island.
How to Get There
If Sicily is the ball being kicked by the foot of Italy, Malta is a piece of the ball flying off it! This puts the island firmly in the middle of Europe, easily accessible by plane flying into Valetta international airport which gives easy access by hire car, taxi or bus to the rest of the island. You can also arrive by boat, taking a ferry from the Italian mainland or stopping off after a cruise.
How to Make Your Booking
Online booking is your easiest option, especially if you team it with one of the above-mentioned deals. Simply sign up on our website and wait for your perfect holiday deal to arrive, then place your booking and pay your deposit to confirm your place in the sun.
The Opinion of the Voyage Privé Expert on Malta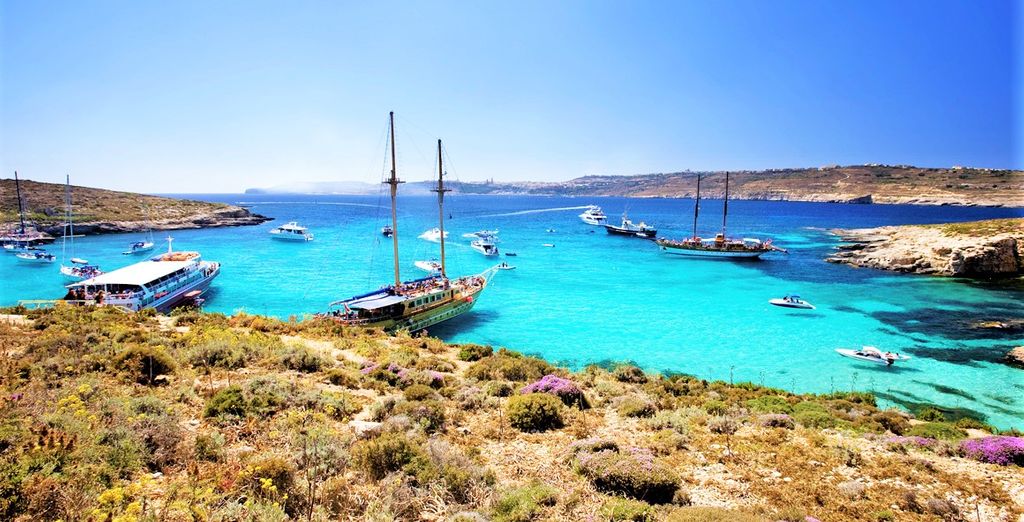 Malta is a beautiful welcoming island, where you are sure to enjoy plenty of warm sunshine, beachside relaxation and delicious Mediterranean food while you explore the rich array of architecture that can be found all over the island, from Roman ruins to Moorish buildings to modern contemporary works. It is a destination for everyone, from students taking gap years to the jet set looking for some downtime.
Malta: fresh food, beautiful beaches, gorgeous ocean views, and plenty of sightseeing. An island that has your best holiday interests at heart.