The Top 10 Hotels in Morocco



Table of contents
Morocco boasts a huge variety of luxury hotels to choose from, offering visitors only the best facilities for their stay. To make your decision that little bit easier, our list of the top 10 hotels in Morocco outlines the places you should really be considering.
Our best hotels in Morocco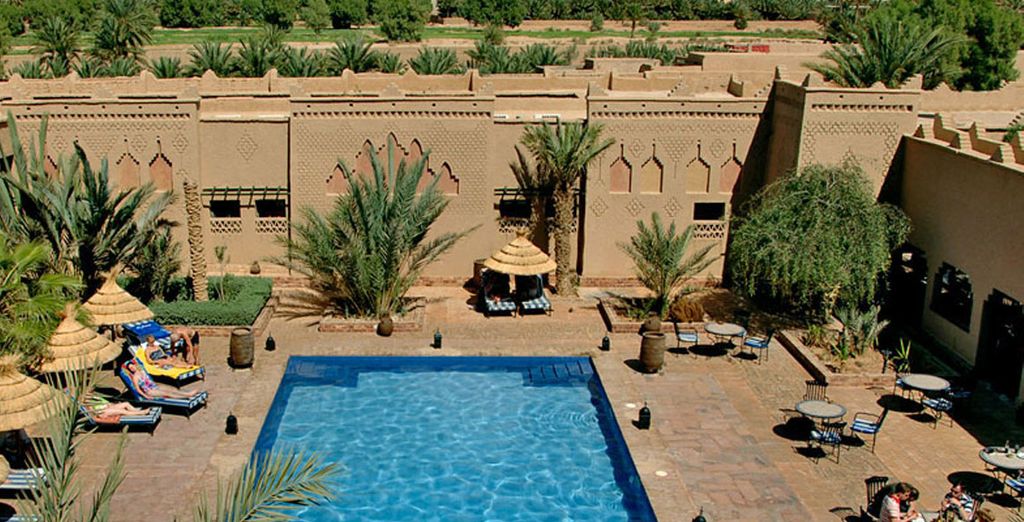 Nestled amidst culture and history, this hotel is right next to the 'Medina', the old city, and the Agdal gardens. It's one of the best options for those looking for a relaxing getaway, as it puts distance between guests and the crowded city streets. Being not too far from the railway station and airport, it's easily accessible despite being more remote. Feelings of calm and serenity are amplified by the traditional feel of the place, but modern facilities ensure optimal levels of comfort.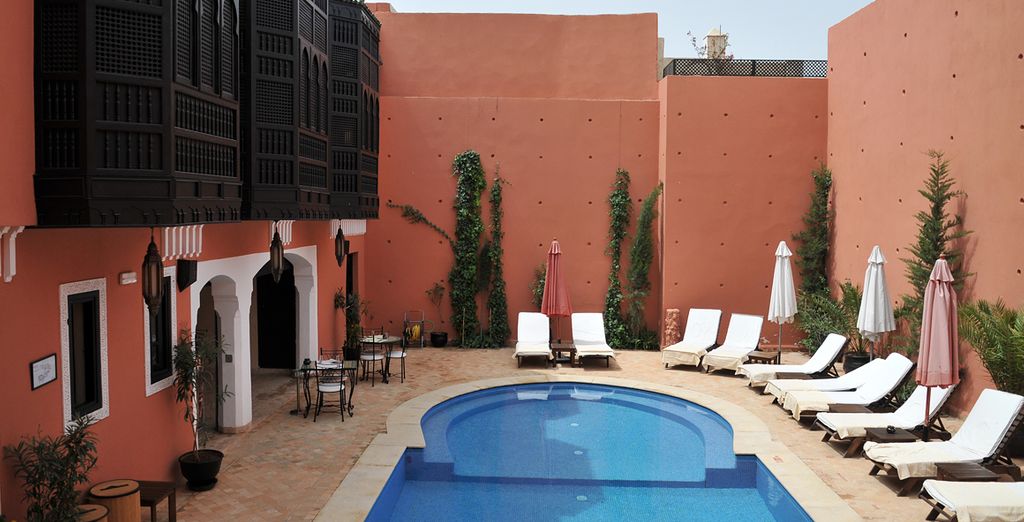 For a taste of royal luxury, stay just a few steps away from the palace in Marrakech. A newly converted, boutique hotel, you'll be sleeping in rooms that were once a part of townhouses for a truly authentic Moroccan experience. The rooms are completely sound-proof to ensure a peaceful slumber for you and your family, as well as fully air-conditioned with access to speedy WiFi and satellite TV channels.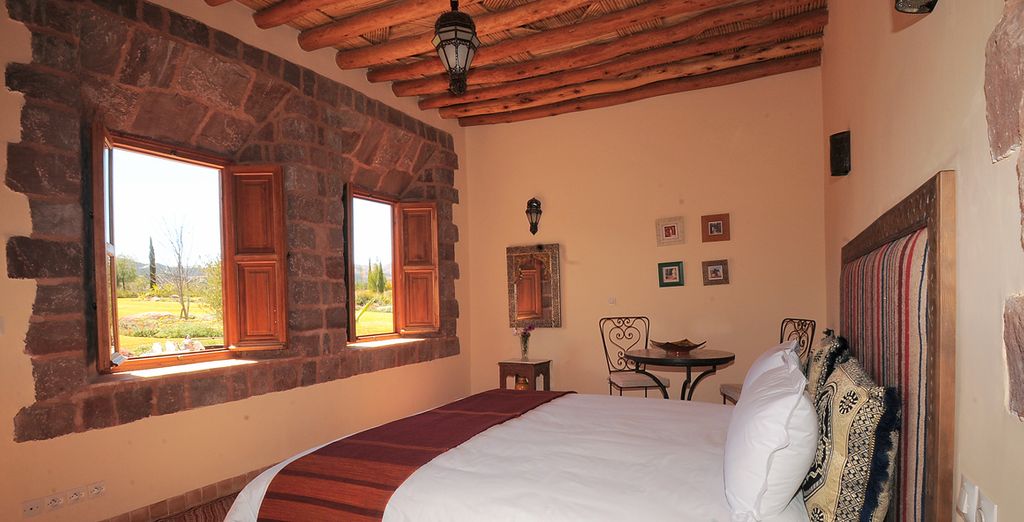 Escape to nature and discover the Atlas Mountains in these rooms situated on top of a hill. With incredible panoramic views, you'll be able to take in all the natural beauty you want, right from your bed. You'll be free to explore the gardens or take a swim in the pool, but those who are more adventurous may wish to take a hike with or without a tour guide.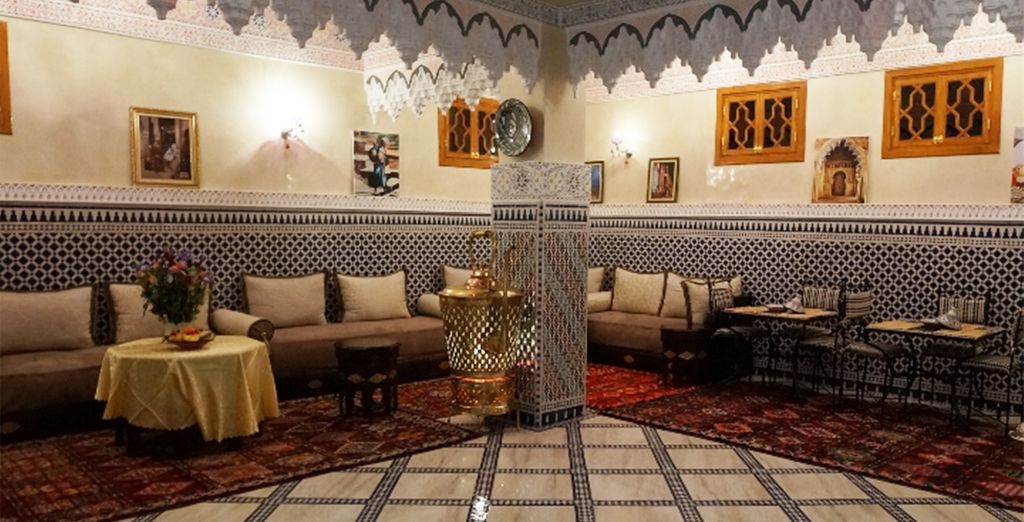 Situated in the medina of Marrakech, it's the ideal location to wander the streets and delve right into all the culture Morocco has to offer. Experience outdoor dining in the morning sun on the large open terrace and enjoy fully air-conditioned rooms to cool off. You'll be treated to a private bathroom as well as a TV and WiFi amidst beautiful mosaic décor and lamps bursting with colour.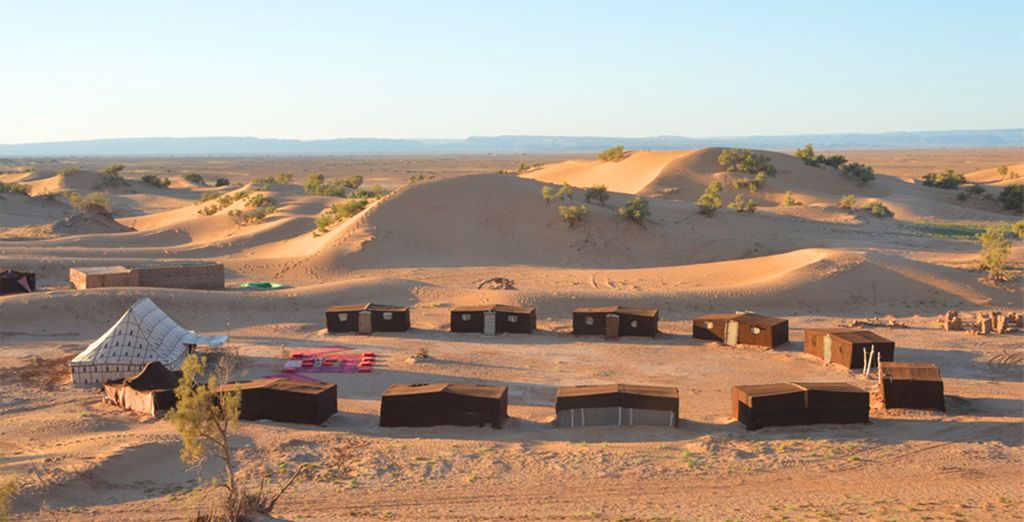 You can't visit Morocco without spending at least some time in the desert. Luckily for you, sleeping on an uncomfortable floor with breezy tent flaps isn't on the cards for you thanks to this luxury accommodation. You'll be able to experience the authentic desert atmosphere without the hardships. Complete with shared bathrooms and carpets, there's no need to worry about missing out on home comforts. In the evenings, you can huddle around the campfire and enjoy shows and talks well into the night.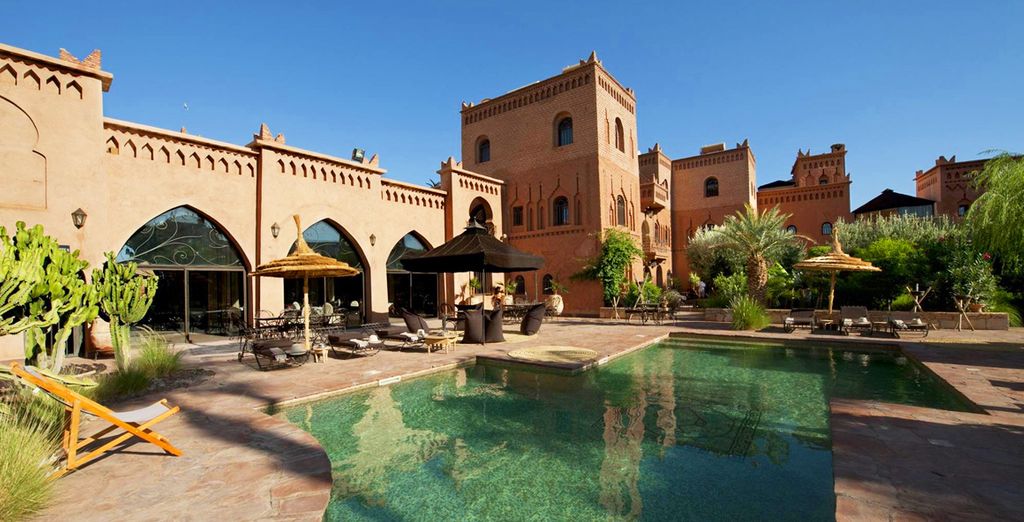 Just outside of the desert, this hotel is situated perfectly for access to both the mountains and the desert for all those who wish to explore everything Morocco has to offer. Upon arrival, our members will be treated to authentic pastries and mint tea, which act as a wonderful welcome to the country. Continue to enjoy the cuisine in the two on-site restaurants or relax in the spa after a day full of walking.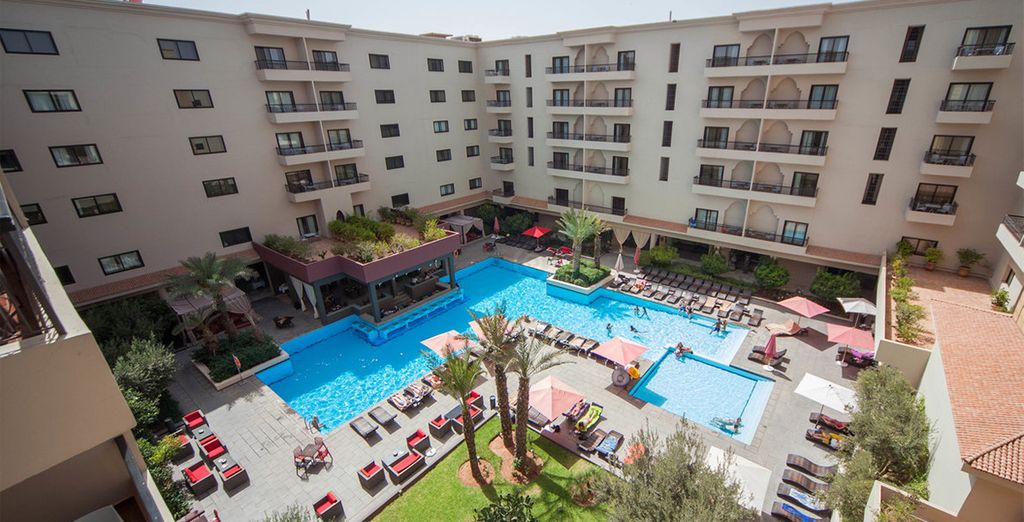 Right in the centre of Marrakech, you'll be in the heart of all the action and ready to experience the sights and sounds of the city. Bursting with three restaurants and a swimming pool and bar combined, all your culinary needs will be taken care of. For relaxation, stop by the fitness centre, spa, or sit back in front of the TV in your air-conditioned room.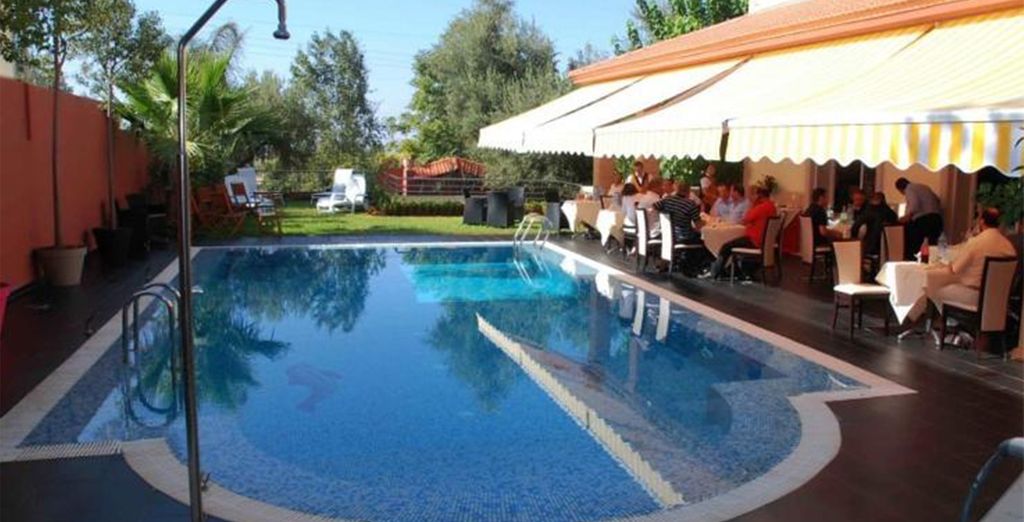 Located in Marrakech's downtown area, you'll be close to both the main city and the medina, giving you the best of both culture and modern life. Enjoy learning about this history of the place before relaxing in one of 89 modernised rooms.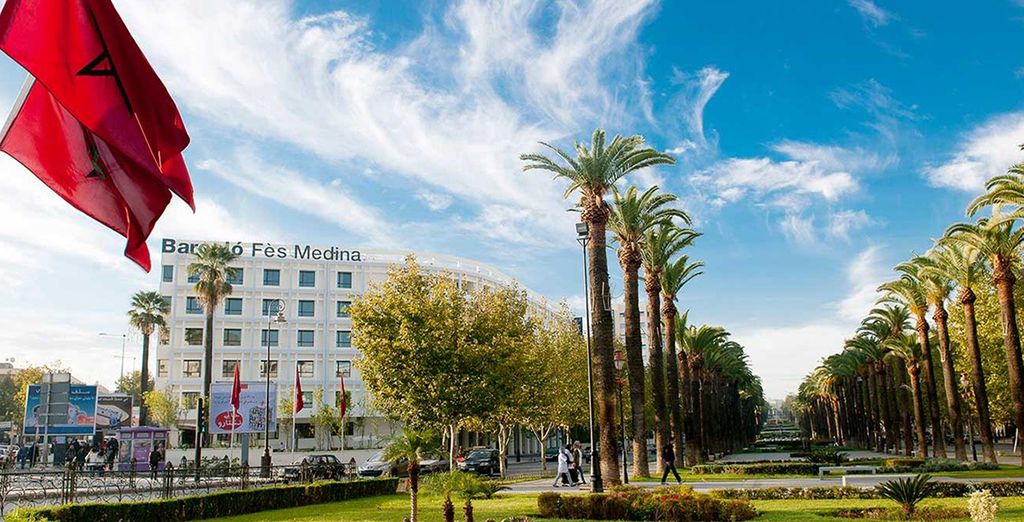 This hotel is tucked away in Fes Jdid to give its guests the chance to rest away from the vibrancy of city life. It's a real haven of modernity for when traditional designs become overwhelming. Its amazing Turkish bath is definitely one to be sampled and Azahar, its international restaurant, caters to all tastebuds.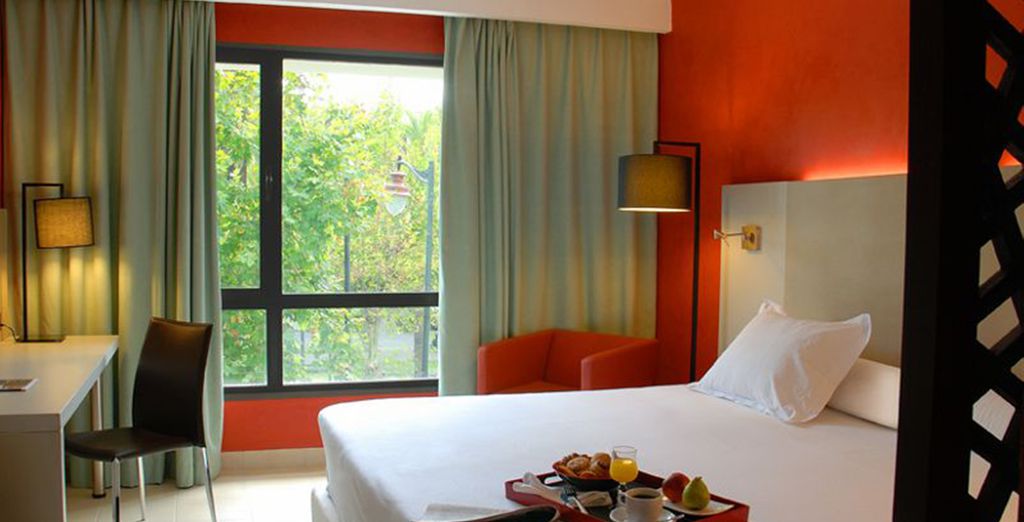 A quaint little guesthouse, this is a much more private choice for those who prefer accommodation that's quieter. However, you'll still have access to a swimming pool, gym, and can enjoy the delights of handmade bread and pizza.
What services will you find in our hotels in Morocco?
Moroccan hotels offer so much more than a room and a bed. Some facilities you can expect are:
Swimming pools and Turkish baths
A bar or restaurant on site or nearby
Luxury rooms suitable for up to three travellers
Hotel rental offers in Morocco convenient for all kinds of travel
Morocco has plenty to offer for all types of traveller. Couples looking for romance can experience the starry sky of a desert night, or the luxurious comforts of a traditional riad. Lone adventurers can explore some of the most intriguing cities in the world. Even families with children can find something for everyone, with activities including swimming, gardens, and amusement parks such as Paloozaland. Moroccans are very family oriented and love children, so be prepared for a warm welcome.
The range of hotels we offer in Morocco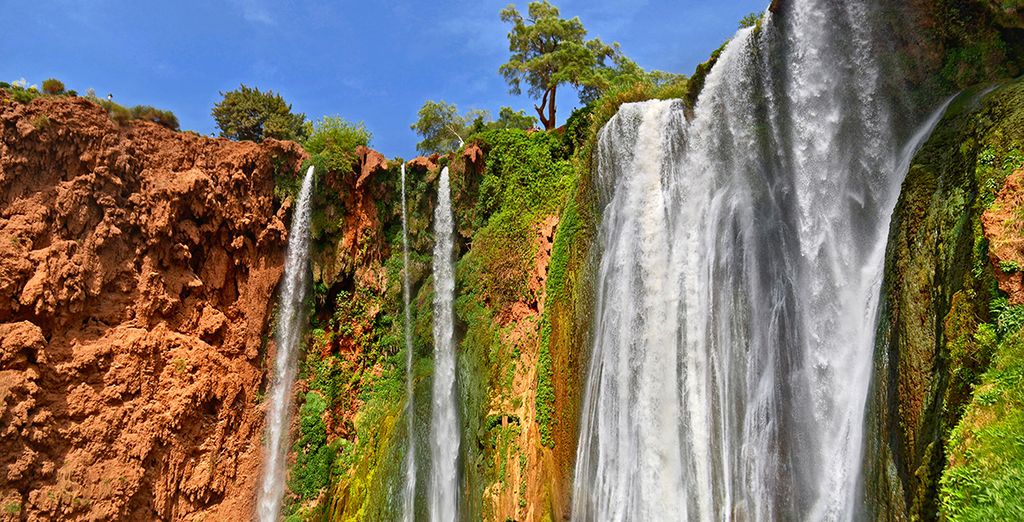 Hotels in Morocco range from large modern buildings to smaller guesthouses. You'll even find luxury tents for those days you decide to spend in the desert. The common factor between all the accommodation we offer is the fact that the facilities are superb. No matter where you stay, you'll enjoy luxury and modernisation with a touch of the traditional.
Morcco: What should we bring for a hotel stay?
There are some essentials it's important not to forget for your holiday in Morocco, these include:
Phone and camera chargers
Loose clothing that's comfortable, breathable and covers your skin
Money as well as credit and debit cards
Your best hotel in Morocco: how to get there and make your booking?
The easiest and fastest way to get to Morocco is to fly. Flights from London take up to 3.5 hours, depending on whether you fly to Casablanca, Agadir, or Marrakech. Many package holidays have transfers between destinations. Morocco is a huge country, so driving times can be several hours, particularly when travelling between major destinations like Fez and Rabat. Make sure you register with us online to book your holiday while benefitting from exclusive deals.
The opinion of the Voyage Prive travel expert on hotels in Morocco
A holiday to Morocco is the perfect mix of exciting urban life and astonishing natural beauty. Wild desert landscapes and majestic mountains frame thriving cities, full of a brilliant combination of cultures and faiths. Book a luxury holiday to Morocco today and experience the wonder for yourself.
Morocco, a country of culture, tradition, and adventure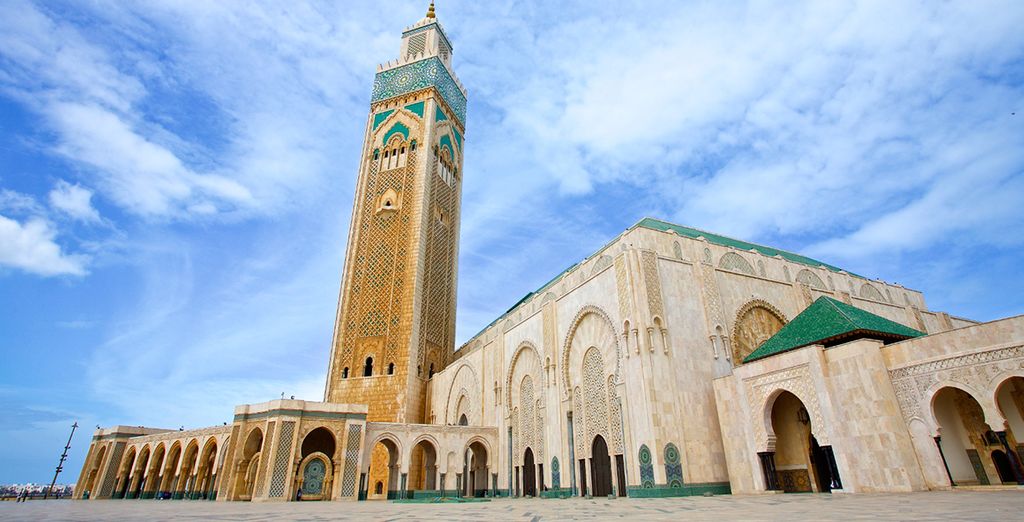 When you think about Morocco, do you think about tagines, spice markets and Berbers? Morocco has all this, but so much more. This ancient country is a mesmerising mix of cultures and traditions, steeped in history yet ready to embrace even the most modern of travellers. From Marrakech to Rabat, Fez to Agadir, Morocco is an exciting blend of Mediterranean, Middle Eastern and African culture that's hard to resist.