Best hotels in Edinburgh - Book Online



Table of contents
Book online ✅ at Voyage Prive and enjoy a beautiful weekend in Scotland, in Edinburgh in luxurious accommodations.
The top 10 hotels in Edinburgh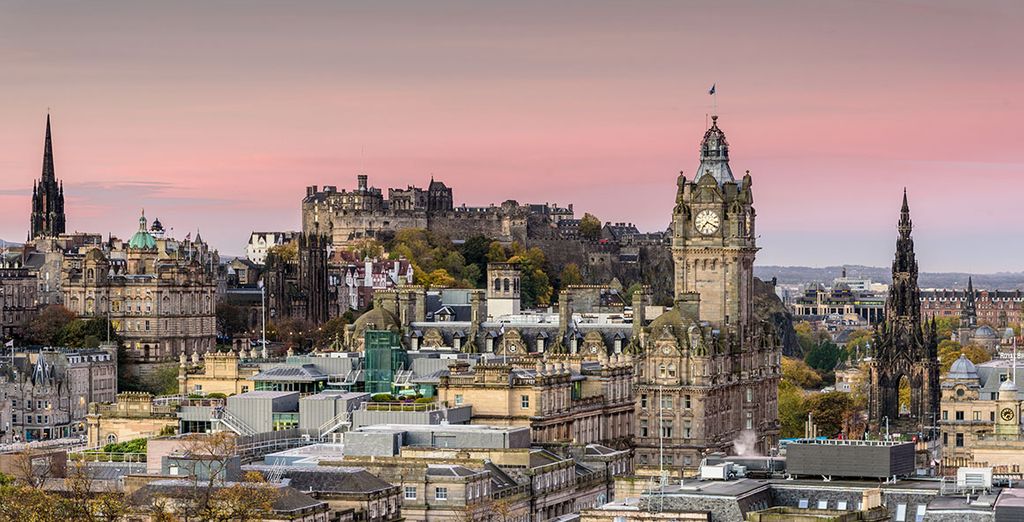 The Scotsman Hotel 4*
Old meets new at The Scotsman, which offers all of the amenities of a 21st century hotel inside the grand exterior of the former Scottish newspaper headquarters. Located in the heart of the city on the Royal Mile, you can take in the rich décor at the cocktail bar or during your afternoon tea.
The Edinburgh Address Apartments
If you're looking for a home away from home in the centre of the city, you can relax with a cup of tea in these deluxe Georgian apartments. Ideal for a busy family, these stylish flats are located right in the lively buzz of the West End district, yet still offer all of the privacy and comfort you could desire.
Dunstane House 5*
If you would like the ultimate experience in hotel luxury, gather your luggage and step into Dunstane House. Also right in the midst of the West End, the attention to detail is reflected in every aspect of your stay in this stunning townhouse. In fact, this plush spot won the 2018 Scottish Hotel Award!
Tigerlily Hotel 4*
Style and design lovers, look no further than this decadent boutique hotel for your Edinburgh trip! The rosy, warm tones have been carefully selected to relax and inspire you, as has the cocktail menu with an incredible 150 drink choices!
Nira Caledonia
Another unique choice in New Town, this cosy venue will welcome you with open arms. Designed for the tech savvy traveller, you can charge your iPod and play some tunes while getting ready for a night out on the cobbled streets of Edinburgh.
Hilton Edinburgh Carlton 4*
If you're a foodie, you will love the Marco Pierre White steakhouse nestled in this charming central hotel. Found in the middle of Old Town, the timeless style is matched only by the unbeatable service.
Crowne Plaza Edinburgh 4*
A visit to the Crowne Plaza simply couldn't be easier – it's centrally located and right next to the bus and train stations. You can power up for the day with a buffet breakfast and then explore the sights!
Melville Castle 4*
If you're looking for a spot just outside the hustle and bustle of central Edinburgh, opt for the peace and quiet of this stunning Gothic mansion that dates back to the 1700s. Imagine yourself as the gentleman or lady of the house as you dine in the restaurant, or wander around the hotel's 50 acres of countryside.
Dalhousie Castle Hotel and Aqueous Spa 4*
For the adventurous traveller looking for more of an outdoor experience, book a room at the Dalhousie. You can walk along the River Esk, dine in The Orangery, experience the falconry offerings, and then rest your feet in one of the spa's foot baths!
What services will you find in our hotels in Edinburgh?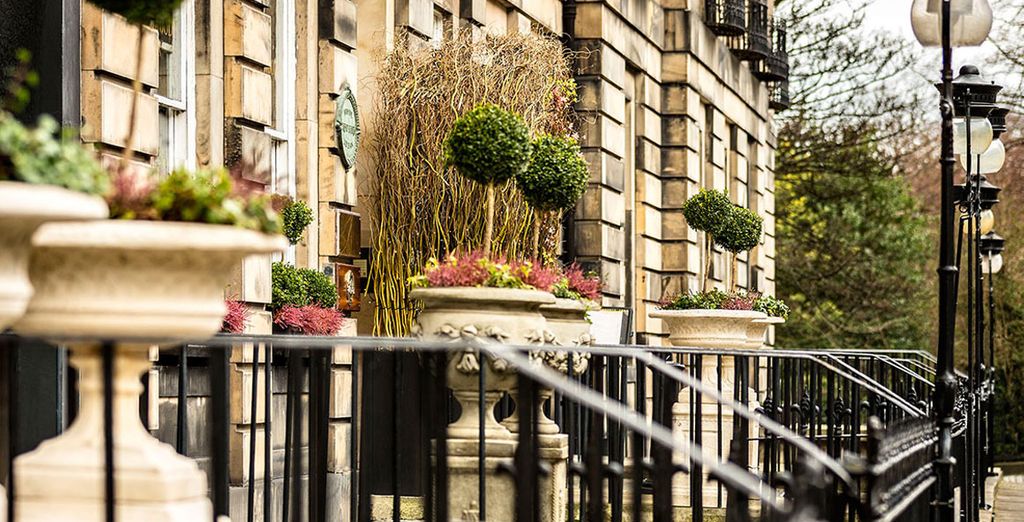 Whether you're looking to take advantage of the fitness facilities in the morning, or return to dine after a long day exploring the city, Voyage Privé's hotel partners offer a range of amenities to suit every traveller.
Services offered amongst our Edinburgh hotels include:
Private parking
24-hour room service
Restaurants and bars
Laundry and dry cleaning services
Complimentary travel adapters
Wake-up service
Swimming pools
Fast WiFi
Personal Nespresso machines
Flat screen TVs
An array of beauty and spa facilities
Hotel rental offers in Edinburgh convenient for all kinds of travel
With our exclusive hotel offers, you can always find accommodation to suit your specific needs.
By opting for the Edinburgh Address Apartments, you have the flexibility to make breakfast at home for young, picky eaters. After a day hiking the path up to Arthur's Seat, you can throw a load of muddy washing in the machine. Packing lightly has never been easier!
If you're a couple on a weekend break, you will love the luxury and convenience found at The Scotsman. Wake up, get dressed, and step outside straight into the heart of ancient Edinburgh.
For the traveller who enjoys a bit of nature, Melville Castle is the perfect bolthole during a Scottish visit. Take a trip to Edinburgh Castle in the morning, and then enjoy a peaceful walk in the hotel grounds.
The range of hotels we offer in Edinburgh
At Voyage Privé, our exclusive hotel deals cover a wide range of establishments in Edinburgh.
For ancient charm, opt for Melville Castle and Dalhousie Castle, or if you would like a cosy boutique experience, choose a room at Tigerlily or Nira Caledonia. For a five-star, luxury experience, you cannot go wrong with Dunstane House.
If you think you would prefer a conveniently located, traditional hotel then choose between the Hilton Edinburgh Carlton, the Crowne Plaza, or the Leonardo Hotel. Meanwhile, if you would like a place with unusual history, you can spend your trip at The Scotsman and explore its literary past.
Edinburgh: What should we bring for a hotel stay?
While our accommodation often includes complimentary toiletries, it's important to pack your own personal care items, especially if you are travelling abroad and are not sure if the same brands are available.
If you're travelling in the winter, it's important to note that Edinburgh can often be cold – in fact, it can average between 1 - 7 °C. The city is also prone to rain, so pack those umbrellas and waterproof jackets!
The summer is warmer, however, so you might want to bring lighter clothing during these months. Check the weather report before you travel as Scottish weather can be a little unpredictable!
Your best hotel in Edinburgh: how to get there and make your booking?
As the capital city of Scotland, Edinburgh is easily accessible by train, bus, car, and aeroplane.
From London, you can take the train from King's Cross Station directly to Waverley Station in just 4 hours and 21 minutes. You can also catch a bus with several providers, such as Megabus and National Express Coaches.
If you fancy a road trip, the M1 and A1 will take you from London to Edinburgh in just over 7 hours, although that doesn't include stops!
Perhaps the easiest form of transport is flying, which can be done in as little as 1 hour and 15 minutes of flight time from London to Edinburgh Airport. You can depart from Stansted, Luton, Gatwick, London City Airport, and Heathrow with a range of airlines including Easyjet and British Airways.
In order to book your trip, just register on our website by clicking Join Now and enter your personal details. It's free and quick, providing you access to all of our members' exclusive offers.
The opinion of the Voyage Privé travel expert on hotels in Edinburgh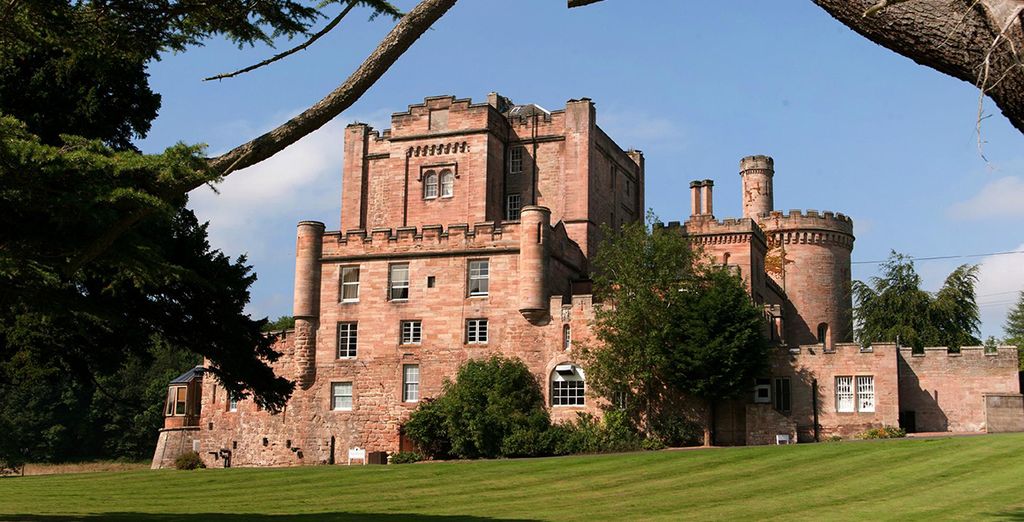 New Town
You can't go wrong in this elegant district filled with a sea of Georgian houses, which was designated a UNESCO World Heritage site in 1995. If shopping is your favourite pastime, then choose a room at the Tigerlily Hotel or the fabulous Nira Caledonia. You can take a leisurely stroll down the famous Princes Street before stopping off at St. Mary's Cathedral and the Scottish National Gallery.
West End
Just like its London counterpart, this area of the city is buzzing with cultural and artistic energy. Located right in the centre, you are well situated with a stay at the Edinburgh Address Apartments or the deluxe Dunstane House. Pick up last-minute tickets for a thrilling theatre show, or browse the West End Fair during the Edinburgh Festival.
The Royal Mile
To truly be part of the action in this city, a visit to the Royal Mile – the central street of Old Town Edinburgh – is essential. Opt for a stay at the Scotsman Hotel or the Hilton Edinburgh Carlton to fully experience this area, which houses an abundance of tourist hotspots – the famous castle, the Palace of Holyrood, and the Scottish Parliament. The question is, which one will you stop at first?
Edinburgh: A City of Magic and History
From the moment your train pulls into Waverley Station, you will be able to bask in the the warm light of Edinburgh's old street lamps and the old world charm of the cobbled paths.
Stop off with your friends or partner at a cosy pub for a taste of traditional haggis. Perhaps try a glass of Scotch Whisky, too? Afterwards, immerse yourself in the underground history of the city with a theatrical tour of the Edinburgh Dungeons.
In August, you can pay a visit to the world famous Edinburgh Festival Fringe for some theatrical entertainment. Just make sure to book your tickets early! You can also see how the Queen lives each summer at Holyrood Palace, or catch an early sunset and some stunning views from Arthur's Seat.
Children will delight in visiting author J. K. Rowling's spiritual home where the Harry Potter books came to life. A visit to Edinburgh Castle, which looks remarkably similar to Hogwarts, will inspire young minds. You can even opt to take them on a Harry Potter inspired walking tour – exercise and inspiration both combined into one activity!
Discover all our offers : Stays, Weekend, holidays, last minute