Our Top Hotels in Glasgow



Table of contents
Scotland's largest city is the perfect place for a weekend break or a longer stay. Voyage Prive is a leading provider of traveller discounts for luxury hotels. Having spent many years in this industry, we understand what makes a great hotel, and how to make the most from any trip you take. Read on to learn where to find the city's best hotels, and how to get the very best out of your stay in Glasgow.
Our TOP 5 hotels in Glasgow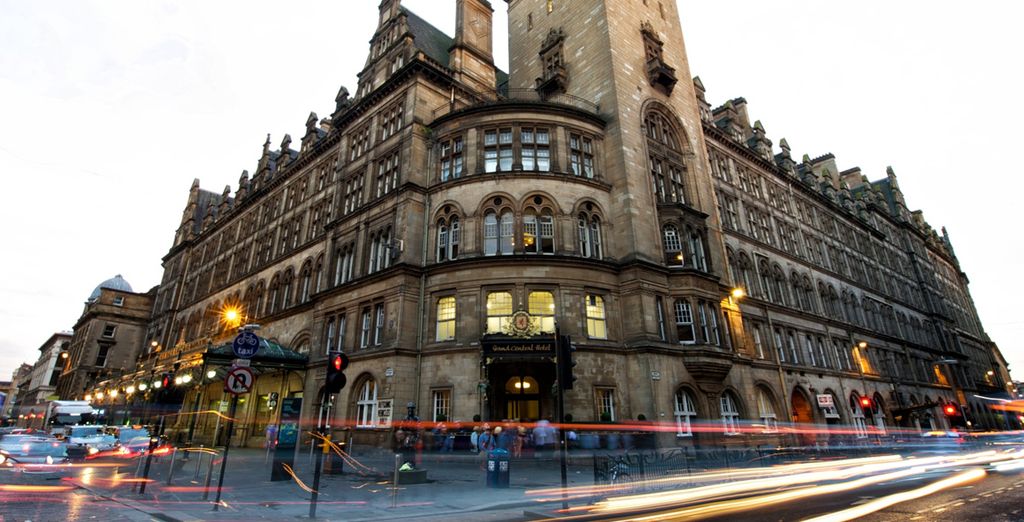 Below we have selected just some of the fantastic hotels that we can refer you to. As a Voyage Prive member, you will qualify for exclusive offers and discounts, at these Glasgow hotels and at many more venues too. If you have any questions or need more information, follow the links to check out the booking page. Alternatively, get in touch to discuss your travel needs and arrange your ideal vacation.
A trendy and chic boutique hotel, beautifully decorated and with spacious rooms for couples, families and solo travellers, which is located close to the City Centre.
This iconic Victorian hotel is a city centre landmark. The historic hotel features opulent suites with comfortable living rooms and bedrooms, plus en-suite bathrooms with a waterfall shower.
This large modern hotel is the ideal place to stay when seeing a show at Glasgow's Hydro arena. The 4 star accommodation has suites and apartments, with access to a pool, spa and sauna.
Stylish and opulent, this Georgian townhouse hotel is the perfect setting for romantic breaks, or for weddings. The luxurious venue includes a heated spa pool and cool modern wine bar.
The Doubletree by Hilton brand is synonymous with luxury and their city centre property in Glasgow is no exception. From the welcome cookie in your room to the high tech fitness centre, the details make this destination special.
What services will you find in our hotels in Glasgow
These luxury hotel rooms in Glasgow are beautifully presented and packed with home comforts, from widescreen televisions to tea and coffee making facilities. The Double Tree by Hilton includes a pool, while the Hallmark has secure parking. Our top hotel picks are located close to the city centre for easy access, though Scotland's beautiful countryside is also just a short drive or bus ride away.
Hotel rental offers in Glasgow, convenient for all kinds of travel
Glasgow is a blossoming hub of business and tech, so this is a great place to travel for client networking or for business seminars. It is also the ideal place for a romantic break: or as a honeymoon following a Gretna Green elopement! Plus, with its fabulous theatres, bars and shops, Glasgow is the ideal place for an entertaining city break. Looking for history and culture? Check out the local museums and galleries.
If you want a perfect family holiday with young children or older teens, Glasgow should keep everyone happy. Stay together in a family suite at one of our prestigious hotel picks, with plenty of space for everyone. You can also book large family rooms and luxury apartments for short breaks or longer stays, with plenty of deals available.
The range of hotels we offer in Glasgow
Exclusive offers on hotels include discounted bookings for two or more nights, and all-inclusive packages with tours, spa days and other experiences. You can sign up for your own personalised offers at Voyage Prive; never miss a deal again with our direct email alerts. Our top picks for ongoing offers include extra nights at some of the luxury hotels listed above and free airport transfers when you book a seven-night stay with our providers.
What should we bring for a Glasgow hotel stay?
Glasgow has windy, wet winters and mild summers, so you should always prepare for less than desirable weather! If you plan on walking or hiking, pack a sturdy set of boots and a good waterproof coat. You should also bring swimwear and leisurewear along with you, so you can make the most of your luxury hotel's pool, gym, sauna and spa.
Most hotels will have those essential items, including an ironing board, extra toiletries, a hairdryer and a kettle. If you have forgotten something important, don't worry! The fantastic shops of Glasgow will have what you need.
Your best hotel in Glasgow: how to get there and make your booking?
It takes less than 90 minutes to fly from London airports to Glasgow, and just under two hours to travel from Paris. Glasgow airport is well served by the public transport network, with easy access to and from it by train, bus or taxi. There are fantastic road links between England and Scotland too, plus a reliable rail service. Direct flights from around the world land at Glasgow airport daily. Your hotel may be able to arrange a transfer to the door of your hotel: make sure you request this when booking your stay.
The opinion of the Voyage Prive travel expert on hotels in Glasgow
The hotels of Glasgow maintain the city's history and culture, making them fascinating places to stay. Glasgow has a history which stretches back for thousands of years. Take a city centre walking tour to hear from a knowledgeable guide, or check out some of the city's museums and galleries. The Kelvingrove Art Gallery and Museum is a great place to start.
Glasgow itself has eight major districts, each with its own style and attractions. Many of the city's luxury hotels are right in the heart of the downtown region, with the River Clyde running nearby. We recommend Glasgow for its innate charm, beautiful surroundings, and wide range of great activities for all types of traveller.
Glasgow: a city of culinary celebration and great entertainment
Scotland is well known for its lively entertainment scene, and for its love of great food. The bars, pubs and restaurants of Glasgow reflect this. Fine dining mixes with comfort eating. Be sure to check out the Two Fat Ladies at The Buttery, and also put a visit to Nanasuka on your to-do list.
Plays and shows run nightly at the Theatre Royal and the King's Theatre, while world-renowned artists play shows at the SSE Hydro. If you prefer a more authentic Scottish experience, the bars of the city show incredible live music, poetry performances, stand up comedy and more- while serving fabulous wines, craft beers and delicious snacks.