Book your Sun Holidays ☀ in Madrid - Voyage Privé



Table of contents
Looking to book your holidays in Madrid? ✅ Enjoy private sales🏷️ for holidays in Spain, Madrid reserved for members of Voyage Privé.
Travel to Madrid
King Philip II moved from Toledo to this once quiet medieval town in 1561. Today, Madrid's 604.3 km² boasts a multicultural citizenry of over 3 million people. Seafood and tapas are specialities in this landlocked metropolis. This makes it the perfect getaway for holiday-goers and food-lovers looking for a change from more coastal locations.
Architecture and art are the spirit of Madrid, making it a must for culture junkies. There is romance aplenty too. Spanish sunsets fall over Madrid's neo-classical and baroque architecture each evening, turning spacious eateries and little cafés into intimate dining spots. There's no shortage of fountains to walk by arm-in-arm either.
Whether it's art, churros con chocolate, or each other, there is plenty in Madrid to fall in love with.
The Voyage Prive Travel Expert on Madrid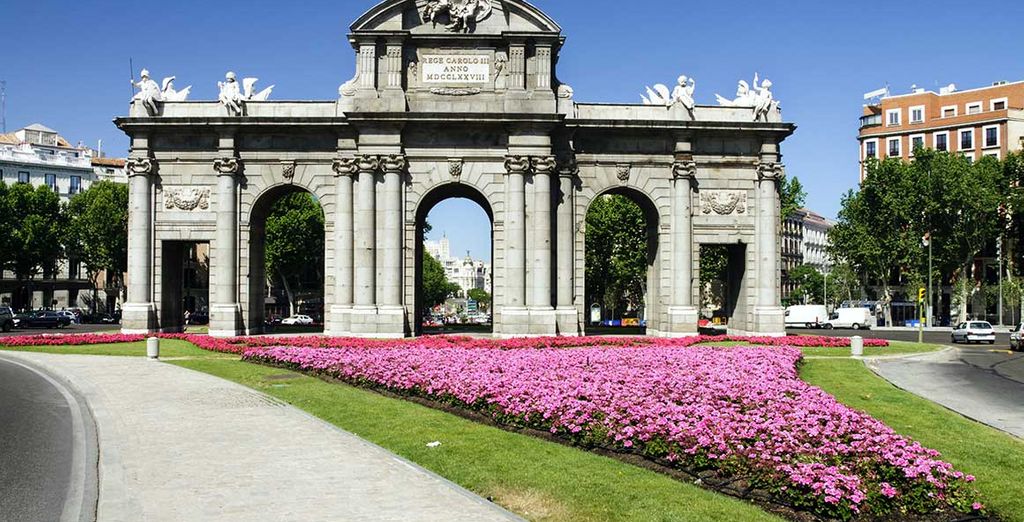 Our experts recommend Madrid's Golden Triangle to any art aficionado, covering the Thyssen-Bornemisza Museum, the Prado Museum and Museo Nacional Centro de Arte Reina Sofía.
Fashionistas will enjoy the Golden Mile, the infamous home of some of the world's most exclusive shopping stops, including but not limited to Dolce & Gabbana, Versace, Louis Vuitton, and Issey Miyake.
For our members, the combination of luxury and beauty is the main reason to visit Madrid. Our bespoke discounts mean travellers can rest and dine among iconic views like the Royal Palace and Santiago Bernabeu, some of the finest views Spain has to offer.
Top 5 things to do/see in Madrid
1. Museo del Prado

Perhaps Madrid's most well-known tourist spot and one of the most famous neo-classical structures in the world, the Museo del Prado began as and still is the home of Spain's royal art collection. There have been significant expansions since its inception, however, and visitors can look forward to seeing works by Titian, Rubens, Bosch, Velázquez, Goya, and many more.
2. Mercado de Vallehermoso

Foodies visiting Madrid must not under any circumstances miss this municipal market, built to stand out between Fernando el Católicoto and Vallehermoso during the 1930s. Patrons will have the chance to wander around stalls from all over the world, sampling breads, meats, cakes, pastries, wines, fish, fruit, and all manner of other dishes and drinks as they go.
3. El Retiro Park

Although the land is far older, this stunning 118-hectare park was cultivated on the orders of Philip II. It was intended to be a space for religious and spiritual contemplation. Charles III later opened the space to citizens during his reign. Home to wanderers and monuments, the El Retiro Park is a celebration of both nature and the Spanish Baroque. Features include the famous Fallen Angel statue, the Palacio de Cristal, and the Casa de Vacas cultural centre.
4. Templo de Debod

Dedicated to the Egyptian gods Amun and Isis, this structure, located near the Parque del Oeste, is the only one of its kind in all of Spain. It was gifted block-by-block by the Egyptian government in 1968 to thank the Spanish for their help with monument preservation in light of the Aswan Dam crisis. Visitors can visit the inside of the temple, built by stone carved 2,200 years ago. Sunsets are stunning here, making the Templo de Debod a must for history buffs and romantics alike.
5. Wanda Metropolitano

Football fans will already know the name of Atlético de Madrid's home ground. This temple to world-class football can be heard as much as seen during match time, not to mention during concerts by internationally famous musicians such as Iron Maiden. Football and architecture fans alike would do well to visit this luminescent 67,829-seater, whether for a match or daytime tour.
Where to stay in Madrid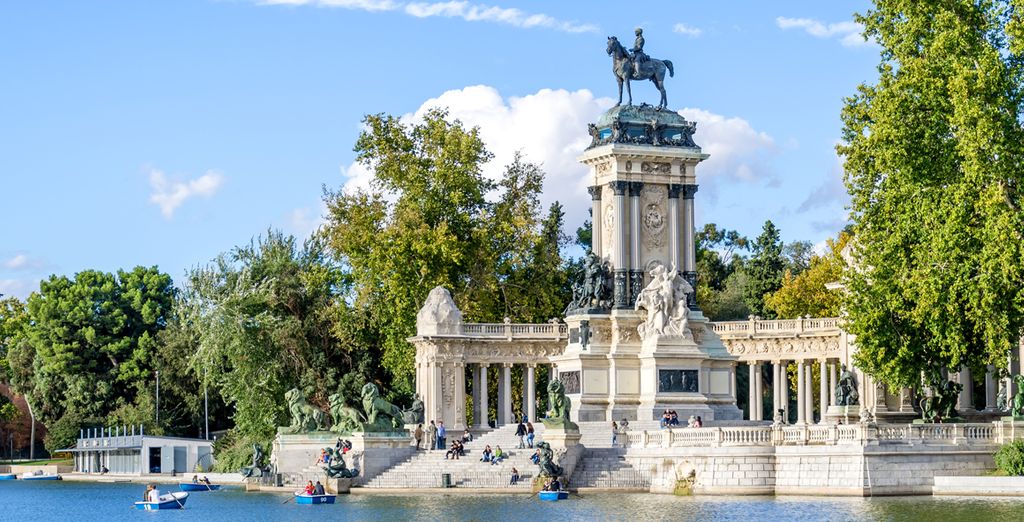 The Sercotel Alcala 611

This is a bright, modern 4* hotel set 5km away from the heart of Madrid. It boasts a solarium and an indoor pool for relaxing after a day of exploring. Travellers to the Alcala can currently save up to 15% off on bookings throughout November and December.
Heritage Madrid Hotel

Set in the exclusive Barrio de Salamanca area, this elegant belle époque hotel blends 1920s décor with classical 5* luxury. Superior rooms offer 25m², a 40" LCD TV, and breakfast as standard. The Heritage currently offers a 5% discount code at checkout.
H10 Puerta de Alcala

Mere steps away from the Museo del Prado and Retiro Park, this modern 4* hotel offers convenience with its beautiful dining and drinking spots. Members booking bed and breakfast will enjoy a Double Classic room with complimentary chocolates and champagne.
Practical Information about Madrid
Weather

Madrid is high up in the Spanish inlands, meaning travellers should be aware of contrasting seasons. July sees regular highs of 34°C, with 11°C being a good day during the depths of winter. These are the most humid and darkest months too, hitting 77% during four-hour days. Wind and snow are scarce, however, meaning a good raincoat will cover most winter month eventualities. Temperatures peak in the twenties and higher from May to October.
Budgeting
Food is highly affordable in Madrid, as it is in much of Spain. €6-12 will get you 3 or 4 tapas dishes in most eateries, rising to €18-20 if you order wine. An à la carte meal in a quality restaurant will be closer to €25-30.
Prices will be far higher should you wish to visit any of Madrid's Michelin star restaurants, although this varies widely. In each case, be sure to call ahead and enquire. If you are looking to save money on food, eat larger lunches. The midday "menu del dia" is found almost everywhere and costs around €15.
Public transport is costed according to zones, as with many European cities. Provided you're not travelling across the breadth of Madrid or to other cities, each Metro journey will generally set you back €1.50. You can also hire a bike for around €15 per day. Walking tours, provided you look around, are usually free.
EU citizens are advised to purchase a European Health Insurance Card (EHIC) and a comprehensive travel insurance policy before visiting.
Discover more sun holidays and offers to Madrid : Hotels, holidays, Weekends, Booking
FAQ Sun Holidays Madrid
Voyage Privé offers are only available to our member. Register online for free to access all our sales.
Voyage Privé has exclusive offers up to -70%. Choose your destination, hotel and options (car rental, transfer included, upgrade to a superior room, half pension...) and enjoy Sun Holidays to Madrid.
Stay in a beautiful palace from the early 1900s near of Madrid's major attractions in the Westin Palace 5*. Or chose the H10 Tribeca, an ultra stylish hotel with industrial inspiration in the main business district of Madrid.