Barbados sun holidays



Table of contents
Book your holidays in Barbados 🌴 and stay in luxury hotels with our offers up to -70% ✅ flight+hotel with Voyage Privé.
Travel to Barbados
When it comes to fantastic sun holidays, Barbados really can't be beaten. The sunshine Caribbean isle is renowned for its great beaches, local rum, wholesome food and hazy days filled with relaxing tropical activities. Barbados is truly a paradise holiday island, offering visitors a glimpse of its colonial past alongside the stunning beach lifestyle. However, affordable breaks can be difficult to find in Barbados. Many exclusive hotels have high rack rates and restaurant or bar bills can be extremely expensive for the unwary traveller. It is possible to visit Barbados on a budget, but holidaymakers need to carry out a little research into accommodation and local shopping and eating outlets beforehand. Choose your sun holiday to Barbados carefully - many hotels are now all-inclusive which means you won't have to fork out a fortune for food and drink outside your accommodation unless you opt to go elsewhere.
The Voyage Prive travel expert's opinion on holidays in sunny Barbados
Here at Voyage Prive, we're proud to source sun holidays to Barbados that are affordable and meet the expectations of our wide ranging clientele. Whether you're looking for a romantic couple's break to a quiet Barbados hotel where you can celebrate your love in style, or you're seeking a more active Barbados sun holiday with in-hotel entertainment, our wide selection of flash sales can offer just the right vacation deal. Sports enthusiasts will be particularly impressed by the wide range of available land and water sports on Barbados. These include waterskiing, sailing, kite surfing and surfing, as well as cricket, tennis, hiking, running and cycling. When it comes to foodie holidays, Barbados is developing a great reputation for top eateries and restaurants. It's also home to a range of specialty food tours, giving visitors the opportunity to try out a variety of local dishes and delicacies.
Top five things to do and see in Barbados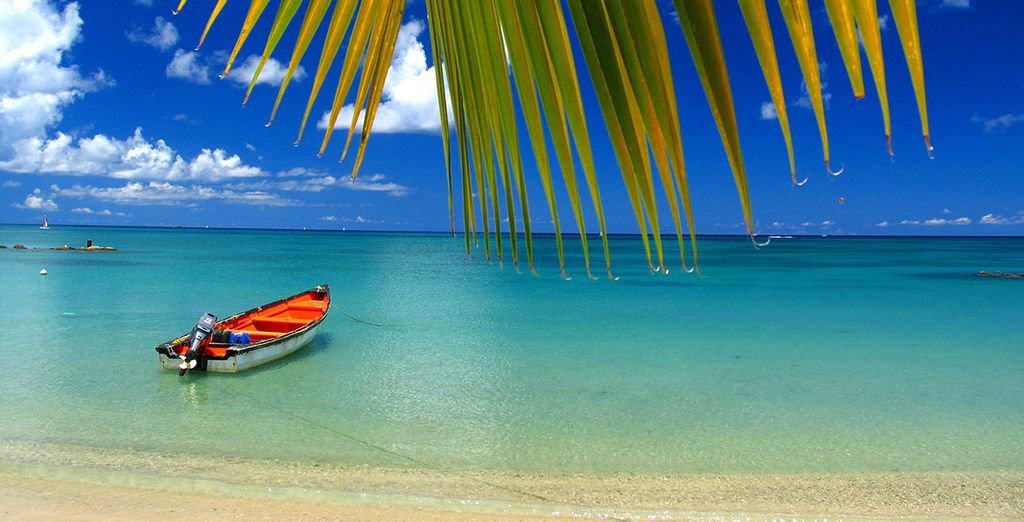 Some of our recommendations for great Barbados activities include:
1. Andromeda Botanic Gardens

The gardens offer a unique and authentic garden tour that's a first of its kind in the Caribbean. The Andromeda Botanic Gardens partner with the UK's Royal Horticultural Society and provide six acres of tropical gardens for solo exploration. A variety of rare trees and plants are exhibited throughout the gardens and visitors will find this is a relaxing way to spend a day out while holidaying in Barbados.
2. Arlington House Museum

Arlington House Museum is a traditional 18th century building in St. Peter and has been restored to offer visitors an engaging glimpse of life at the time. Visitors will enjoy an interactive and educational visit which provides real detail of life in historic Barbados.
3. Atlantis submarine trips

A trip on an Atlantis submarine offers holidaymakers a unique glimpse of the coral reefs and marine life in the oceans of Barbados. You can opt for a full day trip by submarine or choose a night excursion to get a real feel of the plentiful life in the oceans during the hours of darkness. Families with children will find this trip particularly interesting and exciting.
4. Barbados Flower Forest

The Barbados Flower Forest offers all visitors a colourful welcome, with abundant flowers to view at all times of year. The flower forest covers more than 50 acres of land and features spectacular views across the eastern coastline and Chalky Mount.
5. Bridgetown

Bridgetown is the capital city and central heart of Barbados, offering visitors a unique glimpse of history stretching right back to the 17th century. The city is a lively hub for entertainment and activities and the boats and cruisers plying up and down the River Careenage offer a unique viewpoint of the city.
Which hotel to choose for sun holidays in Barbados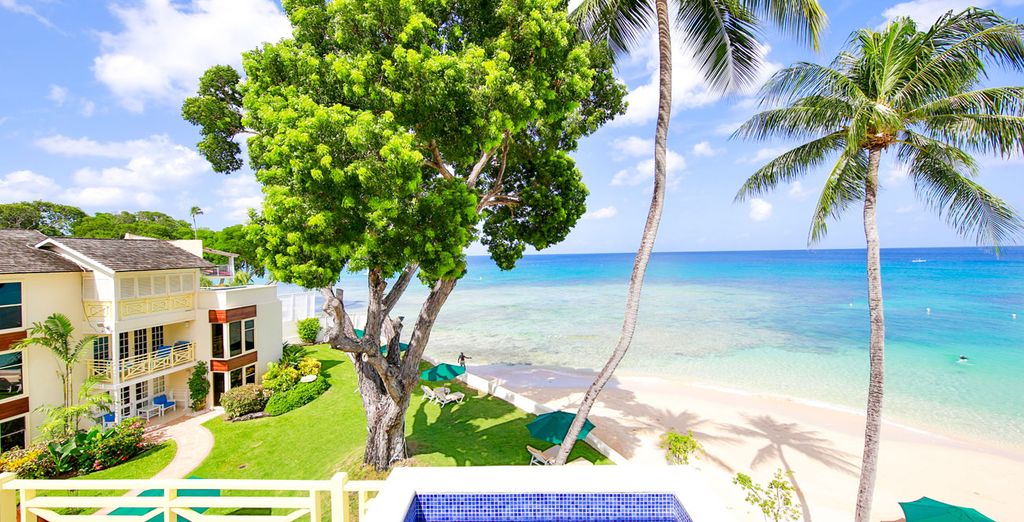 Voyage Prive's pick of Barbados hotels include:
Turtle Beach by Elegant Hotels

This romantic hotel is located in the southern part of the island and offers guests an all-inclusive beach holiday experience. The hotel is situated within a short stroll of St Lawrence Gap which offers hosts of entertainment and shopping facilities. Sports enthusiasts will enjoy the complimentary water sports offered by the hotel, which also features tennis courts and two freshwater pools and a kids' splash pool. The hotel is also home to a relaxing spa and five restaurants. Guest accommodation is provided in an Ocean View Junior Suite, offering all essential luxuries and suitable for up to two adults and two kids.
Sugar Cane Club Hotel and Spa

This hotel is located in the western coastal area and guests will find this popular hotel and spa provides every possible comfort and luxury. A rum retreat and restaurants are strong features of this adult-only hotel, and amenities include two pools, charming gardens and all-inclusive dining.
Tamarind by Elegant Hotels

The Tamarind hotel is located in a prime beachfront location on the western coast of Barbados. Guests will find their Ocean View Junior Suite offers supreme comfort and outstanding views of the sea. Breakfast is included and the large adult-only swimming pool provides welcome relief for couples and adults wanting to enjoy a quiet swim.
Practical information about Barbados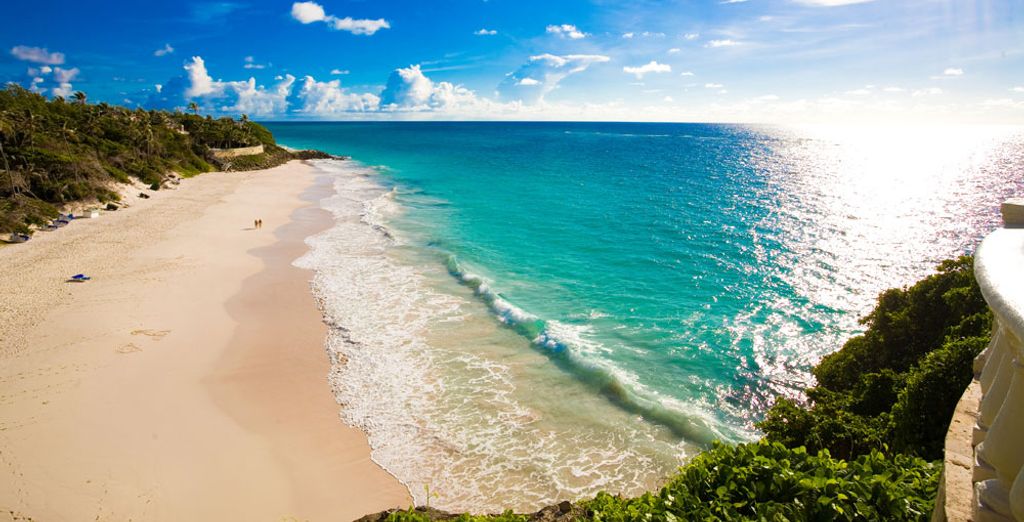 Barbados has a tropical climate, so it's quite humid and hot all year round. Cooler months are from December to April, while the warmest time of year to visit is between May and October. There tends to be more rain inland, but the wettest months of the Barbados year are September to November. When it does rain, you'll experience a heavy tropical downpour and thunderstorm, but it will dry up quite quickly and the sun will soon reappear. Hurricanes are common throughout the Caribbean and tend to occur between August and October.
What budget should I plan?
As already mentioned, Barbados can be expensive if you don't plan your meals and trips beforehand. If you're staying all-inclusive, though, you may only want to dine out on an occasional basis. The local currency is the Barbadian Dollar and examples of some local costs include:
A local bus ride is around $2
A beer in a local bar is approximately $4
Local cab rides are around $30
Meals at top quality restaurants are between $80 and $100 per head
Yacht excursions are around $180
Of course, when you book your Barbados sun holidays with Voyage Prive you can take advantage of massive discounts on accommodation and flights, so you'll benefit from more holiday spending money throughout your vacation of a lifetime.
Discover more offers to Barbados : Holidays, Last minute holidays