Enjoy Mexico Sun Holiday up to 70% Off



Table of contents
Ideal for families looking for an adventure, or couples hoping for a romantic getaway, there's something for everyone in Mexico. Whether you're learning more about Mexico's rich history or sipping on a tequila cocktail by the hotel pool, excitement is guaranteed wherever you find yourself in this country. More than just a holiday, Mexico is an unforgettable destination where treasured memories can be made.
The Voyage Prive travel expert's opinion on sun holidays to Mexico
A fast-paced adventure
Ideal for holiday-goers who prefer an activity holiday, the fun never ends in Mexico and the hustle and bustle of Mexican society will constantly keep you on your toes. There's so much to do in the capital, Mexico City; from embarking on a city tour to souvenir shopping in the hectic street markets, there will always be something to occupy your time.
Stunning views
Landscapes are varied in Mexico and visitors can choose to lounge on a sandy beach or trek through a lush rainforest. There are many secluded spots in Mexico that boast spectacular views. With more than 5000 miles of coastline to explore, there are many perfect vantage points to watch the sun set over the country.
Bursting with culture
The complex and rich history of Mexico is just waiting to be explored. Museums and art exhibitions are a great way to see how Mexico built itself up to become the amazing place it is today. Packed with ancient buildings and temples, History buffs will be in their element as they get to witness the impressive Mayan structures in person.
Delicious cuisine
Many other countries attempt to make their own version of Mexican food, but it will never live up to the original. Authentic tacos and burritos are the perfect fuel you will need to explore all that Mexico has to offer. Ideal for spice lovers, Mexican cuisine often incorporates a variety of chillies to add some heat to your life.
Top 5 things to do and see in Mexico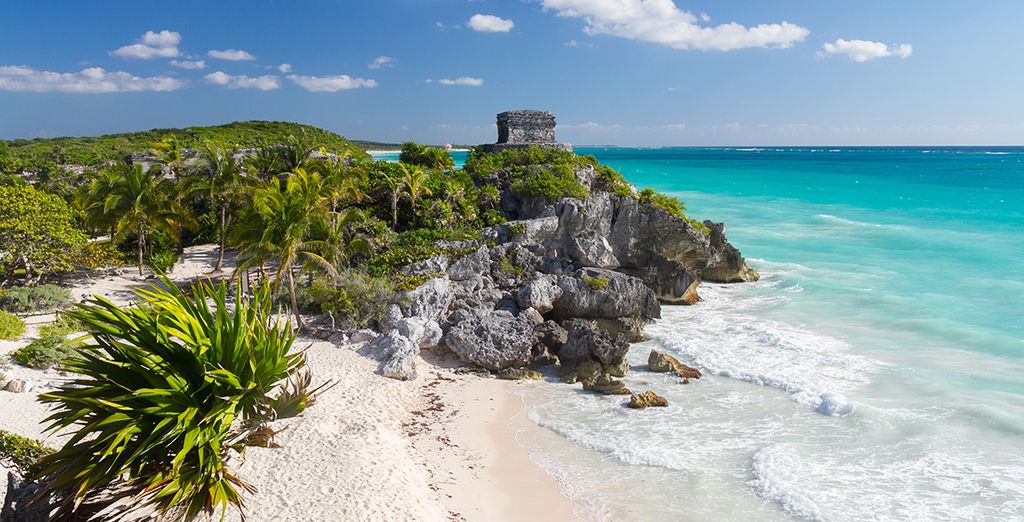 1. Visit Chichen Itza
Recently named one of the new wonders of the modern world, this ancient Mayan site is not to be missed. Guided tours around the historic complex are always popular among tourists who want to uncover Mexico's interesting history. As well as being stunning to admire from a distance, there is so much mystery surrounding the construction of the temples, much of which remains unknown today. Take a walk through the temple passageways and immerse yourself in the archaeological debates about the Mayan way of living.
2. See some exotic animals
Mexican wildlife is incredibly diverse, making it the perfect holiday destination for animal lovers. Many aquatic animals are lurking in the Sea of Cortez, so hire some snorkelling gear and set your eyes on the sea bed. Whale watching is a popular activity between December and March when magnificent animals are most active and colourful parrots and exotic opossums can be spotted in the Mexican jungles if you look closely.
3. Immerse yourself in nature
The number of stunning natural wonders in Mexico is endless. Along the gulf lies the picturesque region of Huasteca Potosina, which is home to cascading waterfalls and unexplored caves. Families will enjoy walking along the Tampoan river and take in the aesthetically pleasing surroundings as they do. Leave all technology at home for a truly tranquil experience; alternatively, bring a quality camera to capture the natural landscape in all its beautiful glory.
4. Attend the day of the dead festival
A trip to Mexico is incomplete without attending a day of the dead festival. The festival usually takes place at the start of November and is a popular event, both for locals and tourists. The spine-chilling event is a tribute to the dead and is usually celebrated with a plethora of food and drink as well as iconic crystal skull makeup.
5. Parroquia de San Miguel Arcangel
This iconic landmark is the most recognisable in Mexico. Built in 1683, the impressive structure has managed to withstand the test of time, towering high into the Mexican sky. The interiors of the church have been intricately designed with luxury furnishings and stained glass; the exterior is even more beautiful at night when it is illuminated with pastel coloured lights.
Which hotel to choose in Mexico?
You'll need a comfortable place to relax in after a busy day exploring the busy Mexican streets. Here are the best offers that Voyage Prive has to offer:
1. Hotel Coral Tulum
With a luxury sea view, this hotel is ideal for couples looking for an isolated pocket of perfection. Guests have access to their own private pool and can enjoy downtime at the hotel spa at any time of the day. Prive members can enjoy a Superior Suite with a garden view at a discounted price and a complimentary bottle of wine will be available for you upon check-in.
2. Grand Palladium White Sand Resort & Spa
This 5* spa lap of luxury will leave you feeling utterly relaxed and looked after. Guests can enjoy advanced facilities, including sports activities, a choice of six pools, a crocodile aquarium, and much more. Prive members can enjoy $1250 resort credits which you can spend on site if you choose to stay for seven nights or more.
3. Riviera Maya with BlueBay Grand Esmeralda
Located right in the centre of it all, this hotel is ideal for families wanting to pack as many activities into their Mexican adventure as possible; but with so many activities such as tennis, diving and an aqua-gym, you'll never want to leave the resort! Prive members can enjoy an all-inclusive stay in a deluxe room at a great price.
Practical information about Mexico
What is the weather in Mexico
Tourists flock to Mexico for sunny skies and high temperatures which occur between December and April. However, plant life and greenery come into full bloom between May and October when the weather is wetter.
What budget to plan for sun holidays in Mexico?
Mexico is a great destination for holidayers on a budget and you can live comfortably on £30-50 per day. For a more luxurious experience, there are high-end hotels to stay at and quality restaurants to dine at if you have more to spend.