March sun holidays - The TOP 5 Best Destinations
Discover our BEST Sun Holidays in March ✅ USA, Indonesia, Mexico and more 🏷️ Exclusive Offers on Flights + Hotels up to 70% Off.
Travel in style this March with sun holidays designed for you
Looking to get away in March, or simply considering the best way to unwind after a busy start to the year? At Voyage Prive, we have a variety of different holidays on offer. This is the perfect way to make the most of March, whatever your budget. From city getaways to luxurious resorts, whatever your preferred brand of relaxation - we have something to match your needs.
If soaking up the sun and bringing some warmth back into your life in the colder months is your goal, then our March destinations might just be just what you need. Unsure where you want to jet off to? New Zealand, Miami or sunny Los Angeles and Las Vegas just might be the perfect destination for you.
The Voyage Prive travel expert's opinion on sun holidays in March
If sunnier weather is something you crave in the colder months, then spending early Spring a little close to the equator might just be exactly what you need. Alternatively, travelling to the Southern Hemisphere is sure to give you some balmy days and plenty of opportunities to relax on the beach. New Zealand is the perfect warm-weather destination for the more adventurous traveller or group, while metropolitan Miami and LA offer their own unique forms of relaxation.
Top 5 things to do on your sun holidays in March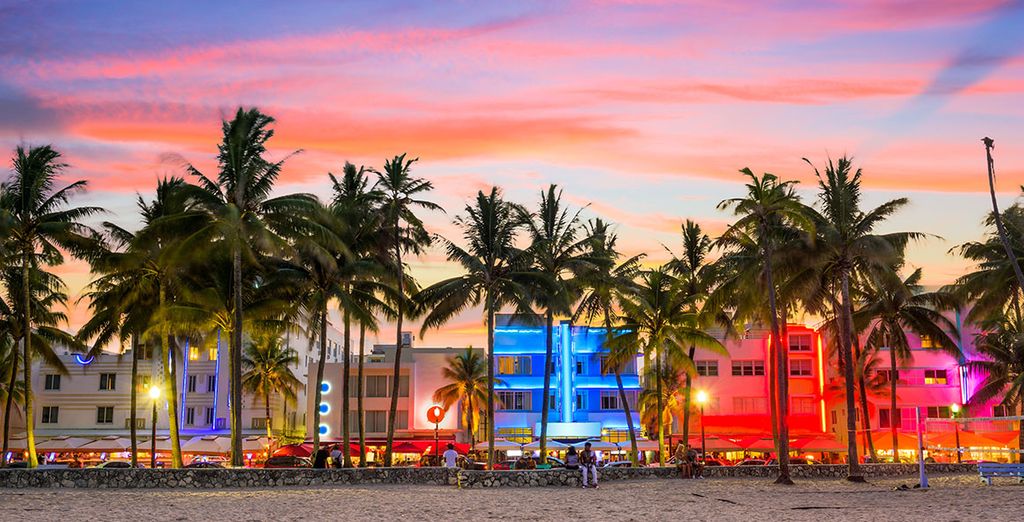 1. Aoraki/Mount Cook - New Zealand
New Zealand's amazing landscape is more than just something to admire from a distance. If you're a fan of staying active on your sun holidays and enjoy a challenge, then taking on the country's highest mountain is the perfect way to spend your time. Part of the country's most beautiful national park, there's plenty to see and do in and around this site of natural beauty.
2. Wai-O-Tapu Thermal Wonderland - New Zealand
A unique and naturally volcanic location in the greenest part of New Zealand, the amazing Wai-O-Tapu Thermal area is the ultimate day out with a view. Enjoy the fantastic Champagne pool, view the exciting Lady Knox geyser and discover one of the most colourful and vibrant natural geothermal areas in the world.
3. Wynwood Miami
For those who enjoy to soak up the local culture and style of their destination, Miami's Wynwood area is one of the best out there. Complete with thousands of pieces of beautifully-designed graffiti, and tours available, this picturesque tourist spot isn't one to miss for those planning on visiting this busy and bustling city.
Discover more holiday deals to Miami: booking Miami, Miami travel guide.
4. Disneyland
One of the biggest draws to Los Angeles, Disneyland is famous the world over for its excellent rides, upbeat atmosphere and child-friendly service. For families or those bringing along younger children, a visit to the city's most popular attraction is a must. With many holidaymakers spending a whole week in the park, there's plenty to do and see – and to keep the kids entertained, too.
5. Las Vegas Strip
The most famous gambling destination in the world, the Las Vegas Strip might not be your typical sun holiday, but it more than makes up for it with the lights and sounds of this unique city. More suited for adult groups or couples, this intense and exciting location is stuffed full of restaurants, casinos and shows to attend. All you have to do is decide where to go first.
Discover more holiday deals in Las Vegas: Las Vegas holidays, great deals to Las Vegas, last minute to Las Vegas.
Which hotel to choose for your sun holidays in March
Stamford Plaza Auckland 5 - New Zealand
Stay at the five-star Stamford Plaza Auckland, complete with on-site bar and pool, to take in some of the best sights and sounds New Zealand can deliver. Then make your way to the luxurious thermal parks and champagne pool at Wai-O-Tapu Thermal Park in Rotorua, based from the beautiful four-star Novotel Rotorua Lakeside.
Once you've enjoyed everything New Zealand has to offer, you can follow up your visit to the sun-soaked island with a trip to the exotic and beautiful Bali. Stay in the modern four-star Sol House Bali Legian and making the most of the destination's unique beaches and local cultural interests, including time to sun yourself on the sands as well as discover the fascinating history and lifestyle of Bali itself.
Kimpton Epic Hotel Miami 5*
Enjoy five-star accommodation at the modern Kimpton Epic Hotel Miami. The hotel is complete with its own on-site gourmet restaurant, beautiful pool and spa, to ensure you can make the most of your visit to one of America's best holiday destinations. Vibrant and cultural, your hotel is only ten minutes away from Miami's many white sand beaches. Ideal for enjoying that spring sunshine. To experience the best of Miami, a bigger budget is recommended to ensure you don't miss out on all the city has to offer.
Hotel W Los Angeles – West Beverly Hills 4* and Wynn Las Vegas 5*
Start at the W Los Angeles, a West Beverly Hills four-star hotel perfectly situated near the beautiful Santa Monica beaches. It's also close to the bustle and glamour of some of the location's most culturally interesting areas. Discover unique shopping locations, modern museums and visit some of the world's most well-known theme parks at your leisure. Depending on your choice of entertainment, a healthy budget can allow you to see and do more. Or you can keep it low-key for less at the local beaches and bars.
Once you've enjoyed all that LA has to offer, book in at the five-star Wyndham Grand Desert Gym in Las Vegas for a once-in-a-lifetime experience you won't forget. Without even leaving the hotel, enjoy outdoor swimming, on-site golf and spa facilities and a casino. Or choose to venture out onto the strip to see more of Las Vegas, from the excellent gambling to the five-star shopping and eating. You'll never want to leave.
Practical information for March sun holidays
With temperatures from the low twenties to high thirties, if you're looking for a little sun from your next getaway, New Zealand has it in spades. With countless beautiful beaches and tourist-centric attractions to enjoy, this destination is ideal for those who prefer not to sit still when they travel. For those on a budget, there's still plenty to do and see; but allowing for a larger budget can ensure you can do all the tours and visit all the places you want to. Ensure you pack your sunglasses and sun cream because you'll definitely need them. Finally, with a time difference of 13 hours, it might take a couple of days to get over your initial jet lag.
For those considering Miami, warm temperatures are a year-round phenomenon in this seafront city. Light clothing and plenty of time in the shade is recommended, especially when spending your days out on the water. With city-centric prices and a more expensive cost of living overall, bringing a health budget to Miami is a must to ensure you can enjoy the clubs, restaurants and activities that catch your eye. A five-hour time difference means you may experience some jet lag, but you'll be ready and raring to go the following day.
Cities of excess, Los Angeles and Las Vegas are both locations where a more substantial budget is a must – especially when it comes to some of the most popular activities of this destination. For those looking to reduce their costs, avoid the parks and casinos and opt instead to enjoy the many beaches this sunny destination has to offer – and certainly don't forget your swimsuit if you plan to make the most of LA's beachfront location. An 8-hour time difference might leave you feeling a little out of sorts the first day, but you'll soon shake off that difference to enjoy all these American cities have to offer.
FAQ March Sun Holidays