Join for free
Join for free
Save up to 70% on UK countryside stays, European city breaks & exotic beach holidays.
More than

7.3 million

people have already trusted us with their holidays!
Member-only rates & exclusive perks
Save up to 70% on luxury travel
A reliable team, 7 days per week
Last minute holiday deals to the Canary islands, a beautiful jewel in the Atlantic
With areas of stunning natural beauty and unspoiled beaches, the Canary Islands are becoming ever more popular with holidaymakers. Located just off the coast of Morocco, the island chain offers a taste of the tropical that is easily accessible to tourists from the UK and across Europe. With warm temperatures and beautiful bright sunshine all year round, the Canaries offer a welcome escape from drab winters and unpredictable summers.
Amongst the 7 large islands, there is something for every holidaymaker – from foodies to families, culture vultures and adventure seekers. From the hustle and bustle of Tenerife and Lanzarote to the more sedate and quiet El Hierro, there are destinations and activities for tourists of all ages. Therefore, it is no surprise that last minute holiday deals to the Canary Islands get snapped up so quickly.
The Voyage Prive travel expert's opinion on last minute holidays to the Canary Islands
The Canary Islands have so much to offer, whether you're looking to stay for a long weekend or for two weeks, and we have some irresistible hand-picked offers for those looking to travel to the Canaries last minute. Tenerife is one of our most popular destinations of the islands, having a wide range of coastal resorts, including Los Cristianos with its wonderfully authentic Old Town, and Las Playa de las Americas, which has miles of golden sandy beaches.
Being the island closest to the African coastline, Lanzarote is also a popular choice amongst holidaymakers thanks to its balmy temperatures all year round, made even more enjoyable by the refreshing sea breeze. Costa Teguise is the most popular of the island's resorts thanks to its rich history, stunning architecture and vibrant nightlife.
With Fuerteventura, Gran Canaria, and the stunning smaller islands making up the chain, you can be sure that there is always going to plenty of things to see and do if you choose to holiday in the island paradise.
Top 5 Things to Do in the Canary Islands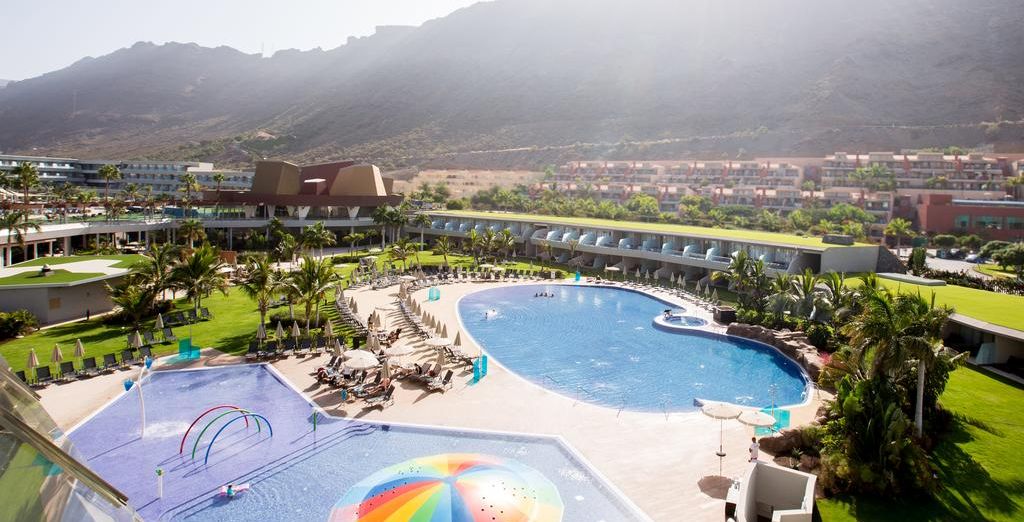 1. Parque National del Teide in Tenerife
This stunning national park covers over 75 square miles of Tenerife and contains the awe-inspiring Teide volcano. Whilst the volcano is currently dormant, during past eruptions it has left other-worldly lava formations, creating a magical landscape. There are 20 walking trails to choose from, and the more adventurous can take the Teide cable car most of the way up the volcano.
2. Rancho Texas de Lanzarote
Celebrating the link between Lanzarote and San Antonio, this park is situated in Puerto del Carmen and offers a whole host of Wild West fun. There is fun for the whole family, including a zoo which offers close encounters with some of their animals, a water park, and some cowboy adventures.
3. Siam Park in Tenerife
Cool off and have a blast at Europe's biggest water park located in Tenerife. It features plenty of hair-raising rides, including the legendary Tower of Power, a transparent slide that sees riders plummet through a pool of stingrays and sharks. You can also learn to surf on waves, visit a floating Thai market, relax on a stunning sandy beach, or explore the Lost City children's play area. Plenty of fun for the whole family.
4. Timanfaya National Park and La Geria in Lanzarote
The nature park located near Lanzarote's Peurto del Carmen has plenty of things to see and do, whether it be exploring the volcanic slopes, taking a camel ride, or visiting the wine region of La Geria.
5. Las Palmas a Gran Canaria
A popular destination in Gran Canaria, the city has a number of attractions including a world-class beach (Playa de las Canteras), which has a barrier reef ideal for snorkelling. A short stroll from the beach is Calle Triana, which is a shoppers paradise with plenty of Spanish brands including the likes of Zara and H&M.
Which Hotel to Choose in the Canary Islands
Located in Santa Cruz in Tenerife, the prestigious hotel currently has last minute deals at up to 50% off. The prestigious hotel offers a sense of luxury, with a spa on site offering a wide range of treatments. It is just a short walk to the beach or you can spend the day lounging by the generous pool.
Located in one of Gran Canaria's prettiest towns, Puerto Mogan, the Radisson has an on-site spa, multiple pools, plush accommodation, and delicious cuisine. With up to 50% off, out members can enjoy premium rooms, with a choice of half board dining or a daily breakfast.
The newly renovated hotel in Lanzarote's Puerto del Carmen is made up of independent apartments equipped with a full kitchen and spacious bedrooms. Relax next to the stunning pool or explore the resort as the hotel is ideally located for the beach and the city.
Practical Information about the Canary Islands
Visit a Europe away from Europe in the Canary Islands
This island community is prized by holiday makers as a special and unusual place, having the properties of a paradise island chain while also being very accessible casual tourism. Positioned just off the coast of Morocco, these islands experience stunning subtropical sunshine while catering to most European languages.
There's no wonder that last minute deals to the Canary Islands are popular; there are seven large islands to choose from, each with its own flavour and virtues. From the largest island of Tenerife to the holiday favourite of Fuerteventura, there are destinations and activities available for couples and families of all ages.
Discover the varied communities of the Canaries
The various Canary Islands have a lot to offer. Tenerife is the most popular and often features in our handpicked offers. This island hosts the hugely popular southern coast resorts of Las Playa de Las Americas and Los Cristianos, which among others are varied in size and luxury, and it's easy to hop from one to the next. They feature golden Saharan sands and a host of dining and shopping choices.
Lanzarote is another beautiful island in the chain, a popular pick for luxury holidays. The island boasts a scorching subtropical climate, even in winter, being close to mainland Africa. Costa Teguise is a fine resort on Lanzatore which boasts sandy beaches and fine dining. Shoppers will find plenty in the town itself and history buffs will love the cobbled streets and sun-kissed architecture.
The Canaries have activities for all the family
The Canaries offer a range of activities for holiday makers, such as the opportunity to climb the famous Mount Tiede on Tenerife, which is perfect for explorers and sightseers. This volcanic mountain offers stunning vistas of the island and ocean. Too cool off, Tenerife also offers the hugely popular Siam Park, a spacious water park with a Thai theme. Over in Lanzarote, the Playa Blanca offers a sophisticated atmosphere for couples, with restaurants serving Spanish cuisine beside the beautiful marina. Families might try embarking on Lanzarote's submarine safari under the blue waters, while up on the surface, party seekers can enjoy a cruise on the Splash Party boat!
What is the weather in Canary Islands
With warm weather and bright sunshine, all year round the Canaries is a beautiful destination for winter sun or a summer holiday. With cooling sea breezes, the temperature can seem lower than it is, so be sure not to neglect sun protection, especially on long days exploring the volcanic landscape or wild water park of Tenerife.
Lanzarote's Playa Blanca offers the perfect atmosphere for couples, with plenty of romantic restaurants with scenic views. Those looking for serious fun can book a cruise on the Splash Party Boat, and nature lovers can observe plenty of underwater animals on an exciting submarine safari.
What budget to plan for a last minute holiday to Canary Islands
The average daily spend on holidaymakers in the Canary Islands is around €100 each day, and around €50 of this will be spent on entertainment, including attractions, tours and bars. Approximately a further €40 will be spent on food, with a three-course meal in a mid-range restaurant for 2 costing less between €25 and €40. The average cost of attractions, such as Rancho Texas and Siam Park will cost around €25 per person.
Whatever interests you, and whatever your budget, you are sure to find the perfect island and resort for you. So, sign up and browse our exclusive last minute holiday deals to the Canary Islands today.
Last minute deals in the region
Last minute deals to the Canaries