Miami Travel Guide
Miami is an exotic magical city for tourists and visitors. It's hardly surprising it's known as the Magic City! The city features an eclectic mix of Art Deco condos, sparkling waterways and mega skyscrapers. Visitors will enjoy an experience that's like no other US visit, as Miami contains such a diverse population of residents, from Cuban exiles to South Americans, alongside a host of sun-seeking Americans from all over the States and European migrants.
The Miami lifestyle is a mix of glamour, pleasure and decadence, with clubs open all hours and beach activities of every nature. It's a vibrant city, which is ideal for younger visitors with an appreciation of all that's hip and cool. Entertainments are big in Miami, too. The city regularly hosts the Superbowl and is home to a number of top-rated clubs, including LIV and Bardot, as well as offering various stage shows throughout the year.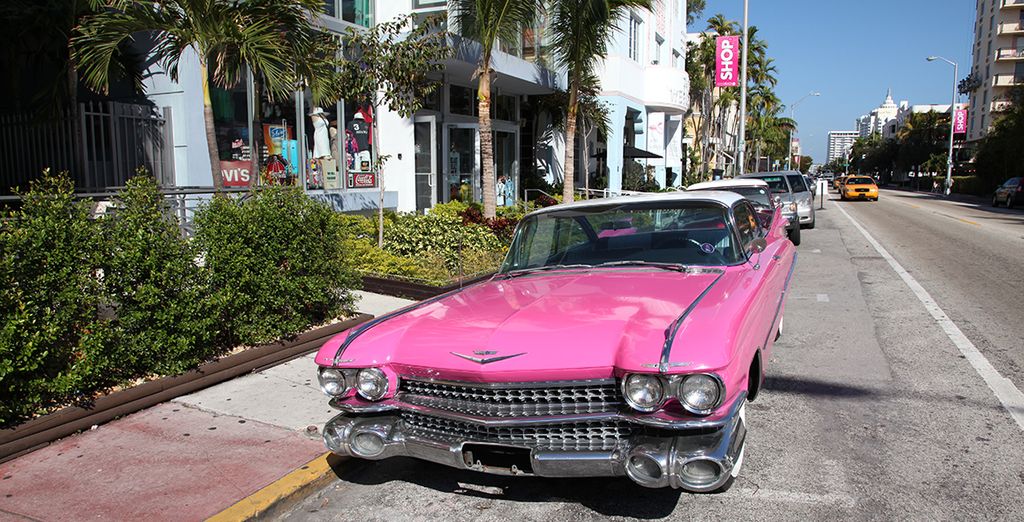 Don't neglect visiting Little Havana during your trip to Miami as this area is home to hosts of Cuban expats and offers a distinctive feel of traditional Cuban culture.
Miami is also a top visitor attraction for families with children. The city offers a wide range of activities and museums, alongside its typical beach culture. You can also find lots of quiet beaches and atolls in the areas close to Miami, to ensure children experience all the traditional beach activities they enjoy most. It's easily possible to visit the Everglades in a day, and kids will really enjoy a boat tour of this fascinating habitat along with opportunities to view alligators and local birdlife.
Top 10 things to do in Miami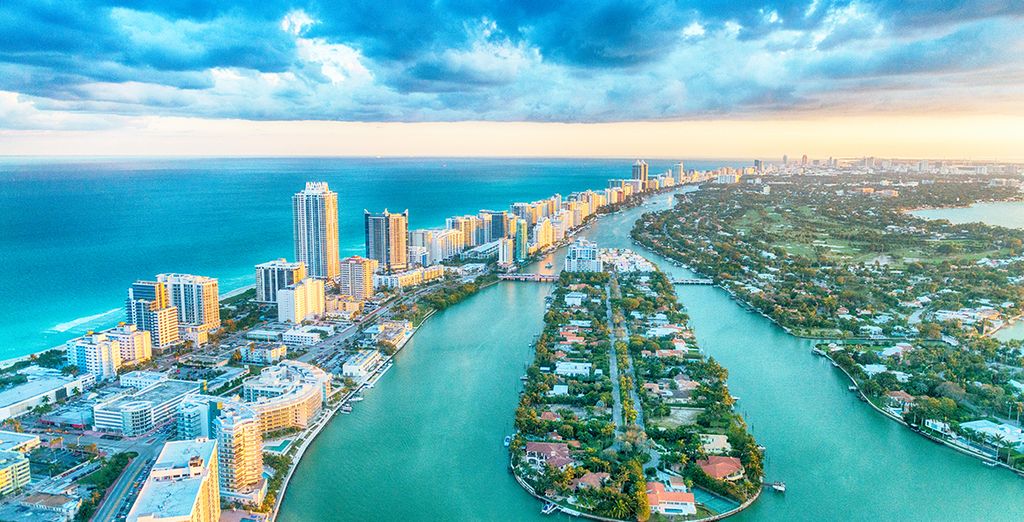 The Voyage Prive selection of top experiences that shouldn't be missed on any Miami trip includes:
1. Miami Beach
Of course, Miami Beach is probably the top-rated attraction in the city, offering beautiful architecture and a beach playground that's unparalleled anywhere else in the world. What's more, visitors shouldn't be surprised to spot favourite A-list celebrities in this haunt of the rich and famous. There are several Miami beaches, but South Beach is one of the most popular and has a vibrant evening clubbing scene and shopping centre.
2. Monkey Jungle
Monkey Jungle situated in Miami Dade County is a 30-acre jungle-themed monkey park, offering a variety of interactive adventures. The park was launched in 1933 when a group of six Java monkeys was released into the sub-tropical jungle location by park founder, Joseph DuMond. The forest park is now home to over 300 monkeys and primates. Species to be viewed in natural habitats include Golden Tamarin monkeys, gorillas and Java monkeys experiencing water-fun in their swimming pool/pond.
3. Everglades
There is a wide selection of available tours and trips to the Everglades for a spot of alligator and manatee watching during your visit. Alternatively, if you have a hire car, the Everglades are within easy driving distance for day trips. You can experience thrilling air boat tours of the wetland marsh and mangrove areas, which often include a walking tour of alligator parks.
4. Key Biscayne
Other popular beaches well worth a visit during your stay include Key Biscayne and Homestead Bayfront Park. Homestead is located just 35 miles outside of Miami and offers a swimming lagoon, seafood restaurant and sandy beach with marina. Boating activities are high on the agenda in this park, so be prepared to get out in a kayak and explore the beauties of the Biscayne National Park area. Key Biscayne is a short drive from the city and situated between two the big parks, Crandon Park and Bill Baggs National State Park, so there are plenty of available activities alongside several lovely beaches to visit.
5. Patricia and Phillip Frost Museum of Science
Patricia and Phillip Frost Museum of Science offers a range of family-focused activities and interactive exhibits. The museum is located in downtown Miami, so easily accessible via public transport. Features include a planetarium and aquarium, along with science labs and a range of permanent and touring exhibits. Entry is $29 for adults, $20 for children over the age of three, and free of charge for members and kids under three years of age.
6. Chidren's Museum
Chidren's Museum in Miami is located on MacArthur Causeway and offers a wide range of exhibits to ignite the curiosity of children and promote learning. The museum provides a number of themed zones, including Bank, Castle of Dreams, Construction Zone and All About Art. General admission costs $20, but this themed museum offers heaps of opportunity for play, alongside learning so it's good value if you have younger children with you.
7. Vizcaya Museum and Gardens
Vizcaya Museum and Gardens is a delightful and romantic day out for anybody. The venue has beautifully landscaped gardens complete with water features,, barge, grotto, lake and exotic plants. You can take a guided tour of the house or gardens or opt for an audio tour so you can explore at leisure. Adult admission costs $22, with discounts for children under the age of 18, seniors and visitors with diabilities. You can experience Vizcaya prior to your trip by way of virtual online tours (insert link http://vizcaya.org/visit-experience.asp).
8. Walking tours
Various walking tours of the city are also available. Popular walking tours include Art Deco tours, walking and foodie tours of Little Havana and Miami Beach, Wynwood Walls and street art tour, and a variety of bike tours for more active visitors.
9. Boat trips
Unsurprisingly, boat trips are also popular with tourists in Miami. Some of the top day cruises include speedboat tours of Miami Bay area, ferry day trips to the Bahamas, sightseeing boat tours of the Miami Beach and Biscayne Bay areas. Activity boat trips for kids, like the Pirates Adventures tour, are also available, alongside dining or brunching boat trips.
10. Enjoy a game of the Miami Heat
Take advantage of your stay in Miami to enjoy an NBA game. The team, several times NBA Champions with the famous LeBron James, will offer you a show like you have never seen before. The whole city is putting on the colours of its flagship teams. Even if sport is not your interest, we advise you to go there and enjoy the show and the many activities outside and inside the American Airlines Arena. In addition, the gymnasium is located near the pleasant area of Biscayne where you can eat and find many outdoor shops.
When to visit Miami?
Peak tourist season in Miami is between November and April, and visitors can expect the most perfect weather conditions, with temperatures between 35 and 40 degrees Celsius, alongside an array of fantastic entertainments. Of course, you can also expect to find lots more holidaymakers at this time and hotels and restaurants may be fully booked.
You should expect hotter, more humid weather conditions if you opt to visit Miami from May to September and visitors in September, October or November could well experience hurricanes, although hotel room rates are much lower.
How to get there?
Most of Miami's tourists arrive by air, into Miami International Airport (MIA), which is located about ten miles out of the city centre. You should factor in the time needed to get through Customs, as the queues for US Border Police can be fairly lengthy.
It's quick and easy to travel into Miami using local bus services or the electric train and there are also a number of car rental offices located at the airport.
If you're touring the US, you can get to Miami by way of the Amtrak Silver Service from New York, Washington D.C. and a range more cities situated on the east coast. The train station is close by Hialeah, so you will need to make a short hop to the city centre. Drivers will generally arrive in Miami by way of I-95 from the east, which runs straight into the city centre, or I-75 from Mid Western States.
Which hotels to choose?
There is a wide range of comfortable hotels in Miami to suit any budget. The city is most famed for its stylish boutique hotels, but visitors with a love of luxury will prefer the lavish, exclusive hotels situated in the beach areas.
Some of our recommended hotels include:
the four star Washington Park Hotel which offers visitors a sense of peace and tranquillity, coupled with the luxury expected from a hotel of this nature. The hotel is situated at Miami Beach and families will particularly appreciate the fun-packed pool area and family bike hire service. There is a range of different room options, including spacious rooms featuring two doubles, one king or loft-style rooms with two queen beds. The Washington Park Hotel also features a fitness centre and a variety of restaurants and bars.
the National Hotel is also a four star accommodation and features a beautifully landscaped, extra long swimming pool, cocktail bar and Grill Room offering a range of delicious meals any time of day or night. The National is an architectural delight as it was built during the Art Deco period, the Art Deco theme is continued throughout the hotel with original mosaic tile murals from the period and vintage style guest rooms, featuring imaginative colour and design flair. There is also a spa cabin at the National, providing a variety of relaxing treatments and massage options.
Miami culture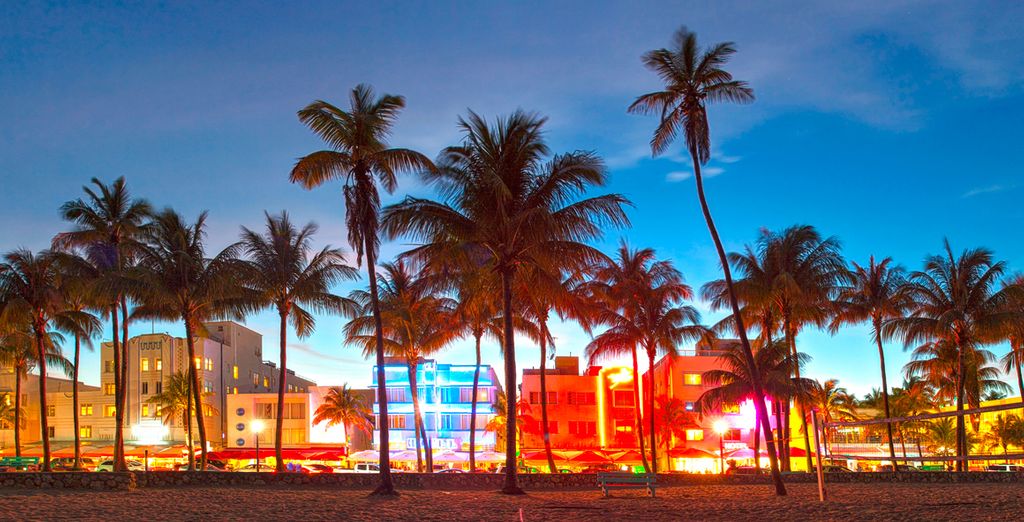 If you visit Miami over the Christmas period, don't neglect to spend some time at the Art Basel event which is held at Miami Beach each year. Some of the other popular festivals and events throughout the year include:
the American Black Film Festival
Summer Fruit Festival at Redland
Florida Supercon
Miami Salsa Congress
the two month Miami Spice celebration of local restaurants, offering a variety of discounted meals at top restaurants during summer mont- hs
Grovetoberfest Beer Festival at Coconut Grove
Miami Carnival, held in March
Some additional Miami festivals include the Orchid Festival which takes place in mid-May and the Beaux Arts Festival held at the University of Miami campus in winter months.
The Miami Heat NBA team home ground is the American Airlines Arena, and even if you can't catch a game during your stay, the arena is a great visitor attraction in its own right and home to the largest theatre in Florida. A variety of music events and shows are also hosted at the venue.
When you're in the downtown area, don't neglect a visit to the Bayside Marketplace which offers fantastic shopping opportunities and is great for just kicking back and relaxing. Shopaholics will also appreciate a visit to the Aventura Mall for a touch of luxury retail therapy when out and about in the North Beach neighbourhood.
And, finally but not least, Ocean Drive in South Beach offers visitors a unique sense of real Miami which cannot be beaten. This is the heart of the Art Deco neighbourhood, home to countless hotels, restaurants, cabaret shows and clubs. The designer Gianni Versace used to live in the area and his former home is now The Villa Casa Casuarina boutique hotel.
Getting around
Miami is a huge city, covering 55 square miles, so it's virtually impossible for tourists to visit all the major attractions on foot. Renting a car for the duration of any visit is probably one of the most affordable ways of getting around between hotel, city, beach and local attractions. So, arranging vehicle rental on arrival at the airport can be an excellent way to ensure the best form of travel throughout your stay and cuts out the expense of taking a taxi to and from your hotel.
Uber is a popular ride app in downtown Miami and around the Beach area and is an inexpensive way to get around some of the tourist attractions. You can also travel for free on local trolley buses, but their schedules can be somewhat erratic. The Metrorover is also a free form of local transportation and stops at popular tourist destinations like the Perez Art Museum and Bay Front Park. The Metrorail and local bus services also operate limited services in certain parts of Miami.
Local practices and customs
Miami is a city of laughter and music, with dancing in the streets a common feature in many neighbourhoods. The city is such a mix of diverse cultures, it's not difficult to see why festivals and fiestas are commonplace throughout the year. Unsurprisingly, Cinco de Mayo is a big feature in the city and surrounding areas, with a range of block parties and celebrations taking place. Folk art and crafts can be found in local markets throughout the city, and the embargo on Cuban cigars means many expats have set up their own rival cigar rolling businesses in Miami.
The Miami Map
Practical advice for Miami tourists
What currency do I use in Miami?
You'll use the US dollar for all Miami spending, but there are heaps of local cash points where you can withdraw cash on debit cards or credit cards, so you don't need to worry too much about taking a lot of US currency for your stay.
Is there a time difference?
Miami is five hours behind UK times, so be warned that jet lag is highly likely to be a problem. As you'll want to participate in the Miami lifestyle just as soon as you arrive and may not stop until you're on the flight back home!
Does everyone speak English?
You should expect most people to speak English in Miami, particularly in top tourist destinations. However, the city does have a huge Spanish resident population, so you could be faced with some locals who don't speak a word of English.
What should I pack for a holiday in Miami?
When you're packing for your Miami holiday, you just need to take along all typical summer, hot weather clothes and footwear. Unless you happen to visit during hurricane season, of course, when you should ensure you've got decent rain gear in your suitcase, as it's highly likely you'll experience at least one torrential rain shower during your visit.
What's the right amount of time to spend really getting to know the city?
Miami visitors from the UK should really opt to visit for around seven days, so they can get a real experience of the Miami lifestyle and visit all the major attractions.
What are popular Miami foods?
Cuban dishes and Cuban restaurants are one of the most popular dining experiences for visitors to Miami. The city is home to lots of Cuban exiles and they've bought along their own culture. Some of the most popular dishes to try out include chicken covered in mojo sauce and croquetas con Jamon, and a classic Mojito will be the perfect refreshing drink to select in local bars
What are local grocery stores like?
You'll find a range of recognisable stores in Miami, like Aldi, Public, Winn Dixie and Walmart, so grocery shopping won't be a problem. Other specialist stores include Trader Joe's and Whole Foods.
Popular Miami neighbourhoods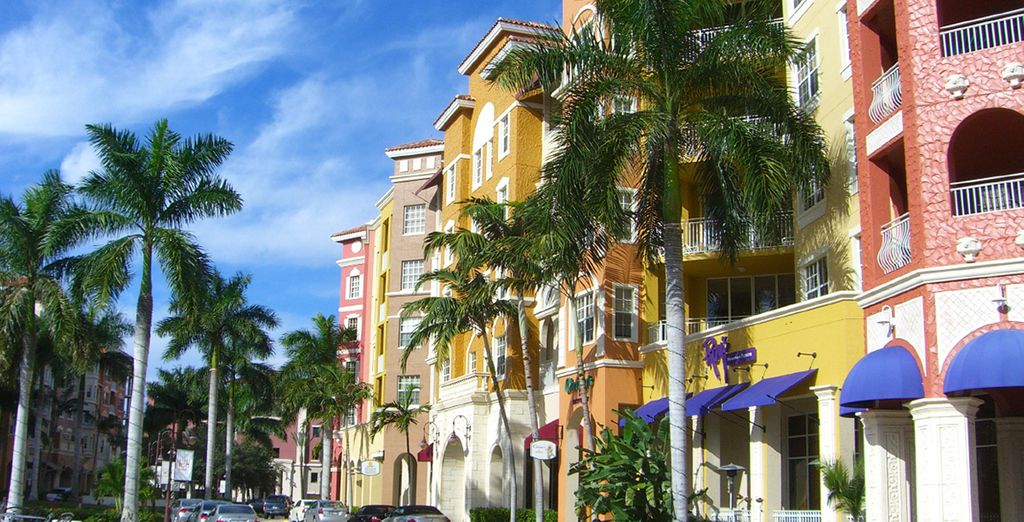 Some of the most popular neighbourhoods and locations to visit in the city include:
Coconut Grove, which is famed for its nightlife and theatricals
Key Biscayne is a tropical paradise island with lots of beaches and home to the Aquatic Nature Preserve and the Miami Seaquarium
Miami Beach is the epitome of tourist Miami, offering lots of hotels and beaches that are jam packed at all times
Downtown Miami is home to Little Havana and its gourmet Cuban restaurants
South Miami is where you'll find Miami culture and it's home to a range of popular galleries, including the Avant Gallery and the Emerson Dorsch Gallery. The city's MetroZoo is also located in this area and it's a fantastic visitor attraction for families
Where should I take my kids in Miami?
If you're visiting Miami with family and have children along, some of the best family attractions in the city include:
Phillip and Patricia Frost Museum of Science situated in the Downtown area. This museum offers kids an extremely interactive experience with lots of the exhibits
Fun Dimension in Winwood which gives lots of opportunities for exciting arcade game play using prepaid cards to allow as much gaming as possible
the Venetian Pool in Coral Gables which is a beautiful swimming pool offering lots of different kids entertainments and grottoes to explore
Bill Baggs Cape Florida State Park situated at Key Biscayne which offers lots of wildlife activities, history learning experiences and a far more relaxing appeal for families than South Beach
Wynwood Walls is a great visitor attraction for kids and is a museum featuring murals from some of the world's top artists. Wynwood is a nice location for family visits, offering a range of restaurants and shopping opportunities
Matheson Hammock Park is a downtown park with a variety of opportunities for outdoor activities and exploration and a beach that's safe for kids to explore at will
Of course, no family trip to Miami is complete without venturing over to Orlando to experience their fun-filled theme park delights and your kids won't forgive you if you don't take them! Don't neglect some of the lively adventures and tourist attractions of Miami during your visit, though.
Discover our deals in the USA: great deals, holidays, stays, holiday pirates.
Visit more travel guides.