Last minute holidays to Turkey that will take your breath away



Table of contents
From exploring the ancient city of Istanbul to relaxing on the stunning Butterfly Valley beach of Ölüdeniz, last-minute holidays to Turkey tick all the boxes. Enjoy Turkish baths, discover the delicious cuisine and explore the majestic ruins of Ephesus. With almost guaranteed sunshine and numerous high-quality hotels from which to choose, Turkey is the ideal country for a last-minute holiday.
Where to stay at the last minute in Turkey? The best hotels of Voyage Privé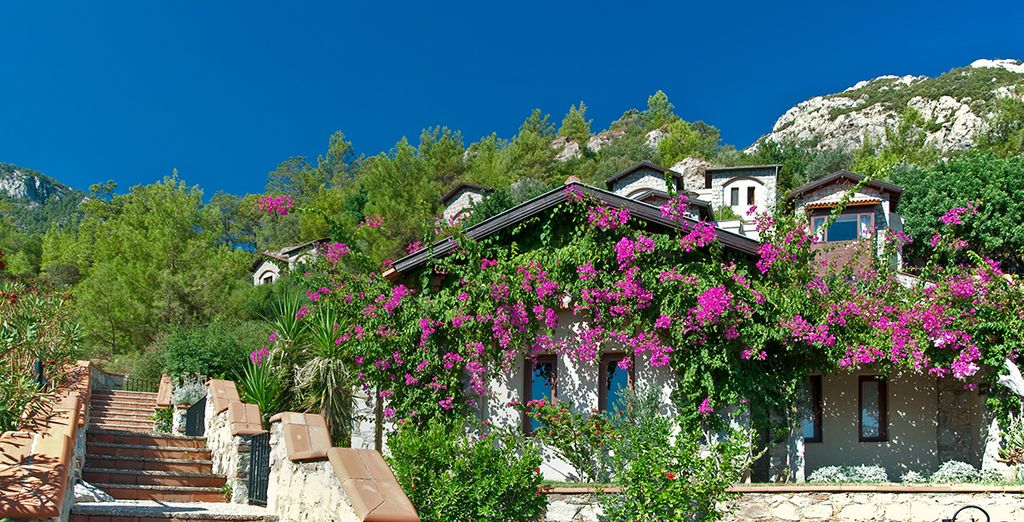 Perched on top of a steep canyon on the Bay of Kumlubük on the Bozburun Peninsula, the Hotel Dionysos offers outstanding sea views from almost all perspectives of this charming boutique hotel. It's the perfect choice for those seeking seclusion, romance and total relaxation.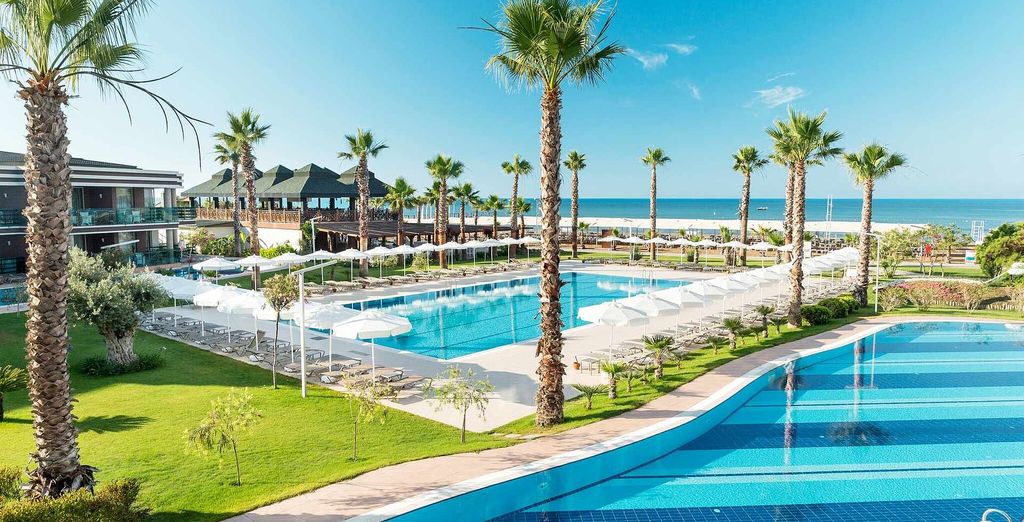 Located conveniently near Antalya's immaculate white sandy beaches, TUI Magic Life Masmavi 5* provides substantial spa facilities, a sleek modern design, and superb customer service! This region is known as the Turkish Riviera, thanks to its idyllic olive groves, quaint villages and numerous upmarket chic hotels.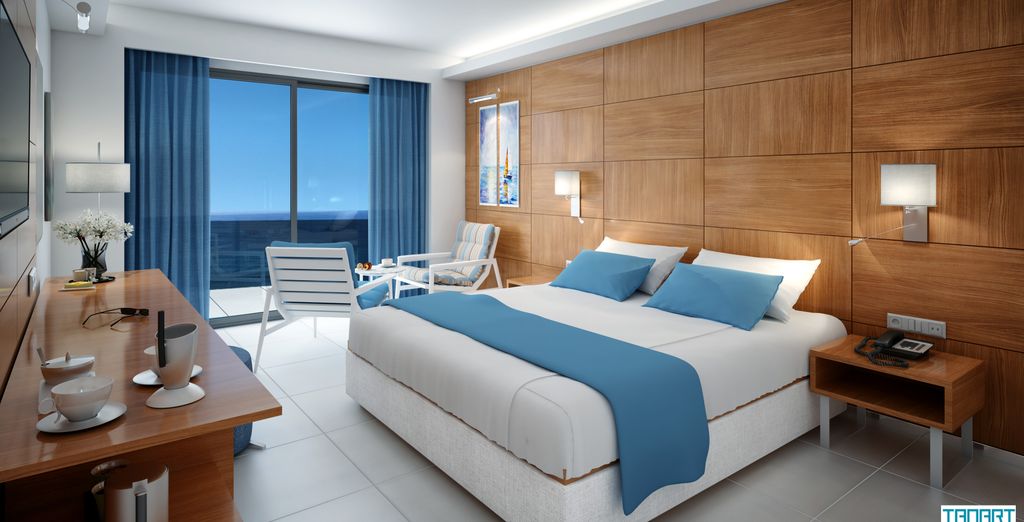 Discover the atmospheric beach resort of Kusadasi with ancient architectural ruins that will immerse you into the fascinating culture of this town. Wake up refreshed to breathtaking vistas of the Icarian Sea and bask in the airy interiors of the spacious nautical-themed room.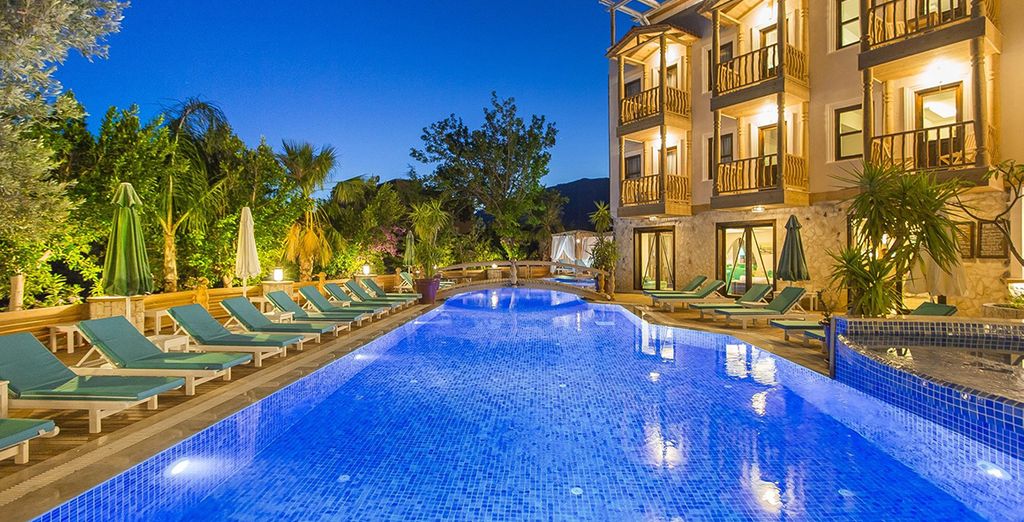 Only 6km from Kaputas Beach, the Elixir Boutique Hotel enjoys an excellent location to discover Kalkan's intriguing bazaars. Guests can also enjoy well-appointed rooms with all the facilities one would expect from a five-star establishment, such as a poolside bar. Bathrooms also have a shower and Jacuzzi.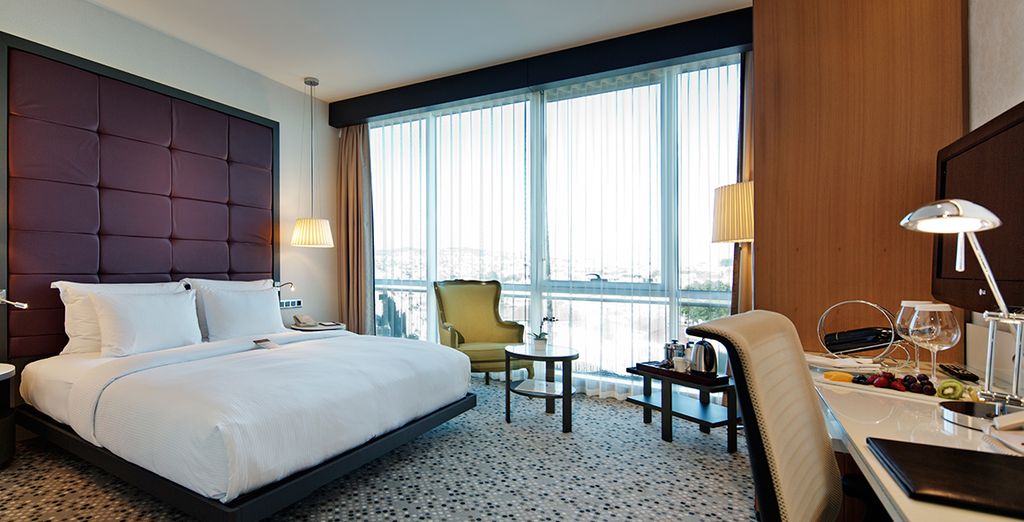 The DoubleTree by Hilton Hotel Istanbul - Moda 5* is an impressively modern hotel situated in a superb location on the Marmara coast in the endlessly fascinating city of Istanbul. Enjoy the best of both worlds - gorgeous beaches and the cosmopolitan charm of the Kadikoy and Moda districts of Istanbul.
How to book your last-minute holidays to Turkey
Booking a last-minute holiday to Turkey couldn't be easier for Voyage Prive members. Register online, which is a quick form providing your email address, or you can sign up via FaceBook. Once you are a member, you can take advantage of exclusive members-only offers for luxury hotels. Enjoy different types of options: all-inclusive, transfer included, car rental, half board or full board - one of the best things about Voyage Prive is that you can find a holiday that is exactly right for you.
What kind of offers can I find at last minute for Turkey?
Turkey is a country with a sophisticated tourist industry. It is, therefore, possible to find a wide variety of last-minute offers, whether you want a package holiday on a coastal resort, a flight and hotel deal for ultra convenience, a hotel only booking, a cruise or an adults-only holiday.
Turkey is a vast country which has plenty to offer everyone, whether you want to take advantage of the hot, sunny climate at one of the lovely white sandy beaches on the Mediterranean coast or explore Turkey's rich heritage. Visit its abundant historic sites and museums or tantalise your taste buds and experience the spicy and tasty food. From shopping in the bazaars to Turkish baths, traditional dancing to urban nightlife, last-minutes Turkey holidays have something to offer people of all ages.
City breaks in Istanbul, solo travel in the upland steppes, a beach resort holiday with friends or family, Turkey has it all.
Don't forget that Voyage Privé offers can be up to 70% off so don't delay and book your next last-minute holiday to Turkey today.
The?5?best things to see/do in Turkey?
1. Visit the Paumkkale Water Terraces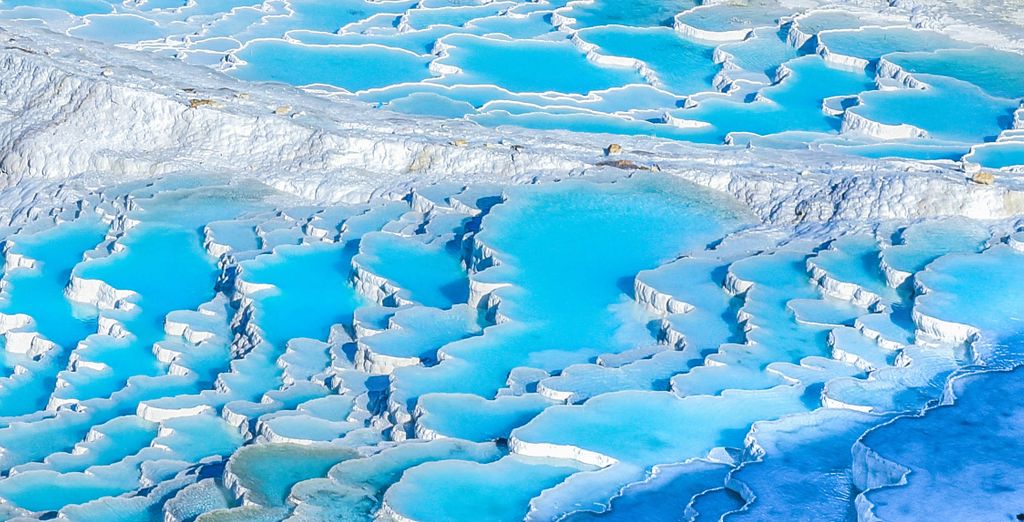 This ancient spa is now a UNESCO World Heritage Site. The spectacular white travertine rock formations near the Roman city of Hierapolis make a devastatingly white cascading fountain. Waters from these natural hot springs have tumbled down down the hillside for thousands of year and have formed white terraces of shell-shaped pools; the travertine is constantly replenished by the calcium-rich waters.
2. Eat Ashure or 'Pudding of Noah'
Turkey is a country full of unusual foodstuffs, including a cake which is the first thing Noak ate when he stepped foot on dry land after leaving the Ark. Made from milk, wheat or barley and flavoured with rosewater, apricots, figs or orange peel, it's a popular Turkish dessert.
3. Book a hot air balloon ride in Cappadocia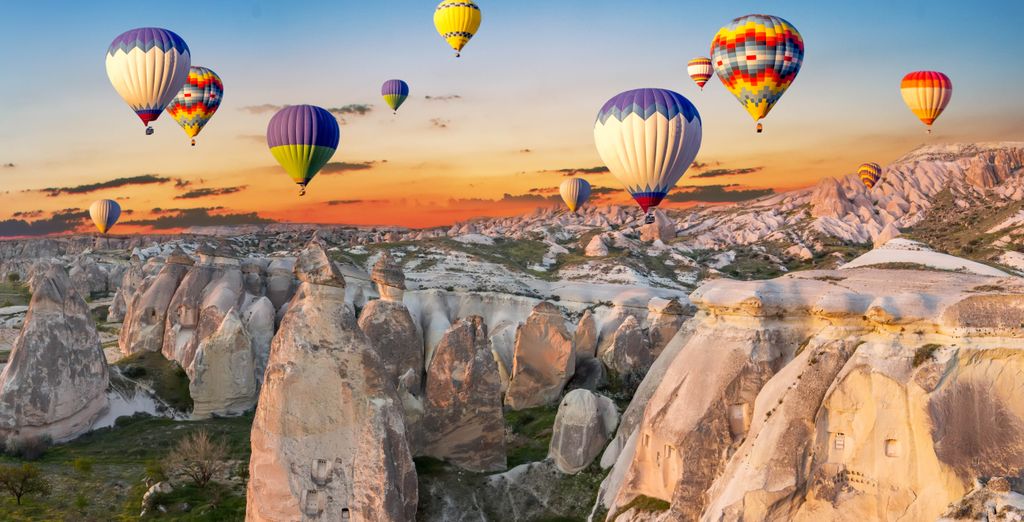 Admire stunning views of the 'fairy chimneys' on a hot air balloon flight over Cappadocia. Look down on the magnificent valleys and grasslands at sunrise, and wonder at the cone-shaped rock formations below you.
4. Visit the Hagia Sophia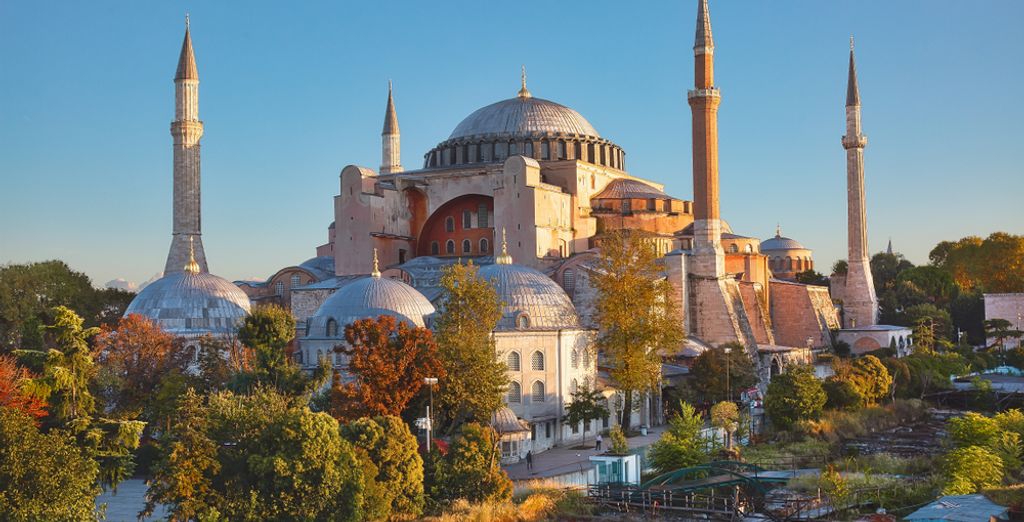 No visit to Istanbul would be complete without visiting the Hagia Sophia, the oldest cathedral in the world, and rebuilt three times in the same location. It is one of the masterpieces of ecclesiastical and architectural history with its staggering dome that seems to hang in the air, impressively monolithic white marble columns and beautiful mosaics.
5. Antalya City Tour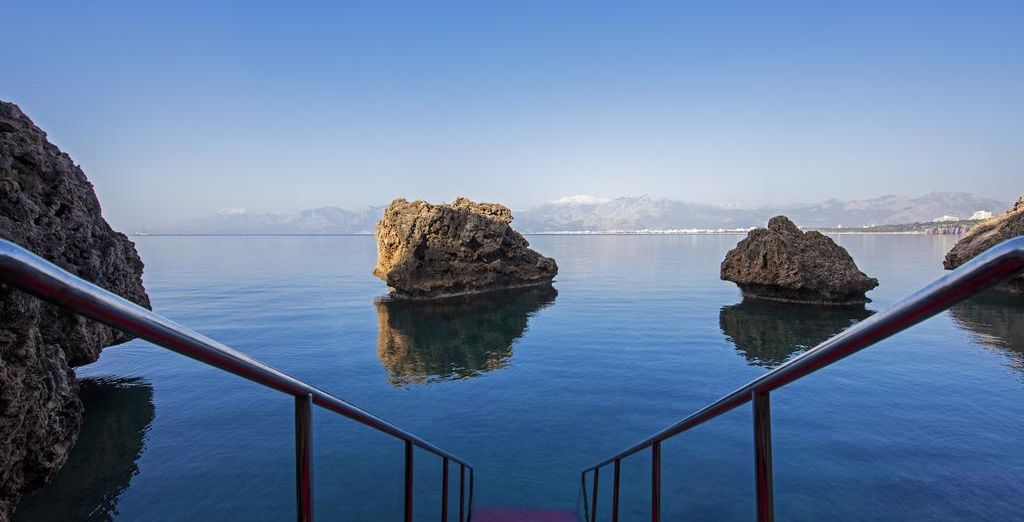 Make the most of your time in Antalya with a city tour of the city's natural and historical attractions. Highlights include Duden Waterfalls, a walking tour of the Old Town, and a cable car ride to Tunektepe. En route, enjoy a delicious lunch at an authentic Turkish restaurant in Kaleici.
Our practical advice for Turkey
What to pack for a last-minute holiday to Turkey?
What to pack for a last-minute trip to Turkey largely depends on the time of year. Turkey has hot, dry summers and mild, wet winters. If you are planning to travel in the winter, you would be well-advised to pack some waterproofs and warm clothes, especially for the evening. A portable umbrella is also a good idea. In the summer, plenty of sunscreen and aftersun are essential as is lightweight cotton clothing, sunglasses and a hat.
If you are planning a last-minute holiday to Istanbul, take an anti-theft backpack, and take it with you on days out especially when visiting crowded touristy areas. It's always better to be safe than sorry!
Turkey is quite a conservative country, so if you are a woman, it is advisable to wear modest clothing to avoid unwanted attention/ This means covered shoulders, arms and legs. If visiting a mosque, remove your shoes at the entrance to the building, and women should cover their hair. Taking a sarong or scarf is recommended for this reason, as well as offering additional protection from the sun. Men should not wear shorts. Of course, bikinis and more revealing clothes are fine on the beaches of popular resorts or in the grounds of hotels.
Taking a swimsuit or two is vital, whether you want to take advantage of the hotel pool, the sea or one of the amazing Turkish Baths.
Comfortable shoes or sandals are also highly recommended as days out to the main attractions can require a considerable amount of walking.
We also recommend packing extra toilet paper for a trip to Turkey. Hopefully, this won't be required, but some public toilets don't supply toilet paper.
What budget to plan for a last-minute trip to Turkey?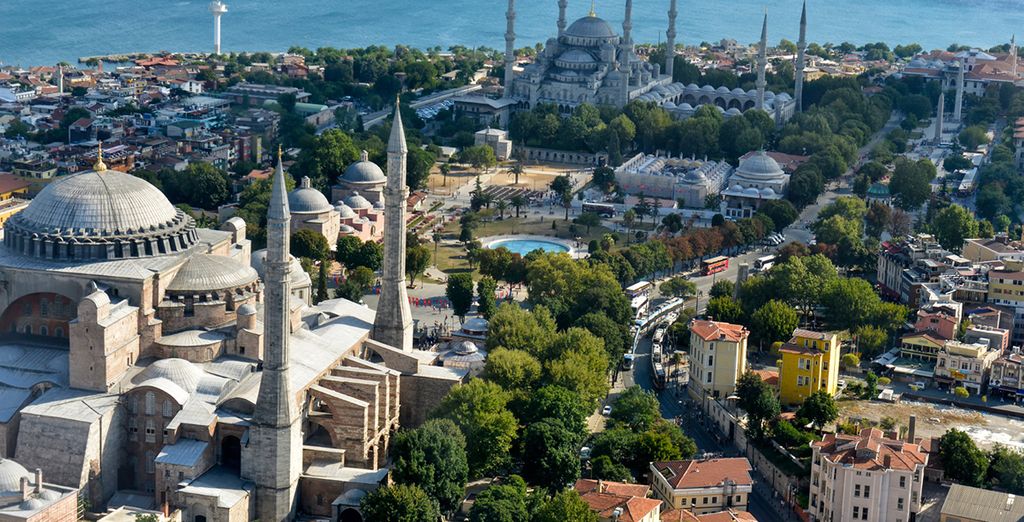 How much money you need for your trip to Turkey depends on your budget and the length of time you are planning to stay in the country. You should plan to spend around £20 per day on your last-minute holiday to Turkey, which is the average daily price based on the expenditure of other tourists. People have spent, on average, £5.00 on meals for one day and roughly £2.00 on local transportation. The average hotel price in Turkey for a couple is £27.00. These average prices can be used to help you plan your travel budget, but remember that prices and the value of currencies can fluctuate. The Turkish currency is the Turkish Lira. Turkey is a relatively inexpensive country to visit, and with last-minute offers, you can enjoy even lower prices!
Useful information before going to Turkey
When planning your last-minute trip to Turkey, you should make sure to buy travel insurance. You never know what could go wrong while travelling and having travel insurance is vital to make your life easier in the event of an emergency. You could always add some medicines, such as dioralyte or paracetamol to your last-minute holiday to Turkey checklist.
One thing you should not forget to pack for Turkey is a power adapter! The power sockets in Turkey are two-pin adaptors and are the same as anywhere else in Europe. Make sure you have a suitable adapter to charge your electrical devices while visiting Turkey.
The Opinion of the Voyage Prive Expert on Last Minute Holidays to Turkey
Take in the sights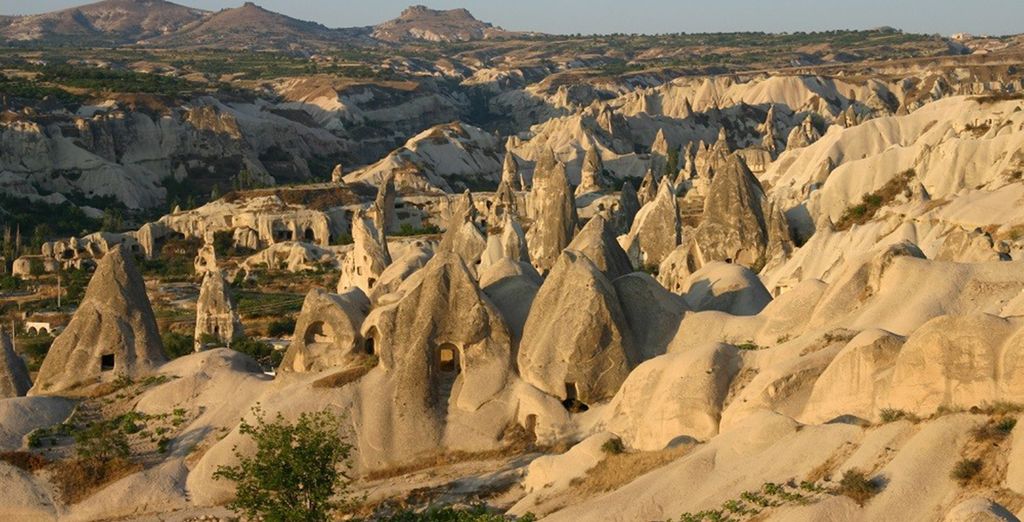 Still unknown to many would-be holidaymakers, Turkey offers an incredible range of old historic buildings with exciting pasts and tales to tell. Throughout the years, Turkey has seen countless battles, wars and changes in power. As such it holds a diverse array of different styles of architecture and influential monuments. Bodrum alone, for example, houses the famous Mausoleum of Halicarnassus which is one of the seven wonders of the ancient world, as well as a 15th-century castle constructed by the Knight's Templar.
Beaches and watersports haven
So many of the beaches along Turkey's coast seem almost untouched and delightfully pristine. Some of these are man-made, some natural, but all offer perfect opportunities to lie under the sun and relax while topping up your tan. For a bit more excitement, last minute Turkey holidays represent the perfect opportunity to try your hand at some watersports. Popular on the list is jet skiing, parasailing or windsurfing. But, for something more unique, you can go snorkelling or scuba diving. The crystal clear waters are the perfect opportunity to explore the Mediterranean aquatic sea life and colourful and abundant coral reefs. Some tourists even choose to abandon their Turkish haven for a day by catching a boat ride over to Rhodes in Greece. Not only will this give you the chance to enjoy a calm and peaceful boat ride, but also to explore an equally as impressive array of architecture and monuments of civilisations gone by.
Fine dining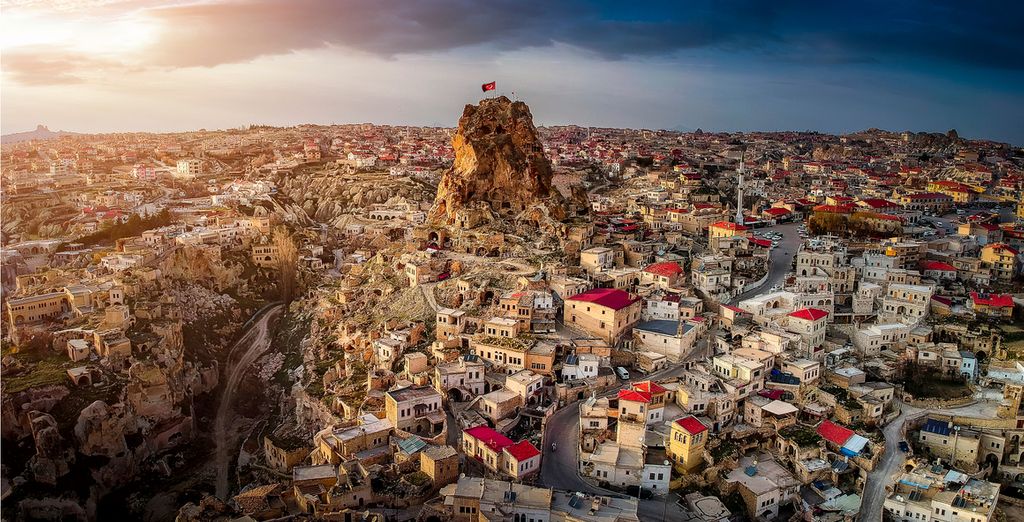 When it comes to the evening, little can compare to an authentic Mediterranean meal on the coast of Turkey while gazing out to the setting sun. Turkey benefits from immediate access to great tasting seafood at all times of the year. However, its diverse history has also blessed Turkey with a truly broad array of dining opportunities. This includes dishes from the Middle East, the Balkans and Central Asia. All are best enjoyed with amazing company and a glass of the local wine or beer. Depending on your location, Turkey also has fantastic nightlife on offer, and the chance to discover live music in local towns and villages.
Few countries have on offer the same blissful combination of fine dining, fantastic weather and sites to see that Turkey can offer. Any last minute Turkey getaway is best enjoyed in luxury resort accommodation with a private pool and top quality room. To get exactly that and at a fraction of the expected price, sign up to our newsletter.