Best Honeymoon Hotels Maldives



Table of contents
Make sure your Maldives hotel is just as luxurious as the rest of your stay if you want to have the best experience possible.
Our best hotels in the Maldives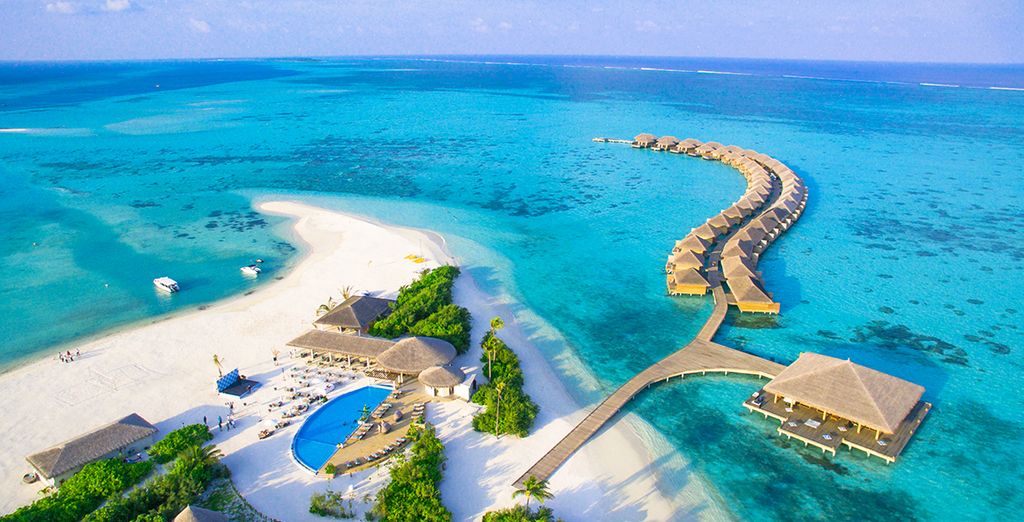 Cocoon Maldives is the ideal hotel for families or couples hoping to surround themselves with beautiful scenery. Our members have the luxury of choosing between a Beach Villa, a Lagoon Villa, or a Beach Suite, all of which have a stunning view of the beach. Honeymooners can take advantage of a complimentary bottle of wine and chocolate as well as a romantic candlelit dinner for two.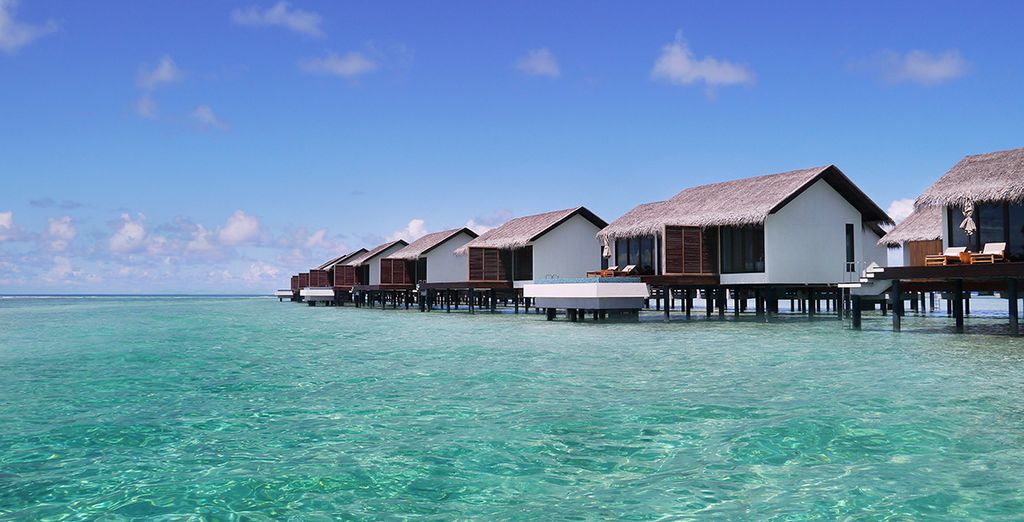 For a more tranquil stay filled with yoga and meditation, consider staying at The Residence Maldives; with 5* facilities, you will never want to leave the hotel complex. Voyage Prive members can enjoy access to a Water Villa room, which has a breathtaking view of the ocean.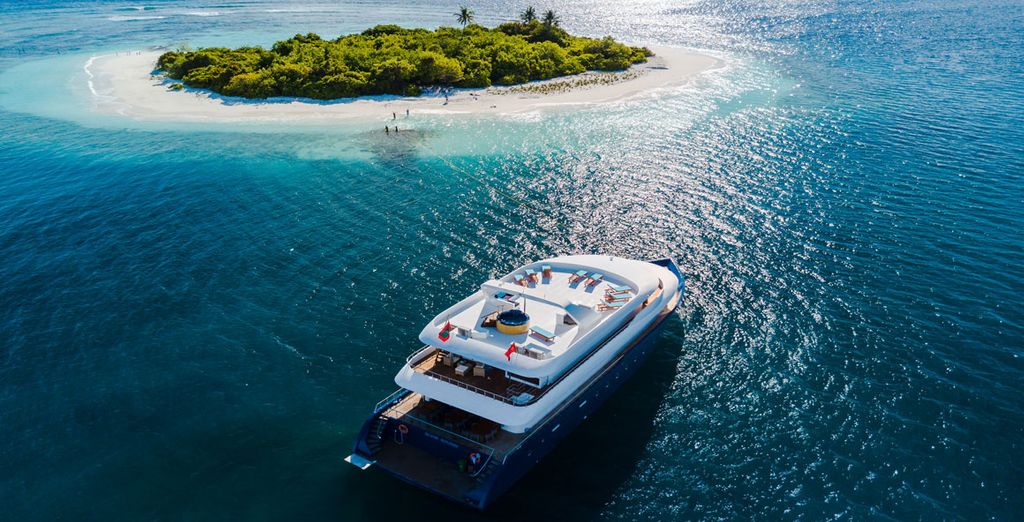 Why stay in a hotel when you can explore the Maldives from the ocean? Your stay on a Maldives Cruise will be an unforgettable experience and you can look forward to exploring deserted islands and snorkelling in the crystal clear ocean. Our members have access to exclusive deals, including two snorkelling trips per day and a barbeque party on an island. Alternatively, if you embark on the Dreams Maldives Cruise, you can try island hopping on a yacht lead by an expert team.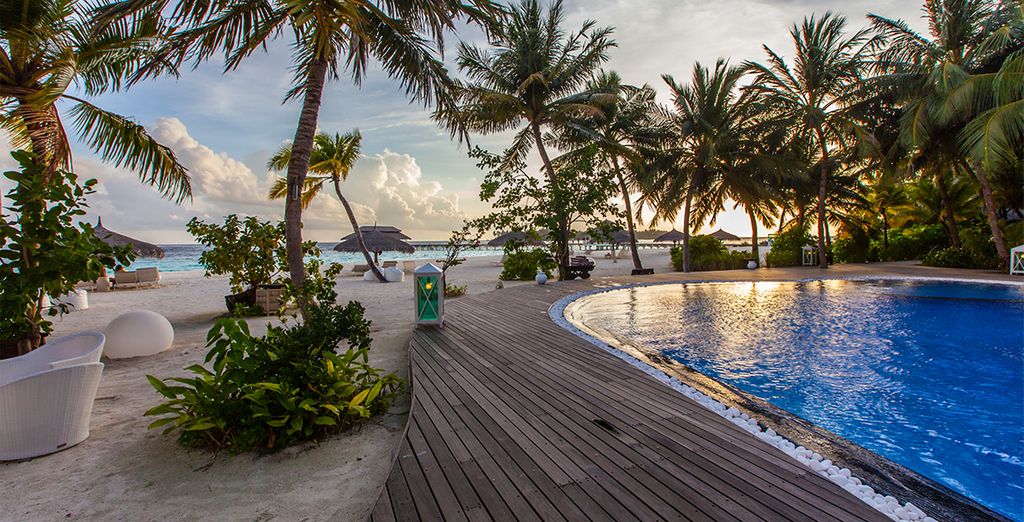 Nestled away on a remote island, Kihaa Maldives is just the accommodation you need if you want to get away from it all. Prive members can look forward to an all-inclusive stay in a Lagoon Prestige Beach Villa, with access to the hotel's 5* spa facilities.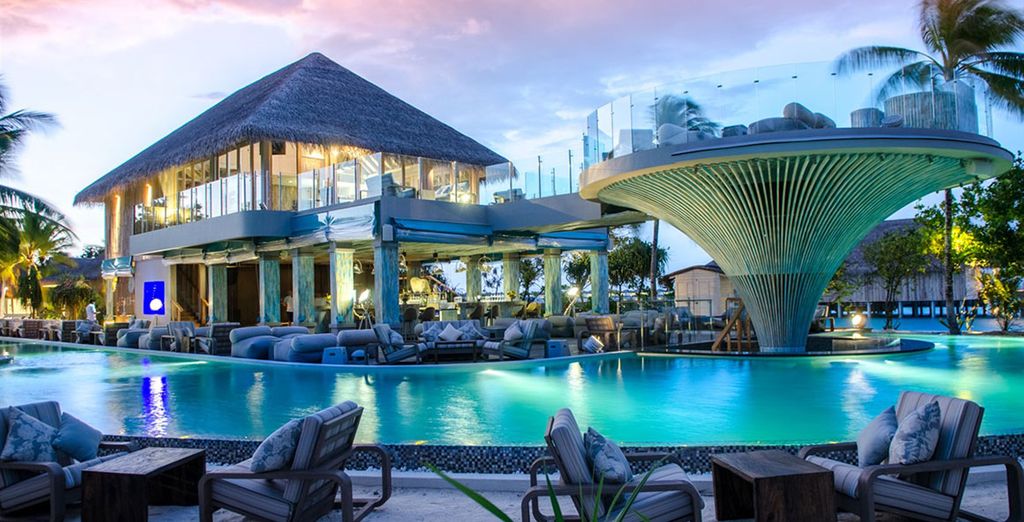 For a truly unique holiday, stay at theFinolhu Maldives; a quirky resort with plush furnishings. Large groups will enjoy staying here and trying out some new watersports. Prive members can enjoy an exclusive stay in the Lagoon Villa or an Ocean Pool Villa.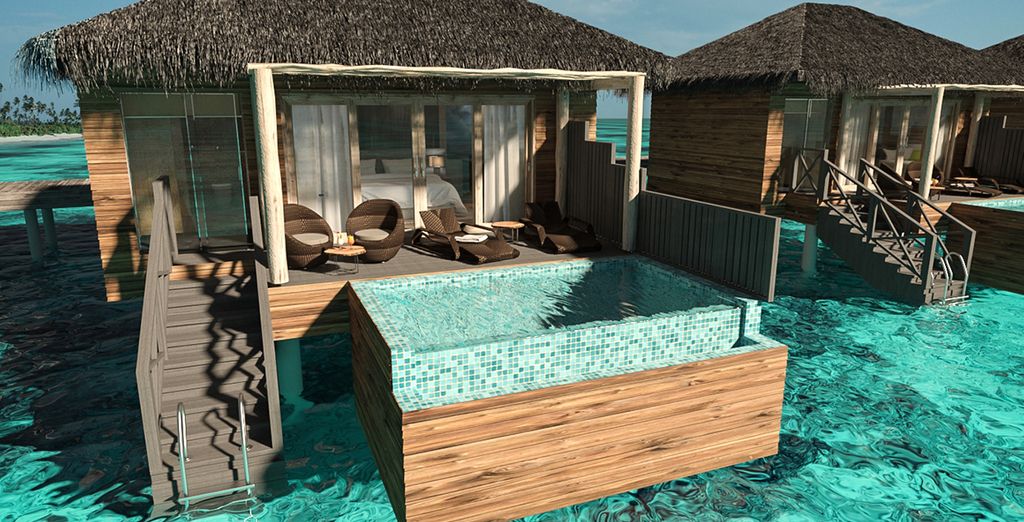 You&Me is an adults only accommodation that offers the ultimate in peace and tranquility. Our special members can take advantage of full board dining during their stay and can also look forward to complimentary lunch at the hotel's amazing underwater restaurant.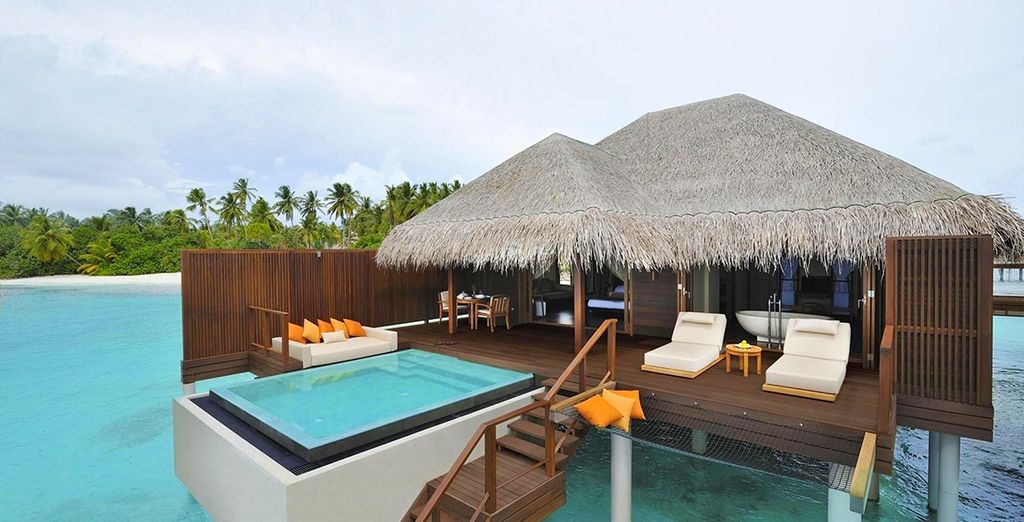 For an unparalleled romantic retreat, book your stay at the Ayada Maldives. The luxurious Maldives hotel boasts amazing spa facilities and there are six restaurants on site for guests to dine at. Members can enjoy a dip in the private plunge pool, a complimentary massage at the spa, as well as a complimentary bottle of wine on arrival.
What services will you find in our hotels in the Maldives?
In the Maldives, your hotel will offer you all the luxurious facilities you need for your stay to be as comfortable as possible. These include:
Free WiFi connectivity
Air conditioning throughout the building
A selection of bars and restaurants on site
Gyms and spas
An ensuite bathroom
Swimming pools
Hotel rental offers in the Maldives convenient for all kinds of travel
The Maldives is an iconic honeymoon destination, as the scenic views and the romantic landscape is perfect for couples who have just tied the knot. However, spacious villas and watersports make the Maldives an ideal holiday destination for families and groups of friends.
The Maldives is quite a distance from most UK and European countries, which is why it's more practical to stay for two weeks. Staying for this length of time will allow you to explore the country at your own pace and try out more activities. You should consider spending some time in a luxury hotel and a week on a cruise, as these are both memorable experiences.
The range of hotels we offer in the Maldives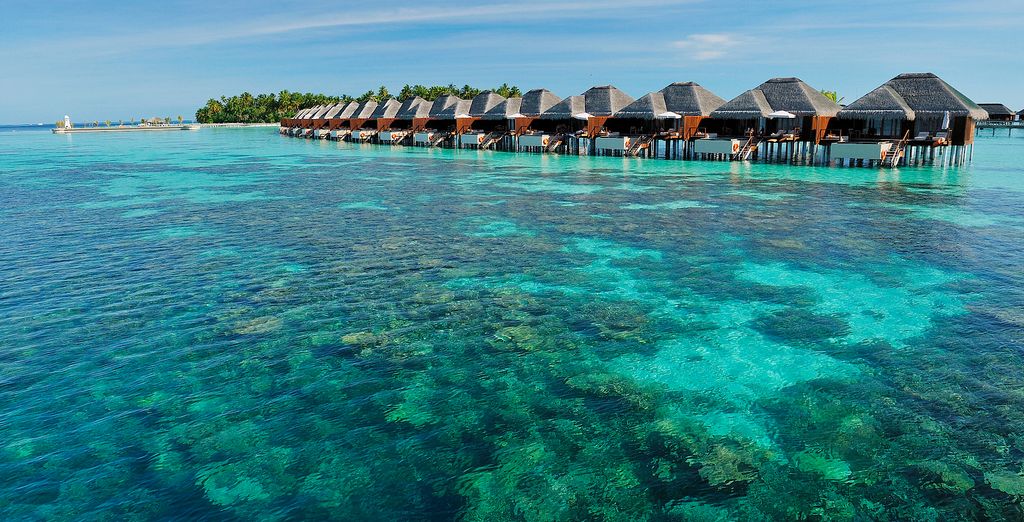 All-inclusive is the only way to experience the Maldives as you can enjoy all of the food and drink the hotel has to offer at your leisure. A last-minute trip to the Maldives is a great option for spontaneous holidayers looking for a relaxing week or two away.
The Maldives: What should we bring for a hotel stay?
When going on such a long journey, packing can be daunting. To give you a hand we've come up with some essentials that really should make it into your bag:
Toiletries
Lots of suncream with an SPF of 30 or 50
A swimming costume and flip flops
A Beach towel
Cover-ups and loose clothes
Adaptors for plug sockets
Sunglasses
A sun hat
Your hotel in the Maldives: how to get there and make your booking?
Getting to the Maldives has never been easier and it takes 10-13 hours to get there by aeroplane. Island hopping is a big part of the Maldives experience, so expect to take a lot of boats during your stay. Make sure you book online with us for discounts you won't find anywhere else.
The opinion of the Voyage Prive travel expert on hotels in the Maldives
The Maldives simply has to be on everybody's travel bucket list. There is no better country to relax in and the crystal clear waters are a delight to wade through and explore.
The Maldives, where relaxation and restfulness are aplenty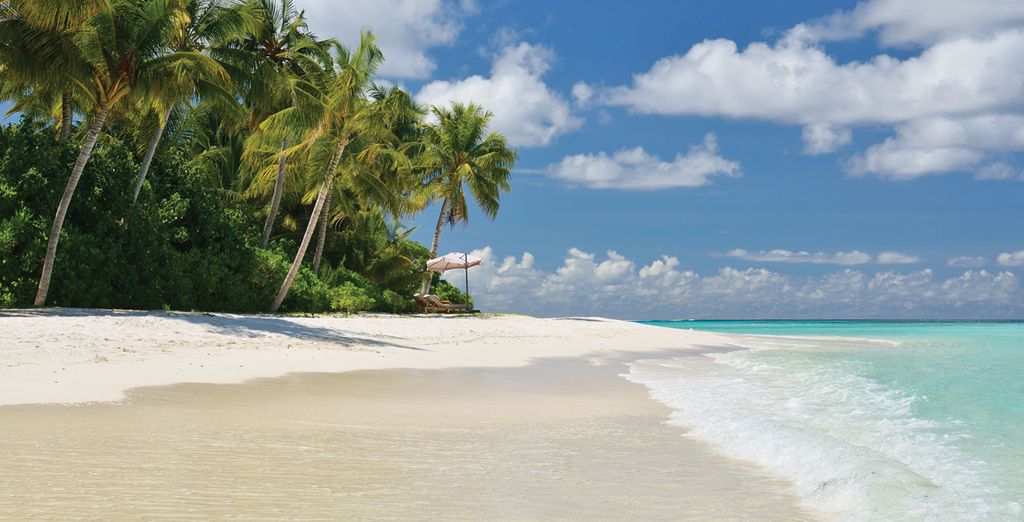 Sun, sea and adventure are guaranteed on your trip to the Maldives. Switch off your mobile phone and escape into the lap of luxury, finding refuge on the sandy beaches. Ideal for thrill seekers, there are so many water sports for holidayers to try including exhilarating jet skiing as well as deep-sea scuba diving.
With so many sightseeing destinations available for tourists, your days will be jam-packed full of activities. With unexplored caves and lush, green forests to explore, you'll never be far from the beauty of nature in the Maldives.
Want to get lost on a paradisiac island ? Check all our holidays offers in the Indian Ocean !