Mexico Travel Guide 📚 Plan your holidays
Mexico travel guide: 🌞 Complete Free Travel Guide for Mexico ✅ Tips, advices, budget, hotels... Start to plan your holidays with Voyage Privé.
Travel to Mexico
With white sandy beaches, lush jungles, scorching deserts, and heaving cities, Mexico is truly a wonder of the world in itself.
With over 10,000km of striking coastline, many of Mexico's beaches are populated with resorts, especially on the Eastern side, which intertwines with the Caribbean. The beaches here are some of the most beautiful in the world, and rival those of places such as the Maldives.
For the city-seekers, that bustling vibe can be found inland in places such as Mexico City and Guadalajara. Spend your days soaking up the atmosphere, history, and culture.
Sample the country's gastronomic excellence in some of the finest restaurants, and of course, any trip wouldn't be complete without sampling its best-known drink: Tequila.
The top 10 things to see/do on site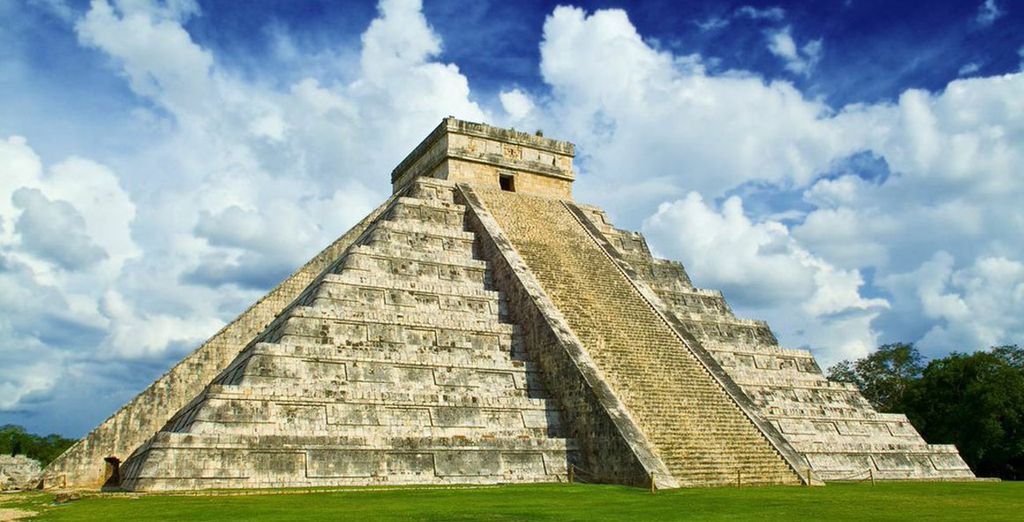 1. Cancun

Nestled on the east coast on the Yucatán Peninsula, Cancun is arguably one of the best-known cities. But don't let its Spring Break reputation put you off. Featuring some of the best palm-lined beaches, resort hotels and restaurants, it's ideal for an undisturbed week (or two) away.
2. Mexico City

The capital is perfect for those who want to absorb some of the country's rich history and culture. Spend the days exploring the sights, including the infamous Templo Mayor, an Aztec temple dating back to the 13th century. Art lovers can visit Museo Tamayo, which houses famous pieces from Picasso to Warhol, and the National Museum of Anthropology which has endless Mayan artefacts.
3. Tulum

As well as beautiful beaches, where turquoise waves lap the edge of the sand, Tulum is also home to 1,000-year-old Mayan ruins. Divvy your time up between the authentic Mexican town and striking beach to get the most out of your visit. Cave diving is also a popular activity here, where you can submerge yourself in a warm natural bath.
4. Chichén Itzá

Translated to 'Mouth of the well of the Itza', here you'll find world-famous, sacred Mayan ruins. Enjoy a history lesson as you explore the area, and remember to try and catch the daily light and sound show if you're there into the evening. It gets very hot and busy here, so try and get there early before the midday sun hits and the tourists come flooding in.
5. Cabo Pulmo

A national marine park and tiny village on the west coast, at Cabo Pulmo you can snorkel with some pretty spectacular wildlife. This Marine Protected Area features the only Pacific coral reef in the Sea of Cortez, and its beauty really does speak for itself. Take yourself away for a day of adventure, followed by reclining on the beach watching the sunset.
6. Palenque

The Mayan temples of Palenque can be found in this jungle-swathed national park, surrounded by the enticing sounds of tropical wildlife. If there's ever a time to remember to pack your camera during your trip, this is it. Brave the steep steps to explore the ruins of these exceptional temples, and feel like you've really stepped back in time.
7. Pyramids of Teotihuacán

Lying in the Valle de México, these breathtaking pyramids make up part of Mexico's biggest ancient city. You'll also be able to witness the third largest pyramid in the world, the Pirámide del Sol. Pack your walking shoes, plenty of sun cream, and a hat for a day here, as it can get scorching.
8. Mahahual

Located in Costa Maya, Mahahual is where some pretty hefty cruise ships dock, so it gets busy, but it also boasts a calming, Caribbean vibe and stunning beaches. Rest and relaxation really do come first at this hidden gem. Soak up the sun, enjoy exquisite food and drink at one of the many restaurants, or try out some of the local snorkelling if you get restless.
9. Aktun Chen

A scenic rainforest with zip lines, caves and an underground river - what more could you want to bring out your adventurous side? The caves at this eco-park resemble something from a fantasy blockbuster, and the water that sits within them is clear enough to see right to the bottom. Talk about amazing.
10. Guanajuato

This city has a rich mining history, thanks to the previous discovery of gold and silver deposits. Expect brightly coloured houses (which are built close enough that a couple could lean over the street and kiss - how romantic), museums, Colonial architecture, theatres, and quaint, cobbled streets.
When to travel to Mexico

The best time to visit Mexico can vary depending on your reason for travel. The country's dry season runs from December to April, where you can expect virtually no rain. If you're a sun-seeker, this is the best time.
Although the wet season runs from May all the way to October, this usually consists of a heavy shower in the day, which lasts for a short amount of time and dries quickly. You'd be quite unlucky to experience days on end of solid rain at any point in the year.
December and February are notably cooler months, but its tropical climate means temperatures still peak around 24 degrees Celsius.
How to get there?
You can fly from London to Cancun in approximately 11 hours non-stop, and to Mexico City within 12 hours. Flights from Paris and Madrid come in at similar times, whereas if you're travelling from Italy, a flight to Mexico City is just under 14 hours.
Entry to Mexico can only be obtained with a valid passport, and no tourism visas are required.
Which hotel to choose?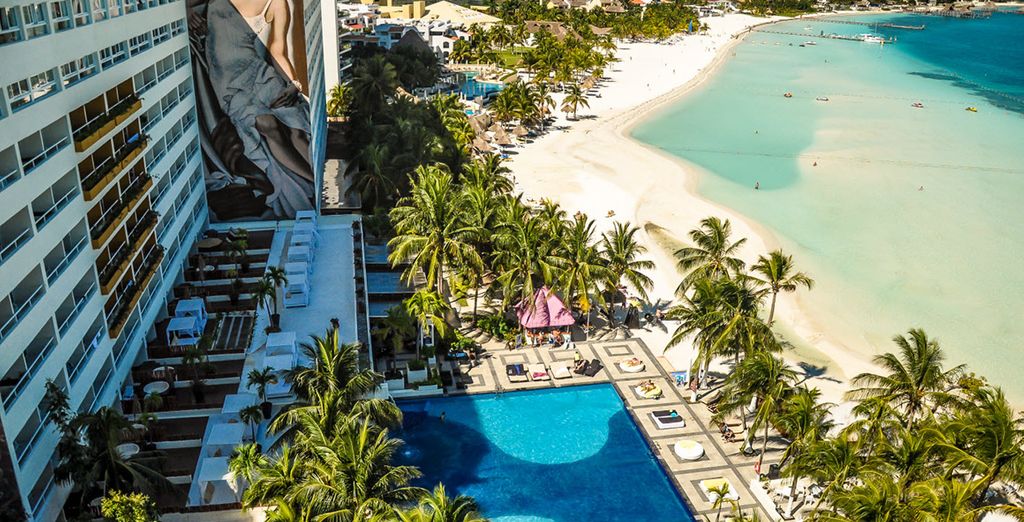 El Dorado Seaside Suites

This 5* adults-only hotel is designed to give you an outstanding luxury experience. Sophisticated decor awaits at this all-inclusive getaway, just 30 minutes south of Cancun. Enjoy a stunning beach on your doorstep, a host of activities, and exciting bars and restaurants all on site.
Mexico Twin Centre 4*

A multi-city deal with an elegant touch; experience the sights of Mexico City before heading off to the sun-soaked Cancun. This includes 3 nights at the Sheraton Maria Isabel and a 6-night stay at the Dreams Sands Resort Cancun Resort & Spa. A city break and beach holiday rolled into one, with no expense spared.
Mexico Adventure

This 10-night tour enables you to embrace the stunning sights of Mayan villages, the world-famous Chichén Itzá, and beautiful beaches. Your itinerary is tailored to include the perfect mix of archaeological sites, towns, and builds in plenty of time to relax by the crystal clear waters.
Culture (festivals, etc...) in Mexico
Day of the Dead

Possibly the most famous fiesta in Mexico (and around the world), Day of the Dead is an annual festival which takes place on the 1st to the 2nd November. A colourful tradition, the country chooses to celebrate its dead as opposed to mourning, and with this you can expect parties galore. A must-see when visiting this time of year.
Festival de Mexico

Held mid-March every year, this event can last up to two weeks, and is celebrated around the country with numerous venues choosing to take part.
Son Jarocho Music Festival

In early February, thousands of people head to Tlacotalpan for this three day long show. It's traditionally centred around the religious celebration of Candelaria, but many attend for the Veracruz-style music.
Morelia International Film Festival

Taking place each October, this film festival celebrates the new generation of creatives. Morelia comes to life during this time, so if you're there make sure to explore the cafes and bars for the full experience. Check out the main square to see some open-air screenings after the sun goes down, too.
Local practices and customs
Mexican people are some of the friendliest on the planet; they're extremely proud of their country and not afraid to show it. Spanish culture and customs are rife wherever you go, including the importance of family.
The primary religion in Mexico is Catholic, so remember to always respect this when travelling.
The Mexico map
Our practical advice for Mexico
Mexico is a very hot country, and stays that way year-round. Remember to take suitable clothing, as well as other necessities for tropical climates.
Always keep your wits about you in tourist-heavy areas, where pickpockets may operate. Stow away valuables and don't keep wallets or electronics such as phones on show. It's advised not to travel with large amounts of cash.
What to bring back from Mexico
Tequila is a great present to bring home from Mexico - we're not talking about your sub-standard supermarket brand, either. When bought from the Motherland, and drank in the correct manner, tequila can be delicious. Seek out the different varieties in local shops as opposed to waiting until the airport.
Mayan souvenirs are also popular, and can be bought in many of Mexico's markets and small stalls. Here you'll be able to find unique trinkets which reflect the country's rich heritage and culture.
What currency to use?
The Mexican Peso is the official currency, but many resorts and touristy areas also accept US Dollars. When tipping, it's best to use US Dollars, as these are usually worth more to the workers then Peso.
Credit and debit cards can be used in all major resorts, towns and cities, and you won't struggle to find an ATM or bank in these places if you want to withdraw cash, either.
What is the time difference?
Mexico has several time zones from coast to coast.
On the east coast, it's GMT-5, in Mexico City, GMT-6, and on the west coast, it's GMT-8.
What language is spoken in Mexico?
Spanish is the primary language spoken, but you'll find all major resorts and cities speak a lot of English, too.
Try and learn at least the basics in Spanish before you depart - it's always very much appreciated to at least try.
How to get to Mexico
Flying is the best way to travel to Mexico, especially from Europe.
What to pack for your holiday in Mexico
There's so much to explore in Mexico, and if you're not spending the duration of your stay relaxing on a sun lounger, remember to pack comfortable footwear.
Mosquito repellant is a must, due to its tropical climate and lush jungles in-land. Other essentials include high factor sun cream, a hat, and loose, airy clothing to stay cool in the heat.
How long to stay
Due to the travel time, it's best to stay for at least a week. 7-10 days is the optimal amount of time, depending on your itinerary, and 2 weeks if you're really in need of a holiday.
Restaurants on site
Mexican food isn't all about fajitas - far from it. Its gastronomy is diverse and delicious, including chilli-spiced delicacies.
Try regional dishes such as cochinitapibil (slow-cooked pork) and elote (corn on the cob - a popular street food), amongst other things, during your visit. When by the sea, sample the best seafood restaurants have to offer - always fresh and satisfying - and the humble tortilla can be stuffed with a host of succulent ingredients, accompanied by zesty salsas and creamy guacamole.
Of course, a trip to Mexico wouldn't be complete without its most famous drink: Tequila. Don't let its salt, lime and shot reputation hold you back - there are many ways to enjoy this drink.
Family activities, for teenagers, children, and babies
A beach holiday is sure to suit even the fussiest of teenagers - the entertainment at most resorts is enough to keep them occupied from sunrise to sunset.
Exploring the caves, jungles and ruins is a history lesson in disguise, and the many Mayan and Aztec sights will pique their interest, and make for some pretty impressive social media content, too.
There's also Xcaret Park - a theme park and resort which has over 50 attractions, including water sports and activities.
How to travel to Mexico with your pet?
When travelling with pets, they must be fully vaccinated from rabies, and have a valid health certificate.
Mexico: What budget to plan?
If you're heading to an all-inclusive resort, money is not something to worry about unless you want to indulge in an excursion.
Mexico is a very affordable country, including its major towns and cities.
Environment
Mexico's environment ranges from sandy deserts to screensaver-worthy beaches, and dense jungle to teeming cities. There's a true mix of everything here, but the climate is very much tropical - it's hot and humid.
Additional practical information
Plug sockets vary in Mexico, consisting of Type A (two prong) and B (three prong).
Discover more travel guide or holiday plans with our holiday pirates.