The Best Time to Visit Cancun



Table of contents
When is the best time to visit Cancun?
With stunning stretches of white-sand coastline kissed by crystalline turquoise waters, Cancun is every inch a beach lover's haven. Whether you want to party the night away with fellow holidaymakers or have a quiet spot all to yourself, you can find your ideal slice of paradise here. Yet there is more to the city than just its picturesque shores. From fascinating Mayan cultural sites to lively nightlife hubs and a variety of outdoor activities, there are plenty of ways to make the most of your trip. When it comes to choosing the best time to visit Cancun, you have both weather and atmosphere to consider. Do you want to visit when it is driest, or are you more interested in having a corner of the beach all to yourself? Read on to discover the season that best suits your preferences, so you can start planning your getaway.
The climate in Cancun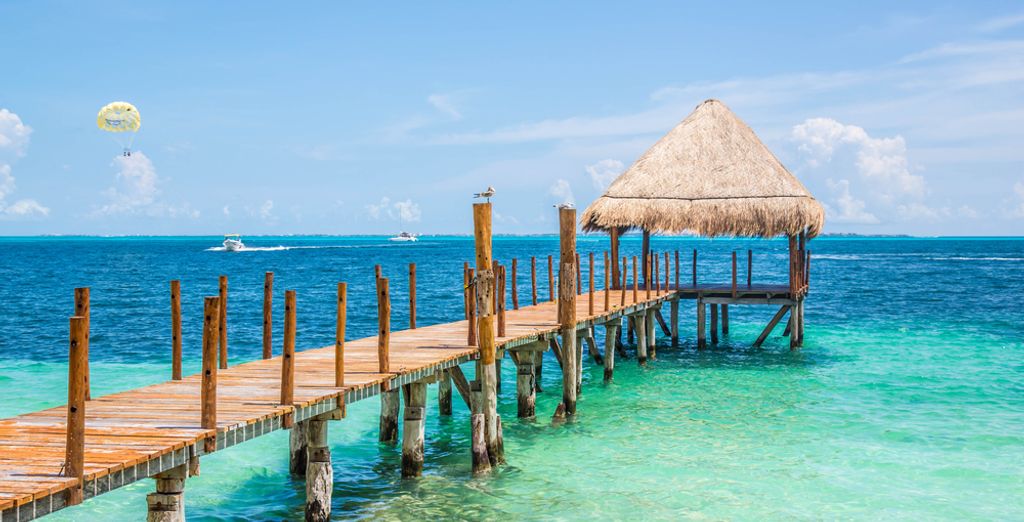 Nestled at the northeastern tip of Mexico's Yucatan Peninsula, Cancun benefits from a tropical climate that brings warm temperatures all year round. This means that whenever you visit, you will be able to spend quality time on some of the city's outstanding beaches. Head to Playa Pez Volador or the untouched Isla Blanca if you are hoping for a laid-back atmosphere where you can lose yourself in a good book. Or if you prefer a livelier party vibe, Playa Forum may be more to your taste. Meanwhile, Playa Langosta is fantastic for families thanks to the shallow waters, wide sands and nearby play area. If you want to feel as though you have stepped into a postcard, hop on a ferry to Isla Mujeres to visit Playa Norte. Here the sugar-soft white sand is lined with palm trees on one side and lapped by sparkling aquamarine ocean on the other.
Like many tropical destinations, Cancun experiences both a rainy season and a dry season. The rainy season runs from May to October, with September being the wettest month of the year. This is also the month with the highest chance of hurricanes. Downpours are usually short-lived, however, which means you can still enjoy plenty of sunny hours during the day if you travel in the rainy season – with the added benefit that you will have fewer people to share them with.
The best time to visit Cancun
For most people, the best time to visit Cancun will be between December and April. This is when the weather conditions are at their best, with clear blue skies, low rainfall and comfortably warm temperatures. The coolest months are December and January, with highs of around 28?. This is the ideal time to stroll around the imposing Mayan ruins at San Miguelito or further afield in the awe-inspiring ancient city of Chichen Itza.
One factor to consider is that the dry season is also the peak season, which means tourist numbers will be higher. This is particularly true around the Christmas and New Year period, as well as the Spring Break season, which sees throngs of college students coming from the US head to party in Cancun. If you are hoping for a lively atmosphere and late-night revelry, this can be an exciting time to travel. On the other hand, if you want a more tranquil holiday, then February, May and November are all excellent choices.
The best time to visit for diving and surfing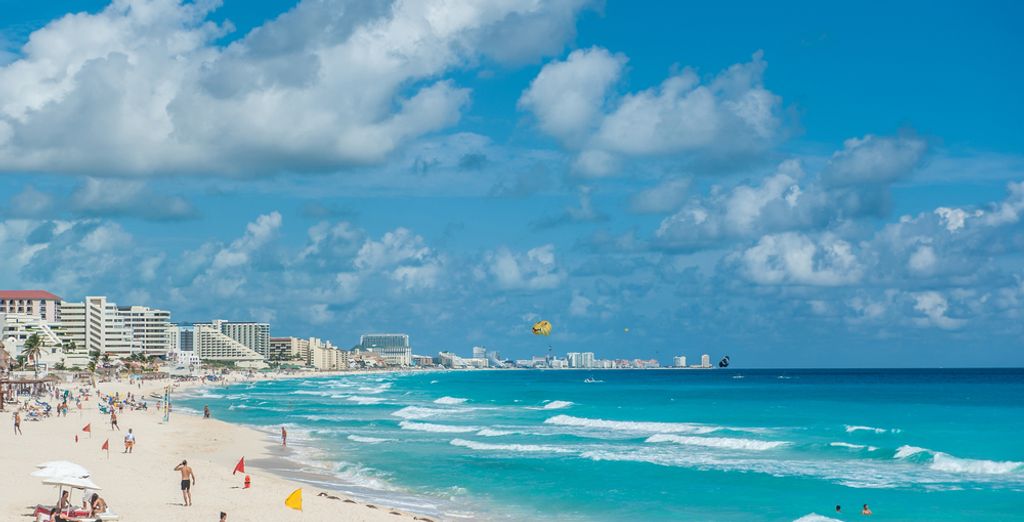 Beaches may be Cancun's main draw – but there is just as much going on beneath the waves as there is onshore. Plus, consistently warm sea temperatures mean you can dive all year round. One unmissable spot is the unique underwater gallery Museo Subacuático de Arte, which features over 400 sculptures installed on the seabed. If surfing is more your style, visit between June and November to catch the best swells.
The best time to visit for wildlife spotting
There are also some lovely locations for wildlife spotting around Cancun. Especially impressive is the uninhabited Isla Contoy National Park, which is home to over 170 species of bird, including red flamingos, white herons and olive cormorants. Only 200 visitors are allowed on this island a day, ensuring the sanctuary remains blissfully pristine. Make the trip during the summer for a good chance of spotting sea turtles and whale sharks too. Those who wish to swim with the huge but gentle marine animals should book a boat tour in July or August – just be sure to choose an ethical company that follows the World Wildlife Fund's guidelines (for example, not feeding or touching the whales) for this unforgettable experience.
Lively parties and vibrant fiestas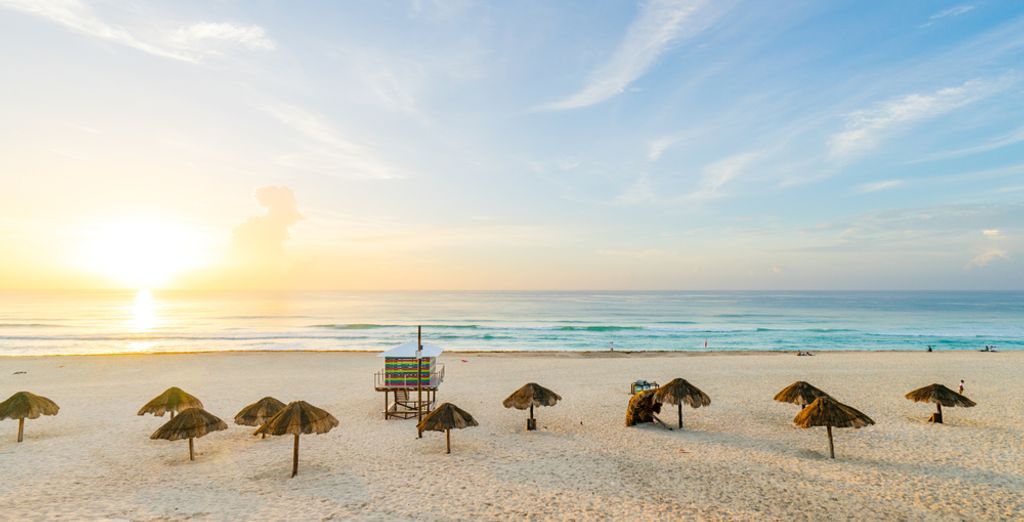 Cancun's calendar is packed with all sorts of celebrations and festivals throughout the year. Attending one can be a wonderful way to immerse yourself in the local culture or indulge your more hedonistic side, depending on the type of fiesta you choose. For example, the city boasts the world's largest Spring Break event in the form of the 30-day-long Inception music festival. Meanwhile, the Riviera Maya Jazz Festival in November hosts spectacular performers from all around the world. There is also a multitude of more traditional festivals taking place, many of which centre around religious holidays. One of the most colourful of these is Carnival in February. This marks the beginning of Lent, with vibrant parades featuring live music and dancers clad in kaleidoscopic costumes.
What to pack for your trip to Cancun
Whether you intend to spend your time soaking up the glorious sunshine, hiking around Maya ruins, partying the night away or diving beneath the waves, bringing the right clothing and accessories with you to Cancun is key. Here are our top packing tips for your getaway:
Swimming gear for sunbathing, dips in the sea, and/or water sports – pack more than one swimsuit and ensure you always have a dry one ready
Sun hat, sunglasses, and high SPF sun cream to protect you from UV rays
Flip-flops for beach days, plus walking shoes for sightseeing and exploration
Insect repellent
Rain jacket and/or a small umbrella, if travelling during the rainy season
Lightweight and breathable clothing to keep you cool in the hot weather
Thin layers for early mornings or late evenings if travelling during cooler months
Smart casual clothes for nights out