Flight + Hotels Deals to Las Vegas



Table of contents
Flight+Hotel deals to Las Vegas
Why choose a Flight+Hotel offer for your stay in Las Vegas?
A flight and hotel offer to Las Vegas not only makes your travel simple but also fun. It enables you to select an offer that will meet all your needs. At Voyage Privé, we create unique packages to ensure that you enjoy the best deals that save you time and money. Besides, we ensure that you will have a hassle-free experience and make the best memories on your next holiday to Las Vegas.
Top 5 hotels in Las Vegas by Voyage Privé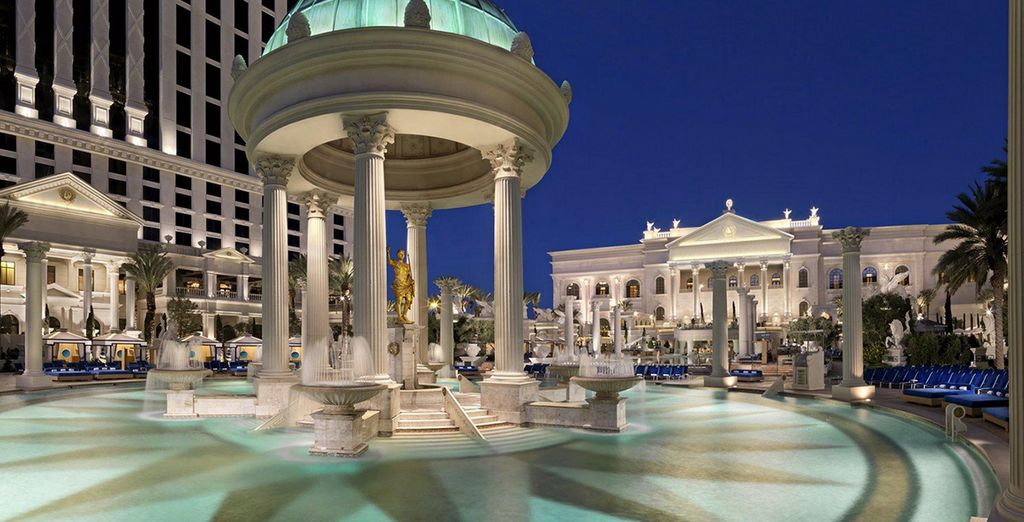 This is the perfect destination for anyone who wants to be pampered and go partying. The hotel provides you with a long list of things to enjoy. Besides, it helps make your Las Vegas trip spectacular by providing you with access to the finest restaurants within the Las Vegas strip.
Desert Paradise provides you with a home away from home. You can pick a suite with spacious bedrooms and a fully-fledged kitchen at excellent value. Besides, the resort provides you with the right amenities to make your Las Vegas stay comfortable, fun and unforgettable.
Treasure Island is another great hotel choice that offers a delightful base for your Las Vegas adventures. The hotel has plenty of suite types, thus ensuring that you pick the ideal room depending on your travel needs. Besides, you can try your luck at the casino for some true Las Vegas fun while on the Strip.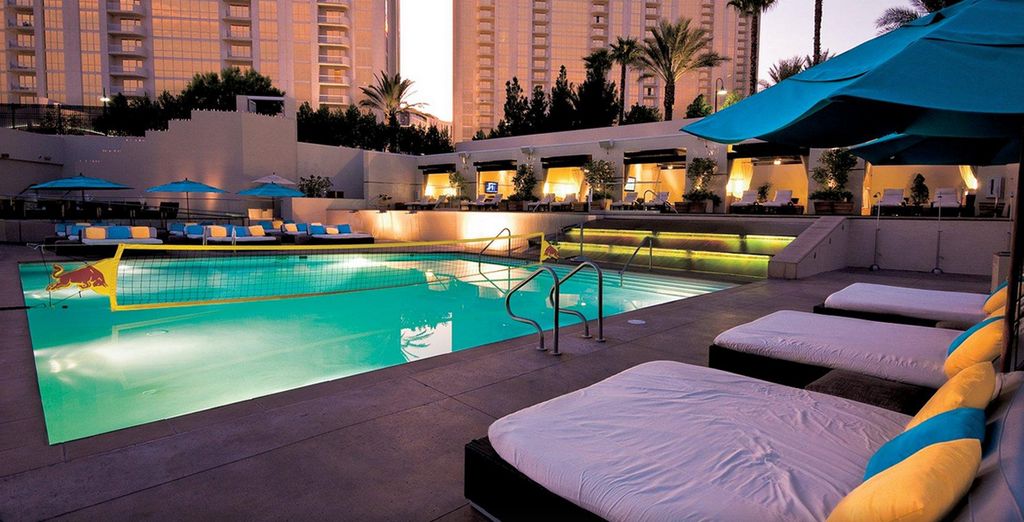 The MGM Grand is minutes away from the Las Vegas strip. It's a monumental hotel that offers everything you would expect. This hotel is also the third-largest hotel in the world, and here, you get to enjoy entertainment from the different show-stopping extravaganzas.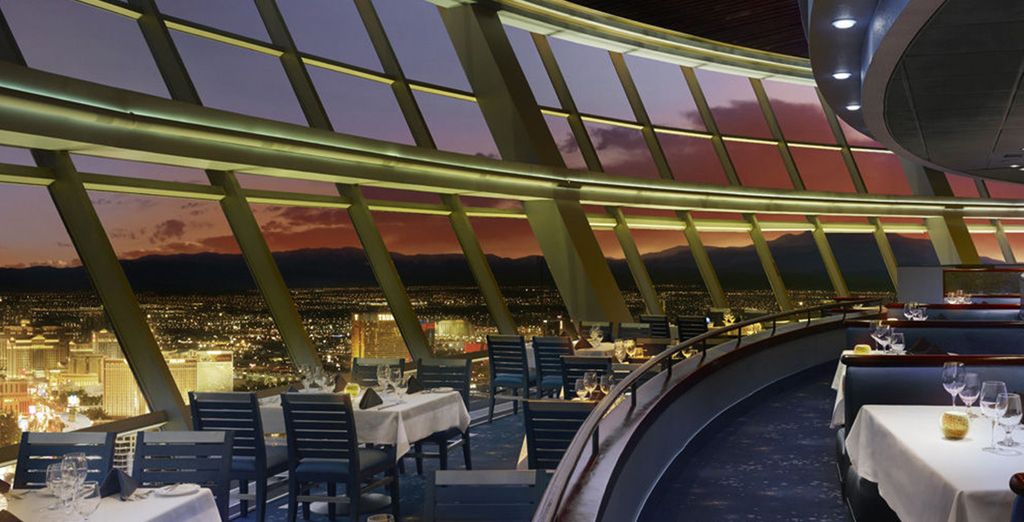 The Stratosphere Hotel towers above the Strip, and it's known for its incredible 350-metre tower. In the tower, you get to enjoy thrilling rides, observation decks and a revolving restaurant. It's also one of the most recognizable hotels in the Strip, with spacious and comfortable rooms that offer spectacular views.
High-quality services at the best price for your flight and hotel deals in Las Vegas
When looking for the best flight and hotel offers, rest assured that at Voyage Privé, we collaborate with the best hotels around the Strip. This means that we can provide you with high-quality facilities and services for your luxury holiday. Our flight and hotel offers enable you to enjoy state-of-the-art gyms, rooftop pools, great restaurants, incredible views, room upgrades and massage and spa treatments.
Flight+Hotel Las Vegas: which airline for your flight?
Since Las Vegas is one of the most popular tourist destinations, most airlines offer regular flights there. At Voyage Privé, we arrange flights from the UK to Las Vegas from airlines such as British Airways, Finnair, Air France and others.
Which airports for your flight to Las Vegas?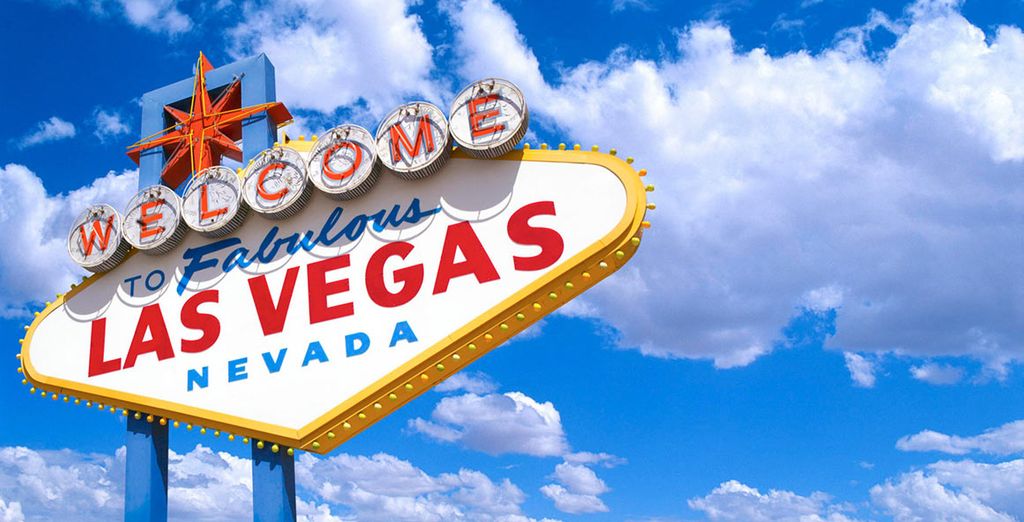 You can travel from most main UK airports to Las Vegas and the flight time takes around 10-11 hours. Direct flights depart from Glasgow, Heathrow, Gatwick and Manchester Airports. When travelling to Las Vegas, you will most likely arrive at McCarran International Airport (now known as Harry Reid International Airport). It's about 5 miles from downtown Las Vegas. From the airport, you can take an inexpensive shuttle to your hotel or book a taxi.
Voyage Privé's hot deal for a flight and hotel stay in Las Vegas at an exclusive price
Las Vegas is the ideal destination for anyone who wants to have fun. The Strip is filled with plenty of hotels and casinos to try out. This ultimate playground is colourful and vibrant. Therefore, it's an ideal destination for anyone who wants to explore the main attractions, nightlife, cuisine and entertainment.
5 places to visit while in Las Vegas
1. The Strip
The Strip is a 2.5-mile-long section of the Las Vegas Boulevard. The Strip connects the city and it's lined with plenty of entertainment places, most of which feature a defining theme. The Strip is home to fine dining options, casinos, luxury hotels, shops and performance venues.
2. Fremont Street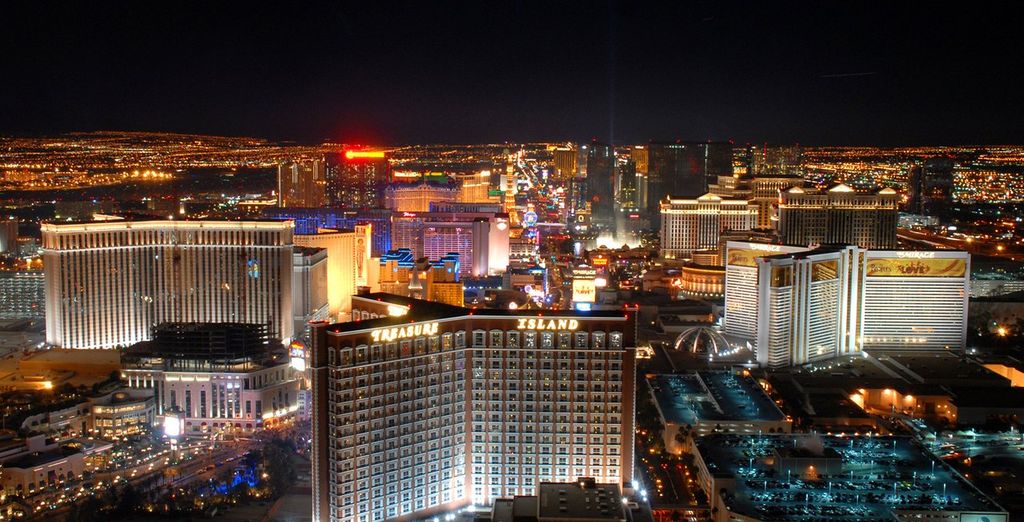 Fremont Street features a pedestrian-only area where you will find plenty of unique sites. Here, you get to enjoy a five-block section with a canopy of LED lights in different designs and colours. Visit the street and enjoy the famous Fremont Street Experience!
3. The Mob Museum
The Mob Museum is a unique museum of Las Vegas. It's houses part of the unique history of Las Vegas and was one of the locations for the Kefauver Committee hearings. The museum helps tell the history of the mob in America using interactive and engaging video clips and displays.
4. Bellagio Resort
The Bellagio is a high-end hotel with plenty of attractions. The most popular attractions include the spa and salon, restaurants, the conservatory and the fine art gallery. However, the most impressive feature of the hotel is the fountain show that's in front of the Bellagio.
5. Mirage Hotel
This hotel is one of the easiest establishments to identify when walking along the Strip because of the volcano at the front that erupts at regular intervals. At night, you get to view some explosions from the volcano and glowing red fire.