Greek Islands Holidays 2022
The Greek Islands and their spectacular ruins provide timeless vistas that conjure mythical images of Ancient Greece. There are more than 2,000 islands to navigate and explore, from the tiniest islet to large centres like Crete. Each glittering Greek isle offers its own unique character. Pick from stunning sandy beaches and richly historic ruins. Whichever island you choose, you're guaranteed to witness landscapes that have inspired Greek culture for centuries.
The top 5 things to do in the Greek Islands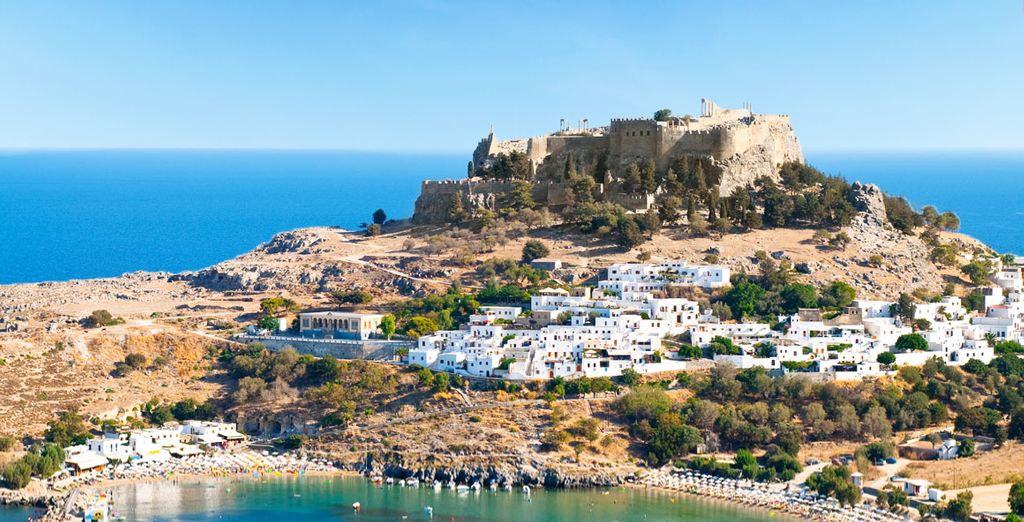 The city of Rhodes, on its titular island, offers an incredible blend of old and new. The Old Town, in particular, provides centuries-old streets, castles and walls to explore. For the best introductory experience, head to Liberty Gate near Mandraki Harbour.
2. Knossos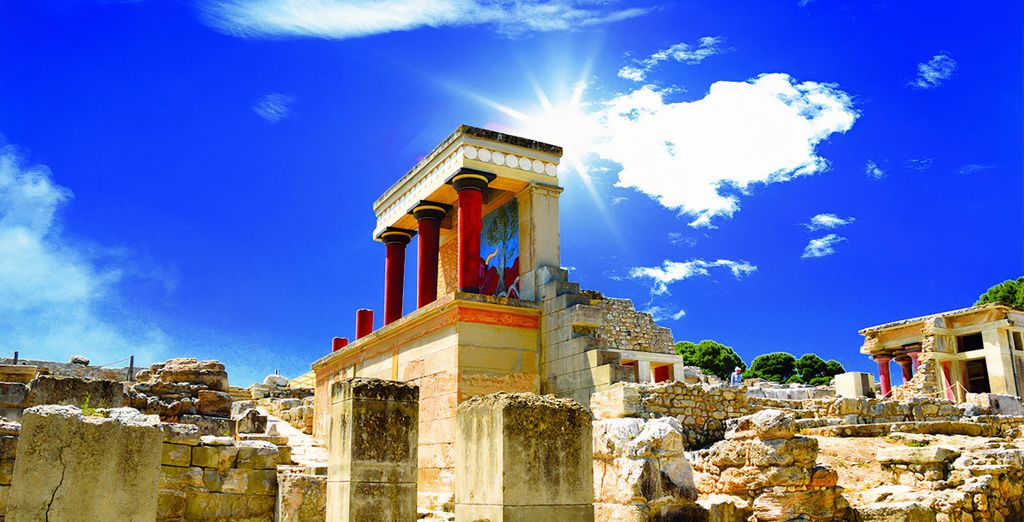 Crete boasts a wonderful range of historical wonders, but none are more captivating than the Palace of Knossos. This evocative set of ruins and recreated buildings offers an incredible window into the world of the Minoans. Tours are thorough and enriching, but there's something captivating about exploring this majestic site alone.
3. Nisyros Caldera
Head to volcanic Nisyros and its impressive Caldera. Nothing quite prepares visitors for this incredible alien-like landscape. The hissing sounds of sulphur bubbles provide the perfect backdrop to this incredible lunar experience.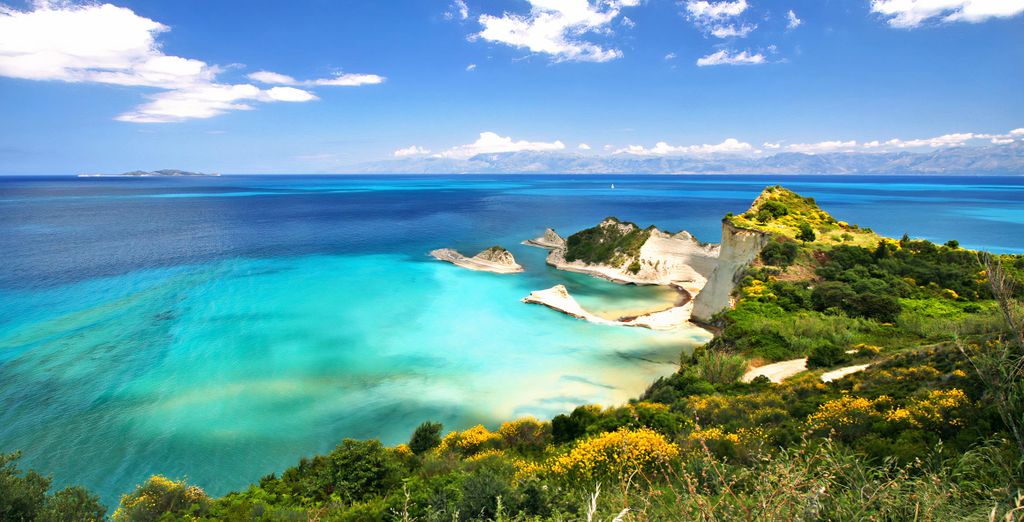 Corfu is the Greece of the imagination. This mythical island of the Phaeacians is the spot where Odysseus was comforted before heading off home. Today, the island is just as paradisiacal, with picture-postcard beaches and rugged, wild interiors.
5. Ancient Thira
This majestic 9th-century ruin is the highlight of sunny Santorini. Mosaics and old markets are all visible among ruins that date back many astonishing millennia. Views are even more impressive at sunrise or sunset, providing incredible panoramas of the surrounding Aegean Sea.
Our best hotels in the Greek Islands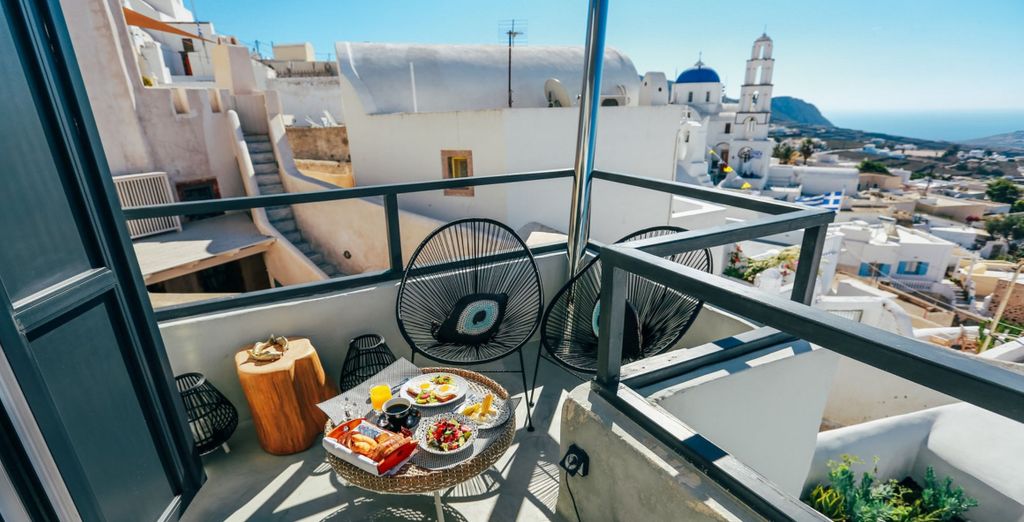 This beloved coastal hotel is nestled within the picturesque village of Pyrgos Kallistis. Enjoy traditional rooms carved into Santorini stone, featuring relaxing rooftop vistas overlooking the landscape. These places are just moments from Santorini's picture-postcard coast.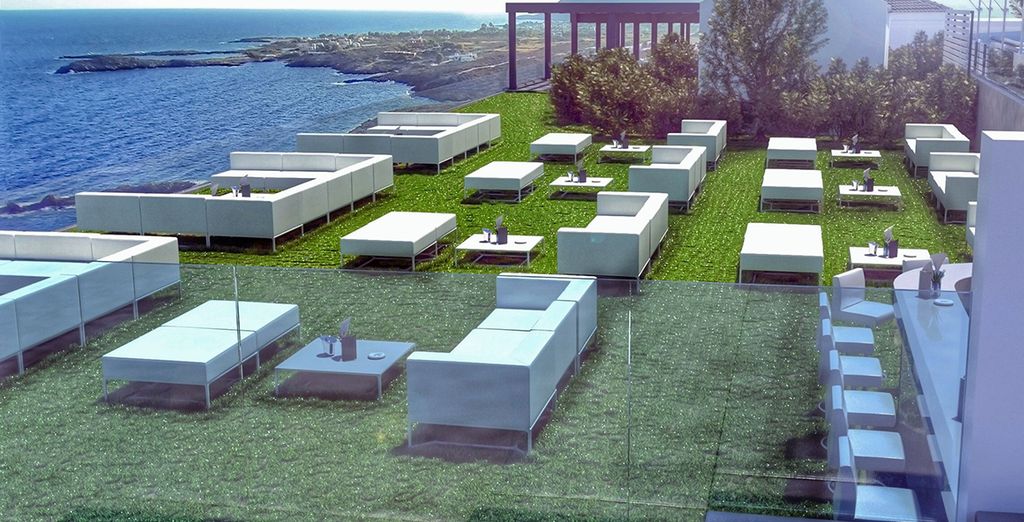 Escape to stunning Crete with this luxurious waterfront resort. Ocean-view terraces provide perfect spots to unwind in the evening with a gratifying cocktail or gourmet meal. The hotel boasts a sublime infinity pool and features minimalist rooms inspired by the Grecian surroundings.
This stunning Mykonos-based resort features a mesmerising panoramic swimming pool overlooked by dazzling shorelines. Built from traditional stone, the rooms are equipped with stylish and bespoke furniture. Perfect for romantic holidays, guests can enjoy spectacular outdoor dining on scenic sun-kissed terraces.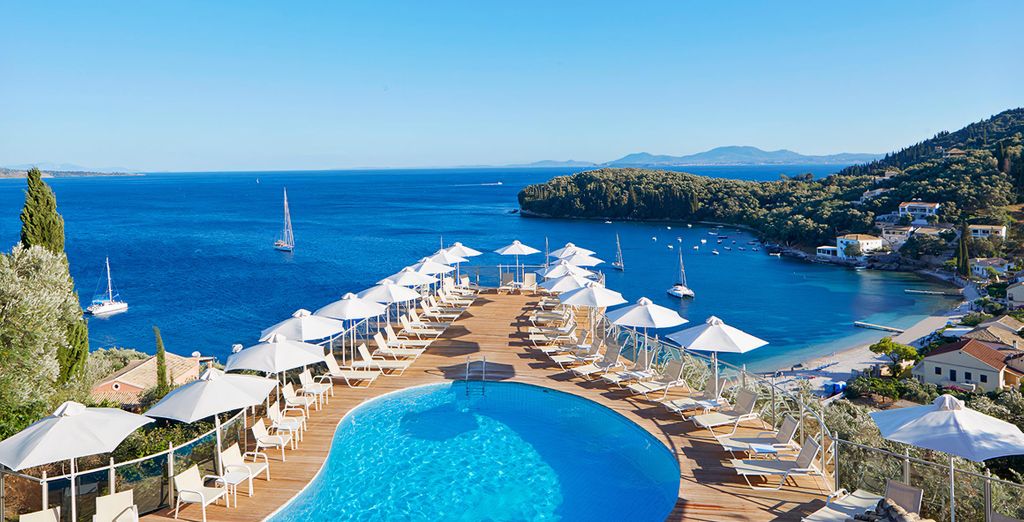 This exciting Corfu escape boasts one of the island's most scenic pool complexes. A long terrace juts out over the bay providing sweeping vistas and spectacular sunsets. Traditionally decorated with bright and light furnishings, guests can enjoy cosy terraced dining and revitalising beach-view yoga sessions.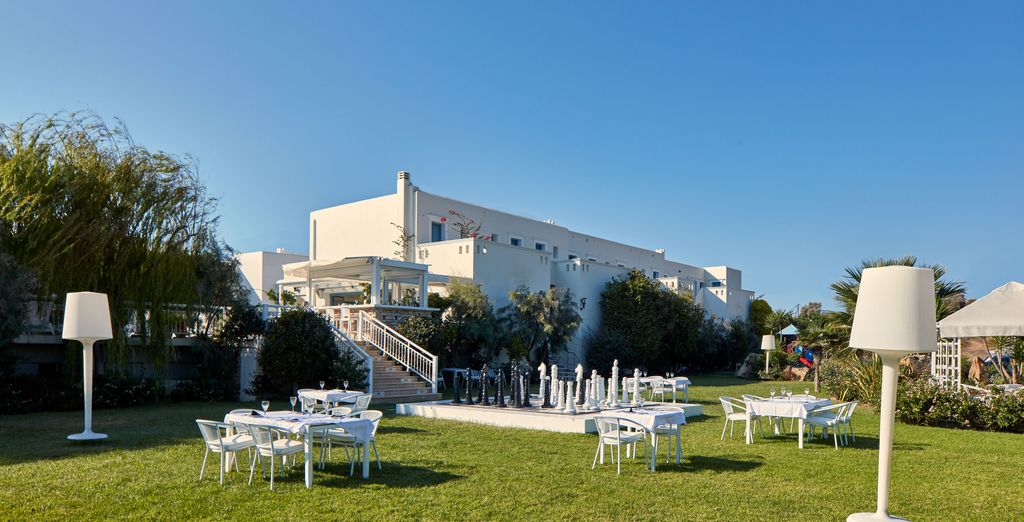 This sumptuous boutique hotel is nestled in the renowned beach destination of Agios Prokopios. Boasting a highly prized restaurant and decadent spa treatments, it's the perfect couples' retreat. You can choose from dazzling sea-view rooms and wake to the sounds and sights of the ocean.
When is the best time to go on holiday in the Greek Islands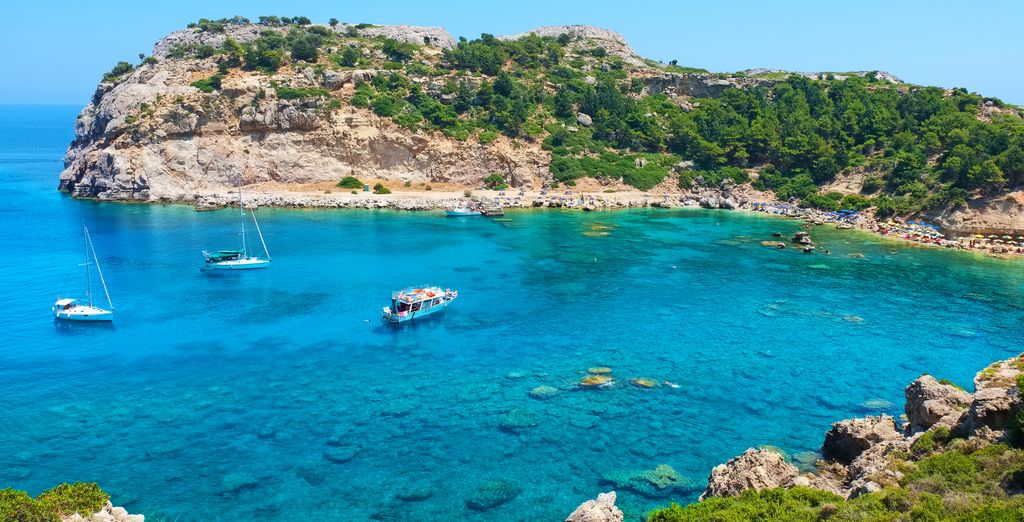 The Greek Islands are a delightful destination year-round, though services reduce heavily during low tourist seasons. The peak season runs through the height of summer (June to August). Hotel prices rise along with the temperatures, and beaches buzz with energy. The spring and autumn seasons bring quieter shores. Attractions also remain open. Just look out for reduced transport schedules. Winter is the off-season. While the islands take on a quiet splendour, hotels and restaurants close their shutters. This makes self-catered stays more favourable as big resorts wind down.
Going on holiday in the Greek Islands
Getting to the Greek Islands is a breeze. Some 25 islands have their own airports connecting both to the mainland and European destinations. The biggest options are in Crete and Rhodes, which provide direct flights to major capitals. If you're getting a transfer by air from Athens, no connecting flight takes more than 1 hour. Another essential way to arrive on the Greek Islands is by ferry. All islands provide ports serviced by both slow and fast ferries. Unlike flights, ferries don't tend to book up, making last-minute travel possible. Boats are often the only way to connect to smaller Greek Islands. Privately rented catamarans are another fine option for a more personal experience. Once you've arrived at the Greek Islands, you'll find cars useful, depending on the island size. Bicycles, too, are a fine and green way to explore these luscious islands.
Enjoy your holiday in the Greek Islands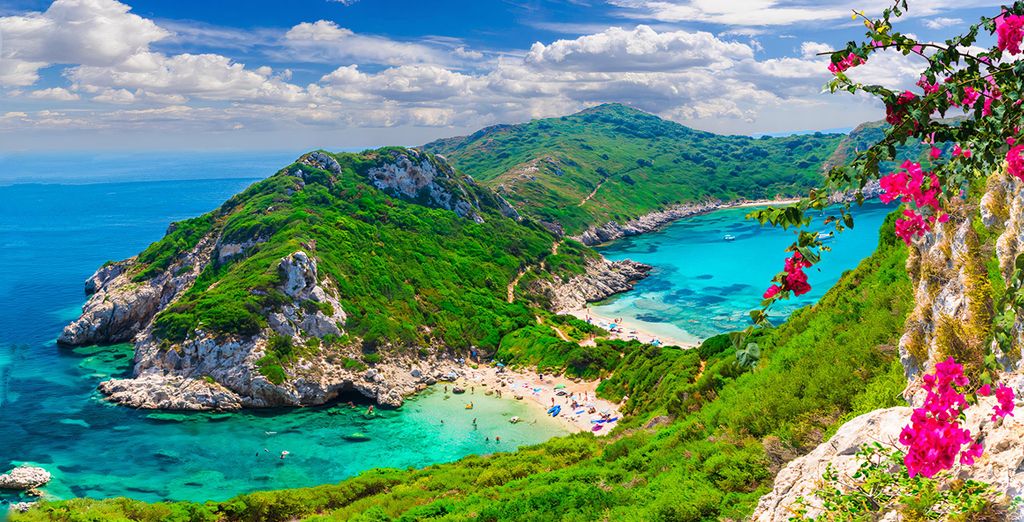 The Greek Islands are so versatile that they suit all traveller types. Looking for a romantic couples' getaway? Discover sun-kissed seafront hotels with star-lit dining. Looking to trace ancient history? Uncover millennia-old amphitheatres, temples and statues. Crete and the Dodecanese are the most recommended for families, thanks to their spectacular beaches and glorious ruins. Many hotels provide fun kids' club activities, while others cater only to adults. Groups of friends and partygoers alike may prefer the ever-popular Corfu and Mykonos. Both are renowned for their pulsating nightlife and DJ performances. Whether you're seeking solitude along tranquil coasts or majestic mountain climbing, you'll find it on the Greek Islands.
The Voyage Privé travel expert's opinion on the Greek Islands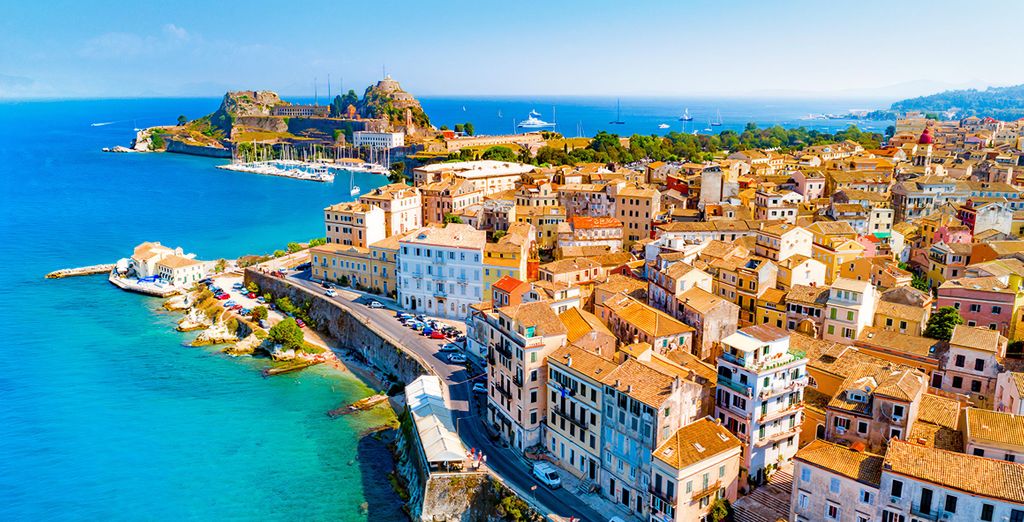 The Greek Islands are a paradise of white-washed villages, dusty ancient ruins and stunning culinary options. While the beaches astonish with their picture-postcard clarity, avoid the temptation to stay put. The Greek Islands offer some of the most breathtaking hiking trails and scenic spots in the world. After a few hours on these stunning isles, you'll understand just how myths were born and flourished here.
With so many locations to choose from, cater your Greek island holiday to fit your needs. We have a multitude of deals on offer, so you'll be well and truly spoilt for choice.
Sandy beaches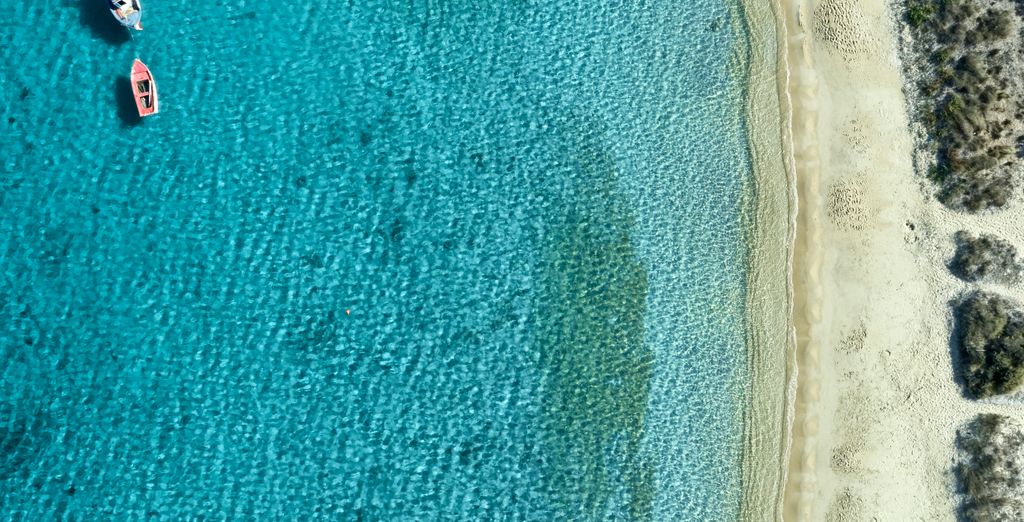 A Greek island holiday is the embodiment of luxury: idyllic white sand beaches lapped by the turquoise waves that have become synonymous with the idea of Greece, all boasting dramatic coastlines and a treasure trove of activities to suit your dream holiday.
With almost a thousand miles of coastline, the Greek islands offer a wide choice of activities, whether it be scuba diving among the marine life to delve into ancient shipwrecks beneath the waves of the Cyclades, sailing to explore the multitude of hidden coves on the coast of Kos, or water-skiing over the brilliant blue water surrounding Crete.
Of course, if relaxing is more your style, you need look no further than a Greek island holiday. With a multitude of resorts and spas dotted around the islands you'll be in good hands, or simply find a secluded sandy spot and lie back listening to the soft ebb and flow of the ocean waves.
Ancient civilisations and myths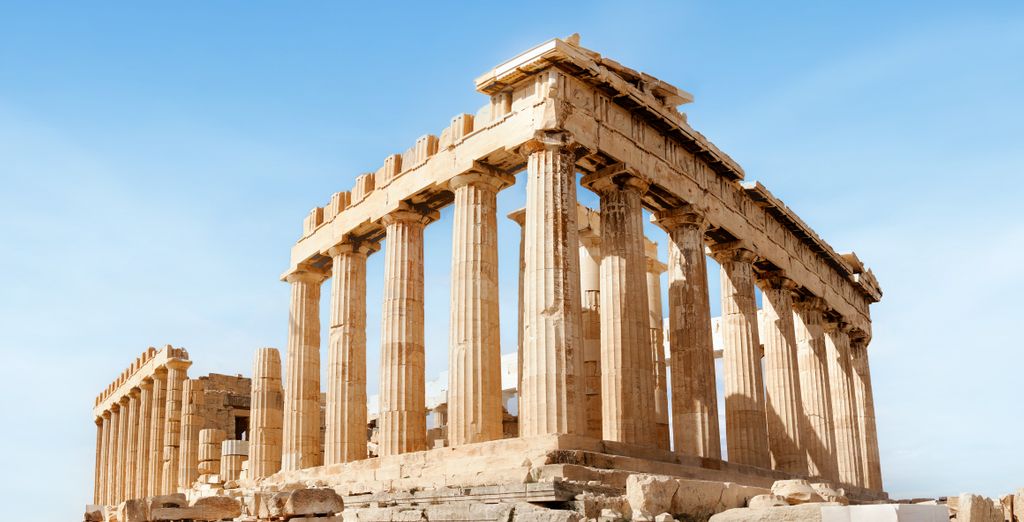 Dive into the ruins of the ancient Greek civilisations, exploring the myths of old that have cemented themselves into the rich history of the country. Take a step into history on the island of Crete, the birthplace of the Minoan civilisation. Explore the ruins of the Minoan Palace of Knossos, connected most famously to the legends of the Minotaur and Icarus.
Alternatively, lose yourself on the island of Delos, the supposed birthplace of Apollo, or Rhodes where the Temple of Athena sits above the idyllic village of Lindos. Whichever island you choose to explore, you will not find yourself far from significant locations of days gone by.
A treat for the tastebuds
Indulge in the rich Mediterranean diet of the islands, exploring the tastes owing to the fertile volcanic soils and sunny climate. Uncork the best wine Greece has to offer while visiting one of the many vineyards, or sate your appetite with the local island cuisines, complete with traditional Grecian cooking. A plethora of bistros and restaurants boast the very best food experiences, with many locations offering fantastic deals on luxury cooking courses, as well as tours across the olive groves.
Sign up today and take a look at our hand-picked offers on a selection of luxury Greek island holidays, tailor-made to suit any traveller.