The Best Resort in Corfu



Table of contents
Are you looking for a great hotel in Corfu? At Voyage Privé, we offer the best luxury hotels for your holiday in Greece, with hand-picked options that are suitable for various types of travellers.
Our best hotels in Corfu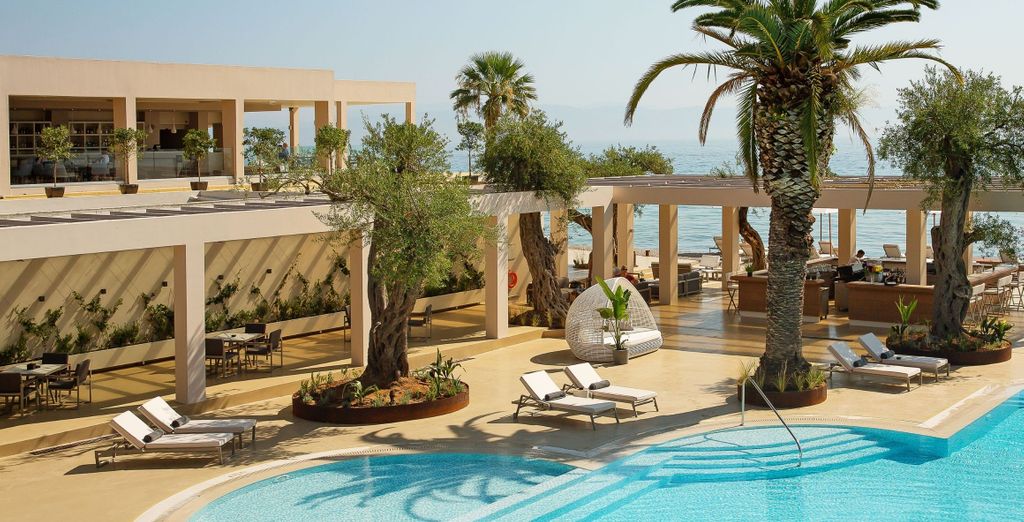 The Domes Miramare is a five-star hotel with serene waterfront scenery, a century-old olive tree garden and a private beach. This adults-only hotel has a sophisticated design and provides you with a perfect getaway featuring a large main swimming pool and three room types.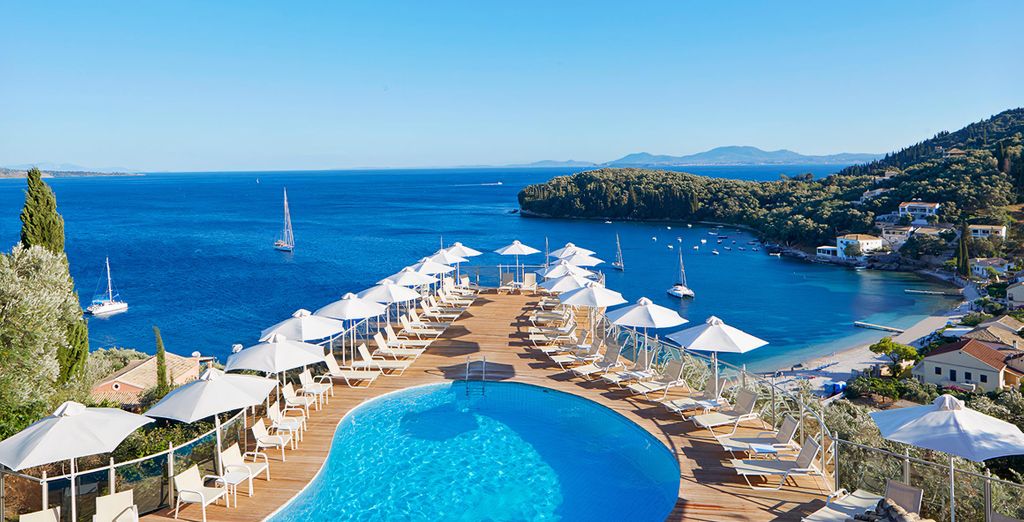 San Antonio Corfu Resort provides you with a blissful and relaxing seafront space. Here, you can indulge in fine dining options while taking in the panoramic bay views. Treat yourself to an array of water-based adventures and if this isn't your cup of tea, just relax and enjoy the beautiful sea view.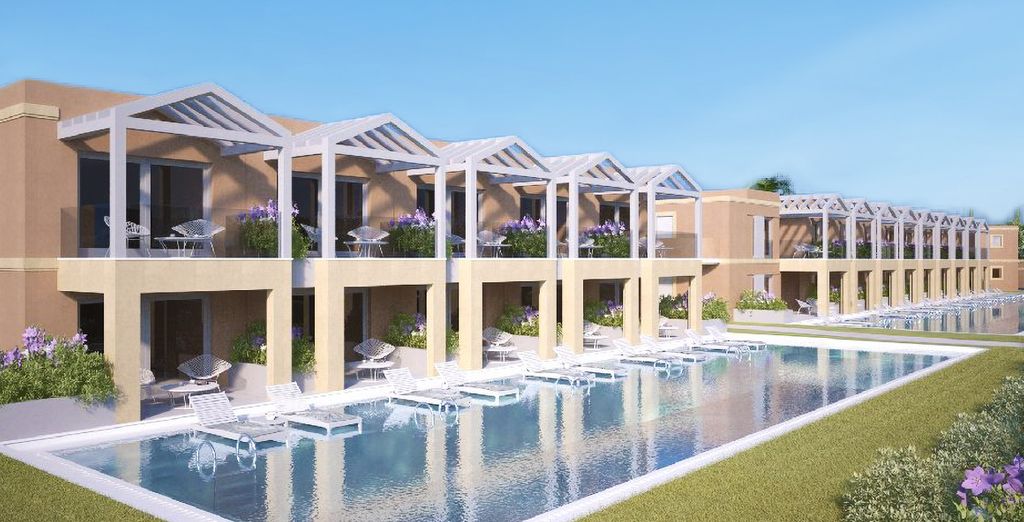 Kairaba Sandy Villas is a five-star resort that provides you with an escape to the sun-kissed island of Corfu. Here, you can enjoy a charming stay in these adults-only villas. The villas boast plush interiors, majestic surroundings, delicious dining opportunities and a palatial pool.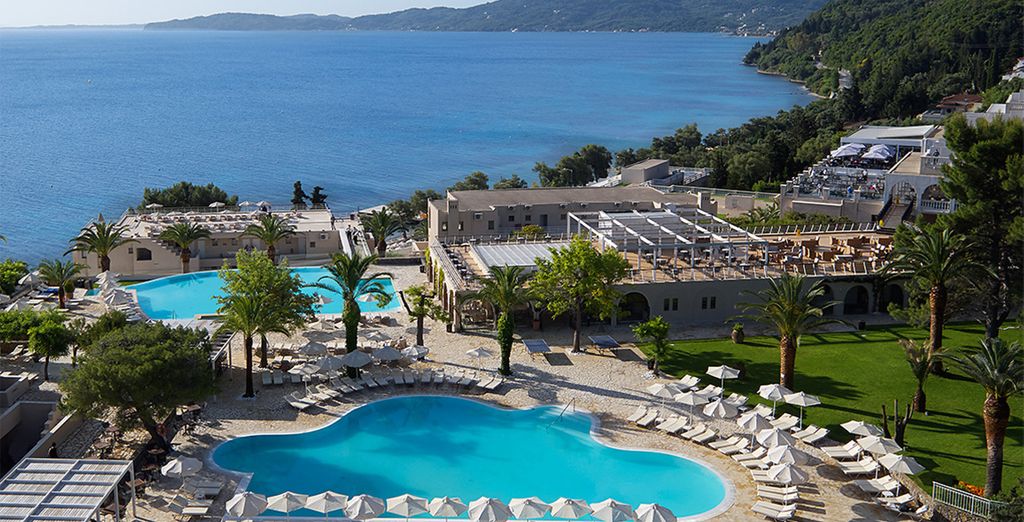 The Marbella Corfu Hotel is a five-star hotel with a private beach. It's the ideal location for a holiday, especially if you love to dine on sumptuous traditional flavours and delicious international cuisine. The hotel also features an indulgent full-board option for all members.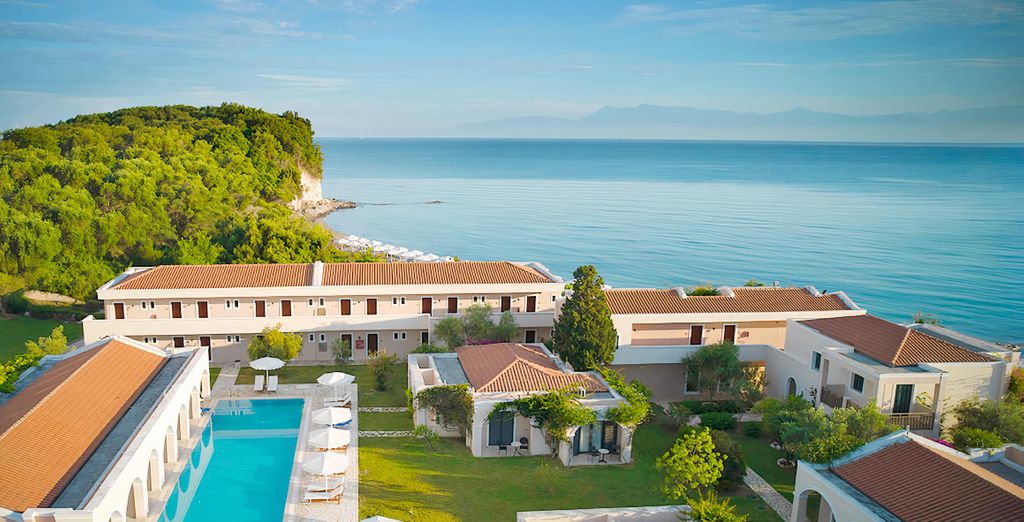 Roda Beach Resort is directly on the beachfront and aims at providing you with a luxurious five-star stay. Here, you get to enjoy 25 acres of blissful grounds, an action-packed kids' club, six outdoor pools and delicious dining opportunities. The hotel offers excellent services and amenities for guests.
Services you will find at our hotels in Corfu
Below is a list of services you will find in all of our Corfu hotels:
Spa treatments
Swimming pools
Fine dining options
Luxury bathrooms
Relaxing bars
Going on holiday in Corfu
Travelling to Corfu can be a fun experience no matter the time of year, especially with Voyage Privé's exclusive offers. All you need to do is select the best hotel for you and plan your holiday. However, you might notice more people around summer, especially in family-friendly hotels. If this isn't your preference, you can try visiting Corfu during autumn or spring when it is quieter. At these times, you will have more space to yourself, and you can save on travel and accommodation costs by booking off-peak. When visiting with your partner, you should try out the adults-only hotels for the best experience. Whenever you choose to visit Corfu, you will enjoy scenic sea views, pools, spas and delicious meals.
Hotel offers at Corfu convenient for all kinds of travel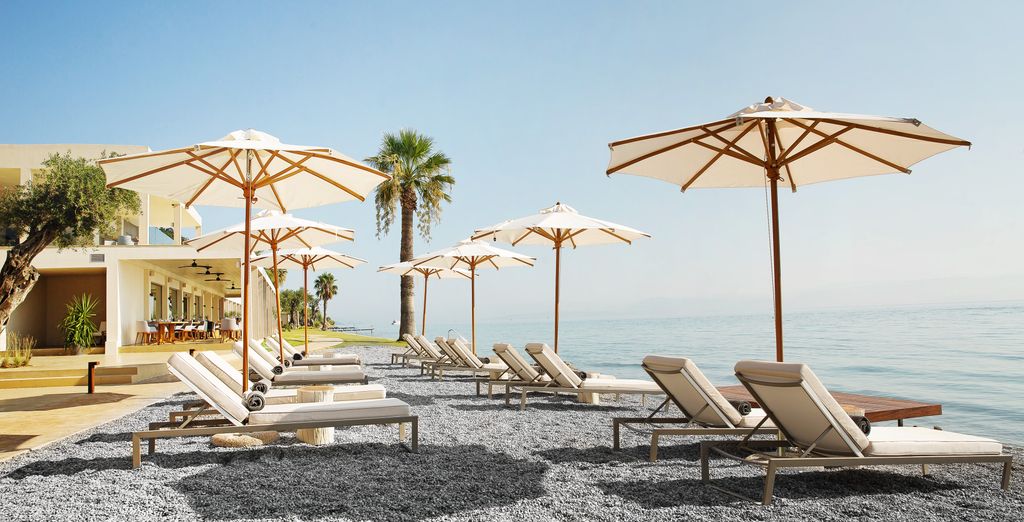 Corfu is a destination that provides families, couples, solo travellers or groups of friends with an ideal retreat. Here, you will find something for everyone to love, whether it's the delicious food, beach, charming surroundings or watersports. Luxury hotel amenities in Corfu will help keep all guests entertained during the entire holiday. Visiting Corfu with kids is easy because the flight is just over 3 hours from the UK and there are family-friendly activities to keep everyone happy.
The range of hotels we offer at Corfu
At Voyage Privé, we offer an array of hotels to suit every kind of traveller. You will find both adults-only and family-friendly hotels. All you need to do is decide on which type of accommodation you prefer. Most hotels that we offer in Corfu are luxurious boutique, beach and spa hotels.
Corfu: what should we bring for a hotel stay?
When travelling to Corfu, ensure that you carry your essentials, along with charging cables, swimsuits, beachwear, evening clothes, sunglasses, suntan lotion and sunhats.
Your best hotel at Corfu: how to get there and make your booking
How to get to Corfu
You can get to Corfu either by ferry from mainland Greece or by plane. The easiest way to access Corfu is by air. Most of the main airports in the UK offer daily direct flights to Corfu with a flight time of just over 3 hours. Flights from the UK to Corfu arrive at Corfu International Airport. The ferries from the mainland depart daily and the ride takes about 1 hour.
How to book your hotel in Corfu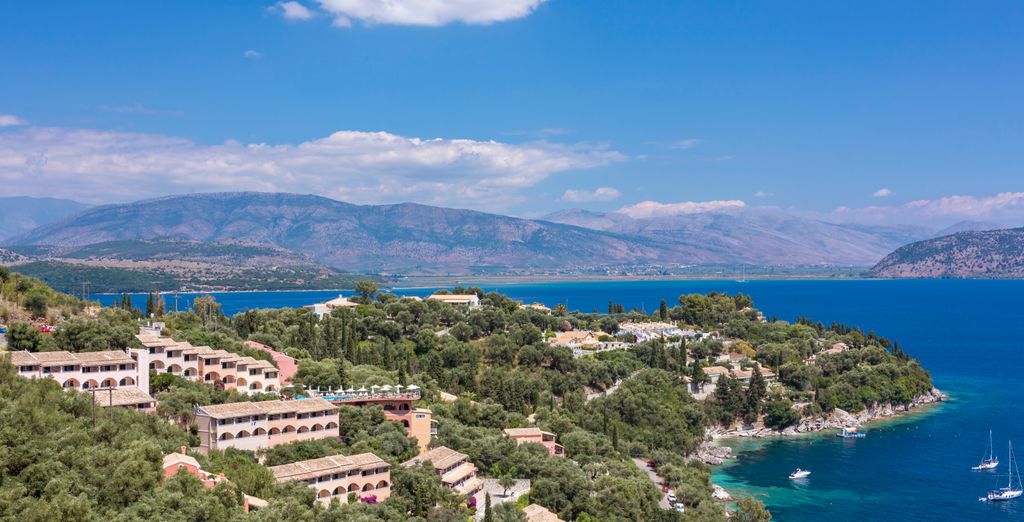 For booking, register online at Voyage Privé to take advantage of exclusive offers dedicated to members-only on luxury hotels. Simply sign-up for free, and then log in to browse our hotels in Corfu. With a few clicks, you can book the hotel of your choice and enjoy savings of up to 70%.
The opinion of the Voyage Privé travel expert on Corfu
There are plenty of things to enjoy in Corfu. One of these things is the charming old town. Corfu Town is a vibrant place to learn more than just history. View the impressive old foundations of the New Fort and the Old Citadel. On the other hand, you should visit Corfu for its beautiful beaches.
Corfu – a paradise island with splendid beaches
Corfu has it all, from rugged mountains and charming historical sites to serene sandy beaches. The beaches are reason enough to travel to this island. Nissaki Beach is among the most beautiful beaches in Corfu, with its sheltered sands, rocky backdrop and cosy tavernas nearby.