Booking Beijing



Table of contents
Peking is located to the north of the North China Plain. Now commonly known as Beijing, Peking is the capital of China and the second largest Chinese city after Shanghai. Peking is very much a modern city; however, it has many ancient historical buildings and monuments, including 7 UNESCO world heritage sites. The city is surrounded by beautiful mountainous areas and is filled with exquisite gardens and lakes, yet it is still a vast and buzzing city, with many cultural landmarks, entertainment options, tourist hotspots and places to eat and drink, meaning there really is something for everyone.
The Voyage Privé travel expert's opinion on why you should travel to Peking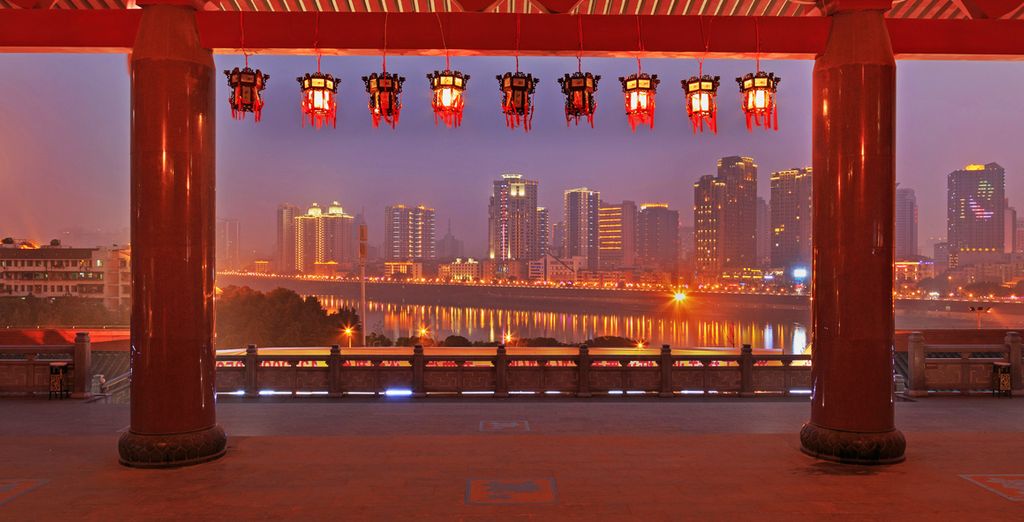 At Voyage Privé, we believe a visit to Peking offers a complete and comprehensive tourist experience of China. You'll encounter everything from its fascinating and ancient history dating back three thousand years, to the best in traditional Chinese cuisine and a variety of botanical delights all surrounded by beautiful mountains and countryside on the outskirts of the city.
Whether you are going as a solo traveller, in a couple, or with friends, Peking is the perfect destination to discover traditional Chinese culture, see a snapshot of Chinese history and tradition, taste classic Chinese cuisine and experience modern life in a buzzing and vibrant capital city.
There are many festivals and sporting events held in Peking throughout the year, so it may be worth looking at any seasonal festivals or international events that are held during your stay. There are several snow and ice festivals throughout the Winter months (January–February) as well as sporting festivals including an international long-distance running festival, and the World Snooker China Open, both held in April. Fans of gardening and botanicals may also be interested in the Yuyuantan Park Cherry Blossom festival, and the Tulip Cultural festival both held in the city in spring.
We have hand-picked a selection of things to do during your stay in Peking, suitable for a variety of interests.
Top 5 things to do in Peking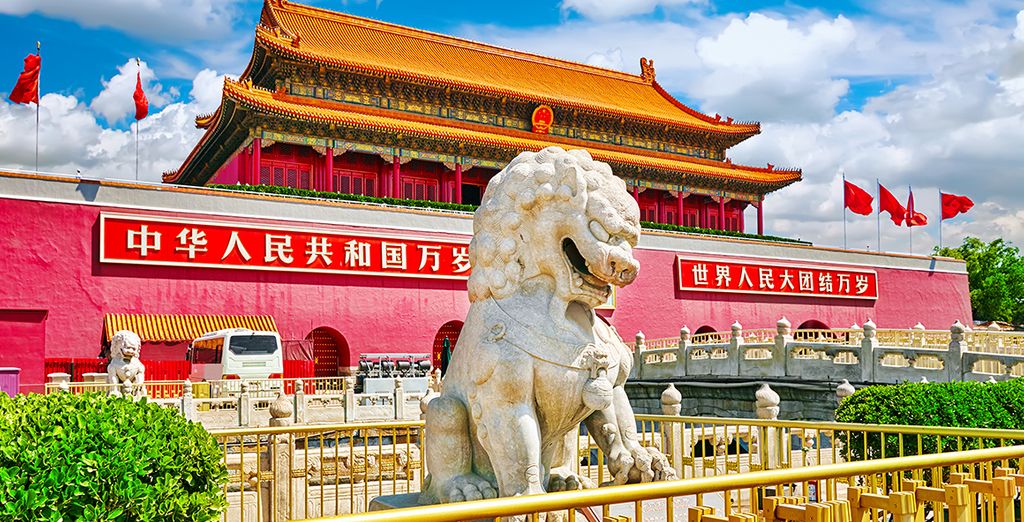 1. The Forbidden City
This palace complex in Peking now houses the Palace Museum. Formerly home to many Chinese emperors from the Ming Dynasty in the early 1400s to the Qing Dynasty in 1912, The Forbidden City was the political and ceremonial centre of the Chinese Government for five centuries and is a must-see attraction in Peking. This vast historical landmark is made up of over 980 buildings containing over 9,000 rooms. Its classical Chinese and East Asian architectural design makes it an exquisite cultural icon, not to be missed.
2. Bianyifang restaurant
Established in 1416, Bianyifang is the oldest restaurant in Peking and is still in operation today. It is the perfect place to visit if you want to try the authentic Peking Roast duck – a Bianyifang speciality dish, which has been served since the imperial era. Bianyifang serves its trademark flavoured duck in a variety of unusual flavours such as tea, lotus and date.
3. The Beijing Botanical Garden
The largest botanical garden in North China, the garden contains several glasshouses and many rare tropical trees, plants and beautiful flowers. It has several Buddhist temples, and a plant conservatory at the centre, which resembles a crystal palace. It is divided into themed sections including a traditional Chinese medical herb garden and an area dedicated to endangered plants.
4. Beijing Zoo
The largest zoo in China is housed in a natural Chinese garden setting with wooded areas, lotus ponds and areas of grassland. There are almost 15,000 animals at Beijing Zoo including its renowned panda house as well as many other animals such as gorillas and giraffes, and marine animals such as dolphins and sharks.
5. The Great Wall of China
Peking is a great destination if you want to visit the iconic Great Wall of China. Some parts of the wall which are more accessible to tourists are in close proximity to Peking. The Mutianyu section of the great wall has been beautifully restored and is accessible by cable car, making it easy to visit. The Badaling section of The Great Wall is particularly scenic and is also easily accessible and great for walking.
Voyage Privé offers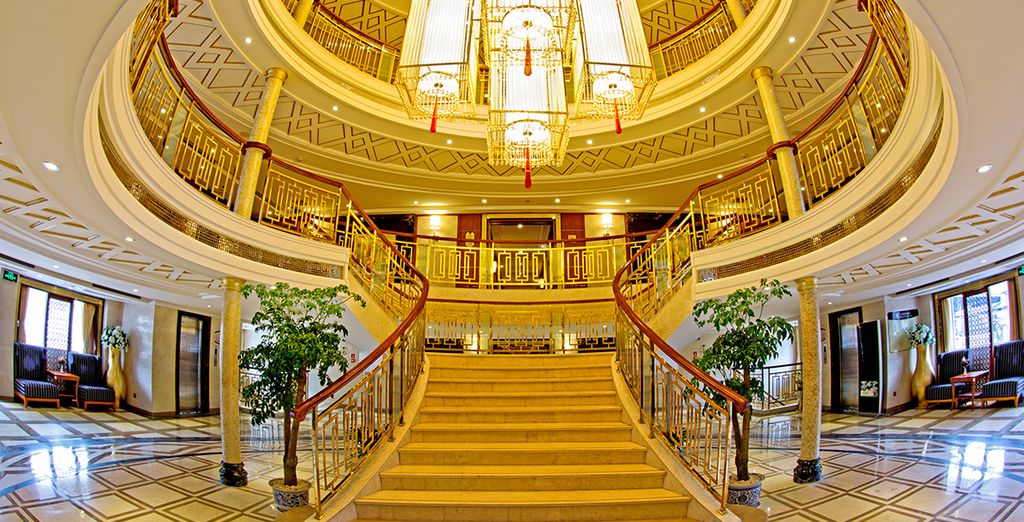 At Voyage Privé, we offer a unique tour across China and a cruise down the Yangtze River. The cruise will include stays at a range of 4 and 5-star hotels in between city visits. The cruise will begin in Peking, where guests will stay for 4 days. It will then visit several other beautiful Chinese cities, culminating in your choice of a stay in either Shanghai or Hong Kong.
Choose from:
1. An 11-night authentic China tour and cruise on the Yangtze River.
2. A 15-night authentic China tour, a cruise on the Yangtze River and an extension to Guilin, Yangshuo, and Hong Kong.
3. A 9-night China private tour to visit the most famous cities of China, Beijing, Xian, Shanghai.
Our offer includes hotel accommodation in double rooms, meals and beverages, visits to many tourist landmarks with entrance fees included, English speaking guides and free transfers.
Practical details about Peking for tourists
Weather in Peking
Temperatures in Peking are varied across the year. Spring is generally windy and mild, and summers are long and hot. The autumn months are generally considered the best months to visit the city, with mild and pleasant temperatures in September and October, so it is advisable to organise your visit in advance of the chilly winter months.
Budget
Despite being one of the more expensive cities in China, western tourists will be pleasantly surprised by the prices in Peking, with reasonably priced hotels, food and tickets for tourist attractions. Public transport in the city is also very easy to use and the costs of travelling by both taxi and public transport are very low, making it easy to get around this expansive city, though it is good for tourists to note that rush hour times are best avoided, as public transport can get very crowded.
Public transport
The subway in Peking is probably the fastest mode of public transport. The city bus also operates a comprehensive service, which includes night lines, downtown lines, suburban and inter-city lines. It is also easy for tourists to flag down taxis in the city. There are also public bicycles available for use from the many docking stations scattered around the city. These bikes can be rented at your leisure for very little cost. For those wanting a more adventurous means of travelling around Peking, traditional Chinese rickshaws are a fantastic and fun way of seeing the city. Often rickshaw pullers can give you a professional guided tour of an area of the city too, with many speaking several languages fluently.
Discover our bookings, booking to China and China holidays deals.