Top 5 Best hotels in Hong Kong



Table of contents
Visit our Best Hong Kong Hotels selection ✅ Filghts + Hotels offers up to 70% Off ✅ Enjoy Now ✔ and be ready to experience the stunning Hong Kong for holidays.
Our Top 5 best hotels to Hong Kong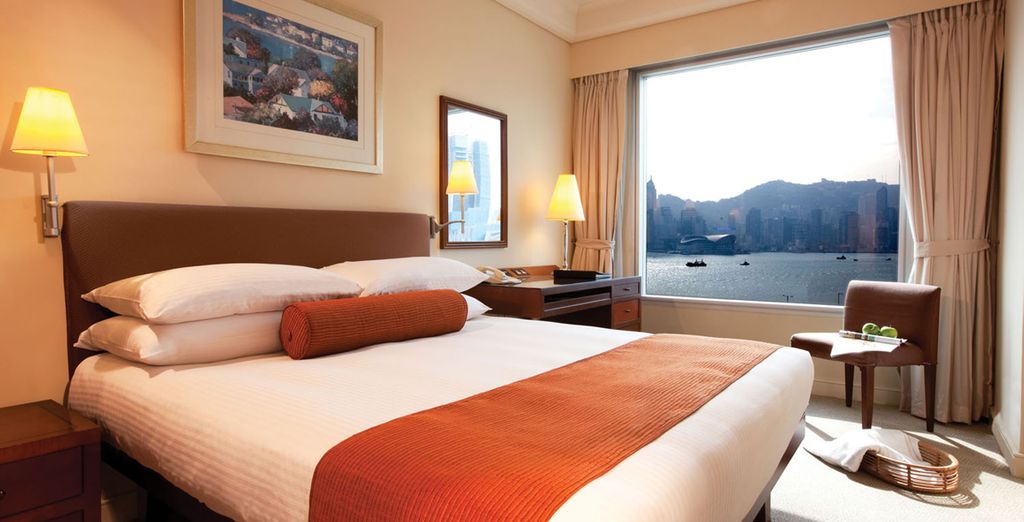 This 4-star hotel sits in Kowloon, which means that it offers spectacular views of Victoria Harbour and the famous Hong Kong skyline. Enjoy great shopping right on your doorstep, and take a trip out of the city to the rural New Territories with ease.
One of Hong Kong's most famous hotels, this 5-star palace offers luxury like no other. Right in the heart of downtown Hong Kong Island, this award-winning hotel features 3 Michelin-starred restaurants and a 5-star spa.
For a taste of something uniquely Hong Kong, this 5-star hotel offers a mixture of Eastern and Western design, reflecting the former colony's history. In the Central district on Hong Kong Island, the Pottinger has a great cocktail bar with wonderful views.
Minutes away from Victoria Harbour, this hotel will leave you feeling like you're right in the heart of this bustling city. Relax in the heated outdoor swimming pool, or just enjoy the great location, with all the amenities of Hong Kong at your feet.
The oldest hotel in Hong Kong boasts 5 stars and dates back to the stylish 1920s. Famous for its culinary delights, including a traditional Afternoon Tea, it offers an old world charm in the middle of this ultra-modern city.
What services will you find in our hotels to Hong Kong?
This is a city that knows luxury, so you can expect to find every modern amenity if you're staying in a top Hong Kong hotel.
Many boast swimming pools, which are often outdoors. Given the sub-tropical climate, you'll be able to enjoy a stress-free dip most of the year, and heated water ensures that you won't have any problems. Jacuzzis are often found alongside the pools, and most luxury Hong Kong hotels also feature spas. Enjoy traditional Asian therapies, and take advantage of classic natural spa products. If you need to work up some energy before relaxing, then hit the hotel's gym.
Hong Kong has a great reputation for its spectacular cuisine, including lunchtime dim sum and a unique fusion of Eastern and Western influences. Most Hong Kong hotels have great restaurants, and in a luxury hotel you can usually expect to find several options to sample.
Hotel rental offers at Hong Kong convenient for all kinds of travel
Hong Kong is a popular destination for a city break. Many of the city's older hotels offer a unique, elegant and romantic atmosphere that's ideal for a couple looking for that magical getaway. However, families who are hoping to enjoy theme parks like Ocean Park or Disneyland Hong Kong will also find plenty to tempt them. If you're travelling alone, the bustling nightlife of the city means that you'll have a great time, too.
The range of hotels we offer at Hong Kong
Luxury hotels in Hong Kong can easily be divided into two categories: traditional and modern. Older hotels, dating back to the colonial era, often feature ornate, spectacular architecture and old world charm. You can expect to enjoy traditions like Afternoon Tea, and the staff will look after you in the old way. When you step into the lobby of one of these grand hotels, you'll feel like you've taken a trip back in time. They are perfect for a romantic getaway.
Modern hotels reflect the city's status as one of Asia's most important financial centres. Luxurious and stylish, they often feature cutting-edge gyms and business centres, and attract not only businesspeople on work trips, but also anyone who enjoys staying in state-of-the-art surroundings.
Hong Kong: What should we bring for a hotel stay?
Don't worry about toiletries, as luxury hotels in Hong Kong will provide all that you need. You should, however, be sure to bring your swimming gear if you want to take a dip in the hotel's pool or jacuzzi.
Hong Kong has a sub-tropical climate, with mild winters and sticky, humid summers. Pack lightly, even in winter: even in the dead of night in January or February, temperatures rarely drop below 15 degrees.
If you're travelling in summer, prepare for heat and humidity. Your hotel will have air conditioning, but the city is sure to get sticky when you go out and about! In summer, storms are common, so be sure to take an umbrella or raincoat. Most importantly, look out for typhoon warnings between May and November. Typhoons rarely do lasting damage to this modern city, but they can seriously ruin your plans, so be prepared!
Your best hotel in Hong Kong: how to get there and make your booking?
When you've chosen a luxury hotel in Hong Kong, you'll want to snap it up! Book online for peace of mind, and be sure to register as a member of Voyage Prive. Members receive exclusive deals and offers, so you can enjoy absolute luxury for a lower price - leaving you more money to spend in Hong Kong's famous shopping districts.
Hong Kong International Airport is located on the small island of Chek Lap Kok. The city has one of the best public transport networks in the world, with the MTR (local metro) and city buses both servicing the airport. Some hotels offer private transfer, while the city's numerous taxis are also always available. Note that while most taxis in Hong Kong are red, around the airport you may also see blue vehicles. This is a colour coding system based on geographical area.
The opinion of the Voyage Prive travel expert on hotels to Hong Kong
Hong Kong packs a serious punch. Geographically, this city is tiny, but everywhere you turn you'll find something spectacular to see. Stay in a hotel on Hong Kong Island, particularly near the Central region, or in Kowloon. That will put you close to the action, while the city's excellent public transport means that you'll be able to get out to the New Territories, Repulse Bay, and other islands like Lantau and Cheung Chau if you want to explore.
Hong Kong, where East meets West
Discover an Asian city like no other! This former British colony offers a unique holiday experience for anyone looking for a magical city break. With top quality Cantonese cuisine, world-famous nightlife, and an intoxicating blend of traditional temples and ultra-modern skyscrapers, Hong Kong has something for everyone.