Best Hotels in Tenerife
The largest of the Canary Islands, Tenerife is a popular tourist destination. The climate is warm and welcoming and the beaches are soft, sandy and offer fantastic sunset views. There is a huge hotel offering in Tenerife, catering to students backpacking and working their way around the world and to the jet set flying in for a week of sun and relaxation. No matter your budget, you are sure to find a Tenerife holiday to suit.
Our Best Hotels in Tenerife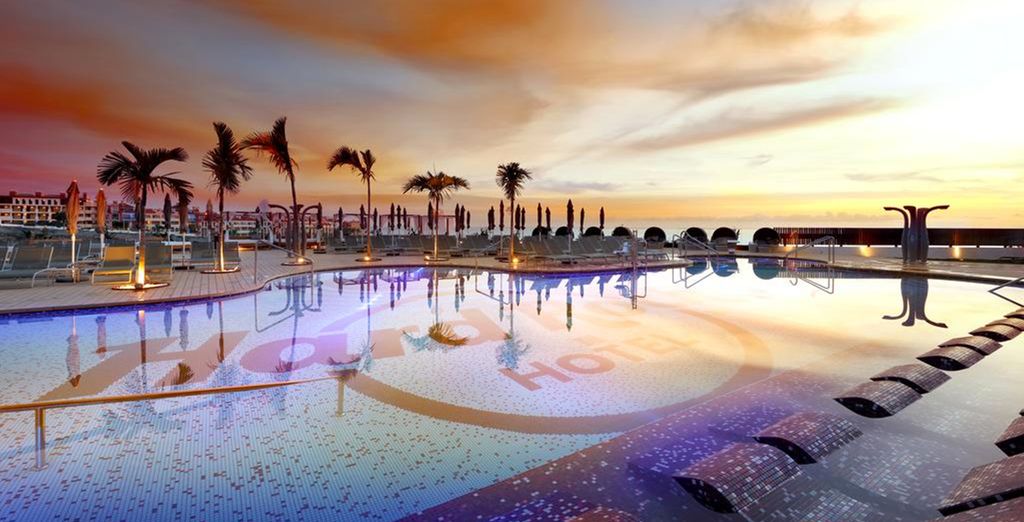 Mere yards from the aptly named Paradise Beach (Playa Paraiso) this hotel offers a rare oasis of tranquillity on an island that is all about fun in the sun. There is a supermarket just outside the hotel, but for any other nightlife, retail opportunities and restaurants, you will have to travel about five miles or so to find the bright lights. But with easy access to a quiet beach and all the wonders of the hotel, you will not want to leave it for long! Chill in the spa or pool, enjoy delicious meals or refreshing drinks in the restaurant and bar, and keep an eye out for the regular entertainments that the hotel hosts for your pleasure.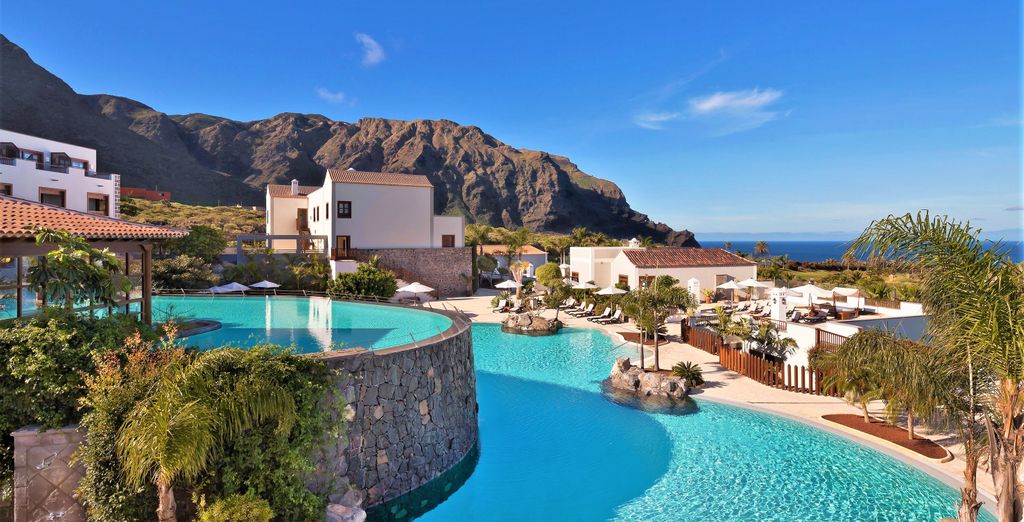 A luxury, adults-only oasis of calm that looks over a natural reserve, you will not believe that you are on a popular tourist island at this protected and breath-taking location. With a sweeping golf course and the nearby mountain range alongside glorious ocean views, every photograph will detail the magnificence of this location. There is a choice of two restaurants and three bars in this hotel, and you can enjoy alcoholic and non-alcoholic drinks while you are relaxing before heading out for the day or after spending a day in the sun – or even while chilling in the pool, making the most of the poolside cocktail bar.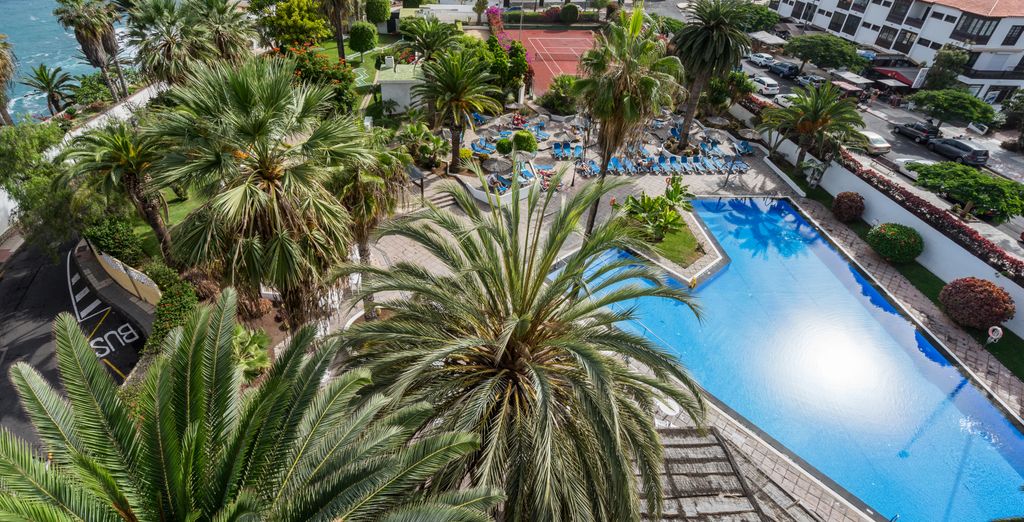 This family friendly hotel offers everything you need for your holiday, from beach access to swimming pools, to 234 beautifully decorated and comfortable rooms, multiple restaurants and bars and easy access to everything that Puerto de la Cruz has to offer: which is a lot!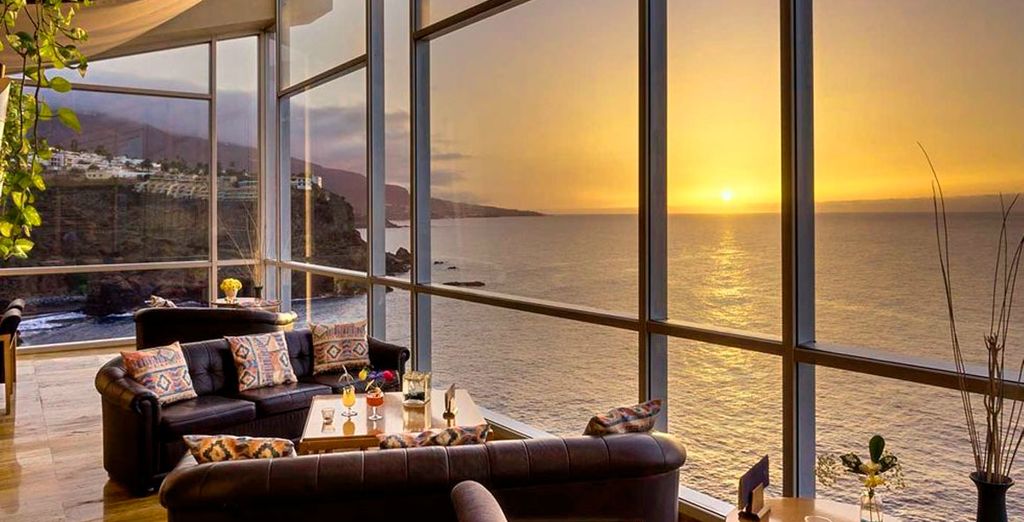 Boasting 229 rooms, this sumptuous hotel is right in the heart of the action. Close to a popular and busy beach and boasting a palm fringed pool, the hotel is a tropical paradise with large, beautiful and well-stocked exotic gardens. There is a sunbathing terrace, tennis courts, mini golf, a driving range, and much more besides a choice of restaurants and bars and lounges for you to relax and socialise in after all your active mornings and days.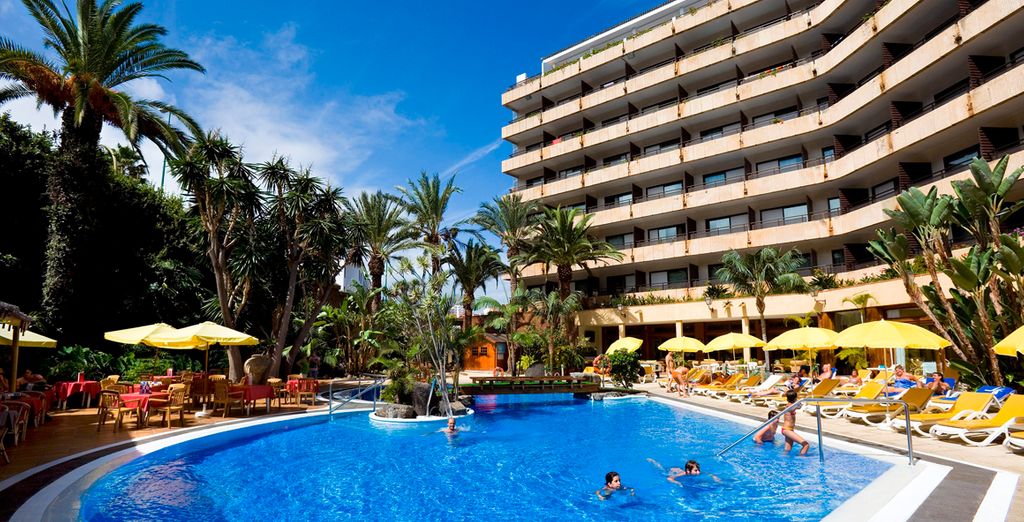 A tranquil oasis that is perfect for water babies, this hotel boasts not one but two open air swimming pools, one being heated for those chillier moments in the early morning or late evening. Free Wi-Fi abounds throughout, there are a number of restaurants and bars where you can enjoy a delicious fresh meal and you can explore the beautiful setting of the hotel as you stroll along the beach.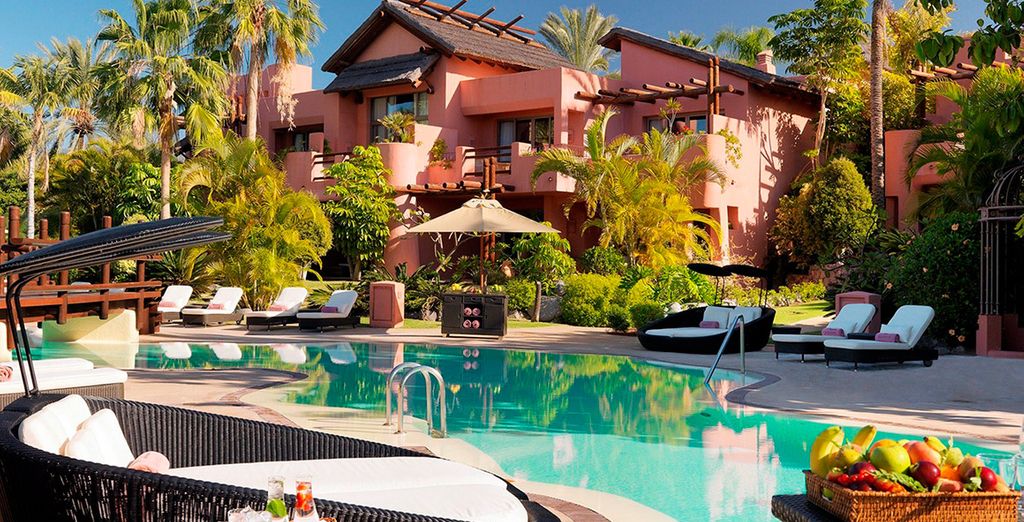 This luxurious 5 star hotel boasts its own private beach, a choice of seven heated swimming pools and a fitness centre.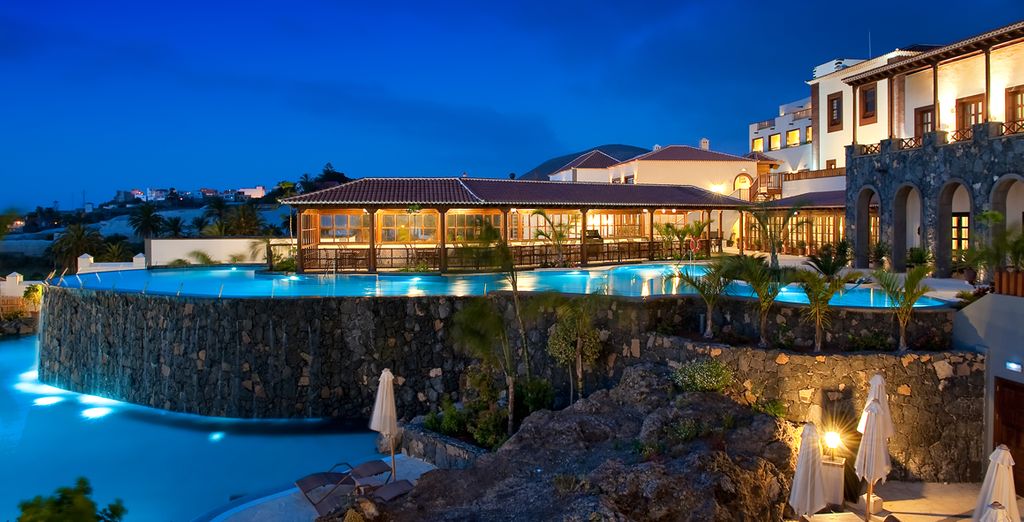 Located next to Buenavista golf club, this spa and golf 5 star resort hotel offers a truly luxurious experience surrounded by stunning views of the island.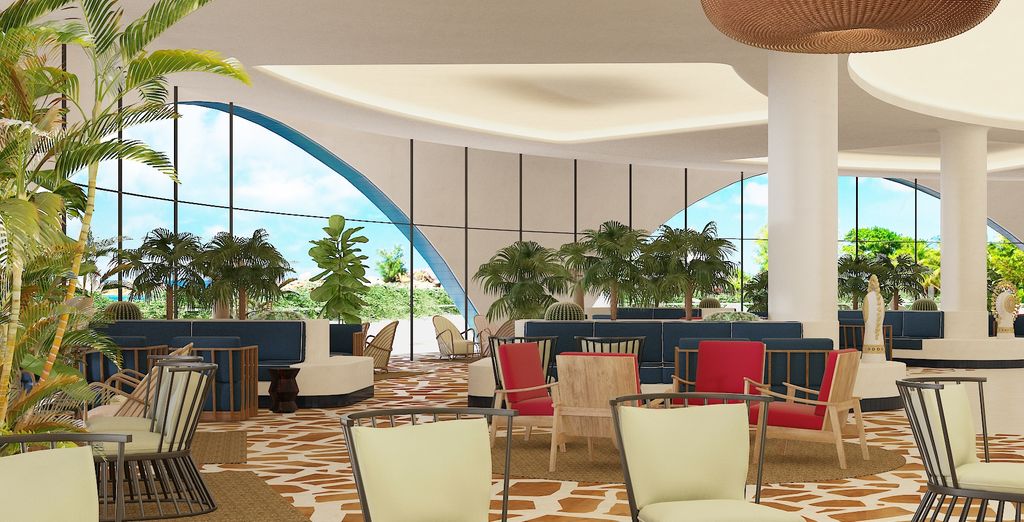 Located in Santa Cruz in the quiet Playa Paraíso area, this 5 star hotel has a coffee bar, restaurant, Jacuzzi, pool bar and steak house.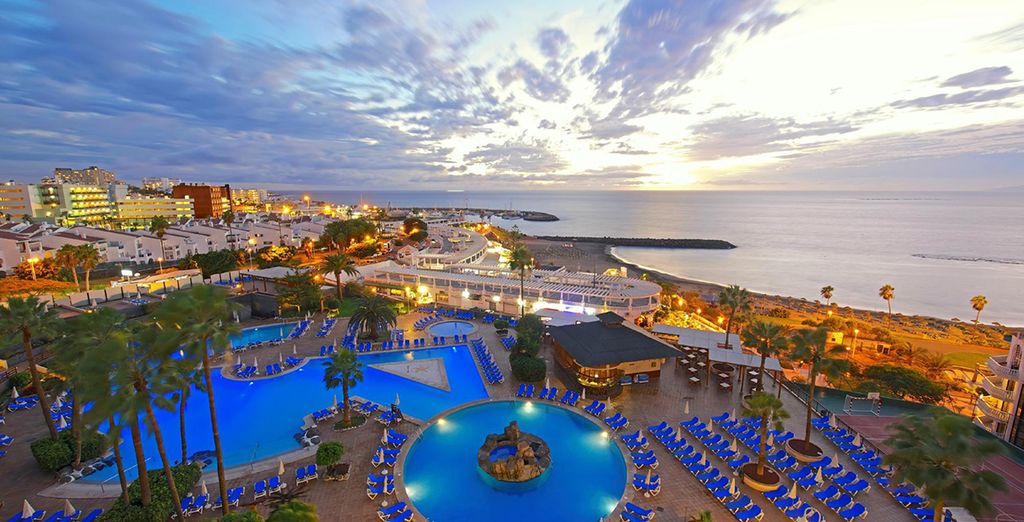 This stunning 5 star hotel is situated in beautiful garden grounds and has three pools. Enjoy use of the tennis grounds, beauty centre and a short walk to the beach.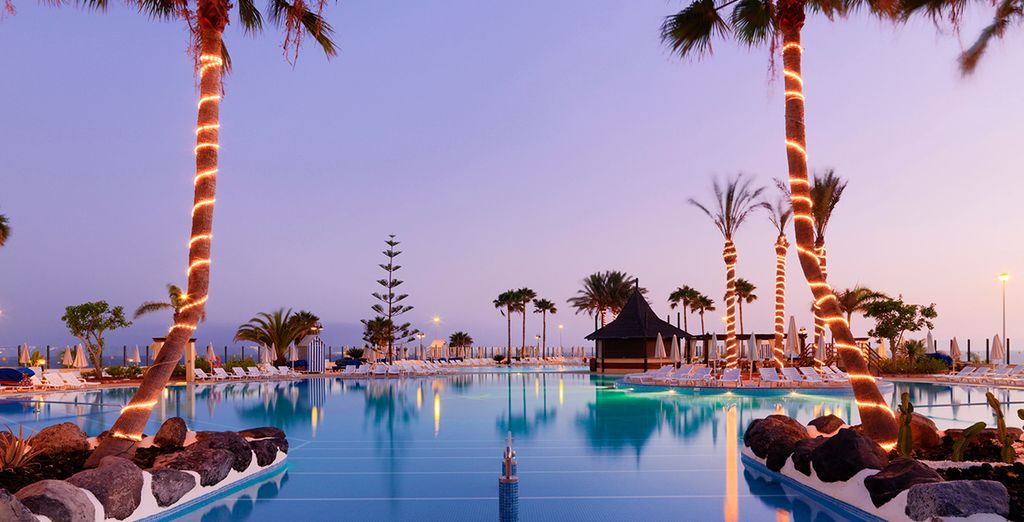 Located on the stunning Adeje coast, this 5 star hotel has multiple restaurants and bars, a spa and three swimming pools.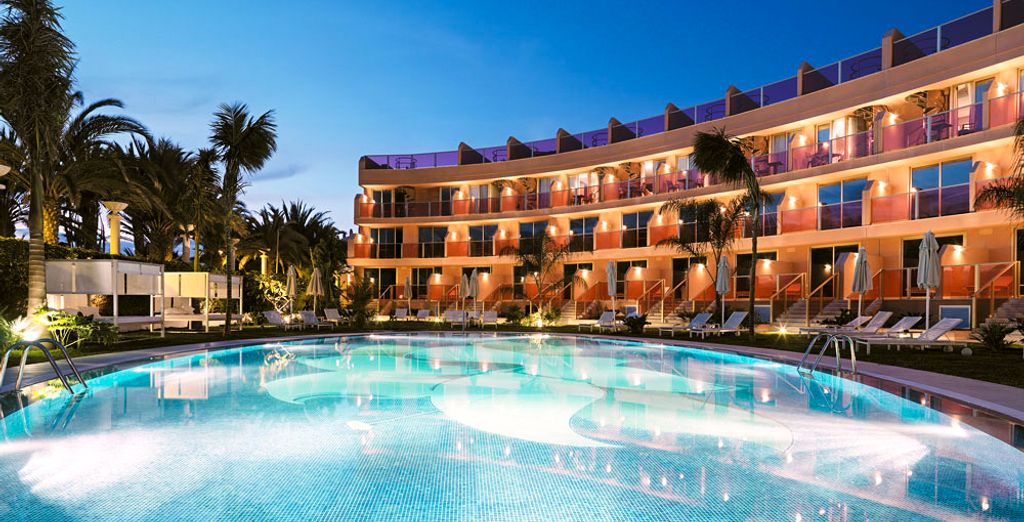 Located on the seafront and offering exquisite views of the Atlantic Ocean, this modern 5 star hotel boasts a spa, wellness centre and private pool.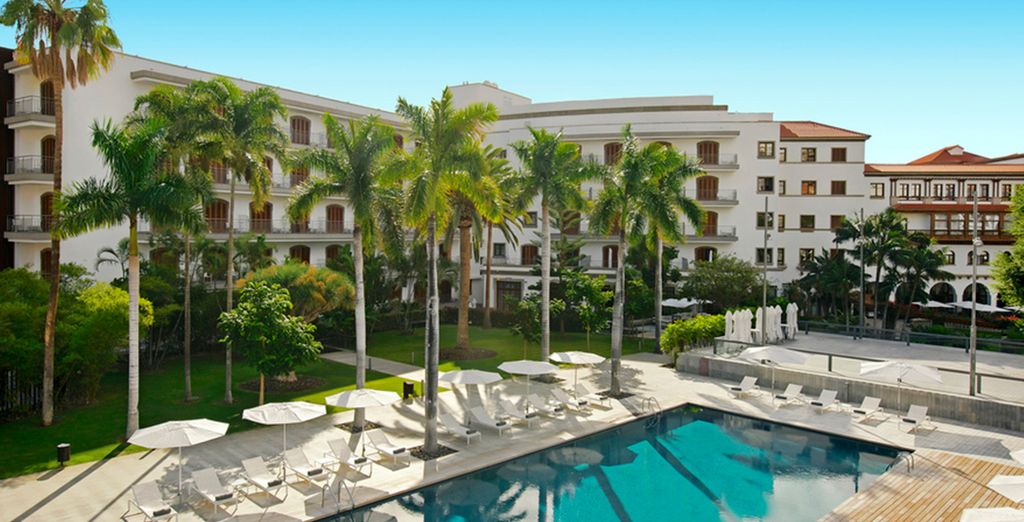 Located in central Santa Cruz, this modern and luxurious 5 star hotel is close to nearby cafes and boutiques. Enjoy the pool, spa and hotel restaurant.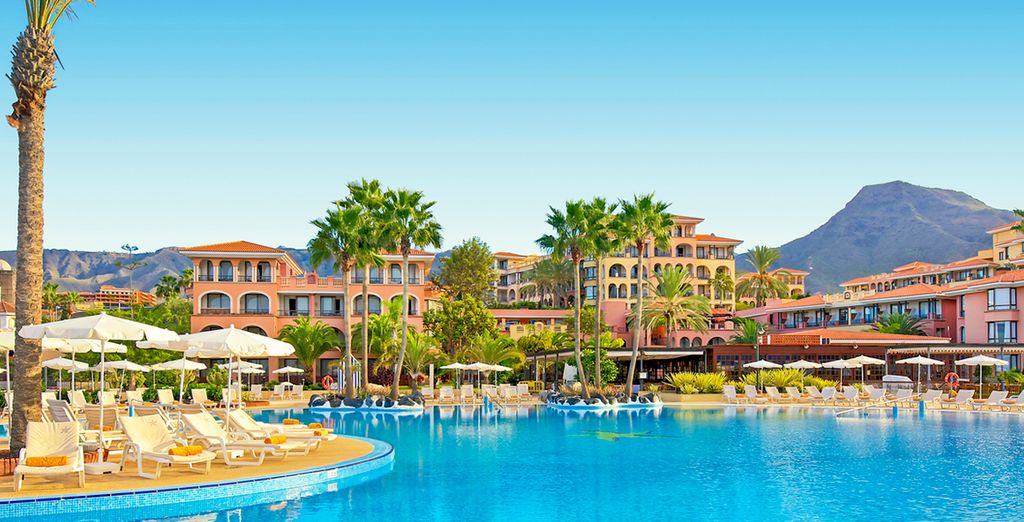 This 5 star hotel is located in Costa Adeje, in the south side of the island. Here you can enjoy the luxurious spa and three swimming pools.
What Services Will You Find in Our Tenerife Hotels?
Our Tenerife Hotels have a wide range of offerings and services available for our customers. Some of the features to look out for include:
Golf courses – several hotels have eighteen-hole golf courses where you can improve your handicap, or simply have fun going around the course, before heading in for a sociable drink or two. Some hotels don't have full size gold courses, but do offer driving ranges where you can have fun, working on your skills
Mini golf – fast and fun, putt around the ingenious holes, beating the family and claiming the title of undisputed crazy golf champ!
Wi-Fi – most of the hotels offer some kind of Wi-Fi access, whether it is free or comes with an extra charge. Sometimes the public areas offer free Wi-Fi, so do ask when you make your booking
Spa Pampering – from jacuzzis, to saunas, to pampering massages and manicure-pedicures, there are plenty of decadent treatments that you can indulge in
Fitness Suite – stay on top of your exercise regimen and burn off some calories even as you enjoy lying on the beach and eating far too much delicious food
Hotel Rental Offers for Tenerife: suitable for all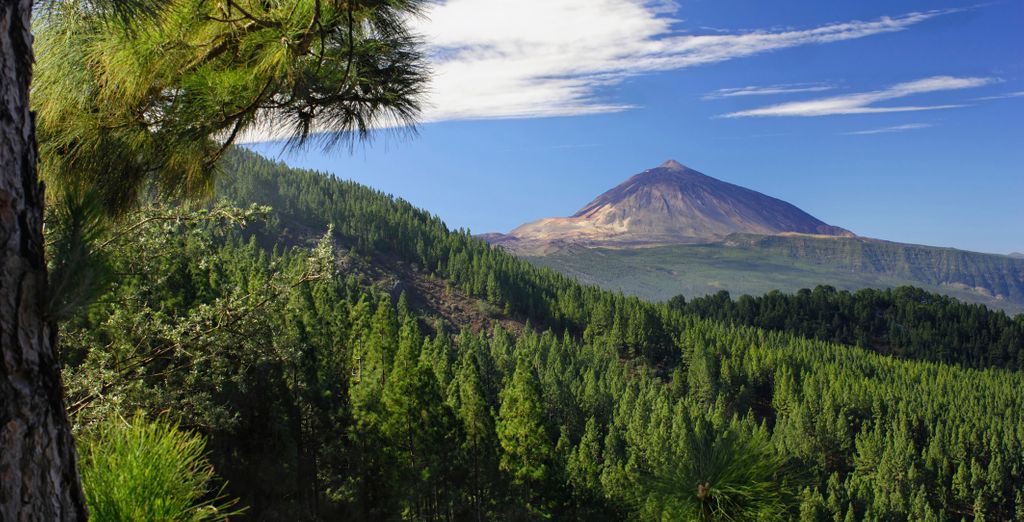 Tenerife is a welcoming island in the sun, perfect for solo visitors, couples and even the largest family groups. Most visitors are looking to lie in the sun for a while, while hen dos and stag parties also love to visit the party-friendly island. You can come to Tenerife for any number of reasons, including fishing or golfing excursions.
We provide rental offers in Tenerife that are suitable for everyone. Those travelling as a family or with friends, for a romantic break or even those individuals who are seeking a sporting holiday.
When travelling as a family you can enjoy the beaches that surround the island. Children can play in safe surroundings, build sandcastles and have a dip in the warm ocean. You can also relax by the poolside, allowing your children to have a swim while you get lost in a novel. There are also many places to grab a snack along the beach.
If you are planning a romantic getaway then you won't be disappointed. Tenerife is home to sandy coves, stunning ocean views and miles of endless sand. Spend the day on the beach or wandering through Tenerife's historic ports where you will find quaint bistros and cafes.
Sporting enthusiasts will be spoilt for choice as there are so many activities to choose from. Enjoy a round of golf, swimming in the hotel pool, play tennis and even plan a day horse riding. If water sports are more your thought then you can go canoeing. cliff diving and snorkelling.
The Range of Hotels we Offer at Tenerife
Our hotels range from three-star comfort to five-star high-class luxury, with something for everyone. If you are looking for peace and tranquillity, we can do that; if you are looking for fun, socialising and partying the night away, we can help there too; and if you are looking for quiet elegance with superb entertainments laid on, we can do that too. Whatever you want from your Tenerife holiday – we can do it!
Tenerife: What to bring for your stay
Given the high abundance of sun and beachside and poolside activity, you should think about bringing a bathing suit or two. Towels are often provided, but these might be just for use in the hotel room, so swimming towels might be a good idea. Some sort of sundress, oversized tee-shirt or wrap to wear over your costume while travelling between room and pool or room and beach is also a good idea. Finally plenty of sun cream, some sunshades and a book or two to read while soaking in the warmth will keep you protected and amused.
Your Best Hotel at Tenerife: How to Get There and How to Book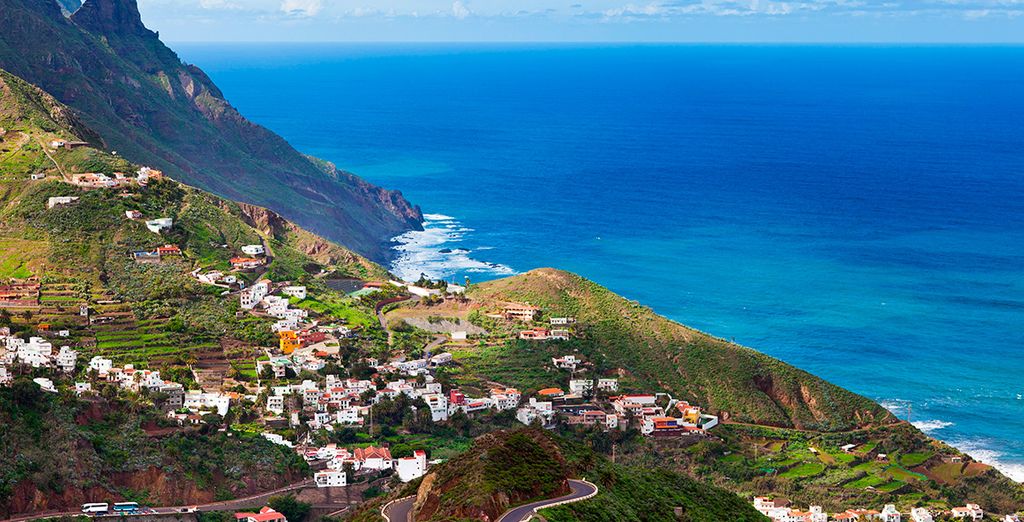 Tenerife is an island, just off the coast of Africa, but popular enough that reaching your destination should not be too difficult from most locations. The island nation is part of Spain, and as such falls under EU regulations and uses the Euro as its currency. However, there are some exceptions to VAT regulations, so do check these out before buying any souvenirs or treats for people back home.
How to Get There
Tenerife is well served by most international airlines, and booking a flight should be a simple matter. You can also, if travelling from the continent, take a ferry from Spain. The ferry is almost an adventure by itself, taking some fifty hours of travel to reach the sunny islands, and is the ideal solution for those who do not like to fly.
How to Book
Voyage Prive offers plenty of deals on various Tenerife hotels and resorts. Why not sign up to receive alerts about deals on your preferred resort to take advantage of the incredible offers as and when they arise? You can then make your booking there and then, online and from the comfort of your own home – win-win!
The opinion of the Voyage Prive travel expert on 5 star hotels in Tenerife
The north and south of Tenerife have much to offer you. The Costa Adeje located in the south of the island is home to the Hard Rock Hotel, where you can enjoy beaches and water sports. The north of the island is generally quieter than the south. It is here that you'll find the Hotel Puerto de la Cruz Hotel.
There are many reasons why we suggest you visit Tenerife. Firstly, there are just so many outdoor activities for you to enjoy. You simply have to be outside on the beach, in the pool or enjoy the many sporting activities on offer. If you want something a little slower paced, then you must visit the Palmetum of Tenerife which is a botanical garden that is home to a stunning palm trees collection.
Tenerife is also home to rich culture and historical buildings. You must pay a visit to the sixteenth century church, the Church of San Agustin that features two chapels and a naive. The Museo de la Naturaleza y el Hombre is a museum that is full of biology and archaeological artefacts, including the canon that was responsible for blowing the arm off Nelson.
When in Tenerife you can enjoy the local cuisine. Fish and sea food obviously play a huge part as does tapas and the sumptuous fresh fruit that is grown on the island. There are so many wonderful sea food restaurants to enjoy, but one place you must visit early one morning, is the The Mercado de Nuestra Senora de Africa, a food market like no other.
Tenerife, the beautiful island that has stunning beaches for everyone
Tenerife is a sunny, friendly and beautiful Island that is suitable for everyone. Soak up this island's historic and rich culture, taste the sea food and good wine. Relax on the beach, swim in the sea and make those beautiful memories.
Tenerife is a tourist paradise. Some parts of the island might be crowded and bustling, but others are peaceful and quiet, so you can find the perfect holiday spot for your needs. The food is simple but delicious, with an emphasis on freshly caught seafood and home-grown fruit and vegetables. It is a reasonably priced place to visit and the residents are friendly and welcoming.
Tenerife: A vibrant and lively Spanish island off the coast of Africa, the largest of the Canary Islands, it is warm and welcoming. Laze on sandy beaches or next to perfectly maintained pools, explore the beauties of the island, or enjoy pleasure jaunts on boats, fishing or simply cruising between the islands.