Enjoy April Holidays
Visit our Deals for April Holidays ✅ Discover Spain, Italy, France, Maldives, Asia and more at Discounted Prices. Flight + Hotel Offers up to 70% Off.
Travel during April Holidays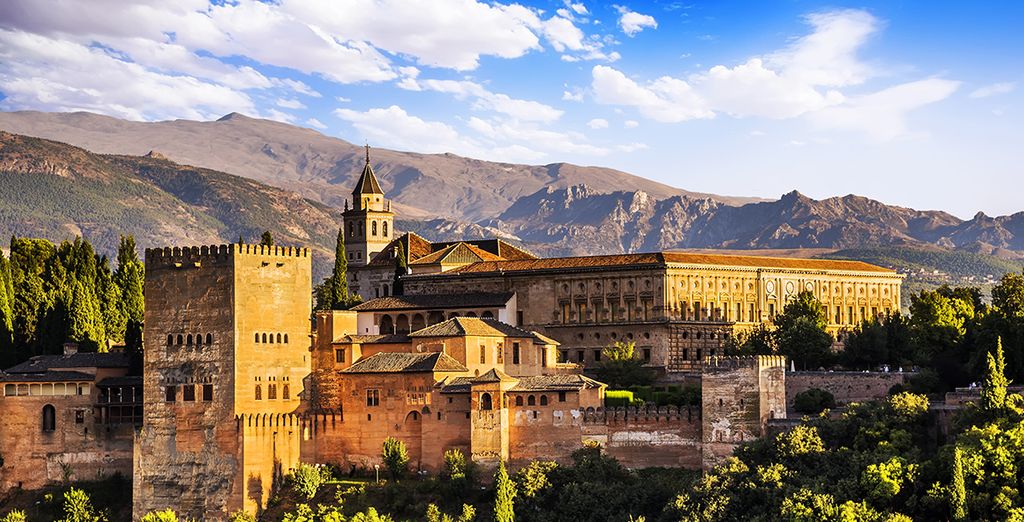 April is the perfect time to travel within Europe – The weather is starting to heat up but it's not too blistering hot, prior to the height of the summer months. Warm enough for the beach, but cool enough to still enjoy wandering around during a city break, it's the perfect combination. Plus, if you're wanting an adults-only escape, you can travel in-between Easter breaks to make the most of your time away.
Spain and Italy are both wonderful destinations for an April getaway, from the stunning Amalfi coastline, to the colourful, culture-packed Barcelona, you really get the best of both worlds. For a relaxing break to de-stress the mind and body, indulge in one of the specially-selected hand-picked spa hotels. Venture into the Italian countryside, see the Tuscan vineyards and kick back with a smooth glass of red. Or, if you prefer getting out there and exploring, don your best walking shoes and comfy clothes, get the camera charged, and soak up the fascinating history of Rome, Venice and Florence.
Check our deals for and discover all our holidays offers for Easter Holidays
The Voyage Prive travel expert's opinion on travel during April Holidays
Spain and Italy are both fantastic getaways for spring. As both countries come into season, the cuisine is fresh and delicious, the weather is beautifully mild, and the popular tourist attractions are not yet crammed with too many people. If you've been lucky enough to travel to these destinations before, it's a good chance to discover somewhere new – Use April as an opportunity to explore new areas and different cities.
Each destination is popular for a holiday with the entire family, as a couple, or just a weekend getaway with friends. For the younger family members, they offer sandy beaches, outdoor activities, as well as some education in their historical pasts, without being too full-on. For couples, it's a chance to rekindle the romance (especially in Italy) and for friends, it's an opportunity for a fun weekend away, tasting all the culinary delights from tapas to antipasti, sampling the local wines, and getting lost in one of the magnificent cities.
Top 5 things to do / see during an April Holiday
1. Experience Barcelona
When in Spain, Barcelona is a must-see for any art lover. It's a hub of culture, history, and fantastic shopping and food to boot. The first thing you'll want to see is the infamous Gaudi houses, each so distinct in their own way. Make a day of it, then head up to Park Guell to overlook the entire city come dusk.
2. Enjoy italian beaches
Italy and Spain offer some of the most beautiful beaches in Europe – from the white sands and turquoise waters of southern Italy to the golden stretches along the Spanish coast, you're spoilt for choice. No April holiday is complete without a trip to the beach, and if you have one on the doorstep of your own hotel, then even better.
3. Visit the stunning Rome
The Vatican, the Colosseum, the Trevi Fountain; Rome has it all. A magical city with a rich, pretty dark past, this is one to tick off any travel bucket list. When you've done all that walking and you're in need of a rest, explore the cobbled streets to find the best local pizza and pasta, sample one of their famous Aperitifs, and top it off with a gelato in one of the striking piazzas.
4. Enjoy Venice
The winding canals of Venice are a picture-perfect backdrop for any April holiday. April is a great time to visit, before the streets become overcrowded. Shop until you drop, head to one of the local museums, then top it off by scouting out the best local pasta joints for a huge bowl of delicious spaghetti. And of course, you can't leave without an infamous Gondola trip; romance at its very best.
5. Countryside vineyards
Although a lot of the action can be found on the coast of each country, venture inland and you'll get to enjoy some of the real rustic joy Spain and Italy have to offer. One of the best ways to do this is by staying near one of the vineyards, and turn your holiday into a sampling tour (adults-only of course!). Rolling hills, beaming sunshine, and lush greenery; it's the perfect place to relax and unwind.
Which hotel to choose for an April Holiday
W Barcelona 5* - Towering into the Spanish sky, this modern, sleek hotel offers fantastic views and breath-taking design. With direct access to your own golden beach, 3 restaurants serving up delicious Spanish cuisine, and a rooftop bar where you can kick back with a cocktail, it's the ideal place for a couples getaway.
Aparthotel Adagio Rome Vatican 4* - A modern, clean studio complete with your own kitchen and a delicious daily breakfast is all yours with this fantastic hand-picked offer. Close to all the local hot-spots, including the striking Vatican and other museums, you'll be able to step out your apartment and hit the streets for a day of exploring.
Hard Rock Hotel Tenerife 5* - Offering super glam, spacious rooms, this hotel comes with a whopping 3 pools and is perfect for getting away from it all in your own private spot. Just 600 metres from a sandy beach with crystal clear lapping waters, you can choose to relax on the beach, by the pool, or, for the more adventurous, sample the water sports on offer.
Practical information about April Holidays
What is the weather during April Holidays?
April is the best time to travel if you're not a fan of getting too hot in the blistering summer months. The European sun can be too hot for some, so choosing to take a holiday in April can be the perfect mix.
It's likely you may experience a bit of rain during your time away, especially if staying in-land, but nothing will last too long, and nothing will spoil your time.
What budget to plan ?
Budgets can vary – They depend on the duration of your stay and if you opt for an all-inclusive deal, but Europe is usually very reasonably priced when it comes to holidays.
If you pre-plan and do a bit of research whilst you're there, you can keep costs down through savvy shopping, and eating where the locals do. Plus, put aside any money for activities or excursions, and if you've got some left over at the end, that's a bonus!
FAQ April Holidays
With Voyage Privé you can get great deals up to -70% ! Register online for free to access all our current offers for April Holidays !