We Love —
History and nature combine on this memorable Mediterranean cruise, from picturesque Italy to the coastal France beginning with a 2 night relaxing stay in Palma and concluding with a 3 night stay in Portals Nous.
An elegant and ultra-modern ship laden with cutting edge technology, MSC Fantasia is one of the newest additions to the MSC fleet and a masterwork of traditional Italian style.
A truly superb value offer - enjoy Full Board Dining on the ship and Breakfast dining in the final hotel included.
New
Voyage Privé
—
Carefully selected by our experts especially for you
Your Holiday —
Your Destinations —
Surrounded by the warm, azure waters of the Mediterranean Sea
, Mallorca is the largest of the Balearic Islands and is renowned for its
gorgeous beaches, secluded coves and vibrant, cheerful resorts
. Palma, it's stylish capital, is home to a fascinating historic quarter with attractions such as the impressive Gothic cathedral, the Royal Palace of La Almudaina, the 14th century Bellver Castle, the Convent of St Francis and the
Carthusian Monastery of Valldemosa. 
Why not relax in picturesque Plaza Mayor or take a stroll along Passeig Maritim to admire Palma's beautiful marina?
Ibiza manages to be both a world-famous party destination and a tranquil, 
family-friendly idyll.
 With so much packed into one Balearic island, you'll find everything here for a great getaway!
 Long known as a destination for a young and fashionable crowd, Ibiza combines sun, perfect sands and the sounds of renowned DJs playing the newest electronic music. Yet step away from the party hotspots in 
Ibiza Town and San Antonio
 and you'll find a quieter side to the island. Making the most of Ibiza's spectacular natural beauty, you'll find tranquil areas where families seeking a touch of luxury and relaxation will feel at home. Don't miss the 
UNESCO-listed fortified Dalt Vila area of Ibiza Town
, a stunning example of Renaissance fortress architecture. Or, if switching off is the name of the game then 
it's all about Santa Eulalia, a beautiful hideaway on the east coast of the island.
The famous city of Naples is a treasure trove of 
gastronomy, architecture, music and art with a rich cultural and historical heritage.
 Founded in the 8th-9th Century BC as a Greek colony, Naples is one of the oldest inhabited cities in the world, and its 4,200-acre city centre is actually the largest in Europe and a 
UNESCO World Heritage Site. 
With the city being the birthplace of pizza: Naples has a variety of authentic wood-burning oven pizzerias to try during your stay. The city is famous for its cuisine and wine, drawing culinary influences from the numerous cultures that have inhabited over the course of time such as Greek, French and Spanish.
Livorno is a charming
port city situated on the west coast of Tuscany.
Discover the enchanting
Renaissance-era architecture
that lines the streets and blends with the modern harbour to create the charm of the port city. Make sure to visit the famed
Terrazza Mascagni
where panoramic sea views and picturesque spots can be found at this lovely waterside promenade. Take some time to enjoy some of the
freshest seafood
that this city is known for and explore the many restaurants and eateries that feature along the beaches.
Genoa is marvellously eclectic,
vibrant and full of rough-edged style; it's a great cruise excursion
. Indeed "La Superba" (The Superb), as it was known at the height of its authority as a Mediterranean superpower, boasts more zest and intrigue than all the surrounding coastal resorts put together.
During a day in this vibrant city you can
explore its old town: a dense and fascinating warren of medieval alleyways
home to large palazzi built in the sixteenth and seventeenth centuries by Genoa's wealthy mercantile families and now transformed into museums and art galleries. 
You should seek out the
Cattedrale di San Lorenzo
, the Palazzo Ducale, and the Renaissance palaces of Via Garibaldi which contain
the cream of Genoa's art collections
, as well as furniture and decor from the grandest days of the city's past, when its ships sailed to all corners of the Mediterranean Sea.
Marseille combines the rich past of an ancient port city with year-round mild weather 
and some of the most cutting-edge modern architecture in France - no wonder it was 
voted as the European Capital of Culture in 2013. Take a walk to the famous "calanques" (limestone cliffs), 
a stroll through the Parc Borely, a walk through the typical "Panier" quarter of the city near the Old Port, 
or perhaps a ride up to the Notre Dame de la Garde Cathedral on the hillside, 
overlooking the entire city. Don't forget to 
visit the selection of museums and exhibitions on offer.
Exploring Provence is easy with Marseille as your base - popular places such as 
Aix-en-Provence, Nimes, Arles, and Avignon are all nearby and are worth a visit.
Our Offer —
12 Nights
2 nights in Palma in Hotel Palma Bellver by Melia in a Standard/Twin Double Room on a Room Only basis 
7 nights aboard the MSC Fantasia in an Inside / Outside / Balcony Cabin on a Full Board basis 
3 nights in Portals Nous, Mallorca in Hotel Salles Marina Portals Nous in Double/Twin Room on a Bed and Breakfast board basis 

Your Cruise Itinerary —
Your trip will begin with a 2-night stay at Hotel Palma Bellver by Melia in Palma, Mallorca.

You will then embark on a 7-night cruise across fabulous destinations following the itinerary below:

Day 1: Palma
Day 2: Ibiza
Day 3: At Sea
Day 4: Naples
Day 5: Livorno
Day 6: Genova
Day 7: Marseille
Day 8: Palma

The final step of your trip is a 3-night stay at Hotel Salles Marina Portals Nous in Portals Nous, Mallorca.
Your Ship —
You will enjoy a 7-night cruise on the MSC Fantasia, in an Inside, Outside or Balcony Cabin on a Full Board Basis (breakfast, lunch and dinner at the main restaurant - excludes drinks).


The MSC Fantasia is
stylish and ecological
, balancing the warmth and comfort of the Mediterranean atmosphere with cutting edge design. At its heart you'll find a
real stone piazza
complete with an espresso bar serving freshly-baked pastries and authentic gelati - the perfect place to take a moment away from bargain hunting in the chic boutiques and duty-free centre nearby. There are also a range of
designer-themed bars which bring a metropolitan atmosphere
to the ship and provide guests with a truly unique experience on board.
There's a massive range of sports facilities, from tennis, basketball, mini-golf, a jogging track and gym to the
Aqua Park Pool Complex, a thrilling Formula 1 simulator and 4D Cinema.
MSC Fantasia cruise line also offers secluded areas in the
adults-only Top 18 sun deck and indulgent MSC Aurea Spa
, plus fantastic zones and clubs for kids and teens. For evening entertainment, spend some time at the
Monte Carlo Casino
, check out the liquid disco or wonder down to the theatre and treat yourself to one of the
world-class performances.
Your Stateroom —
You will stay in either an Inside, Outside or Balcony Cabin.
Your Cabin Choices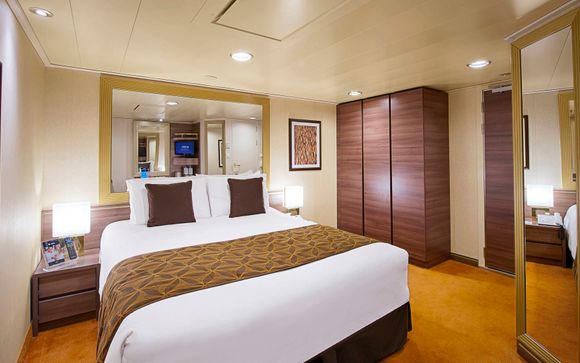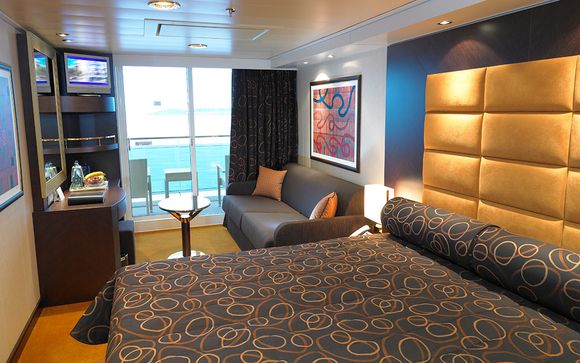 The style, comfort and space offered by a MSC cabin will make your holiday even more special. From peaceful, economical and comfortable inside cabins to spacious suites with private balcony. All offer stylish features and modern conveniences to make you feel right at home whilst you're on holiday.
The peaceful
 Inside Stateroom 
is sure to lull you to sleep after a day of sight-seeing with its light decor.
From your 
Ocean View Stateroom
 you will have the perfect vantage point for panoramic views of sea and cities alike.
An even more luxurious cabin is the 
Balcony Stateroom
 where you will have your own private balcony for you to enjoy, breakfast on your own balcony is a a great way to start the day!
Sleeps up to


2 Adults
Please note: Views from some staterooms may be obstructed.
Hotel Palma Bellver by Melià 4* —
Our members will begin their trip with a 2-night stay at the Hotel Palma Bellver by Melià 4* in a Standard/Twin Room on a Room Only basis.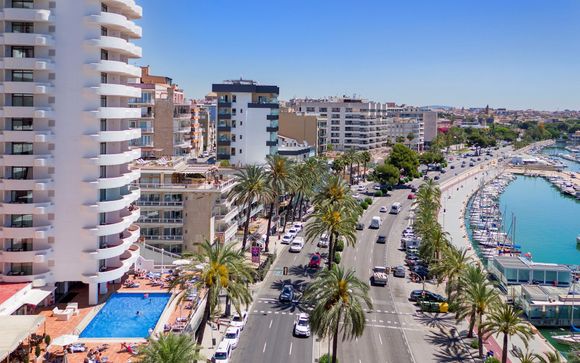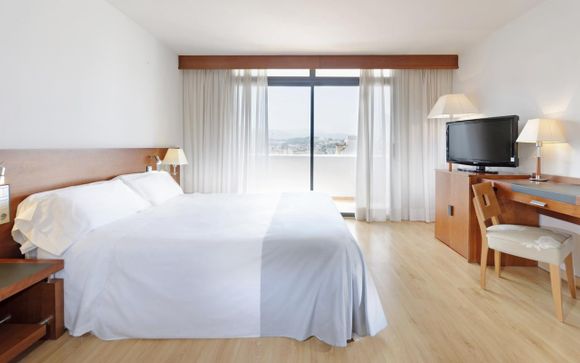 Your holiday begins with a 2-night stay at the Hotel Palma Bellver by Melia 4*, ideally located overlooking the seafront promenade with easy access to the city centre. Surrounding the hotel you can find plenty of nightlife including a variety of clubs, bars and restaurants as well as fabulous beaches to explore. 
The hotel features an outdoor pool that overlooks the stunning sea and Palma Bay as well as a selection of 8 meeting rooms and a private car park. Here, guests can enjoy some relaxation on the large sun terrace or head to the mini gym for a workout. There is also a rent-a-bike service if you fancied heading out to explore the coastal town. Head to the Maritimo Restaurant for a quick snack or buffet breakfast in the morning or grab a drink from the Lobby or Pool bar to keep you refreshed throughout the day. 
Your Standard Room is bright and airy complete with a furnished balcony, comfortable furniture and a fresh decorative style. The rooms also feature modern conveniences such as a minibar, flat-screen TV, hairdryer and a safe. 
Sleeps up to


2 Adults
Hotel Sallés Marina Portals 4* —
Our members will conclude their trip with a 3-night stay at the Hotel Sallés Marina Portals 4* in a Double/Twin Room on a Bed & Breakfast basis.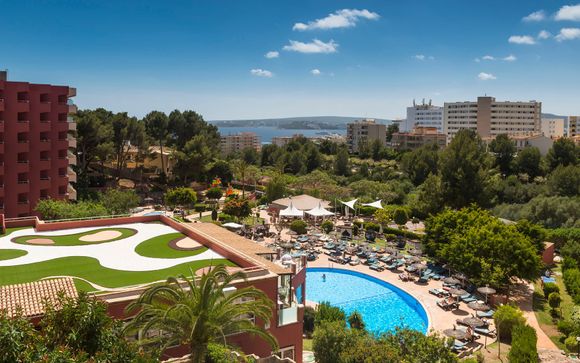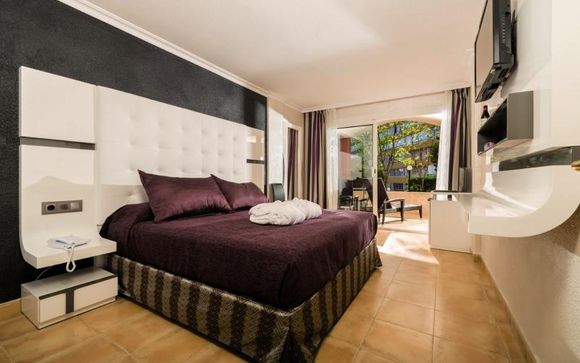 You will end your trip with a 3-night stay at the Hotel Salles Marina Portals 4* for a relaxing few days in a comfortable space. The hotel is set in a lovely garden area with swimming pools and recreational areas for guests to enjoy during their stay. This hotel is located in the sporting port of Puerto Portals where a stunning beach sits just moments from you offering the ideal beachfront break. 
At this hotel, guests will enjoy a daily buffet breakfast included getting you ready for a day of exploring the towns or beaches. There is also the Coral bar, a relaxing spot for a coffee or refreshing drink or the Snack bar located on the terrace, where guests can grab a light bite before heading back into the pool. 
Chill out in the outdoor pool or head to the sumptuous spa for a relaxing treat to end your holiday the right way. Here you could treat yourself to a massage or simply enjoy the various wellness facilities which include a Finnish sauna, steam bath, essential oil showers, footbath, leisure pool, water tub massage beds and the relax zone. 
Here you will stay in a Double Deluxe Room which is spacious and stylish and features bright, elegant decor and a marble bathroom. These rooms are also complete with a private terrace, free access to the spa, bathrobe and slippers, a kettle and a satellite TV. 
Sleeps up to


2 Adults
Some services may incur additional charges, payable locally.
Please note: some dining outlets/menu items and premium, branded and international drinks may not be included and may incur a surcharge payable locally. Meals, snacks and drinks may be available at selected times only.
Your Journey —
Flights: Included with Easyjet

Offer 1
Outbound: London Gatwick Airport to Palma de Mallorca Airport
Departure: Between 05:30 & 19:00
Arrival: Between 09:00 & 22:00

Inbound: Palma de Mallorca Airport to London Gatwick Airport
Departure: Between 07:00 & 22:00
Arrival: Between 08:30 & 23:30

Offer 2
Outbound: Manchester Airport to Palma de Mallorca Airport
Departure: Between 16:00 & 20:00
Arrival: Between 19:30 & 23:30

Inbound: Palma de Mallorca Airport to Manchester Airport
Departure: Between 10:00 & 21:30
Arrival: Between 11:45 & 23:15

All flight times are local.


Luggage: 23kg checked baggage and 5kg hand luggage.
Transfers: Private transfers are included throughout this offer.

For inbound transfer arrangements please confirm with your transfer provider when you arrive. Alternatively, please check with the reception of your accommodation. If you still require assistance, please call the transfer provider directly.