Norway Fjords Holidays



Table of contents
Norway's fjords are profoundly sublime. Rugged mountains meet glittering shores amid luscious forests and dreamy waterfalls. You can explore these spectacular sights across Norway's western coast. Enjoy World Heritage Sites like Geirangerfjord or head to tranquil Hellesylt. This landscape may be renowned for its cruises, but kayaking and biking provide a more intimate connection with the landscape.
The top 5 things to do in Norway's Fjords
1. Fjord Cruise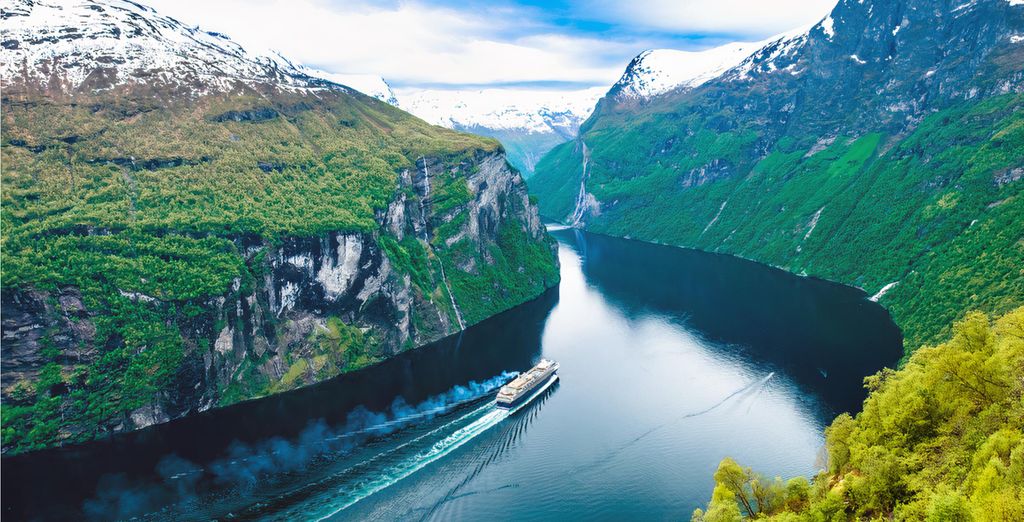 The best way to experience the Norwegian fjords is by boat. Ships depart from various town ports, from Bergen to Oslo. You don't have to commit to days on a ship to experience the fjords' majesty. Port-to-port tickets allow you to discover each location on eco-friendly boats. The 20 km stretch along Geirangerfjord, in particular, is among the world's most scenic boat trips.
2. Trolltunga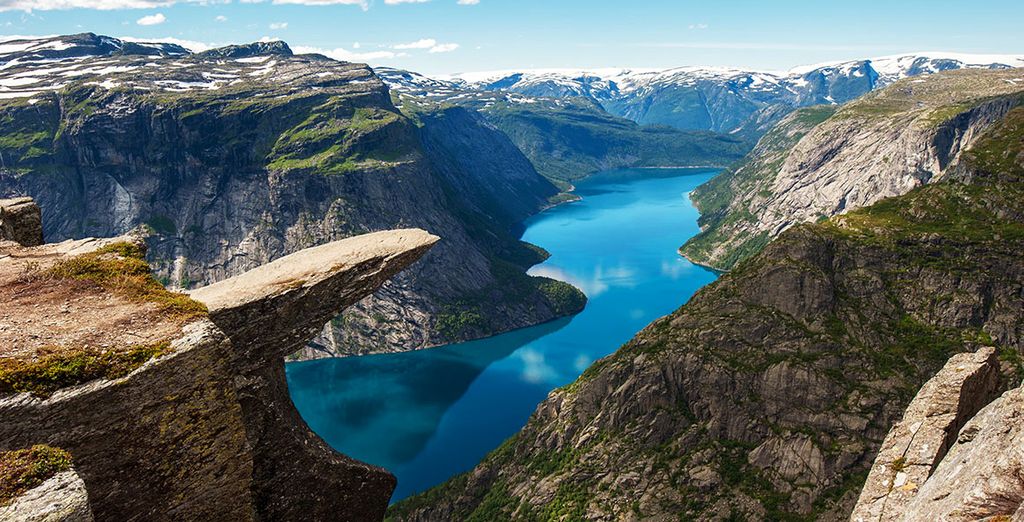 Probably Norway's most-photographed viewpoint, Trolltunga is a sublime 700 m clifftop overlooking Lake Ringedalvatnet. You're surrounded on all sides by powerful nature and a hair-raising drop from the hill's famous "tongue". Hikes can be arduous and are best tackled with a guide from Skjeggedal.
3. Loen Skylift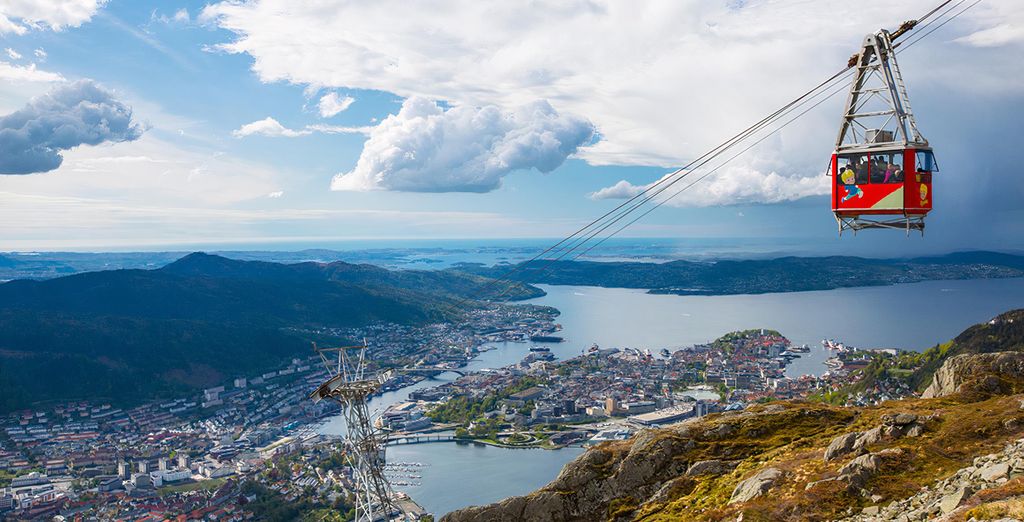 This incredible aerial ropeway is among the world's steepest ascents. Taking travellers 1,000 m above the glistening Nordfjord, it's among Norway's most scenic panoramas. It's perfect for those short on time looking to experience Norway's majestic mountains up-close. You can even enjoy a fine meal or drink at the summit from the incredible Hoven Restaurant.
4. The Atlantic Road
Among Norway's most scenic and unique journeys, the Atlantic Road connects multiple islands over seven bridges. You can experience the raw power of the ocean at Askevågen, thanks to a glass wall for spray protection. Elevated hiking trails at Eldhusøya are a dream for walkers.
5. Trollstigen
Trollstigen is a stunning winding mountain road and among the country's most famous stretches of tarmac. This single-lane road snakes in and around stunning scenery at this northernmost fjord. Hiking paths and viewing points abound, too, for those wanting to tackle the landscape on foot.
Our best hotels in the Norwegian Fjords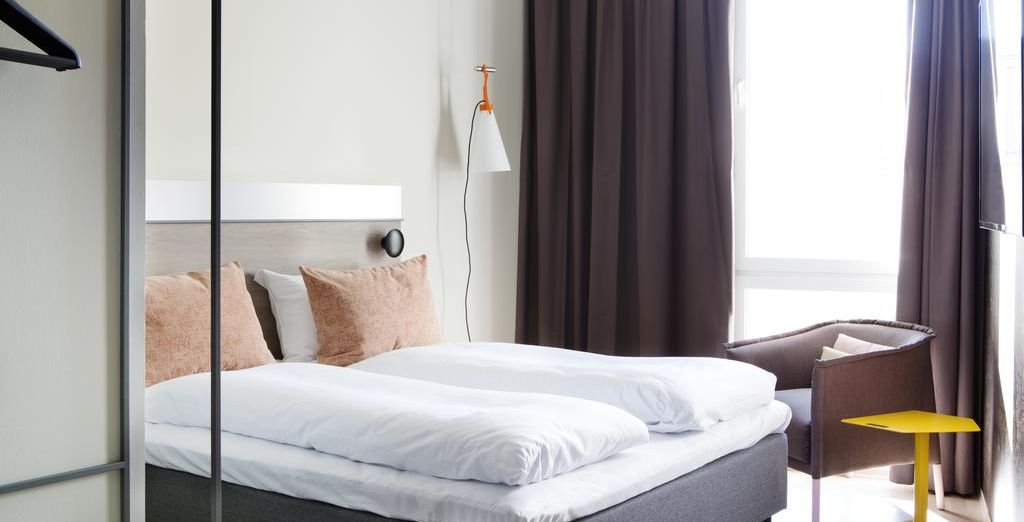 This modern hotel in the heart of Førde is perfectly placed to explore Norway's fjords. Boasting an award-winning breakfast and pampering spa, guests can relax after a day's sightseeing. Rooms are modern and inviting, with warm decor and exciting natural views.
Nestled in the scenic Sognefjord region, this classic hotel is among Norway's most scenic. Serene waterfront vistas and surrounding mountains can be admired from the comfort of the award-winning restaurant. The interiors are opulent, with hardwood floors and enchanting antique furniture.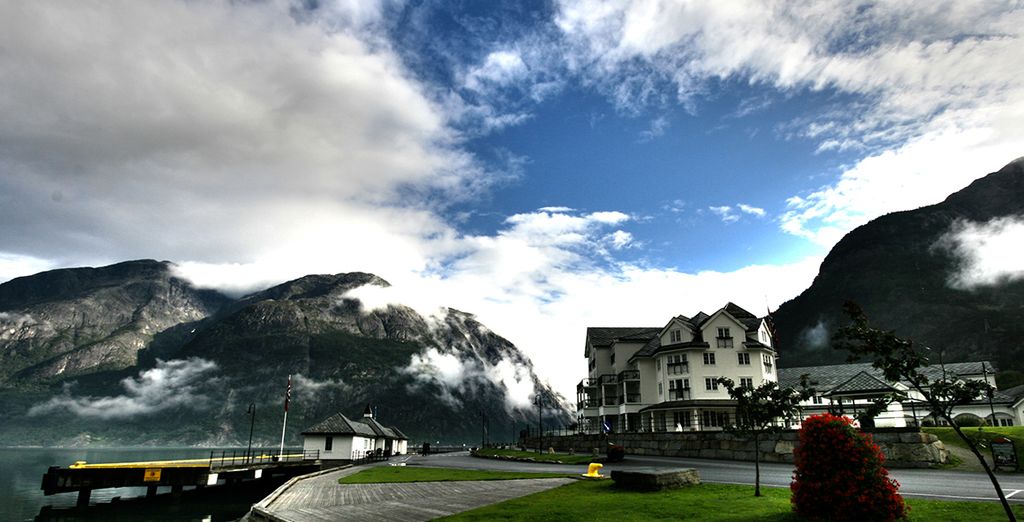 Enjoy majestic views of the glittering Hardangerfjord from this traditional waterfront hotel. The impeccable interiors feature modern Scandi furniture and balcony views of breathtaking landscapes. Guests can also enjoy the on-site sports bar, which serves up pub classics in a relaxed setting.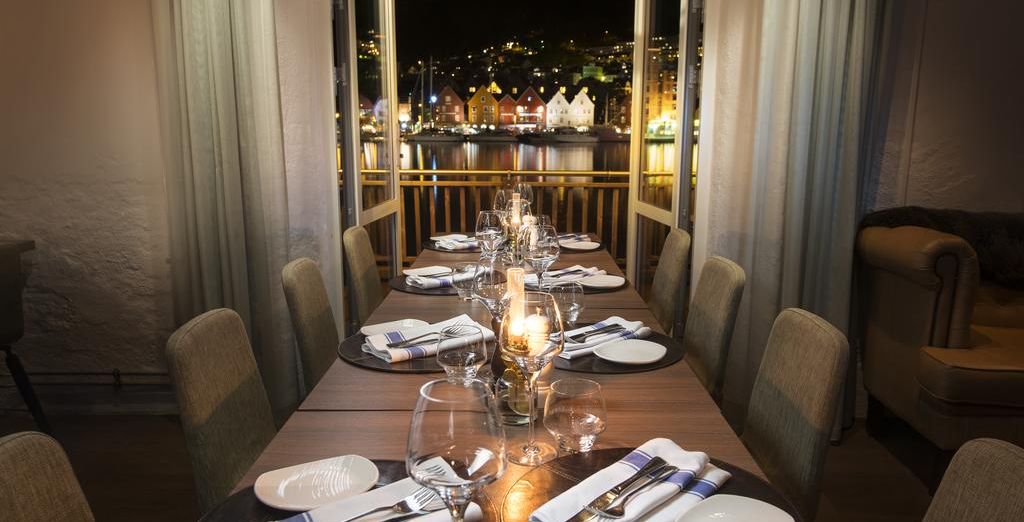 Escape to bustling Bergen near Sognefjord with this luxury hotel stay. Housed in an imposing 1904 warehouse close to the town's medieval wharf, guests benefit from privileged waterfront views. The on-site restaurant is one of Bergen's best, with open picture-postcard vistas of the multi-coloured harbourfront.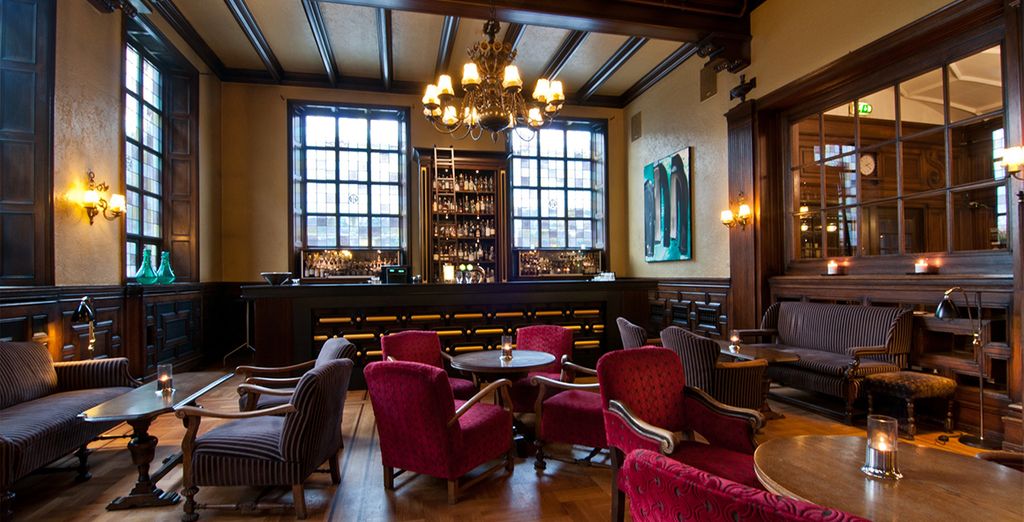 This historic Bergen-based hotel is nestled right in the heart of the city. Boasting charming interiors with original century-old features, it's a classic hotel that's as beautiful as ever. Rooms are elegant with alluring pastel colour schemes and luxury en-suite bathrooms.
When is the best time to go on holiday in Norway's Fjords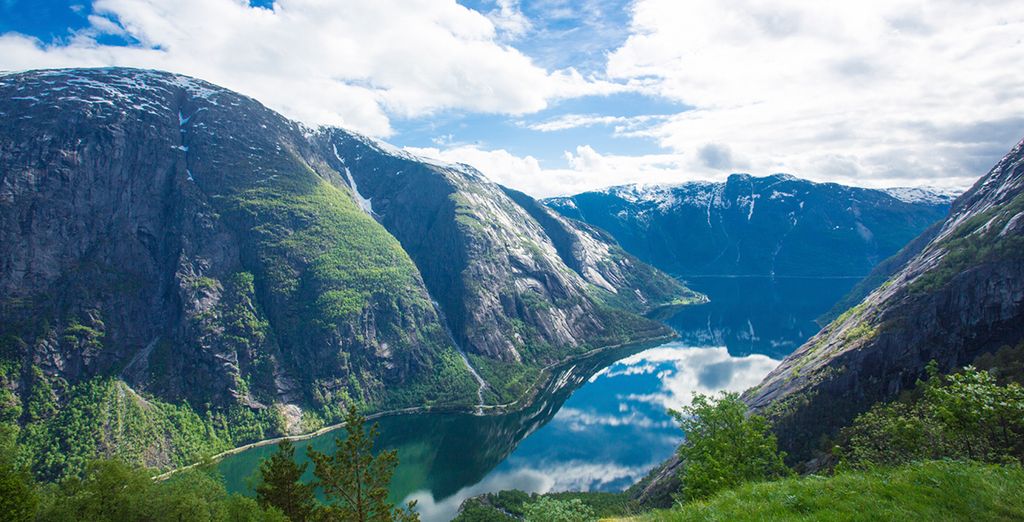 Norway's fjords benefit from good weather. As such, the general tourist season runs from May to September. Of these, the summer season sees the greatest footfall, particularly from June through August. While the weather is at its yearly best, you should still prepare for potential rain. Accommodation tends to book up, and crowds can form at major viewpoints and tourist spots. You can opt for travel leading up to June and in September to experience fewer fellow visitors. The weather tends to be mild, but accommodation can be expensive on weekends. The low season runs from October through April. While coastal cities are still pleasant, the fjords are bitterly cold, and many attractions close. To the north, you'll find winter tourism and a chance of witnessing the Northern Lights.
Going on holiday in Norway's Fjords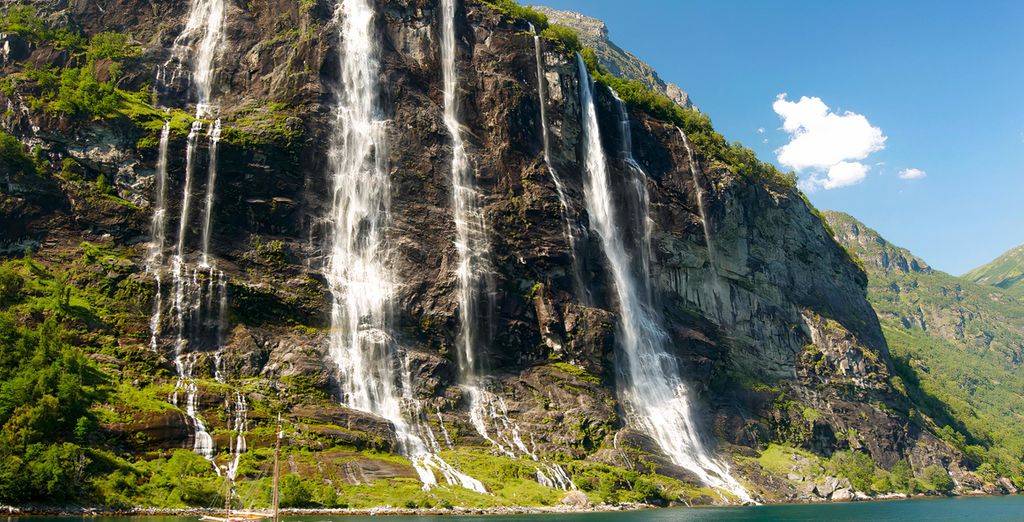 There are plenty of access points by air, rail and sea to the Norwegian fjords. Many arrive at either Oslo or Bergen's airports, both of which connect quickly with their cities. Bergen, in particular, is right in the heart of the action. From here, you can catch trains or rent cars to explore the fjords in detail. Buses are fast and efficient along major routes, too, though more rural spots see patchy service. You'll likely discover the fjords predominantly by boat. Ferry ports dot the Norwegian coast and fjords, making travel easy and convenient. An alternative means of exploring the fjords is by rail. Scenic options like the Flåm Railway are among the world's most beautiful train trips.
Enjoy your holiday in Norway's Fjords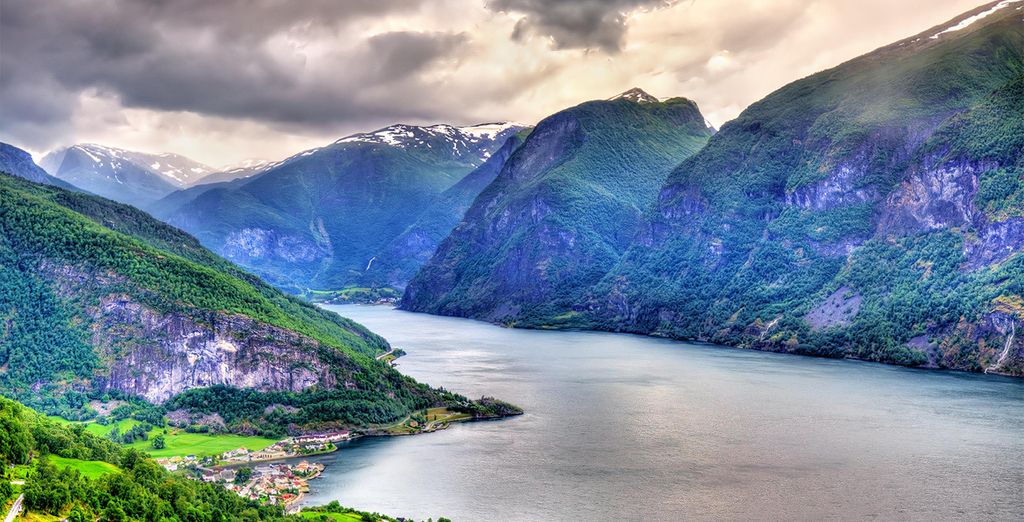 Norway's fjords are a dazzling experience that will amaze nature lovers. Adventurous families will find a wealth of exciting attractions here, such as hikes and walks to Viking-themed museums. Active friends, too, will enjoy heading out on mountain hikes or kayaking across rivers. While Norway is an adventurous place, boats provide a more relaxing means of exploring the fjords. That makes them perfect for older age groups or larger families with little ones. As for couples, romantic mountaintop dinners are among the world's most unique and memorable experiences. Fjord cities like Bergen, in particular, provide some of Norway's most compelling culinary experiences.
The Voyage Privé travel expert's opinion on Norway's Fjords
The Norwegian fjords are a true bucket list experience. Nothing comes close to the sheer majesty of mountains ascending from shorelines like stony giants. There are over 1,000 fjords to discover on your journey, from jaw-dropping Nærøyfjord to more genteel sights like Oslofjord. As a viewpoint alone, they provide among the most breathtaking hotel backdrops in the world.