Find the best Flight + hotel offers
Planning a trip that includes both airline tickets and hotels from Voyage Privé is probably the best option available for your next holiday. Why? You will be able to save a lot of money because both elements are united and allow you to offer better prices. You won't have to worry about looking for each thing separately, so you'll spend less time. Take a look at our offers flights and hotels we propose and think only about your next adventure.
The expert opinion of Voyage Privé on flight and hotel offers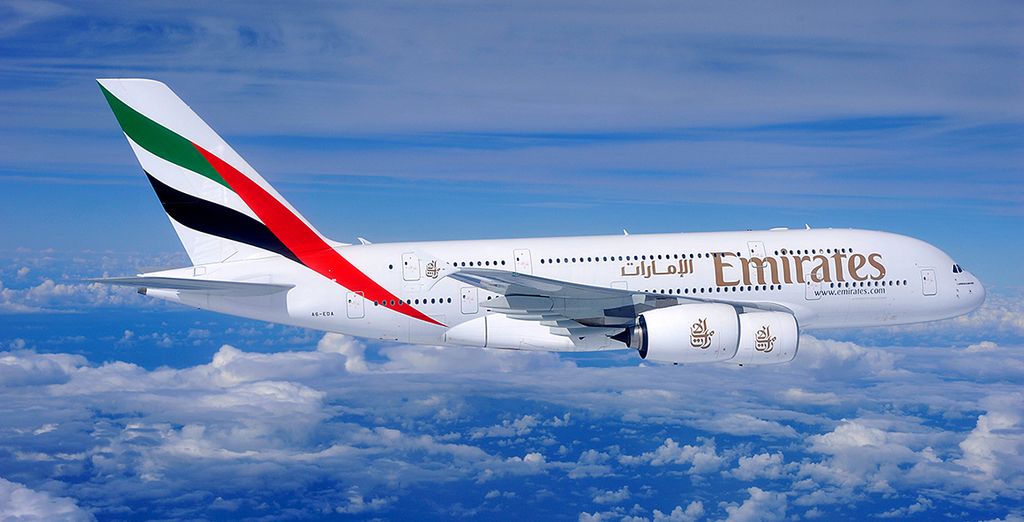 At Voyage Privé we care about our members. That's why we created the best booking experience. During your selection, you will find the opportunity to choose a booking with or without flight. We advise you to save time choosing a flight. You will find several hours, companies et itineraries. We let you choose the best travel among a large selection. The flight and hotel options are also recommended as you can enjoy a transfer once arrival and for departure. You don't need to find a taxi or a bus to join your hotel or the airport. Our partners will wait you in the airport.
Top 5 reasons to book a flight plus hotel
1. SAVE TIME IN PLANNING YOUR HOLIDAY
Find and book your flight + hotel in a single package will not take more than 5 minutes to plan your holiday. With the winning time, you can organize your holidays with the help of our travel guide.
2. SAVE BUDGET FOR YOUR HOLIDAY
Book a flight + hotel holidays will allow you to save up to 70% off in your travel. Compared to a purchase with separate hotel and flight.
3. ENJOY THE TRIP YOU REALLY WANT
Our offers are negotiated with our partners to offer you the best experience in the best hotels. We only deal with 4- and 5-star hotel, with a high level of quality coming in good ratings. In your hotels, you will fin many options to enjoy your stay, such as spa, breakfast room service, beauty salons…
4. CHOOSE A TRIP IN COMPLETE SERENITY
Enjoy the transfer service in option included with the flight + hotel offers. From your arrival, at the airport to join your hotel, and when departure, to reach the airport on time. This service is mainly useful when flights arrive at night and avoid finding a taxi or understand the public transport network.
5. SIMPLEST AND MOST COMFORTABLE, IMPOSSIBLE
In order to give you the best experience, you will find directly your travel document once you made your booking. After payment, you will be redirected to a page on Voyage-Prive.co.uk with your booking information: hotel, accommodation service, flight, time, flight condition, in a single document. For any question, do not hesitate to contact us with your booking number.
Practical information about flights + hotel
When booking with Voyage Privé you will find all the practical information you need to fully enjoy your trip. Currency, language, best locations, tips… We provide travel guide and can find here or in your Voyage Privé's App.
WEATHER
Another aspect to keep in mind. Regarding the destination stay informed about the weather to have everything suitable during your holidays. For example, if you travel to Dubai, the weather is usually quite hot, especially in summer. During winter, you can decide for a winter sun holiday or a Nordic stay where you will need warm clothes.
THE BUDGET TO PLAN
The flight&hotel offers give you the opportunity to save money on your booking. Once you make the payment, you'll get the plane tickets and the hotel room, so you won't have to think about those expenses anymore. Then you just need to think about what you will visit, discover, eat, and overall plan your vacation.
OUR AIRLINES PARTNER
We built strong partnerships with many airlines company to offer you the choice to find the flight you want. Coming in different prices and itineraries, you will find a large possibility of companies. From the low-cost airlines as Ryanair, Vueling or EasyJet, to the finest Lufthansa, KLM, Air France, Iberia or Emirates Airlines.