Our TOP 10 Luxury Bangkok Hotels up to 70% Off



Table of contents
Visit our Top 10 Luxury Hotels in Bangkok up to 70% off ✅ Enjoy our exclusive Prices and become Member ✔ Visit Bangkok in the Best Hotel.
Our top 10 Bangkok hotels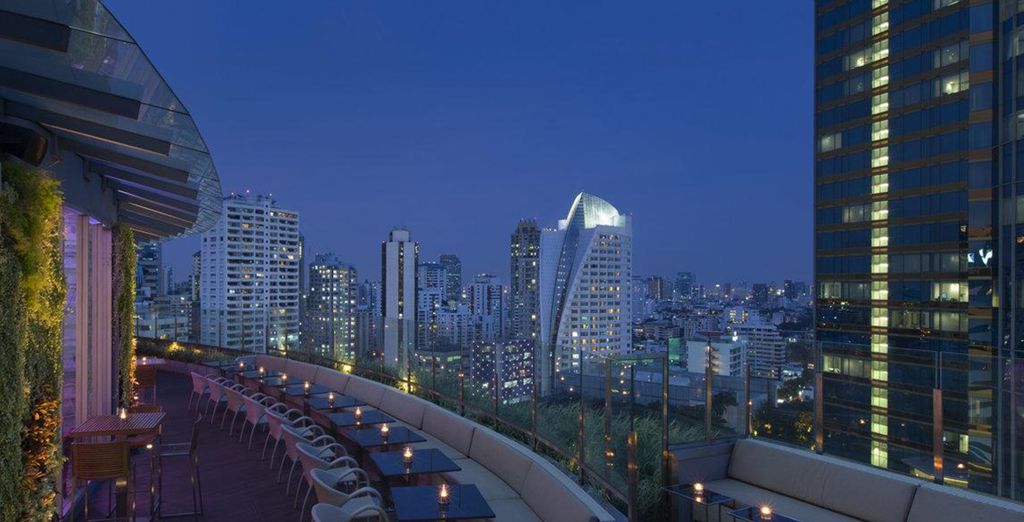 Located in the heart of Bangkok, this luxury hotel is the perfect base for your stay in the city. Well Spa and Fit facilities are available in the hotel for maximum relaxation.
Beaming with Thai culture, this hotel is an ideal mix of traditional and modern. With stunning decor made of Thai teak and silk, the interiors are authentic and impressive. It has a spa, outdoor pool, free parking and world cuisine options for a satisfying holiday.
Situated in Sukhumvit, the hotel is 6-miles away from the Erawan Shrine, making it the perfect stop. It has dry cleaning services, a fitness centre and an outdoor pool, which is ideal for the whole family.
A sleek, modern structure with Chinese and Moorish influences makes for an exquisite stay. This chic establishment is the stylish retreat you deserve.
These convenient serviced apartments are central to the hustle and bustle of Bangkok, which is great for all your travel needs. There's 1 to 3 bedroom apartments available, with all amenities included.
Ideally placed just off Sukhumvit Road, the hotel is close to the popular hotspots you'll want to explore. With exceptional service and modern rooms, this grand hotel is a superb choice.
This is a tropical seaside haven with an optional stay in Bangkok. This tranquil, decadent hotel is tucked away from all the hustle and bustle. Decorated with handicrafts and silk fabrics, you can make this your home away from home.
This hotel is placed in the heart of the city, close to a large selection of bars, restaurants and shops. Luxurious and high in quality, guests can enjoy exceptional service with superb facilities.
Situated near the beach in Thai Mueang, enjoy this secluded yet stunning retreat, with an optional stay in Bangkok. Kalima Resort boasts several amenities such as barbecue grills, 24-hour front desk and tours/tickets assistance so all your travel needs can be met.
Located near beautiful beaches and countryside, our hotel has outstanding service and leisure facilities. With a rooftop lounge, jungle pool, fitness centre and a kids' club, this establishment suits all.
What services will you find in our hotels in Bangkok?
• Private parking
• Flat screen TVs
• Comfortable beds
• Half board / Restaurant
• Spa, jacuzzi, swimming pools
• Saunas
• Bars
• Wifi access
• Thai spas
• Steam rooms
Hotel rental offers in Bangkok are convenient for all kinds of travel
The various rental offers in Bangkok are endless. Activities include spas, kids' clubs, and bike rentals. The Ma Du Zi Bangkok, for instance, offers massage services, exclusive VIP rooms and indoor pools. As well as excellent services, we value chic interiors to make your cultural experience even more special. This range suits families with children, couples or solo travellers.
The range of hotels we offer in Bangkok
From traditionally designed hotels to more modern ones, Voyage Prive has a large selection of offers for you to choose from. Some hotels are more tucked away and private, so they're suitable for those who prefer a more peaceful getaway. The choices include luxury hotels and discreetly located hotels. All establishments have good access to beaches or city hotspots.
Bangkok: What should we bring for a hotel stay?
Toiletries, a bathing suit, clothes, slippers, and sports trainers.
Your best hotel in Bangkok: how to get there and make your booking
How to go in Bangkok?
: Travellers from the EU will need a tourist visa for Thailand. They will also need to present a valid passport.
Register online on our website to take advantage of exclusive offers on luxury holidays dedicated to members only. Reservations can be also be made on the phone.
The opinion of the Voyage Prive travel expert on hotels to Bangkok
Voyage Prive hotels offer deals that are tailor-made to your tastes. From fabulous rooftops with a view of the city to stunning sea views, these hotels have it all. Members receive high-quality services, such as advice during their stay in the hotel as well as travel tips.
Customer support is available 24/7 and you can customise your holiday the way you wish on the go.
Thailand has a wealth of culture and beauty to offer, and Voyage Prive hotels are the ideal choice. This is because we take into consideration all types of people whether single or with a family. Our experts can offer advice on how to plan your day accordingly, whether you wish to go deep-sea diving or sight-seeing. Customer care is one of the core values of Voyage Prive, so we ensure you make use of all the facilities and services we have available to make your stay more enjoyable.
Bangkok, a city of tradition and splendour
Bangkok is becoming an increasingly popular tourist destination. The city is a hectic but fascinating blend of traditional and modern. From ancient shrines to swanky bars, it has it all. You will come across a plethora of street food made with fresh ingredients to make your senses go wild. There is also the option to explore Michelin-starred restaurants if you fancy trying other cuisines with a Thai twist. The countryside or the nearest beach is never too far away if you wish to have a more secluded and relaxed experience. Bangkok is a majestic city abundant with Buddhist temples, floating markets and natural beauty for an ultimate South-East Asian holiday.