Thailand Holiday Package - All-Inclusive Tour



Table of contents
Thailand Holiday Package - all-inclusive tour
Why discover Thailand with a holiday package?
A holiday package takes the hassle out of holidays since you book the flight, accommodation and tour all in one bundle. This is especially recommended if you're travelling in a group or going to a remote destination. Additionally, with a holiday package from Voyage Privé, you can benefit from saving money. Those enjoying the holiday package with flights also get transfers between the airport and the hotel included.
The different types of holidays and tours offered by Voyage Privé
Voyage Privé works with high-end hotels, airlines and hospitality services to offer members-only luxury holiday packages. You can enjoy discounts of up to 70% on tours and packages to Thailand, such as cruises, stays in secluded 5-star island resorts, beach villas with private pools, city breaks and more.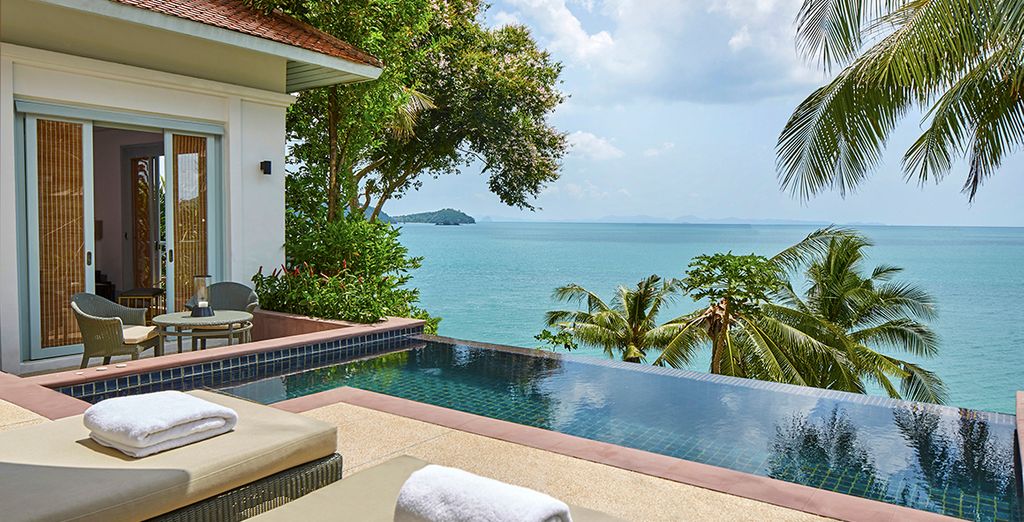 Guests who choose this holiday package enjoy a beautiful 5-star resort in Phuket with a complimentary wellness consultation and class. Choose from yoga, meditation or try your hands, arms and legs at Muay Thai as you relax on the tropical island of Phuket. This delightfully serene resort offers 3 room types and discounts on food and beverages. Enjoy bed and breakfast or upgrade to half board or full board for the ultimate Thai treat.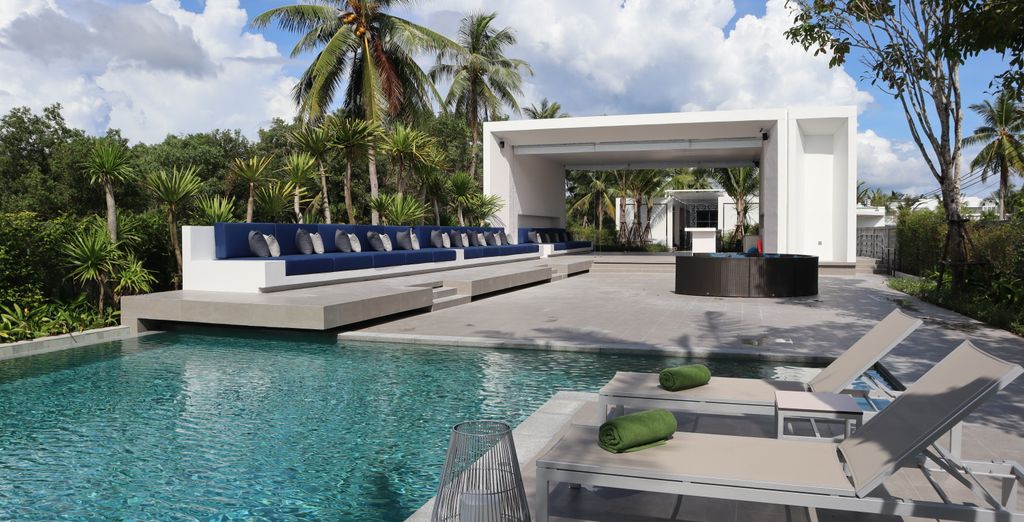 See the Thai sunset from your own tropical villa with a private pool at this modern five-star resort near Mai Khao Beach in Northern Phuket. This deal includes a half-board stay with a daily set Thai lunch for two, along with food and beverage discounts and spa offers. For those with little ones, there's a kids' club and babysitting services. This is a great option for honeymooners, too, since the private villa setting offers privacy.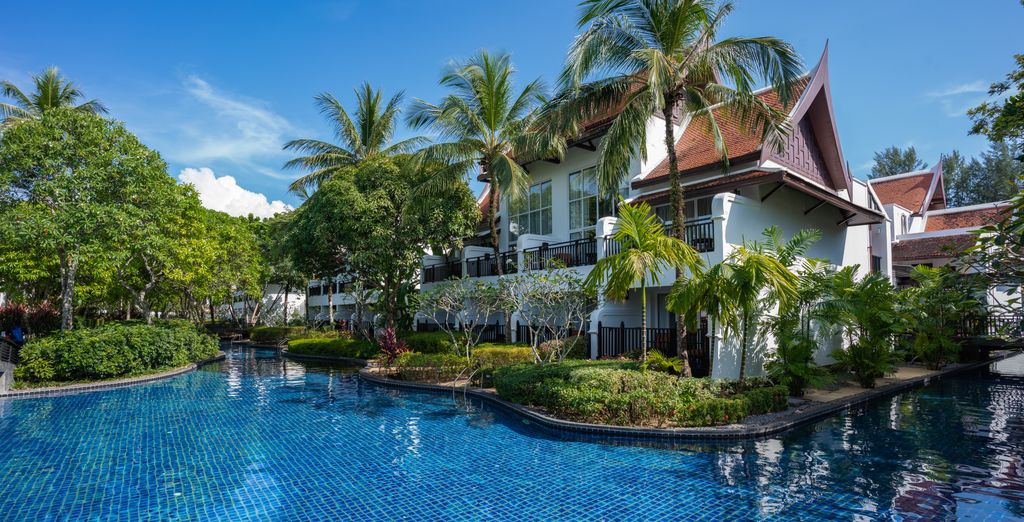 This idyllic beachfront resort north of Phuket offers a tranquil, five-star stay next to a white sand beach. Relax at the lagoon-style pool and enjoy the Andaman Sea views with full-board accommodation and a complimentary spa treatment. Enjoy a sundowner as you watch the sunset, relax by the pool or take a stroll on the white sand beach.
Practical advice for planning your trip to Thailand
When to travel to Thailand
You can enjoy travelling to Thailand anytime between November and May, which is the dry season in the north and central parts of the country. The south gets the most rain in September-December. The peak seasons are around Christmas and New Year and in mid-April when the Songkran Festival takes place and hotels fill up. The coolest months are December and January, and the hottest are March and April.
Administrative formalities before going to Thailand
When you arrive in Thailand, you'll get a 30-day tourist visa. You won't need anti-malarial medicines in Thailand, but be sure that your travel vaccines are up to date, such as typhoid, tetanus and hepatitis A.
How to get around in Thailand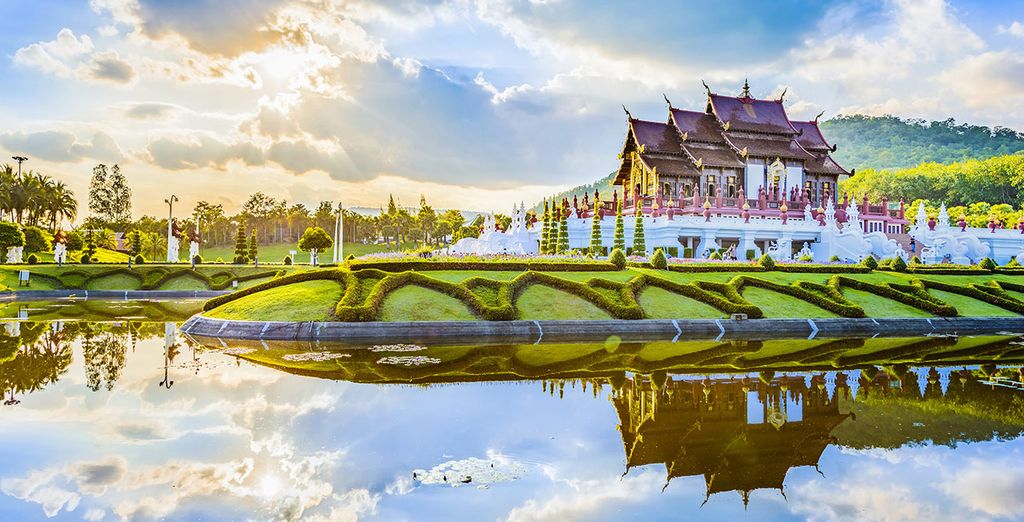 Metered taxis and tuk-tuks are convenient ways to get around in Thailand. If you take a tuk-tuk, be sure to negotiate the price beforehand. Car and motorbike rentals are also available. Most high-end hotels have shuttle services.
What is the time difference?
Thailand is 6-7 hours ahead of the UK, depending on daylight saving time.
What is the official language?
The official language of Thailand is Thai. It's a tonal language, which can be tricky to pick up the right pronunciation. Delight the locals by learning a few simple phrases!
High-quality services at the best price for your package holidays in Thailand
Voyage Privé works with high-end hotels in Thailand that offer excellent options and services, such as spas, massages, room upgrades, sea views, gyms, fine dining options and more. Additionally, Voyage Privé organises packages that allow travellers to fully enjoy this exotic destination without the stress of organisation.
Voyage Privé's hot deals for Thailand holiday packages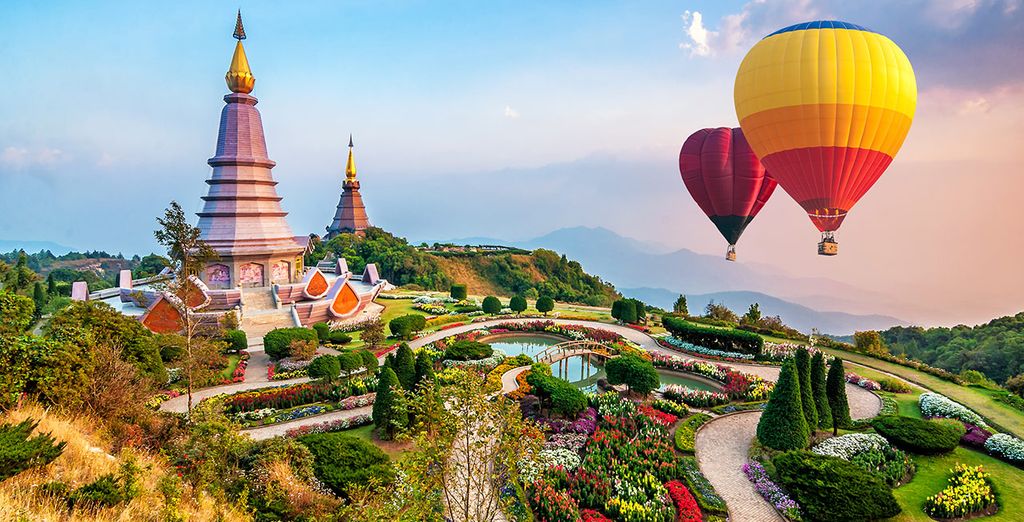 Thailand is an incredibly unique country with regard to its culture and should be on anyone's bucket list. Thailand's highlights include unspoiled tropical beaches, fantastic temples, world-class cuisine, lush rainforests, wellness facilities, a shopper's paradise and friendly locals.
Five places to see on your trip to Thailand
1. The Grand Palace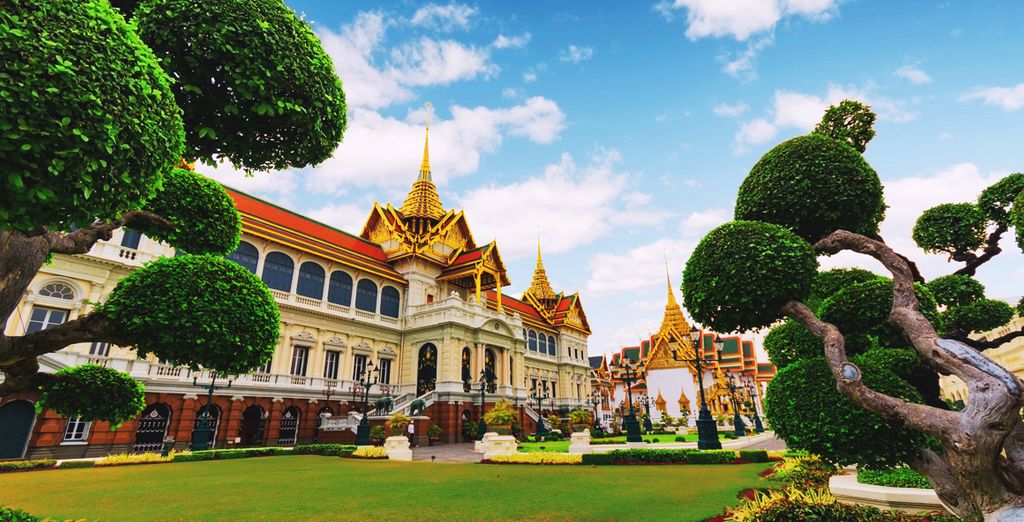 If you stay in Bangkok during your Thai trip, The Grand Palace and Temple of the Emerald Buddha should not be missed. It was the official royal residence from 1782 and houses the most revered Buddha image in the country. The dress code is strict, so be sure to cover up(including knees and shoulders) before heading here and prepare to be blown away by the fantastic art and architecture.
2. Go island-hopping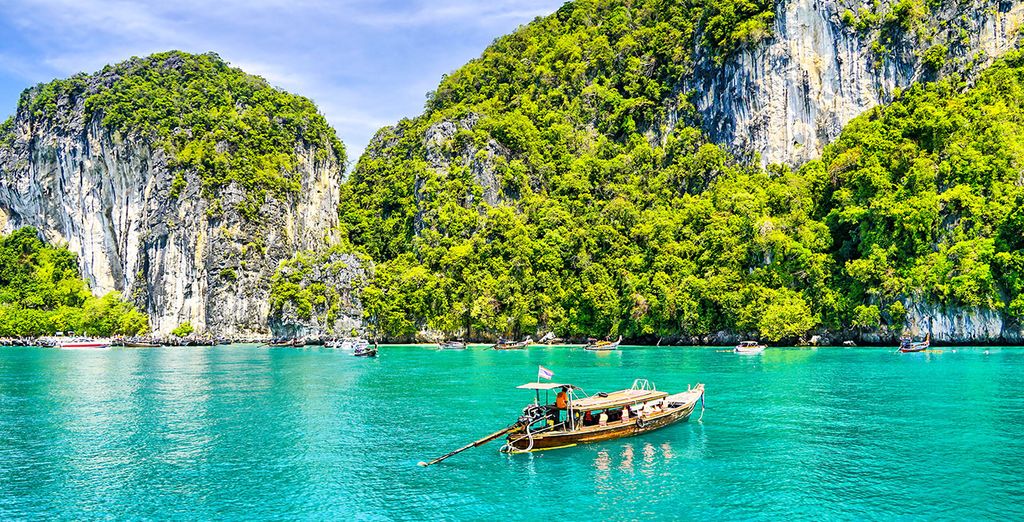 The island of Phuket itself is beautiful but it's definitely worth taking a boat tour of some of the smaller islands where you can enjoy snorkelling, swimming and basking in the most incredible scenery worthy of James Bond and The Beach film sets! Choose from a longtail boat, catamaran or speedboat and take to the seas!
3. Watch a Muay Thai fight
Muay Thai (Thai boxing) is the national sport of Thailand and is exciting to watch. Thai boxers use their fists and legs in long-range combat, and their elbows, knees and grappling skills in short-range combat. A match usually lasts for five two-minute rounds and begins with a "wai kru" dance, which is a fighter's tribute to their trainer.
4. Take a Thai cooking class
If you're a foodie, you'll love Thai cuisine, which expertly combines sweet, sour, spicy and salty flavours. Everyone has their favourite blend of these flavours, and you can discover yours by tasting and learning how to prepare your favourite Thai dishes, such as pad Thai, green curry and more. Take a taste of Thailand back home with you.
5. Enjoy a Thai massage
Thai massage is great for loosening tight muscles and getting rid of tension. Thai massages are based on assisted yoga and energy lines. Thai massage can be quite rigorous but is well worth it! Treat yourself to a long massage and feel the benefits.