We Love —
Discover the highlights of three of the USA's most iconic destinations with this 14-night trip to Los Angeles, Las Vegas, San Francisco and then a cruise along the Mexican Riviera! 
Start in Sin City, where a stay at the Luxor Hotel & Casino 3* is sure to be a holiday highlight!
Then move to the bright lights of Hollywood, where the The Queen Mary 3* awaits, boasting iconic accommodation and a spectacular setting.
End your American adventures in the Bay Area, where you'll stay at the Hotel Diva 3* before boarding your cruise to Mexico!
New
Voyage Privé
—
Carefully selected by our experts especially for you
Your Destinations —
This incredible package includes a 3-night stay in Las Vegas,
globally synonymous with glamorous casinos, rock-star luxury and a 24-hour excess that has become a brand in its own right.
Experience the world's most iconic structures in miniature when you
walk the Strip, from the Pyramids of Egypt at Luxor, or the Statue of Liberty at New York, New York; to the beautiful Eiffel Tower at Paris
and romantic canals at the Venetian - you can
explore the world in a couple of hours!
Los Angeles is
America's second largest city and a popular holiday destination
thanks to its year-round mild weather, healthy outdoors lifestyle and glamorous reputation. T
he city is home to many famous attractions in a relatively concentrated space.
Your choices include amusement parks, architectural landmarks,
art museums and galleries, beaches, parks, hiking and shopping,
to name a few.
LA's lifeblood is the film industry,
of which you'll find plenty of evidence all over town - the star-studded Hollywood walk of fame on Hollywood Boulevard, Downtown's historic movie palaces, and
celebrities strolling the Sunset Strip on the way to hip clubs and restaurants.
Cable cars, the Golden Gate rising from the fog -
welcome to San Francisco, arguably the most romantic and cosmopolitan city in the United States.
San Francisco has it all: a
colourful history, superb restaurants, sophisticated museums and world-class shopping.
This city is known all across the globe for its counter-culture and free spirit. Immerse yourself in the sights and sounds of this wonderful city by
visiting the Metreon and the museums
, soaking up the atmosphere and sampling
authentic food in Chinatown
or watching the
street performers at Fisherman's Wharf.
San Francisco's eclectic and liberating atmosphere will soon have you under its spell.
Our Offer —
14 Nights

3-night stay at Luxor Hotel & Casino Las Vegas
2-night stay at The Queen Mary Los Angeles
2-night stay at Hotel Diva San Francisco
7-night stay on the Mexican Riviera
Your Itinerary In Brief —
Day 1: Outbound flight from UK to Las Vegas 
Day 2: Las Vegas
Day 3: Las Vegas
Day 4: Internal Flight between LAS and LAX 
Day 5: Los Angeles
Day 6: Embark the cruise 
Day 7: Cruise 
Day 8: Cruise - Cabo San Lucas Mexico
Day 9: Cruise - Mazatlan Mexico
Day 10: Cruise - Puerto Vallarta Mexico
Day 11: Cruise - fun day at sea
Day 12: Cruise - fun day at sea
Day 13:  Disembark at Los Angeles & Internal flight from LAX to SFO 
Day 14: San Francisco
Day 15: Inbound flight San Francisco to UK
Luxor Hotel & Casino 3* —
You will enjoy a 3-night stay in a Pyramid King Room on a Room Only Board Basis.

Characterised by its distinct pyramid shape, the Luxor Hotel and Casino is a symbol of this unique city. Set on the vibrant Las Vegas Strip, the hotel is a destination in itself, housing its very own
120,000 square feet casino, a full-service spa, 4 swimming pools
and a
handful of dining destinations serving a plethora of cuisines from Irish to Asian!
Please note: Some facilities may incur an additional fee, payable locally.
Your Room
Set high above the glimmering Strip, the sleek and elegant Pyramid Rooms feature a spacious king bed and a 40" flat screen TV.
Sleeps up to


2 Adults
Your Board Basis
With several restaurants available at the hotel, you will be spoiled for choice, If you fancy an all-american steakhouse, head to the TENDER Steakhouse with dry and wet-aged steaks for every palate. Or you can truly indulge at The Buffet at Luxor, for a more casual experience. There is also Asian, French, deli style, cafes, irish pubs, burgers, Italian - everything you can imagine!
Your Time
Offering the pinnacle of entertainment options, the Luxor attracts visitors from all over. There are 4 bars, including the Aurora with unique lighting effects based on the Northern Lights, or the playbar offers bar top gaming. There are also of course several casinos, for your chance to win big in the city of sin. If you fancy a show, you can see the Blue Man Group, Cirque du Soleil or even a Titanic Exhibition! If you fancy just chilling out, the hotel also has a massive swimming pool.
The Queen Mary 3* —
You will enjoy a 2-night stay in a Standard State Room on a Room Only Board Basis.

Stay in an iconic cruise liner, the Queen Mary, now housed on Long Beach! Every detail harkens to the Golden Age of Ocean Travel while providing one of the most modern luxury hospitality experiences on earth. 
Guests will delight in the lovely accommodation and renowned restaurants here, including a British pub, a day spa, a tearoom and a 1930s style bar with original Art Deco styling, plus the
 array of unsurpassed amenities
 make this a great cruise ship to stay on!
From bow to stern, discover 
spacious decks 
on which to indulge in pleasures and pursuits you never normally have time for. There are opulent public areas, 
extravagant dining rooms, ballrooms, theatres and lounges!
Please note: Some facilities may incur an additional fee, payable locally.
Your Room
Each of the hotel's Standard Staterooms are the ideal blend of modern amenities with 1930s Art Deco style. Close your eyes and imagine yourself as one of the genteel making a long journey in the golden era of travel. Each room has an Art Deco mirror, a built-in storage area, rich polished wood with unique stylings. 
Sleeps up to


2 Adults
Your Board Basis
The Queen Mary offers a mixture of casual and fine dining, with plenty of opportunities to take in the surroundings whilst you eat. There are 1930s bars, a Malibu Wines tasting room, with a Royal Sunday Brunch with 50 unique dishes from around the globe. 
Your Time
The hotel's inviting spa service, alongside the fully-equipped fitness centre, ensure guests get as much relaxation as they do fun and indulgence on their Las Vegas holiday.
Hotel Diva 3* —
You will enjoy a 2-night stay in a Loft Room on a Room Only Board Basis.

The Hotel Diva 3* is
located in a prime city spot,
surrounded by many of San Francisco's most iconic highlights in Union Square.
Boasting modern facilities and chic style, 
this sleek hotel is the perfect place to unwind, following a long day of hiking up the city's famous hills.
Home to spacious bedrooms, a 
colourful Mexican bistro
and delightful amenities such as an
exercise room,
this hotel presents classic charm, contemporary comfort and total tranquillity.
Please note: Some facilities may incur an additional fee, payable locally.
Your Room
In each of the hotel's Loft Rooms, our members will enjoy a full range of modern amenities, including Serta Five Star mattresses, 400 thread count linens, down comforters & pillows, designer desks, chest of drawers, a 43-inch High Definition flat screen television and a refrigerator. The perfect sleek haven for when you return after a day's sightseeing. 
Sleeps up to


2 Adults
Your Board Basis
The hotel is also located within walking distance of some of the City's best dining on the Geary Street location. Alternatively, for something closer to home, there is a vibrant Mexican bistro in the hotel. Guests can enjoy room delivery from the restaurant from 11:00 until 22:00. A complimentary evening wine hour is also offered for all guests.
Your Cruise Itinerary —
Details for the Cruise:
Day 1: Depart from Los Angeles (Long Beach) at 4:30pm              
Day 2: Fun day at sea
Day 3: Arrive at Cabo San Lucas, Mexico at 10am, depart at 7pm
Day 4: Arrive at Mazatlan, Mexico at 8am, depart at 5pm
Day 5: Arrive at Puerto Vallarta, Mexico, at 8am, depart at 8pm
Day 6: Fun day at sea
Day 7: Fun day at sea
Day 8: Arrive in Los Angeles (Long Beach) at 9am
Your Ship —
You will enjoy a 7-night Cruise on the Carnival Splendour, in an Inside, Outside or Balcony Cabin on a Full Board Dining Basis (Breakfast, lunch and evening meal served in the main restaurant - excludes drinks).
It's hard to tell which onboard space best represents Carnival Splendor — they all seem to hint at the amazing time you're going to have. El Morocco Lounge hosts comedy shows, musical performances, karaoke and more... and wears its 1930s namesake clearly on its nameplate. The words "Royal Flush Casino" incite visions of winning, while the onboard jazz club's moniker — The Cool — simply says it all without saying a word. And the Pinnacle Steakhouse can be found not only at the height of elegant dining, but at the apex of the ship.
If you like your fun to flow, there are options aplenty. If you list "splish" and "splash" among your favourite terms, there's the Splash Park. Those into sitting and sliding are invited to try the signature 
Carnival Twister Waterslide
. How about floating or swimming around? Carnival Splendor has 
pools all over the place
, including the midship pool featuring a retractable roof that makes any day a pool day. So whether you splish or splash, you'll find hydro-excitement galore.
If relaxation is more your thing, 
Serenity Adult-Only Retreat
 is more your place. Or if you're looking to take relaxation to the extreme, direct your attention to the 
Cloud 9 Spa
, featuring more (and better) ways to kick back than just about anywhere else, on land or at sea. You haven't lived until you've relaxed in a 
Thalassotherapy pool
, or chilled — so to speak — in a dry heat chamber.
Your Stateroom —
Interior (Inside)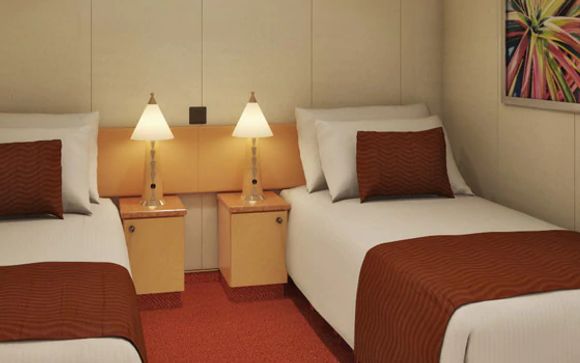 An Interior Stateroom is the most affordable way to cruise, offering a cosy environment with a full private bathroom, soft linens and 24-hour room service.
Ocean View (Outside)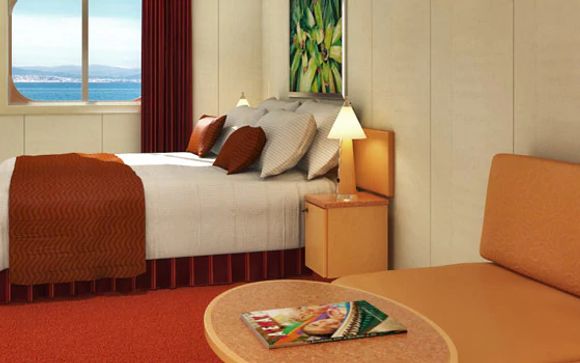 Catch a glimpse of the the glorious sea with your Ocean View Stateroom, where you'll get views you won't find anywhere else on land. Rooms are comfortable, and make sue you don't miss the sunrise and sunset at sea for a truly special experience. 
Balcony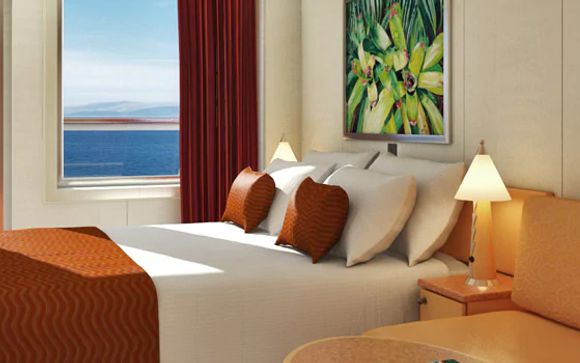 Designed for maximum sea breeze and the most stunning views, these Balcony Staterooms will offer all this for an exceptional and unforgettable experience. Any time you're in your room you're just steps away from your own personal outdoor oasis.
Sleeps up to


2 Adults
Your Journey —
Flights: Indirect flights with 1 stopover of no more than 6 hours.

Further flight details can be found here.

Luggage:
International - 20kgs hold and 5-10 kgs hand
Domestic - Checked-in baggage on domestic flight needs to be purchased at the airport by paying approx $25 per bag per flight (charges may apply in local currency)
Transfers: This offer includes internal flights between destinations. No transfers are included or available with this offer.