We Love —
Escape to the USA for a fabulous Fly Drive and West Coast adventure in California and Las Vegas.
From Los Angeles, to San Diego, Palm Springs and the Sequoia National Park, on this extraordinary holiday you're sure to have the time of your life.
During your Fly Drive, you'll be accommodated in a range of fantastic hotels, including the iconic Luxor Hotel & Casino in Las Vegas!
New
Voyage Privé
—
Carefully selected by our experts especially for you
Your Destinations —
Los Angeles is
 America's second largest city
and a popular holiday destination thanks to its year-round mild weather, healthy outdoors lifestyle and glamorous reputation. T
he city is home to many famous attractions in a relatively concentrated space. 
Your choices include amusement parks, architectural landmarks, 
art museums and galleries, beaches, parks, hiking and shopping,
 to name a few. 
LA's lifeblood is the film industry,
 of which you'll find plenty of evidence all over town - the star-studded Hollywood walk of fame on Hollywood Boulevard, Downtown's historic movie palaces, and 
celebrities strolling the Sunset Strip on the way to hip clubs and restaurants.
Santa Barbara is a glamorous city on the central California coast,
that boasts the Santa Ynez Mountains as a dramatic backdrop. Downtown,
Mediterranean-style white stucco buildings with red-tile roofs reflect the city's Spanish colonial heritage.
Lining State Street are upscale boutiques and restaurants offering local wines and seasonal fare. On a nearby hill, the
Mission Santa Barbara, founded in 1786, houses Franciscan friars and a small museum.
Sequoia trees continue to impress visitors due to both their size and history
in the Sequoia National Park. Located in Visalia, the area is said to be
one of the most important agricultural trade markets in the well-known Central Valley.
Surrounded by groves of the world's largest living things, there's something
truly magical
about the Sequoia National Park.
This incredible package includes a stay in Las Vegas, globally synonymous with glamorous casinos, rock-star luxury and a 24-hour excess that has become a brand in its own right. Experience the world's most iconic structures in miniature when you 
walk the Strip, from the Pyramids of Egypt at Luxor, or the Statue of Liberty at New York, New York; to the beautiful Eiffel Tower at Paris
 and romantic canals at the Venetian - you can 
explore the world in a couple of hours!
This blissful, sun-soaked oasis is
a great place for shopping, eating, or simply relaxing by the pool.
Possibilities include a tram ride up to Mt. Jacinto or a hike through Indian Canyons where you will
find beautiful waterfalls and peaceful palm trees. 
Aside from the fantastic sunny weather and spectacular beaches,
there are plenty of reasons why San Diego is an enduringly popular holiday destination. From
whale watching off the Pacific coast
to kayaking, or perhaps enjoying a Baja Lobster or Wine tour, there are so many activities and naturally beautiful sights to discover.
By night, explore the buzzing, cosmopolitan city centre where you can see live theatre shows,
or wine and dine your way through Balboa Park - the bustling cultural epicentre.
Your Itinerary In Brief —
Day 1: Arrival in Los Angeles
Day 2: Los Angeles
Day 3: Los Angeles - Santa Barbara
Day 4: Santa Barbara - Sequoia National Park
Day 5: Sequoia National Park - Las Vegas
Day 6: Las Vegas
Day 7: Las Vegas - Palm Springs
Day 8: Palm Springs - San Diego
Day 9: San Diego
Day 10: San Diego - Los Angeles
Day 11: Los Angeles - Departure
Your Itinerary —
During your Fly Drive, you will follow the itinerary as seen below.
Day 1: Arrival in Los Angeles

Welcome in California! Take your rental vehicle from the airport, and head out on the road to your hotel located in Redondo Beach. Spend a free evening on the edge of the Pacific, enjoying the most beautiful sunsets in LA. Head to Venice Beach to enjoy its laid-back atmosphere and stay overnight in your hotel.
Day 2: Los Angeles

The City of Angels will seduce you with all the pleasures it offers. Spend a day at leisure, perhaps uncovering the delights of Universal Studios, where you'll discover all of the secrets within cinema. Alternatively, stroll down Hollywood Boulevard, Rodeo Drive or Sunset Boulevard, and fall in love with the beauty of Santa Monica, home to many shops and restaurants. Santa Monica even marks the end of the famous Route 66! Finally, don't miss a sunset over Los Angeles from the Griffith Observatory, where a romantic atmosphere is assured and probably the most beautiful view of the city can be enjoyed. Overnight in hotel.
Day 3: Los Angeles - Santa Barbara

Take the road to Santa Barbara, a chic and laid-back Californian city. Located less than a 2 - hour drive from Los Angeles, here you can browse the historic old town and discover the "Queen of Missions", the Old Mission Santa Barbara. Discover a sweetness of life known as the Riviera of California. Santa Barbara is unique and full of charm. For shopping enthusiasts, head to State Street and its Paseo shopping centre Nuevo. Overnight in hotel,
Day 4: Santa Barbara - Sequoia National Park

Head out in nature to the famous Sequoia National Park and discover the largest trees on the planet! Take your best shots and enjoy a lengthy hike in this breathtaking Californian forest. Overnight in hotel.
Day 5: Sequoia National Park - Las Vegas

Leave the Sierra Nevada, and head onwards to the incredible Mojave Desert, where you'll uncover beautiful landscapes, dry salt lakes, and rocky valleys where vegetation has ceased to exist. Just a few miles later, the hectic city of Las Vegas will emerge, allowing for another huge adventure. Overnight at hotel.
Day 6: Las Vegas
Make way for fun! You won't know where to turn your head! Visit the huge themed hotels on Las Vegas Boulevard. From the Venetian, to New York New York, and the sumptuous Bellagio, don't miss the spectacle of the fountains and this mesmerising strip. As for attractions, each hotel offers restaurants, shops and even rides! For a stunning view of the city, head to the THE LINQ Ferris wheel, for a lavish night out, opt for a Cirque du Soleil show, or, for a unique adventure, fly over the Grand Canyon in a helicopter. Overnight at hotel.
Day 7: Las Vegas - Palm Springs

Drive back to California after your immersion in the craziest city in the United States, as be pleasantly surprised by Palm Springs - an Oasis in the middle of the Desert, and the refuge of the stars of Hollywood. Here, you can climb Mount Jacinto for stunning views of the city, or visit the city's vintage shops! Golf enthusiasts will be in their element, with access to the most beautiful courses in the country! For the more adventurous, we recommend spending the day at the San Andrea Rift... Chills guaranteed! Overnight at the hotel.
Day 8: Palm Springs - San Diego

Head to Southern California, and arrive in the beautiful city of San Diego. Located just 20 km above the Mexican border, this sun-soaked city will seduce you with its urban charm and beautiful beaches that run along the Pacific Coast. Take the time to explore Coronado Island, or enjoy the bars, shops and restaurants in trendy Downtown. Overnight at the hotel.
Day 9: San Diego

Visit the world-famous Balboa Park to enjoy access to more than 20 museums. Take a walk and enjoy a coffee break in the heart of this incredible park - San Diego's perfect destination for families! Visit the LegoLand amusement park in Carlsbad, and fall in love with San Diego's seaside paradise, boasting almost 100 km of coastline alongside the iconic Pacific Beach, Mission Beach and La Jolla. Try out surfing or beach volleyball and fall in love with the Californian way of life. Overnight at hotel.
Day 10: San Diego - Los Angeles

On this day, head back to Los Angeles. Why not finish your holiday in Downtown? Modern and trendy, here you can enjoy rooftop bars, restaurants, and plenty of attractions. To enjoy tasty food, head to the recently renovated Grand Central Market, which offers many original dishes. Don't miss the Staples Center too, a sports and leisure centre, and the stronghold of the Lakers and Clippers NBA teams. This city is full of hidden treasures. Overnight at hotel.
Day 11: Los Angeles - Departure

Spend your last hours in Los Angeles before returning your car to the airport and boarding your flight home.
Your Tour Hotels —
Our members will stay at the following hotels in a Standard Double or Quadruple Rooms on a Room Only Board Basis.
Your Hotels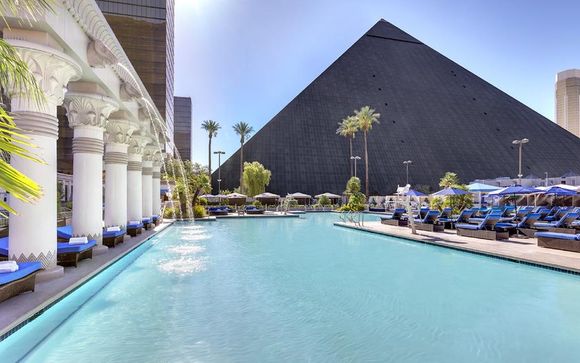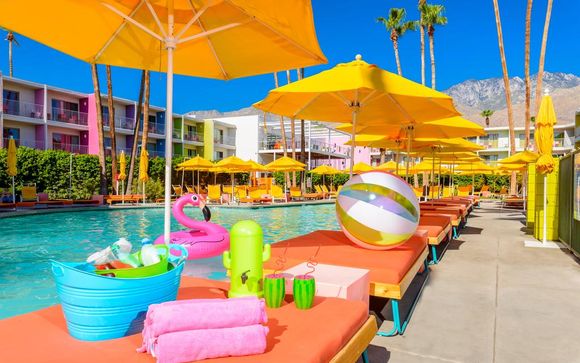 Los Angeles:
2-night stay at the Best Western Redondo Beach or Similar
Santa Barbara:
1-night stay at the Best Western Plus Pepper Tree Inn or Similar
Sequoia National Park:
1-night stay at the Best Western Town & Country Lodge or Similar
Las Vegas:
2-night stay at the Luxor Hotel & Casino or Similar
Palm Springs:
1-night stay at The Saguaro or Similar
San Diego:
2-night stay at the Best Western Plus Hacienda Old Town or Similar
Los Angeles:
1-night stay at the Best Western Redondo Beach or Similar
Standard Double Room Sleeps up to


2 Adults
or
Standard Quadruple Room Sleeps up to




4 Adults
Please note: the bed for the 3rd/4th guest sharing is likely to be a sofa bed or camp style bed. If any of these hotels are not available, hotels of a similar standard will be found.
Your Journey —
Flights: You may choose from Economy, Premium or Business class flights on sectors that they operate, at the next stage of the booking process. The flights included are with either a scheduled or no-frills airline and are subject to live availability and prices can change. You can choose your preferred departure times during the booking process. Please select your flight options carefully as departure and arrival airports may differ.

Car Hire: Car hire is included throughout this offer.

Please Note:
- The car rental will be in category "compact" up to 2 persons or "Midsize SUV" from 3 to 4 persons.
- The car rental will include 'Super Fully Inclusive Insurance' (unlimited Mileage, CDW, locals & environmental taxes, one additional driver)
- Customers under 25 yrs old will be required to pay an extra 'Underage Insurance' fee of around $25 per day + tax
- To rent a car, the driver has to have a valid driving licence of at least 1 year minimum, and be at least 21 years old
- Customers can accept and choose whether to add extra insurances on the spot, directly with Alamo Rental Cars (every extra insurances or car changes will be paid by the customer with his credit card at the time of drop off)