We Love —
Book a festive break at Wivenhoe House Hotel 4* and stay in a beautifully restored Grade II listed building and admire its enchanting surrounding parkland, once painted by Constable!
Celebrate the Christmas season with a Festive Dinner for two with a cocktail included, served at the hotel's popular Brasserie Restaurant.
Our members will stay in a Luxury Room category, each individually designed with their own unique character and style.
New
Voyage Privé
—
Carefully selected by our experts especially for you
Wivenhoe House Hotel 4* —
Just for you:
Late check out until 12 noon
Welcome to Wivenhoe House Hotel 4*, a delightful country house hotel near the picturesque village of Wivenhoe on the Suffolk and Essex County borders, and only a short drive from Colchester. Offering an array of luxury accommodation, impeccably presented, the unique style and character of Wivenhoe House charms every visitor. Admire the outstanding period architecture of this Grade II listed house, roam the carefully restored sunken lawn and surrounding parkland, and relax into the beautiful setting of the decorated lounges. 
Wivenhoe Park, once painted by the esteemed artist Constable, is home to Edge Hotel School, the first hospitality school of its kind in the country. When visiting the hotel, you will find students in every department learning the professional skills to become future leaders in the industry.
Your Room —
Just for you:
Complimentary chocolate treat in room
This offer is based on a Luxury Room.
All located in the Grade II listed main house, a luxury room at Wivenhoe House is the ultimate place to stay. Each room has its own unique character and style, showcasing a charming range of individual designs. From Charles Gooch (named after the last family to privately own Wivenhoe House), to the Rebow (named after General Rebow who commissioned Wivenhoe House) and Constable (after the famous artist who once painted Wivenhoe Park), this hotel beautifully incorporates its history and unique story with the modern luxuries of four-star accommodation. 
Please note, as all Luxury Rooms are different in design, the size and layout changes from room to room.
Maximum room capacity


2 Adults
Your Dining Choices
Just for you:
One complimentary dinner and cocktail for two
This offer is based on a Bed and Breakfast stay.
The hotel has a stylish brasserie offering a perfect combination of classic dishes and modern cuisine, in a relaxed, informal setting. Open every day for breakfast, lunch, and dinner, the brasserie also offers a traditional refined Afternoon Tea experience (Thursday to Sunday), perfect for celebrating special occasions or even just to get your fix of freshly baked scones and jam!
Dinner with a cocktail on the first night of arrival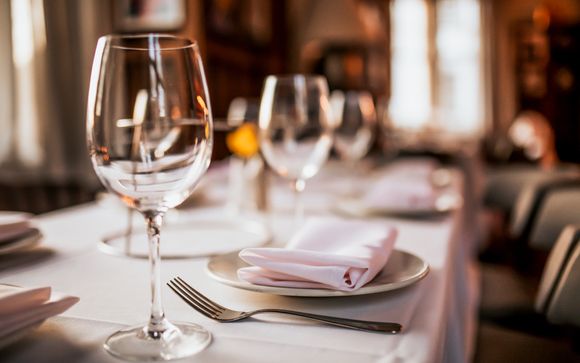 Enjoy a delightful evening of dinner and a cocktail on the first night of your stay! Eat, drink and be merry.
Your Destination —
Essex County in the South East of England has many charms and draws as a popular and varied destination. From ancient towns, rural walkways, historic markets, and stately homes, to fresh sea-air and the Victorian nostalgia of pleasure piers, this diverse county has much to offer its visitors.
Historically, the area is rich in heritage, boasting Roman Towns and archaeological remains spanning 2500 years. Notably, the town of Colchester, once the most important city in Roman Britain and now a thriving modern town, rewards visitors with first-rate galleries, museums, and boutique shops. Colchester Zoo is a firm family favourite, while impressive Colchester Castle claims the title of the largest Norman Keep in Europe and is well worth a trip.