We Love —
This private tour will immerse you in the stunning, diverse landscapes of The Philippines.
Highlights include the bustling Manila, the 2,000 year old rice terraces in verdant Banaue and picturesque Cebu.
End with a 3 or 6 night stay at a 4* hotel on the beach at Bluewater Maribago Beach Resort, where water sports and numerous dining options await. 
New
Voyage Privé
—
Carefully selected by our experts especially for you
Book Now, Pay Later —
Booking 35 days in advance and spending over £500 per person? No need to pay in full today! Just select the 30% deposit option on our payment page (terms & conditions apply)

Your Destinations —
Made up of 7,107 islands, the Philippines is defined by its 
pristine beaches, vivid green rice fields, fiery volcanoes, and diverse culture.
 The entire area covers around 300,000 square kilometres, and is surrounded by the South China Sea to the west, the Philippine Sea to the east and the Celebes Sea to the south. Many mountains and 
active volcanoes
 dot the landscape, and 
craggy limestone cliffs
 and caves border the 
crystal clear waters and powder soft white sands. 
The religions, ethnicity, language and scenery varies hugely from island to island, resulting in an ever changing, multi layered experience of 
authentic Asia.
Your Itinerary —
Day 1 - Arrival
Arrive at Manila. 
Overnight at Hotel Jen Manila 4*


Day 2 - Manila - Banaue
After breakfast, the tour starts with a 9-hour drive from the capital city of Manila to the country's highlands, Banaue. There will be several stops before the first day concludes at the Banaue Hotel.
La Loma, which is known as one of the culinary capital of the country famous for its stretch of Lechon (roasted suckling pig) shops and for its historic cemetery, the Campo Santo de La Loma or more colloquially known as La Loma Catholic Cemetery, the oldest of its kind in Manila developed during the Spanish colonial period.
Heading north, passing the province of Pampanga is the baroque-influenced church of San Guillermo Parish or the Bacolor Church. Destroyed by an earthquake in 1987, and was half buried in lahar during the Mt. Pinatubo eruption in 1991, its seems that this architecture was made to become a phoenix, which can withstand any forces of nature.
Halfway to our destination is where a two mountain ranges meet, Dalton Pass, which is located along the zigzag road of Nueva Ecija and Nueva Vizcaya provinces. Its summit lies 3,000 feet in elevation is where Caraballo Sur and the Sierra Madre mountain ranges connect is our gateway to the grand Banaue Highlands. Historically, Dalton Pass was a holding point of the Japanese army during the World War II and was a site of one of the bloodiest war in Luzon's record.
Banaue Hotel, a standard class hotel, would be the best place to stay during your stay in the Highlands, as it is 4,000 feet above sea level and in the heart of the magnificent wonder of the world, the Banaue Rice Terraces.
Overnight at Banaue Hotel and Youth Hostel 
Day 3 - Banaue Tour
One of the best ways to wake-up in the morning is to be in the heart of the Banaue Rice Terraces. With its cool breeze and the beautiful view of the Philippine Highlands, there is no other reason why it is known as the "Stairways to the Heavens".
Built by the Ifugaos, the terraces was designed as an irrigation for local crops plantation. It is elevated 5,000 feet above sea level and is also the cradle of the Ifugao civilization, their culture, and traditions.
After breakfast, the tour continues as we explore the vastness of Batad and the wonders of its mountains.
Overnight at Banaue Hotel and Youth Hostel 
Day 4 - Banaue - Sagada

Sagada has become a new scene for younger people and busy professionals to escape the buzzing city life or an aching heart. Being a location of several local movies, Sagada receives a relatively fast flock of tourists. Home of the "Hanging Coffin", it would take approximately A couple of hours north, the municipality of Sagada will greet its guests with the warmness of its people with the region's cool zephyr. local tourist spots include Kiltepan Peak (best for its view of the sea of cloud and of the sunrise), Sumaguing Cave, and Bomod-Ok Falls to name a few.
A tour of the Bontoc Museum will be one of the stints of this day. Founded by a Belgian nun, the museum preserves the history and heritage of the indigenous peoples of the Cordillera region. The museum holds a collection of traditional costumes, hunting and farming tools, and photographs of the Ifugao, and headhunter warriors and their prizes. Also on display are centuries-old Chinese ceramics and archeological objects found in Cordillera caves.
Sagada's mountain peaks are the best place to view the sea of clouds enveloping the lower areas, the sunrise and the sunset above sea levels, and the mystical sky from wee hours till dawn breaks where celestial bodies such as the galactic center of the Milky Way is visible.
Sagada is also famous for its Hanging Coffin, a traditional way of the Igurot's in burying their loved ones.
Overnight at Saint Joseph Resthouse Sagada
Day 5 - Sagada - Vigan

The journey back in time is just 5 hours away from the mountains. Vigan City, the capital of Ilocos Sur is a UNESCO Heritage Site where the Hispanic traditions are kept intact through its architectural sites.
Calle Crisologo, a stretch of old Spanish-era houses is a tourism magnet. Experience the old ways of the Ilocano people as guest may ride a Kalesa, a horse-drawn calash.
As one of the Spanish held provinces of the north, Vigan houses some baroque and neo-gothic churches such as the Metropolitan Cathedral of the Conversion of St. Paul the Apostle and
Saint Augustine Parish Church to name a few.
The Fountain Light show, a new attraction in Vigan which showcases the fusion of light, sound and the fountains as theses dances together which brings a grand show-stopper of the night.
Plazas and museums are also widely visible in Vigan, which homes some artifacts of the region's historical past.
Overnight at Hotel Luna Vigan City 4*
Day 6 - Vigan - Laoag - Manila

Barely two hours north is the city counterpart of the Northern Ilocandia, Laoag City. It is the home of the infamous white beach of Pagudpud; and its new adventure seeking activity the La Paz, and Paoay sand dunes.
Marco-era mansions can also be seen in this region, while the 5-star hotel and casino resort of the Fort Ilocandia home some entertainment.
Clean renewable energy also gives the province its much needed electricity through the Bangui Wind Farms that stretches 9km of the Bangui coastline.
Guests will fly back to Manila after all activities are concluded.
Overnight at Overnight at Hotel Jen Manila 4*
Day 7 - 9 or 12 - Cebu
Transfer from Hotel Jen to domestic airport for a flight to Cebu on private basis.
Free at leisure for relaxing beach stay at Bluewater Maibago Resort for 3 or 6 nights, where you'll be able to indulge in some R&R and recount your adventures in paradise. 
Day 10 or 13 - Cebu - Departure
Fly back to UK
Your Accommodation —
Sleeps up to



3 Adults
or


2 Adults
+
1 Child
Please note: the bed for the 3rd/4th guest sharing is likely to be a sofa bed or camp style bed.

Hotel Jen, Manila - 2 nights (1 at the beginning, 1 on Day 6) - Deluxe Room - BB

Just for you: 
- Complimentary dried mango and bottle of tanduay rum 
- Complimentary bottle of wine per couple/per room 


Hotel Jen Manila is situated on Roxas Boulevard and is just seconds away from Manila's conference and exhibition venues, including the Cultural Center of the Philippines and World Trade Center. It houses an outdoor swimming pool, a fitness centre and rooms with LCD TVs and views of Manila Bay and Roxas Boulevard.
Banaue Hotel and Youth Hostel, Banaue - 2 nights - Standard Room – BB

This small, rustic youth hotel offers amazing over the misty hills and rice terraces. There is an outdoor pool, a souvenir shop and a restaurant. Banaue Hotel and Youth Hostel is home to 81 bedrooms, all tastefully furnished to provide comforts such as a shower, refrigerator, separate shower and tub, Internet access, and complimentary bottled water. 
Saint Joseph Resthouse, Sagada - 1 night - Standard Room - BB

Offering unique accommodation, Saint Joseph Resthouse offers a panorama of pine-clad mountains dotted with villages and verdant fields. It houses cottages, rooms with private baths, dorm-type rooms, a spacious parking area, picnic area, restaurant and conference/meeting hall.
Hotel Luna, Vigan City - 1 night - Deluxe Room - BB

Set in the heart of the Heritage Village in Vigan City, listed as a World Heritage Site by UNESCO, Hotel Luna is the first and only museum hotel in the Philippines. There is a lovely outdoor pool, a restaurant serving Ilocano, Spanish and International fare, and air-conditioned rooms with free Wi-Fi and a flat-screen cable TV.
Bluewater Maribago Beach Resort, Cebu - 3 or 6 nights - Deluxe Room - BB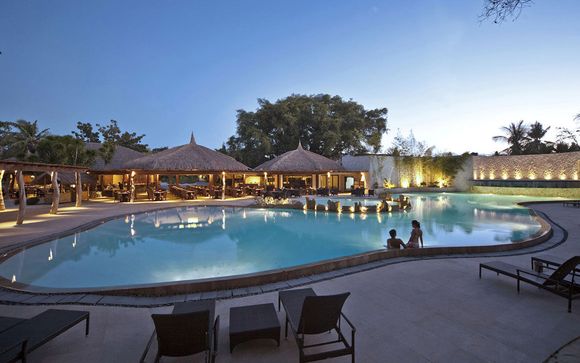 Spread out across 7 hectares, the 4* Bluewater Maribago Beach Resort boasts a tantalizing 110m white sand beach, the Amuma Spa, several swimming pools, restaurants and a selection of leisure facilities like volleyball, kayaking and fishing. A whopping 5 dining options will have you throwing back oysters and sampling Filipino, Asian and continental fare, whilst your prime beachfront location allows for unparalleled water activities including jet-skiing, scuba-diving, snorkeling and island-hopping. Your spacious Deluxe Room opens out to a private veranda overlooking the glittering seascape or tropical gardens.
Your Journey —
Flights: You may choose from Economy or Business class flights.

The flights included are with either a scheduled or no frills airline and are subject to live availability and prices can change. You can choose your preferred departure times during the booking process. Please select your flight options carefully as departure and arrival airports may differ.

Transfers: Transfers are included throughout including private airport transfers to and from Manila, transfers from Hotel Jen to the Domestic airport for flight to Cebu on private basis, a one way flight from Manila to Cebu and shared airport transfers to Maribago Bluewater Resort.