Our Top Hotels in Tokyo



Table of contents
The top 5 hotels in Tokyo
Our best hotels in Tokyo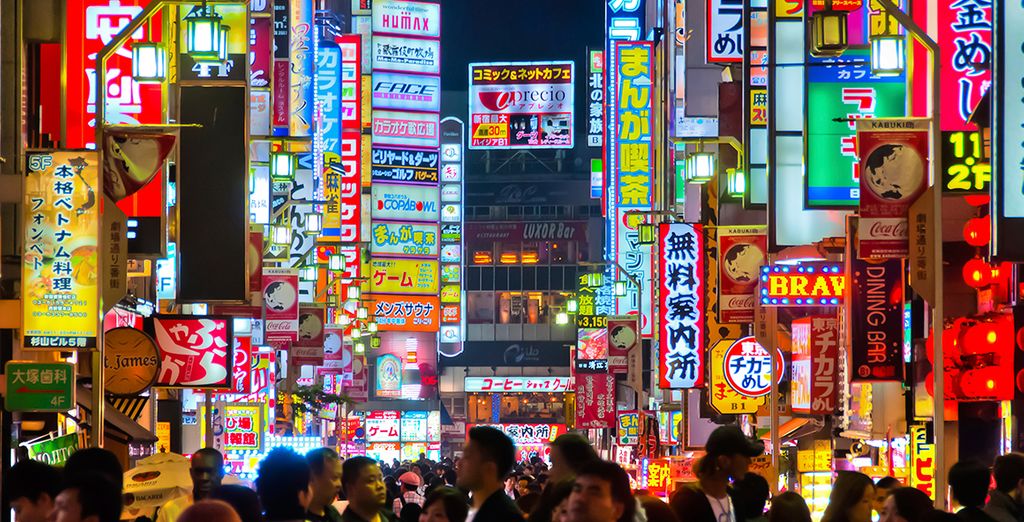 Only three minutes away from Shin-Okachimachi Subway Station, this modern hotel offers a range of amenities including free WiFi and rentable laptops.
This stylish hotel is a perfect base from which to explore the mysteries of Tokyo. It's a mere ten minutes' walk from the beautiful Sensoji temple and only seconds from public transport connections.
Centrally located and beautifully minimalist, Villa Fontaine keeps it simple whilst still delivering a perfect place to stay. Guests enjoy the buffet breakfast and good transport connections.
With panoramic views of Tokyo, this ideally situated city centre hotel is perfect for tourists who want to enjoy modern amenities with a touch of Japanese tradition.
For travellers that love to be in the heart of the excitement, this is the place to be. Shinjuku is full of shops, restaurants, and the world's busiest railway station.
What services will you find in our Tokyo hotels?
As you would expect from such a technologically advanced city, nearly all the hotels you stay at will offer free WiFi. To help you stay even more connected, many even offer device rental such as bookable laptops. Great if you need to send an email or VoIP someone back home.
Because all of the Tokyo hotels are very central, they are perfectly placed for shopping, sightseeing and for transport to other parts of Japan. Many Tokyo hotels won't have a full restaurant but will focus their culinary efforts on a simple and healthy breakfast, often done buffet style. A great start to your day exploring this fascinating city.
Other facilities tend to include accessibility, air-conditioning, parking, and dry cleaning.
Hotel rental offers at Tokyo convenient for all kinds of travel
Because hotels in Tokyo are a base for your Japanese adventure, they are ideal for all types of travellers. Couples can enjoy a cosy room and filling breakfast before heading out to explore the nearby nature and temples. There are always restaurants close by where a romantic meal can be enjoyed.
Kids with devices can enjoy the free WiFi on an evening, then through the day, they have the whole city of pop-culture and anime to explore.
Travellers looking for some peace and quiet will enjoy how secluded the smaller rooms feel even in the heart of this bustling city. Tokyo hotels often feel like a tranquil break from hectic city life, great for when you've been shopping all day or partying all night.
The range of hotels we offer in Tokyo
Tokyo hotels tend to be towers, filled with stylish rooms just waiting for the traveller wanting a Japanese adventure. Rooms tend to be smaller than in other parts of the world, but still filled with luxurious amenities.
You might stay in a Shinjuku high rise, with stunning views over the entire city. Or you might find a classic take on the Western luxury hotel, with revolving doors and a grand entranceway. Wherever you stay, expect wonderful hospitality and a warm welcome.
Tokyo: What should we bring for our hotel stay?
Pack some casual clothes for sightseeing and shopping, but something smart for evening dining. Japanese love to dress to impress so restaurant dining is often a formal affair.
Don't pack too much hand luggage if you're using public transport as luggage space is often very limited, plus there are lots of stairs.
An electricity converter is a must for charging phones or any other devices. The Japanese use a different voltage with a two-pin plug system.
Make sure your socks don't have holes in, as it's often customary to take shoes off inside!
Your best hotel in Tokyo: how to get there and make your booking?
When you book a luxury Tokyo hotel with Voyage Prive, you can choose from specially selected flights designed to help you make the most of your holiday. Click Join for Free to register for exclusive members-only offers.
The opinion of the Voyage Prive travel expert on hotels in Tokyo
The top districts to see, in our opinion, include:
1. Shibuya
Shibuya is full of light, colour, and energy, filled with people from dawn to dusk and even well into the night. Huge illuminated billboards flash neon above high-end fashion stores while pedestrians throng endlessly through Center Gai. Spot Western influences like the Spain Slope, modelled on a Spanish street scene with boutiques and cafes leading to a huge department store. Hotels near Shibuya are perfect for the avid shopper.
Tokyo Midtown
Head to the Suntory Museum of Art to immerse yourself in some unique Japanese culture, not found anywhere else. Enjoy a whiskey at some of the best bars in the city, or enjoy karaoke at one of the popular nightspots. Midtown is all about luxury, so expect the same from nearby hotels.
Shinjuku
A transport hub that never sleeps, Shinjuku has become a centre for retail including shops, cafes and restaurants. Two million passengers fly through this Tokyo ward every day, yet it still manages to be a fabulous place for tourists looking for souvenirs and a taste of modern Japan. A perfect place to stay for those looking to explore other areas of Japan.
Roppongi Hills
Often classed as a city within a city, Roppongi Hills is known as the most popular nightlife district in Tokyo. This is a very tourist friendly place, especially for travellers looking for some after-dark fun. The 238 metre high Mori Tower dominates the skyline, and is one of the tallest buildings in Tokyo. Tourists should check out the observation deck for unparalleled views of Tokyo.
Tokyo: A city linking past and future
Tokyo is a unique destination. Towering, neon skyscrapers dominate the horizon, a testament to technology and progress. In contrast, cherry blossom is still a traditional symbol of the city and a spring sight not to be missed. Efficient public transport and sleek modern hotels help travellers feel their way around this exciting and vibrant city that lives on the edge of tomorrow.
FAQ Hotel Tokyo
You just need to become a Voyage Privé member to book your hotel in Tokyo. Register for free now and access all our exclusive offers !
Voyage Privé offers you a selection of top-of-the-range hotels in Tokyo up to 70% off! Check it out and find the perfect one for you !
Stay in a Japanese-style room at the Hilton Tokyo 4* and enjoy the two rooftop, indoor pool, sauna and so much more... Or you can stay in some of the most luxurious hotels of Tokyo with a Japan Tour !