The Top 10 Hotels in Singapore



Table of contents
Explore our TOP 10 Luxury Hotels in Singapore up tp 70% Off 🏷️ Enjoy your Holidays with Voyage Privé ✅ and Experience Singapore.
The top 10 hotels in Singapore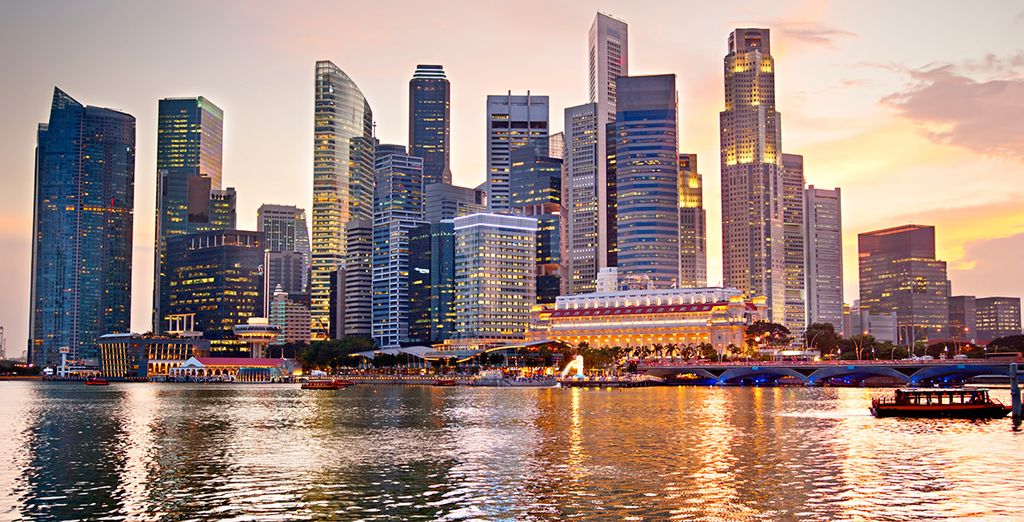 Two exotic destinations in one trip? You've read that right. Stay at the exclusive Raffles Hotel, soak up the atmosphere of this incredible city-island, before heading for a relaxing few nights at the Laguna Hotel in beautiful Bali. Here, you'll be on the doorstep of one of the best beaches, complete with butler service.
The only F1 night race, get ready to start your engines with this once in a lifetime trip. Your stay will include 3-Day Bay Grandstand Tickets to the F1, as well as checking in at the Park Hotel Clarke Quay after all the excitement at the track. Submerge yourself in the outdoor pool, bask in the sun, or enjoy a cool drink on the deck.
Get the best of both worlds with this exclusive deal - city life and a beach getaway. Stay at the world-famous Shangri-La, a gem in the bustling midst of Singapore, before heading to the coast to the Shangri-La Rasa Ria. Step outside and you're on the cascading, sandy Pantai Dalit Beach, and you'll even get to experience a wildlife sanctuary trip, seeing bears and orangutans in the flesh. Simply incredible.
A 14-night cruise across the Far East awaits. Join at either Hong Kong or Singapore and see the sights of the cities and the tranquillity of the beaches (some of the most picturesque you've ever seen). Enjoy it all whilst knowing you have your very own Stateroom on board, peppered with hotel stays at the Harbour Grand Hotel and Orchard Hotel.
A 14-night trip onboard the Eastern Oriental, accompanied by some of the most luxurious hotels. Experience best-in-class service at the Shangri-La in Singapore before travelling to Bangkok. Explore one of the world's most enticing cities, slip into a cooling pool, kick back on a beach; with this deal you can have it all.
Embrace your inner glamour puss with a selection of 5* hotels and train journey all in one. Check in at the Singapore Marina Mandarin, an award-winning hotel, complete with rooftop pool and breath-taking city views. Move on to Bangkok and pamper yourself with a relaxing spa stay at the Grand Hyatt Erawan, before ending at the beachside Hyatt Regency, a favourite amongst Thai royalty!
From Singapore to Bali, get ready for some serious Instagram moments with this luxury selection of hotels. Enjoy 2 nights in the urban jungle of Singapore, then relax at the out of this world 5* spa village in Bali. It's the perfect combination for exploring and relaxing and rejuvenating. Lush jungle? Check. City vibes? Check. Powder sand beaches? Check.
Up to 15 nights, split between the bustling city and tranquil Bali is right at your fingertips. Spend your days exploring Buddhist temples, whilst staying in the trendy, award-winning Orchard Hotel. Next, it's off to your own elegant villa, accompanied by a pool.
So stunning, it'll take your breath away from the moment you step off the plane, Gaya Island is crystal clear waters, white sandy beaches, and lush surrounding jungle. Stay in an exclusive resort with private dining, overlooking the coast, then jet off to Singapore and stay at the renowned Raffles hotel.
An exotic getaway like no other. Embrace the Far Eastern lifestyle with a stay at the Sofitel Singapore Resort & Spa. Tuck into delicious dishes at the restaurants, relax and re-energise in the garden (morning yoga anyone?), then it's time to get out and see the sights and sounds of this striking city.
What services will you find in our hotels in Singapore?
Across our range of carefully selected hotels, you'll find stunning pools, exceptional service, and best in class restaurants. Here, you'll be able to absorb the rich culture of the Far East, with the most luxurious touches.
Rest up after a busy day, with luscious gardens, rooftop bars, and even spa facilities. What more could you ask for?
Hotel rental offers in Singapore convenient for all kind of travel
Singapore is a desirable destination for all members of the family.
With the selection of hotels and activities on offer, it's best enjoyed by couples, for a romantic getaway with an exotic twist, or group travel plans with friends.
That's not to say it's not suitable for children. Give them a taste of adventure with a visit to captivating Singapore.
The range of hotels we offer in Singapore
Luxury is at the top of the list when it comes to Singapore.
Choose from modern, contemporary, hip, and classic. Let's not forget the extensive range of spa hotels when staying on the beautiful coastal line, either. You really do get the best of both worlds.
Singapore: What should we bring for a hotel stay?
Singapore is very humid, and although its tropical climate means thunderstorms can be common, it doesn't cool you down by any means.
All our hotels benefit from air conditioning, so you're always at your most comfortable, but remember to pack plenty of weather-appropriate clothing, bug spray, and some glam garments for drinks and dinner in the evening.
Suitable walking shoes are also essential, as is swimwear for the spa and beach hotels.
Your best hotel in Singapore: how to get there and make your booking?
Travel time from London to Singapore is just under 13 hours direct.
Remember to register online to take full advantage of all the best, exclusive offers on our luxury hotels. They're only available to members, after all.
The opinion of the Voyage Prive travel expert on hotels to Singapore
Clarke Quay is an area rich in entertainment – Opt for a hotel near this vicinity if great nightlife and exquisite restaurants and bars are top of your must-haves.
For those who need some retail therapy, Orchard Road is home to mega malls and fine dining galore, and Chinatown is world-famous and brimming with excitement and attractions such as Buddhist temples.
Singapore, the perfect blend of action and relaxation
Singapore is a city and an island combined. A glittering hub of culture and entertainment, it offers a true taste of the Far East, with the perfect mix of city and beach life, for those seeking equal amounts of adventure and tranquillity.