Find the best hotel in Jordan



Table of contents
Visit the Wonderful historic sites of Jordan with our Exclusive Offers ✔ Up to 70% Off on Hotels in Jordan Now ✅ Become Member and discover our discounts on luxury hotels and tours in Petra, Dead Sea, Aman.
Our TOP 10 hotels in Jordan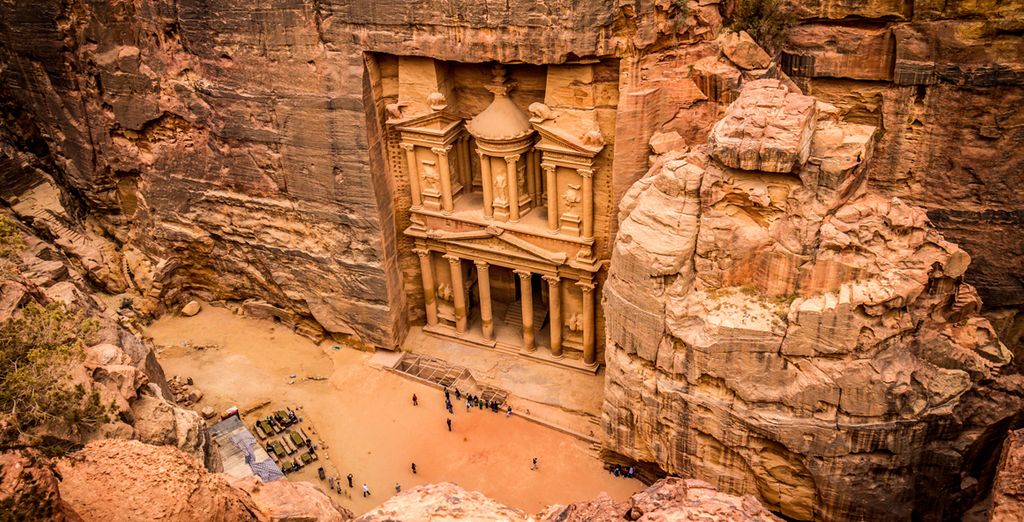 At 434 metres below sea level, enjoy quiet serenity and luxury in an unmatched setting. The hotel is at the edge of the famous salt lake and offers a wide range of steam rooms, whirlpools and luxury spa experiences. The 345 rooms are set amongst a relaxing backdrop of gardens, waterfalls and lagoons.
This stunning resort is as close as it can be to the hidden city of Petra. It boasts luxurious Oriental decor and handcrafted ornamental features. With a wide range of restaurants to suit all culinary cravings, the Mövenpick Resort is bound to impress.
With elegant architecture, impeccable design and no fewer than five restaurants, InterContinental Jordan is well-established as one of the pre-eminent hotels in Amman. First-class facilities combined with hilltop views make for an unforgettable experience. Located in the Old City centre, it is an ideal place to explore historic sites such as the Citadel.
This family-friendly resort is a short walk from the therapeutic shores of the Dead Sea. It boasts a lush garden and private beach. Immerse yourself in the outdoor pool, sauna or jacuzzi, or relax with a mineral-rich Dead Sea salt treatment and massage.
Le Méridien Amman boasts world-class amenities while being within walking distance of the Citadel, Roman Theatre, and several shopping districts. All tastes are catered to with several on-site restaurants offering middle-eastern and international cuisine. The Royal Convention Centre seats an impressive 1,200 guests, and the health centre and pools are guaranteed to help you unwind.
Enjoy elegant design and spacious rooms with priceless Dead Sea views. Dazzle your taste-buds with international cuisine from several on-site restaurants, bars, and cafés. Soak up the relaxing ambience in the signature hotel spa, and a family-friendly pool is on offer for the kids.
Offering water sports, a diving centre and a kids' club, this beach-front resort is the perfect place to relax and play. The deluxe spa facilities, informal poolside dining and private beach on the Red Sea are not to be missed.
This sociable resort is great for water sports, offering skiing and snorkeling on a private beach just 500 metres away. It's ideally situated for day-trips to the Royal Yacht Club and Tala Bay Aqaba.
This four-star hotel is just a stone's throw away from the entrance of the magnificent city. This is the perfect jumping off place to explore Petra's unique history and architecture.
Star-gaze and unwind in the futuristic domes of the desert valley. These luxury Bedouin style tents feature panoramic views, air-conditioning and hot water. Experience jeep tours, camel rides and hot air balloon rides. Buffet-style meals are available in a variety of international cuisine styles
What services will you find in our hotels to Jordan?
• Accessible rooms
• Air-conditioning
• Airport transportation
• Breakfast included
• Children's activities
• Car hire
• Concierge
• Bar/lounge
• Executive suites
• Family rooms
• Fitness centre/gym
• Flat-screen TV
• Free private parking
• Free Wi-Fi
• Jacuzzi
• Laundry service
• Private beach
• Restaurant
• Room service
• Sauna
• Spa
• Swimming pools
Hotel rental offers in Jordan convenient for all kinds of travel
Hotels in Jordan are suitable for all types of traveller, whether you're exploring the country alone, with your family, or with your friends.
Offer 1 in Jordan:
5-night/6-day Jordan Tour departing Monday (3-Nights in Amman & 2-Nights in Petra) in 4 star or 5 star hotels
7-night/8-day Jordan Tour departing Saturday (5-Nights in Amman & 2-Nights in Petra) in 4 star or 5 star hotels
Offer 2 in Jordan:
8 nights
5-night/6-day Jordan Tour in 4 star or 5 star hotels
3 nights at Fer Hotel Istanbul
10 nights
7-night/8-day Jordan Tour in 4 star or 5 star hotels
3 nights at Fer Hotel Istanbul
Holiday Inn offers: Kids aged 19 and under sharing with parents stay for free. Up to four kids aged 12 and under eat for free in on-site restaurants.
The range of hotels we offer in Jordan
Choose from our hand-picked range of hotels, resorts, campsites and guest houses to suite every style of luxury getaway.
Jordan: What should we bring for a hotel stay?
High-factor sunscreen is a must as temperatures can reach 33 degrees Celsius in the summer. Wear lightweight, non-restrictive clothing during the day. When visiting Wadi Rum, wear layers to keep warm during the cool nights. It is also a good idea to bring walking boots for desert dune walking, a swim suit, a sun hat and sunglasses.
Your best hotel in Jordan: How to get there and make your booking?
Jordan's capital city is 20 minutes by taxi from Amman civil Airport, or 40 minutes from Queen Alia International Airport.
Book online to ensure you get exclusive members-only deals offered on luxury hotels.
The opinion of the Voyage Prive travel expert on hotels in Jordan
Jordan is a varied country with lots of attractions to explore. Amman features several museums, a Roman amphitheatre and the historic Citadel, all while being within an hour's drive of the Dead Sea.
In the coastal city of Aqaba, visit Mamluk castle, the 16th century castle made famous by David Lean's Oscar-winning 1962 film Lawrence of Arabia, or watch migrating birds from the Aqaba bird observatory. From here you can continue your journey to Wadi Rum and experience camel rides and traditional bedouin hospitality.
Jordan: A country with a rich historical legacy
Jordan offers a wealth of cultural and historical attractions. From Amman's Roman ruins, to the famous UNESCO World Heritage site of Petra, to the scenic King's Highway, the sacred mountain of Mount Nebo, the Mujib Nature Reserve and more, Jordan has something to offer for every type of traveller.