Enjoy your holidays in June
Discover Excluvie Deals ✅ for June Holidays Flight + Hotel up to 70 Off 🏷️ Book now and be ready for an unforgettable travel with Voyage Privé.
Travel to Mallorca, Mexico and Marrakech for June holidays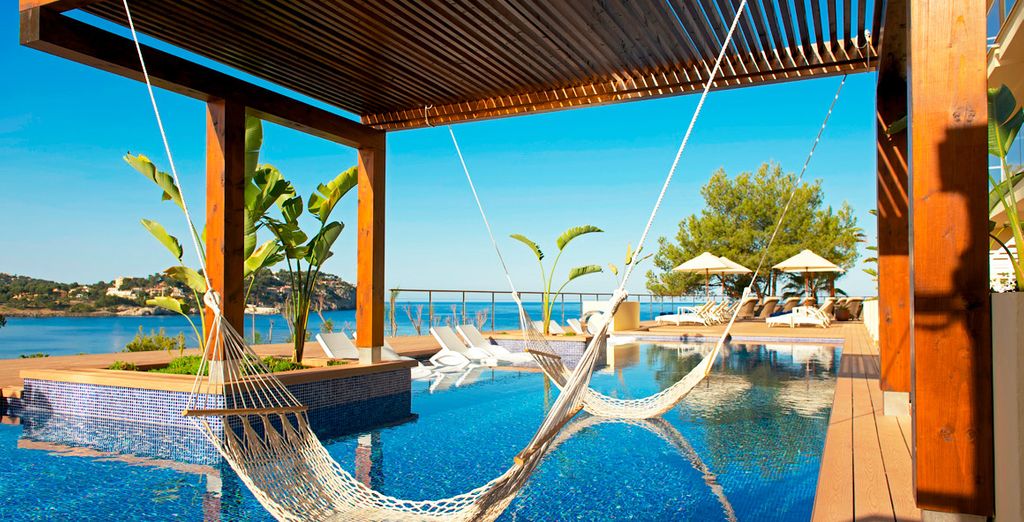 There are several reasons why Mallorca ranks so highly in Europe's Summer holiday charts, not least due to the island's stunning coastline. With beautiful bone-white beaches and turquoise waters, Mallorca is the ideal place for a relaxing break, or an active holiday complete with kite-surfing, windsurfing and hikes amongst the cliffs.
From the bustling metropolis of Mexico City to the golden, pristine beaches of Cancun and turquoise Caribbean waters on the coast, you can experience it all in Mexico - including delicious cuisine! Whether you're looking to visit the ancient sites, bask in the beautiful sunshine or snorkel amongst the stunning ecosystem, Mexico has you covered.
Marrakech is often described as one of the most beautiful and fascinating cities in Morocco, with visitors claiming no trip to Northern Africa is complete without checking it out. The ancient city is home to some of the most stunning architecture you'll find, alongside amazing shopping and beautiful guesthouses.
The Voyage Prive travel expert's opinion on travel to Mallorca, Mexico and Marrakech for June holidays
Here at Voyage Prive, we love Mallorca. It's a family-friendly destination in an ideal setting, with something for everyone to enjoy. However, amongst the family-friendly hotels lie stunning adult-only resorts which are perfect for that sophisticated, romantic retreat. Whether you're looking to soak up the sun with a glass of Sangria or head to the hilltops or hidden bays to escape the crowds, Mallorca is one destination you don't want to miss.
Mexico is one of our all-time favourite destinations. From the hustle and bustle of the city to the world-renowned nightlife and powder-soft sands of Cancun, holidays to Mexico truly are a paradise.
There are lots of reasons to visit Marrakech. Travel bloggers are obsessed with this place; its sheer beauty makes for famous, picture-perfect Instagram spots. Beyond the beautiful architecture, Marrakech is a city that moves to its own amazingly chaotic rhythm and provides a sensory experience that'll stay with you forever.
Top 5 things to do during June holidays
1. Head to the hilltops in Mallorca
Looking for some peace and quiet in Mallorca? On a challenging hike or with one of the terrific coastal footpaths to get away from the crowds.
2. Choose to take a day of sunbathing
To a whole new level with one of Mallorca's stylish beach clubs, complete with comfy loungers and cool bars. Unleash the adventurer in you and hire a car to take the sensational drive through the Tramuntana mountains, or for those who want a little more direction you can take an open-top bus through the city of Palma to get a great overview of the capital whilst enjoying the breeze.
3. Relaxing break or scuba diving expedition in Mexico
Mexico is popular for its warm Caribbean Sea and golden beaches, making it the ideal destination for a relaxing break or scuba diving expedition. However, there's so much to do beyond the beach in Mexico! Why not pay a visit to the ancient Mayan pyramids or the Copper Canyon and unleash your inner Indiana Jones? How about hopping on El Chepe, one of the world's great rail journeys, and taking a step back in time? If art is your passion, Mexico City has a fantastic number of impressive museums and galleries. Take a boat trip through the waters of Baja California, otherwise known as "the world's aquarium" and experience up-close encounters with whales, dolphins and possibly even orcas.
4. Visit the wonderful Ben Youssef Madrasa in Marrakech
There are many wonderful things to do in Marrakech, but a trip wouldn't be complete without a visit to the wonderful Ben Youssef Madrasa, a fantastically preserved piece of Moroccan architecture. The Maison de la Photographie is home to stunning street photography and portraiture, with shots dating back over 150 years. Want to learn more about the local moroccan cuisine? Take a cooking class, complete with a shopping trip to the local markets.
5. Experience incredible views in Marrakech
For incredible views and some time away from the bustling streets, hop on a hot air balloon ride as the sun awakens from its slumber. And of course, for a fully immersive experience, take a walking tour and make wonderful discoveries through the Medina, otherwise known as "the old town".
Which hotel to choose for holidays in June
If you're hunting for a hotel in Mallorca, look no further than the H10 Playas de Mallorca. With spacious modern rooms and a seafront location on the magnificent Santa Ponça beach, this recently refurbished 4* hotel is in an ideal setting and comes complete with everything you could need. Enjoy the large pool and sun-lounge area or take some time out in the on-site health and beauty centre. There's also an excellent entertainment programme for adults and children alike, making it perfect for a fun-filled family holiday or romantic couples retreat.
There are so many amazing resorts in Mexico. Heading to Mexico City? Check out the Sheraton Mexico City Maria Isabel Hotel, a centrally located hotel overlooking the famous Angel of Independence. After you've finished exploring the city, you can return to your outdoor heated pool for some rest and relaxation. In Cancun, enjoy a luxury stay in the Dream Sands Resort Cancun Resort & Spa. Ideally situated upon a stunning white sand beach, this is one hotel you don't want to miss. With nine restaurants, five bars, two swimming pools and three outdoor jacuzzis, it's the ultimate dream holiday destination. But that's not all - the resort also boasts a luxury spa as well as water sports, yoga, and even Caribbean dance lessons!
Nestled in extensive beautiful gardens, the Kenzi Menara Palace in Marrakech is an absolute haven, close to the city walls of the Medina. The award-winning palace offers the best of both worlds, sitting just a short drive away from the hustle and bustle and offering a peaceful retreat with the on-site spa. Enjoy the exotic ambience and refreshing citrus air whilst you take a swim in the outdoor pool. Take advantage of the top-notch dining options which are sure to impress or hop on the shuttle service to head into the Medina.
Practical information about June holidays
What is the weather like in Mallorca, Mexico and Marrakech?
The weather in Mallorca is ideal for summer holidays, with its Mediterranean climate offering everyday sunshine and temperatures of up to 30°C with relatively low humidity levels. Milder temperatures of around 19°C to 23°C can be seen in Spring and Autumn if you're looking for a slightly cooler climate.
The climate in Mexico can vary, but you'll be sure to see the mercury rise to between 23°C and 30°C, even if you visit during the rainy season (May to October).
Marrakech offers a warm climate throughout the entire year, with average temperatures sitting at around 13°C in the coldest months and 30°C in the summer. Summer afternoons can see temperatures reach over 38°C.
What budget to plan for June holidays
Mallorca is a destination that can suit most budgets: there's plenty of free or low-cost activities, such as hiring a bike to cycle around the island or packing a picnic to take to the mountains. You can find very good value for money when eating out, too, if you do as the locals do and make lunch your main meal of the day. For around 10-12 € you should be able to enjoy a delicious lunch or add a few euros more for a superior three-courses of cuisine.
Mexico is generally very affordable: in Mexico City, you can enjoy the delicious street food to get a taste of traditional Mexican cuisine for a great price (around 4 pesos per taco, the equivalent to around 16p in Sterling). Museum admission can vary from between 10 and 70 pesos, whilst a city taxi ride is likely to set you back around 35 pesos. Many service workers depend on tips to supplement their wages, so bear this in mind when visiting. Typically, you'll be expected to tip 10% to 15% at restaurants unless service is included in the check. Taxi drivers don't expect tips unless they provide some extra service.
Morocco uses dirhams as their currency: when it comes to spending money, carry cash and expect to haggle in the markets. There's plenty of free things to see and do, whilst the average price of food for one day is MAD114, which equates to around £9.