Discover the Best july holidays offers
With Summer in full swing, soaring temperatures and wall to wall sunshine, there's no better time to get away than in July. From white sandy beaches to cool seas and starry nights, July evokes images of the dream holiday and offers a chance to relax, recharge and revitalise. It's traditionally the most popular month for a holiday with mercury rising and great offers to be had on many destinations.
Whether you plan to hit the beach and chill out in the name of relaxation or soak up the culture of new places, July is a great month for travel with lots of offers to entice you.
The Voyage Prive Travel Expert's Opinion on travel in July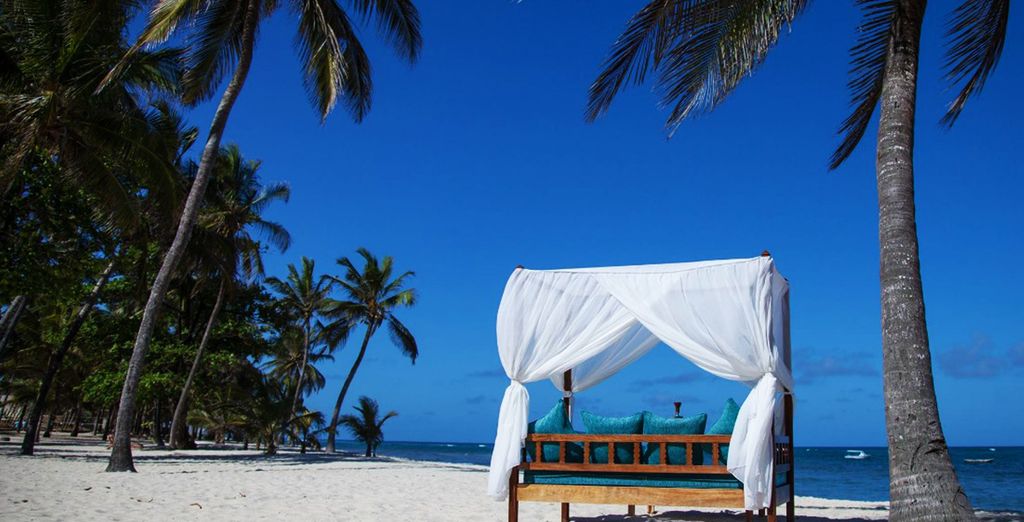 Romantic escapes, family holidays, honeymoons, foodie breaks, whatever the occasion there's something out there for you in July. Many destinations and resorts are well into their season and buzzing with activity by July, so it's a good time to take advantage of all the action on offer. For couples wanting a July holiday take note that early to mid-July can be a little less busy than towards the end of the month when the school holidays are underway.
Some of the top destinations in July are of course the Mediterranean countries, meaning you may not have to travel far, but don't neglect looking further afield at far-flung locations such as Dubai, the Maldives and Sri Lanka. They might be more affordable than you think as well as scoring bonus points for culture and beautiful beaches.
July sees some of the best deals on offer and with so many to choose from it can initially seem daunting. Our advice is to focus first on the type of holiday you want, whether that be cultural, beach-based, family-friendly, couples-only, sporty and active or something else, and then keep an open mind on possible destinations. Once you have a shortlist of favourites, meticulously read the reviews and keep refining the list until you can whittle it down to your final chosen holiday.
Top things to do during July holidays
1. Discover local cuisine from land and sea in Italy or Spain
It's a time of nature's bounty both from land and sea, and many a food festival can be found taking place in July. Take your pick from festivals such as the Strasgusto food festival in Trapani, Italy, celebrating national and regional dishes, to the Vijazz Wine and Jazz festival in Barcelona, Spain.
2. Experience the best beaches of the world with the Voyage Privé's best deals
If the beach is more your thing then top beaches can be found in far-flung locations such as the Maldives, Sri Lanka, Seychelles, Mexico, Thailand and Bali, all of which are fantastic destinations for a July holiday
3. Visit wonderful countries in Europe
Don't neglect Europe when thinking of stunning beaches, it has some amazing beaches to offer with many in Greece, France, Italy and Spain often included in round-ups of best beaches around the world lists.
4. Choose a sporting holiday in Europe
For those who are more active and want a sporting holiday, many destinations for July holiday goers offer water sports activities. Destinations along the Atlantic ocean where the breeze is stronger are particularly ideal for windsurfers, kitesurfers and surfboarders.
5. For culture lovers how about the Dusseldorf Fair in Germany?
This first took place over 690 years ago and now attracts over 4 million visitors a year for this spectacular event in July. Or perhaps the Love International music festival set in the hills of the beautiful Dalmatian coast in Croatia for a more modern festival.
Which hotel to choose in July
With great offers on hotels in July, there's plenty to choose from. Some of our favourites for this time of the year include these ever-popular locations:
1. Family friendly Be Live Family Resort in Costa Teguise, Lanzarote. An all-inclusive beach based getaway for a July holiday, ideal for families and in the tranquil and pretty coastal town of Costa Teguise and with watersports available too.
2. Sri Lanka's Riu Ahungalla Beach resort. This stunning beachside five-star resort offers a tropical paradise with culture and history aplenty as well as a spa for the ultimate in relaxation. A not-to-be-missed July holiday destination.
3. Dubai's 5* Melia hotel, United Arab Emirates. Luxe interiors, five-star luxury facilities and great city views at this beautiful hotel close to beaches, shopping centres and historical souks. A holiday in July to this top destination will never disappoint.
Practical information about holidays in July
Temperatures are high in many places in July so it's definitely time to take care in the sun. Precautions include keeping out of the strong midday sun from around 11 am to 3 pm (a good excuse for a long lunch!), using a quality sunscreen with both UVA and UVB protection and topping this up regularly, especially after being in the water. For children, in particular, use a sunscreen with a high sun protection factor, ideally spf50, and use UV swimsuits and hats. Wear loose clothing in natural fabrics, stay hydrated and keep to the shade as much as possible, particularly if you have already been burnt.
With July a peak time of year to go on holiday you can also expect busy airports, so be prepared and allow extra time before departure and check in online in advance.
What's the weather like in July?
July can be hot, hot, hot! It might be just that little bit cooler than the intense heat of August but for many sunny climes, the sun can thankfully be pretty much guaranteed. Temperatures will be 25C and above in most European destinations and well into the 30s for locations in Africa, Asia and Central and South America.
What budget to plan for July holidays?
With forward planning, a holiday in July can be found for most budgets. Don't forget to factor in not only the holiday itself but spending money, insurance, car hire if required, food and drink at the airport, and a little bit extra for any unforeseen costs or must-have buys from local markets. With many fantastic offers available every budget can be catered for when booking a July holiday.