We Love —
Set sail for the sunshine on 2017 on board the Coral Princess - one of just two cruise ships in the Princess fleet specially built to sail through the Panama Canal, her highlights include an adults only Sanctuary within the Balinese-style spa.
Enjoy a one night hotel stay in glamorous Miami, then sail through iconic and idyllic destinations from the Panama Canal to Aruba and Costa Rica.
Our members may choose from three staterooms, with delicious Full Board dining included.
New
Voyage Privé
—
Carefully selected by our experts especially for you
Here to Help —
Booking 60 days in advance and spending over £500 per person? No need to pay in full today! Just select the 30% deposit option on our payment page (terms & conditions apply)

For any additional information on this offer or assistance in making your reservation please call one of our dedicated team on 0844 8262098 or email sales@voyageprive.com

Opening hours are Monday to Friday 08:00 to 20:00 and Saturdays  & Sundays from 09:00  to 17:30.
Your Destinations —
Miami
Sunny Florida skies, year-round warmth and sunshine, a buzzing nightlife and a mix of cultures define this cosmopolitan city. Celebrity-drenched South Beach attracts people-watchers and the Art Deco District is the largest collection of Art Deco architecture in the world. Tropical style shopping experience's are readily available from Bal Harbor to Lincoln Road and Coconut Grove. Enjoy authentic Cuban cuisine and culture along Calle Ocho or travel back in time with a visit to the historic Venetian Pool. There is something for everyone in this city dubbed the "Gateway to the America's."
Aruba
Dutch influence still lingers on this balmy Caribbean island, part of the former Netherlands Antilles until its independence in 1986. Aruba is a contrast: the island's arid interior is dotted with cactus and windswept divi-divi trees while secluded coves and sandy beaches make up its coast. Aruba's long and colorful heritage is reflected in its dialect. Called Papiamento, it is a tongue that combines elements of Spanish, French, Portuguese, Dutch, African and English.
Cartagena, Columbia
One of the most interesting cities on your itinerary steeped in history. This was the transit port for all the wealth Spain derived from South America. The famous "Old City" is comprised of 12 square blocks filled with attractions, boutiques and restaurants.
Throughout Colombia, the Spanish Empire's influence in the New World is self-evident. Its fortress walls, quaint narrow streets, and balconied houses are all vivid reminders of Spain's hold on Cartagena and throughout the Caribbean and South America. This is the land of El Dorado and flamboyant adventurers in search of the ever-elusive gold. Cartagena's well-constructed fortifications defended its borders against seafaring pirates whose attacks lasted for more than 200 years. Today this modern and bustling city, seaport, and commercial center still boasts much of its original colonial architecture. Your journey here will provide you with a significant link to the region's grand past.
Panama Canal
The narrow isthmus separating the Atlantic from the Pacific Ocean had a colorful and turbulent history long before Ferdinand de Lesseps first dreamed of building a transcontinental canal.
Spanish conquistadors hauled Incan gold through the dense rainforest to ports on the Atlantic. English freebooters sought to ransack those ports and attack the treasure ships that sailed from Portobelo. And 49ers braved mosquitoes and yellow fever to get to the California gold fields. While the Panama Canal remains one of the great American engineering feats of the 20th century, visitors to Panama will discover a whole range of scenic wonders. Hike into the dense rainforest, home to over 1,000 species of animals. Or pay a visit to an Embera Indian village in the heart of Chagres National Park.
Limon, Costa Rica
Costa Rica's Limon Province boasts pristine beaches, sprawling banana plantations and dense rainforest.
These Caribbean lowlands are still sparsely populated--nearly a third of the province's population lives around Puerto Limon--and conservation efforts have led to growing eco-tourism.
Limon Province offers other charms as well. Afro-Caribbean influences abound, from the lilting speech and reggae rhythms brought by Jamaican settlers to the colorful bungalows lining small fishing villages. Limon is a zesty little slice of heaven.
Ocho Rios, Jamaica
Ocho Rios (Spanish for "Eight Rivers") is located on the northern coast of Jamaica--67 miles east of Montego Bay. Blue-green mountains, white-sand beaches, lilting breezes wafting across flower-adorned hillsides - Jamaica is a sensual feast.
Stunning natural beauty and a unique society molded by British, African, Spanish and Asian influences make Jamaica an unforgettable port of call in the Caribbean. Ocho Rios is a superb slice of Jamaica. The area is named for its spectacular rivers and waterfalls, including famed Dunn's River Falls.
Your Itinerary —
Day 1 Arrive in Miami and transfer to the Regency Hotel for a i night stay.

Day 2: Embark ship at Fort Lauderdale, Florida

Day 3 At Sea

Day 4 At Sea

Day 5 Aruba

Day 6 Cartagena, Colombia

Day 7 Panama Canal
(Scenic Cruising 0600 - 1530)
(Colon, Panama  1700 -2000)

Day 8 Limon, Costa Rica

Day 9 At Sea
        
Day 10 Ocho Rios, Jamaica

Day 11 At Sea
        
Day 12 Disembark skip at Fort Lauderdale, Florida, then you will be transferred to the airport for your flight back to UK.
Your Ship —
This offer is based on a 10 night cruise with Full Board dining. (Breakfast, lunch and dinner in main restaurant - excludes drinks.)
Coral Princess is one of just two cruise ships in the Princess fleet specially built to sail through the Panama Canal. Also unique to Coral Princess and her sister cruise ship is the Bayou Café and Steakhouse, which features live jazz music and flavorful New Orleans-inspired cuisine.

Entertainment options offer something for everyone, ranging from Vegas-style shows and first-run movies to karaoke, virtual golf and a casino. The high tech, oceanview fitness centre cares for gym bunies, whilst multiple pools do the job for sun aficionados.

Next to the fitness centre is the Lotus Spa, a serene Balinese-inspired health spa and salon featuring a stunning variety of treatments. One of the largest attractions of the spa is the adults-only Sanctuary, a two-deck, outdoor relaxation venue. Caring and unobtrusive staff, known as Serenity Stewards, provide cooling Evian misters, chilled towels, MP3 players and healthy and refreshing drinks and snacks, like fruit skewers, spring rolls and smoothies, while you veg out on padded lounges. Fees are $10 for a half-day.

The ship's two main restaurants serve up traditional five-course evening meals, with flexible "anytime dining" plans giving you the freedom to choose when you eat.  Coral Princess also offers plenty of other fine dining choices: not to be missed is Sabatini's ($25 cover charge) - a culinary standout with its varied menu of outstanding Italian favorites.

Decks: 15
Passengers: 1,970
Crew: 900
Your Stateroom —
You may choose from an Inside, Ocean View or Balcony stateroom 


2 Adults
Reservations for single guests, children or a third adult are also available to book offline. Please call 0844 8262098 or email sales@voyageprive.com

Please note: the bed for the 3rd/4th guest sharing is likely to be a sofa bed or camp style bed.
Inside

The Interior stateroom is approximately 156 to 166 square feet and appointed with modern amenities.
These include:
Twin beds convertible to a queen-size bed, private bathroom with shower, 100% Egyptian cotton linens, Satellite TV, refrigerator, hair dryer, safe, closet, phone and desk, Daily housekeeping service, Nightly turn-down service
Ocean View

Measures approximately 162 square feet and features the same fine amenities as above, with the added luxury of a picture window to admire the views.
Balcony

The spacious Balcony stateroom meaures approximately 210 to 234-square-foot, and is appointed with fine amenities and outstanding views from an approximately 35 to 72-square-foot private balcony. 
Views from staterooms may be obstructed

Your Hotel —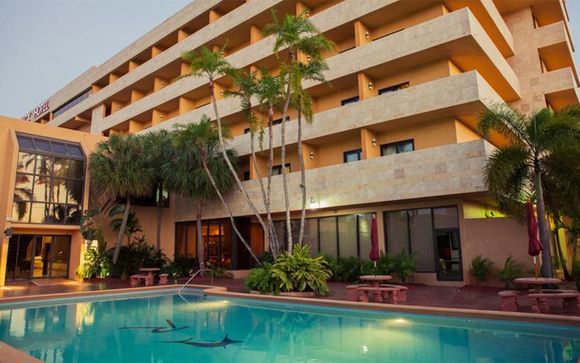 This offer includes a 1 night stay at Regency Hotel, Miami, prior to your cruise.
(Standard Room, room only.)
This elegant boutique hotel is perfectly placed within 5 minutes of the airport, so you can relax and get into holiday mode as soon as you touch down!
The hotel is just 15 minutes drive from all of Miami's top tourist areas such as Downtown Coral Gables, Miami Beach and South Beach.
Facilities include 174 spacious guestrooms, an outdoor pool, a fitness centre, restaurant and a cocktail lounge serving great Mojitos.
Your Journey —
Flights: Included with Virgin Atlantic
Luggage: 23kg per person (two pieces each)

Outbound
Depart London Heathrow 0925
Arrive Miami 1440

Inbound
Depart Miami 2140
Arrive London Heathrow 1100

All flight times are local

Transfers: Private transfers are included throughout. (Airport to hotel: 10 minutes / 3 miles)

Please note: flight details are given as a guide only and may change.  We will however notify you in advance if flights are more than 2 hours outside the time range given.  Specific flights cannot be selected and confirmed timings will be shown on your official documentation from the tour operator.  Flights are non-changeable and non-refundable at time of booking.